Big Bear Jeep Jamboree 2023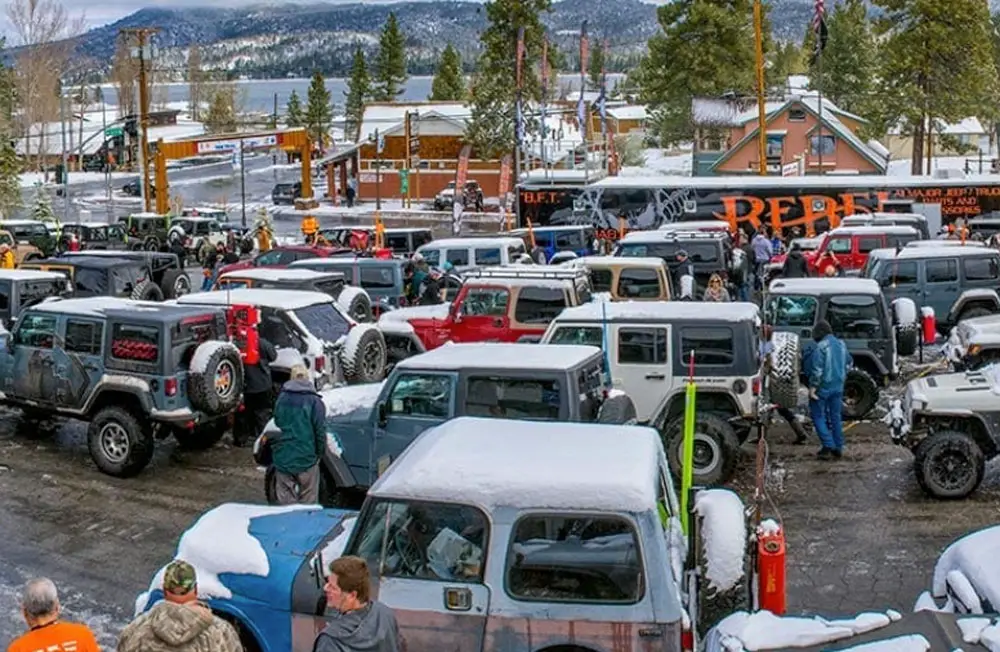 The 2023 Jeep Jamboree in Big Bear Lake, California, is an offroading festival that offers a range of trail outings for offroading enthusiasts in the San Bernadino mountains. This year marks the event's 31th year.
The event tackles a range of trails, from moderate to difficult, offering options for a range of vehicles and driving skills. If you have a stock vehicle, you'll go on appropriately rated trails, and, similarly, heavily modified vehicles can tackle more challenging trails.
The full itinerary for the 2023 Jeep Jamboree is posted here.
About Big Bear Jeep Jamboree
Jeep Jamborees are outdoor adventure events that bring together outdoor enthusiasts and their Jeep 4×4 vehicles. Originating back in 1953, the Jeep Jamborees have a long history and tradition of providing participants with an off-road experience like no other. The Big Bear Jeep Jamboree is a prime example of this, offering participants a journey back in time to California's Wild West.
Retrace the Steps of Miners and Loggers
Participants in the Big Bear Jeep Jamboree will travel along mining and logging trails used 165 years ago during the gold rush era. The rock-and-boulder-strewn trails offer incredible views of Big Bear Lake and California's High Desert. Participants will cross streams where miners used to pan for gold and traverse the mountain's edge for breathtaking views.
A Tradition Dating Back to 1953
The first-ever Jeep Jamboree was organized by 4×4 pioneer Mark A. Smith in 1953. He journeyed across the Sierra Nevada Mountains using the old Rubicon Trail. The following year, Willys Motors, the manufacturer of Jeep vehicles, became involved with the adventure and Jeep Jamborees have been an off-road tradition ever since.
Mandatory Requirements and Restrictions
To participate in the Big Bear Jeep Jamboree, participants must have tow points and CB radios are strongly encouraged. Jeeps with tires over 40 inches will not be allowed to attend the jamboree and will be turned away at vehicle evaluation. No refund will be provided. For more information on COVID-19 and how the jamboree is handling the situation, participants are encouraged to visit the Jeep Jamborees website.
Event Details
Start Date: May 4, 2023
End Date: May 6, 2023
Event Type: Festival/Ride
Venue: Big Bear Lake