San Diego Outdoor Adventure Guide
If you are into the outdoors, San Diego is a great place to visit. I loved it so much, I stayed!
I've lived in San Diego for over a decade and spent a lot of time exploring its coastline, mountains, and deserts. From catching the perfect wave to hiking a desert slot canyon, San Diego offers a wide array of outdoor experiences for adventurers of all kinds. The hard part is knowing where to start, which is where this guide comes in.
I've hiked, kayaked, surfed, camped, ridden my mountain bike, and driven my Jeep all over the county. Here, I will give you the lay of the land as I see it and point you in the direction of other resources.
Below, I'll get into the different areas of San Diego and what they offer, but first, in case you are looking for guidance on specific activities, here are some of our popular guides for specific activities:
Where to Go in San Diego for Outdoors Adventure 
San Diego County is a region of contrasts, encompassing both urban and rural communities, from coast to mountains and desert. The county covers a vast area of 4,300 square miles, roughly equivalent in size to the state of Connecticut, with its 70 miles of beach along the Pacific Ocean being a prominent feature and the most densely populated area.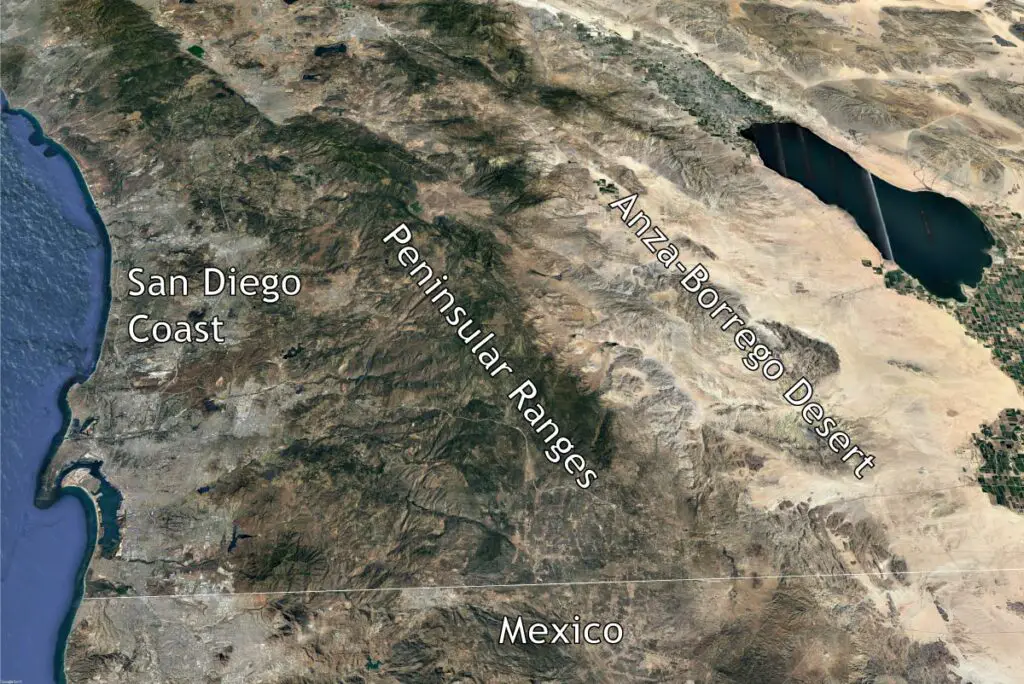 The county stretches 65 miles from north to south and 86 miles from east to west, bordered by Orange and Riverside Counties to the north, Mexico to the south, Imperial County to the east, and the Pacific Ocean to the west. San Diego's natural environment is as diverse as its people, featuring a variety of geological areas and ecosystems, much of it untouched by development. This provides many options for outdoor adventure and opportunities to experience rugged nature.
San Diego Coast and Coastal Inland Areas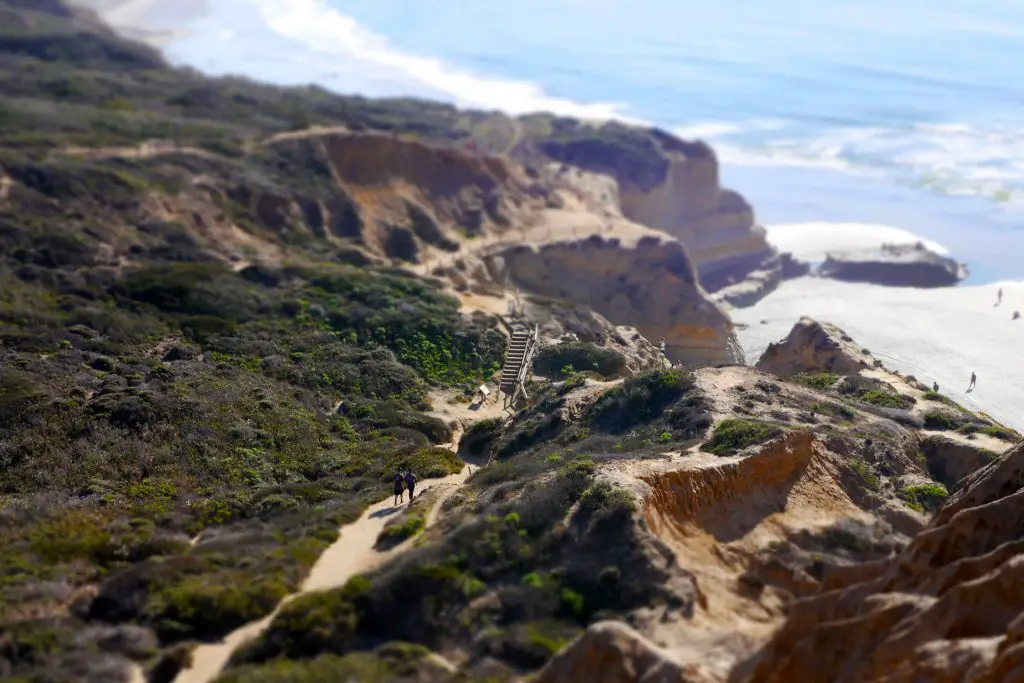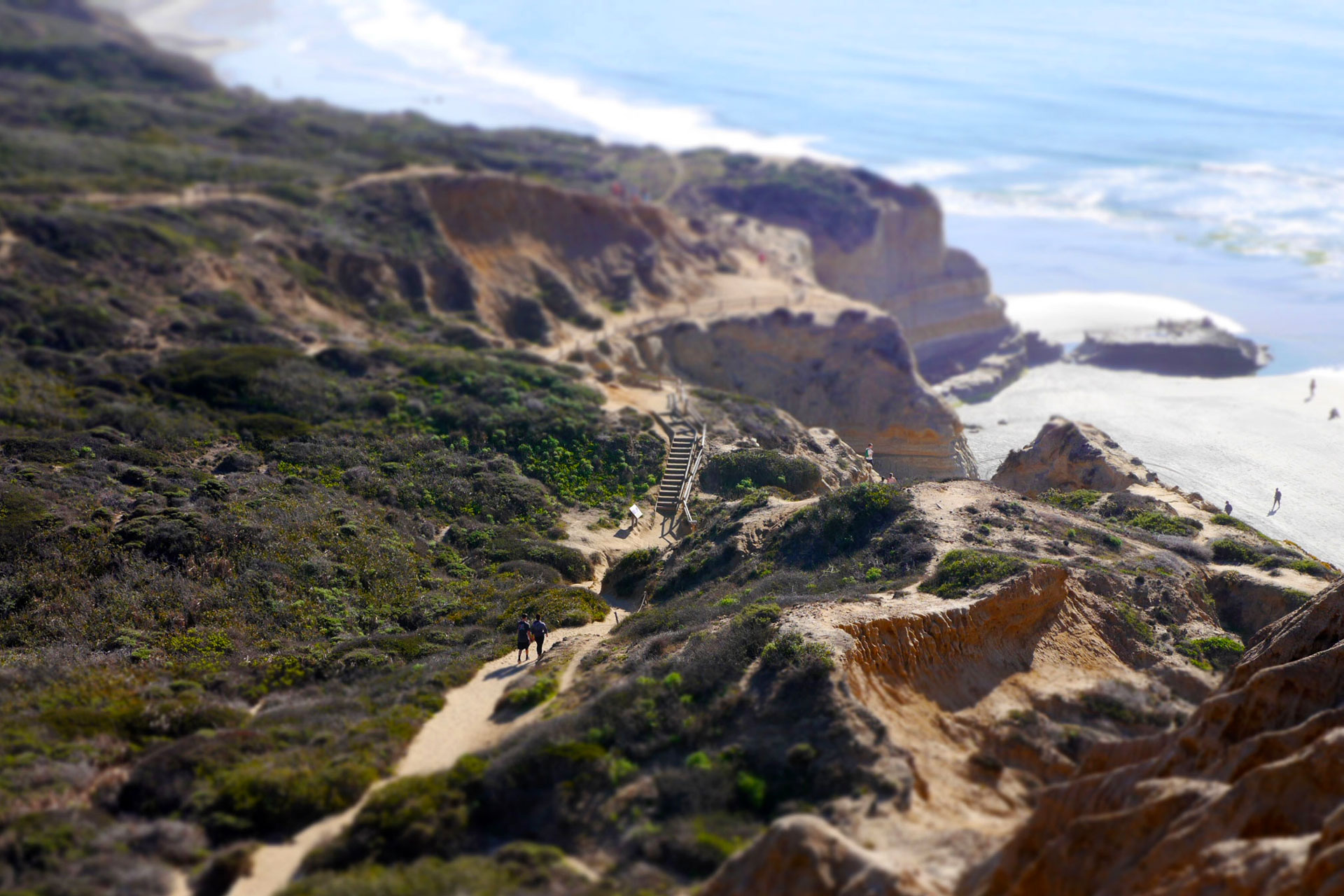 San Diego is best known for its coastline, which offers a wide range of land and water-based activities to explore. Water sports such as surfing, kayaking, and stand-up paddleboarding are incredibly popular and can be enjoyed year-round.
Scuba diving and snorkeling are also popular along San Diego's coastline, with opportunities to explore kelp forests and underwater caves. The coast, with its sandy beaches, rocky cliffs, and tide pools, is a haven for marine life such as crabs, starfish, and anemones.
For those who prefer land-based activities, San Diego's coastline and coastal inland areas offers some of the most picturesque hiking trails and mountain biking routes in the region.
Torrey Pines (hiking)
Torrey Pines State Natural Reserve is a popular hiking destination in La Jolla that offers fantastic views of San Diego's beaches, coastal bluffs, and the Pacific Ocean. As you'll learn in our hiking guide to the reserve, with eight miles of hiking trails, hikers can easily choose a trail that suits their preferences and fitness level. As you hike through the reserve's sage and cactus scrubland, you'll come across the rarest tree in the US, the Pinus torreyana, which is found only here and on the Channel Islands.
Here's a video of hiking the Beach Trail at Torrey Pines and exploring the tide pools:
Mission Trails Regional Park (hiking, mountain biking, horseback riding)
Mission Trails Regional Park offers rugged outdoor adventure near the city, including hiking, mountain biking, and rock climbing. Located about 8 miles northeast of downtown San Diego, Mission Trails encompasses more than 8,000 acres of mountainous open space.
Despite being surrounded by suburban neighborhoods, the park's expansive coastal sage, chaparral, and riparian ecosystems are home to numerous animals, including bobcats, coyotes, deer, and many native lizard and bird species.
Here's a video I made recent of one of my favorite hikes in Mission Trails:
Los Peñasquitos Canyon (hiking and mountain biking, horseback riding)
Los Peñasquitos Canyon Preserve is a 4,000-acre urban park in Peñasquitos and Lopez Canyons. With more than 500 plant species and 175 types of birds, it's a great place for hiking and mountain biking.
The preserve is home to a variety of animals, including deer, bobcats, coyotes, and rabbits. Peñasquitos Creek runs through the middle of the canyon, making it one of the few places in San Diego with water flowing year-round.
The park is sandwiched between Rancho Peñasquitos and Sorrento Hills to the north and Mira Mesa to the south. I put together a guide to mountain biking in the preserve, which is very close to my house. If you are looking for a hike or MTB trail to get started, check out Los Penasquitos Canyon Trail.
Coastal Campgrounds
San Diego boasts some of the best beach camping in the country, thanks to its breathtaking beaches and year-round sunshine. From North County to Imperial Beach near the Mexican border, you'll find a range of beach camping options to suit all tastes. These campgrounds offer a variety of activities, including kayaking, surfing, hiking, swimming, or just soaking up the sun. In my guide to San Diego beach camping, I highlight the different camping options along the coast and provide some insider tips for each campground.
Surf Breaks
If you like to surf, you'll love San Diego. With 70 miles of coastline, San Diego offers numerous surf breaks. There are famous breaks like Swami's and Blacks Beach, and other more under-the-radar spots – though not necessarily uncrowded. Check out this map on Surfline to see the many places you can catch a wave.
Kayaking and Paddle Boarding
While surf beaches can be daunting for beginner kayakers and paddleboarders, San Diego offers more protected areas for kayaking and paddleboarding. Some popular spots include La Jolla Cove, Mission Bay, Coronado Island, Oceanside Harbor, and Carlsbad Lagoon.
These locations offer calm waters, beautiful scenery, and often rental options for those who don't have their own equipment. Other popular options include San Diego Bay, Oceanside Harbor, and Silver Strand State Beach. Each of these locations provides a unique experience and the chance to explore San Diego's stunning coastline from a different perspective.
San Diego Mountains
The Peninsular Ranges in eastern San Diego serve as the backbone of the county, separating the coast from the desert. This range encompasses several state parks and national forests, including Cuyamaca Rancho State Park, Anza-Borrego Desert State Park, and portions of the Cleveland National Forest and Anza-Borrego Desert State Park.
The Peninsular Ranges offer some of the most spectacular hiking trails in Southern California, with terrain ranging from gentle slopes to steep inclines, providing opportunities for hikers and mountain bikers of all levels.
The unique topography and diverse ecosystems of the Peninsular Ranges are home to a variety of wildlife, such as mule deer, mountain lions, and bald eagles. There are a number of campgrounds in the state parks and national forest, as well as plenty of places for dispersed camping (aka, boondocking).
Cuyamaca Rancho State Park
Located in the mountains east of San Diego, Cuyamaca Rancho State Park features dense forests, rolling hills, and clear streams, as well as a diverse array of wildlife and plant species. Visitors can enjoy hiking, mountain biking, horseback riding, fishing, and camping in this scenic park, which is also a popular destination for birdwatching and nature photography.
If you'd like to spend a night or two in this picturesque park, check out our guide to camping in Cuyamaca. A couple of great trails in the area are Oakzanita Peak Trail and Stonewall Peak Trail.
Mount Laguna
The tiny town of Mount Laguna, located in the Laguna Mountains, anchors an outdoors hub in the center of San Diego's Laguna Mounts that are neighbors to the Cuyamacas. The area provides an alpine escape with its lush meadows, tall forests, and abundant outdoor recreation activities.
Just a short drive from San Diego's beaches, Mount Laguna is located at 6000 feet above sea level and boasts hiking, camping, and mountain biking opportunities. During winter, the town even experiences snow, drawing crowds for sledding and winter activities. Check out our overview of outdoors activities in Mount Laguna, as well as several guides to campgrounds and trails. 
Palomar Mountain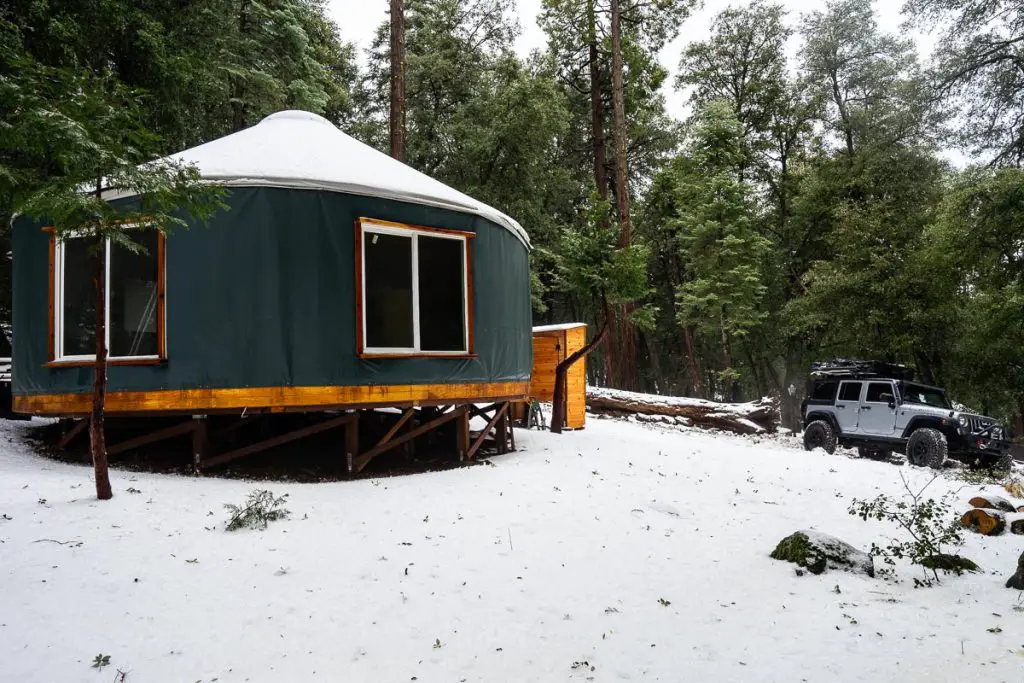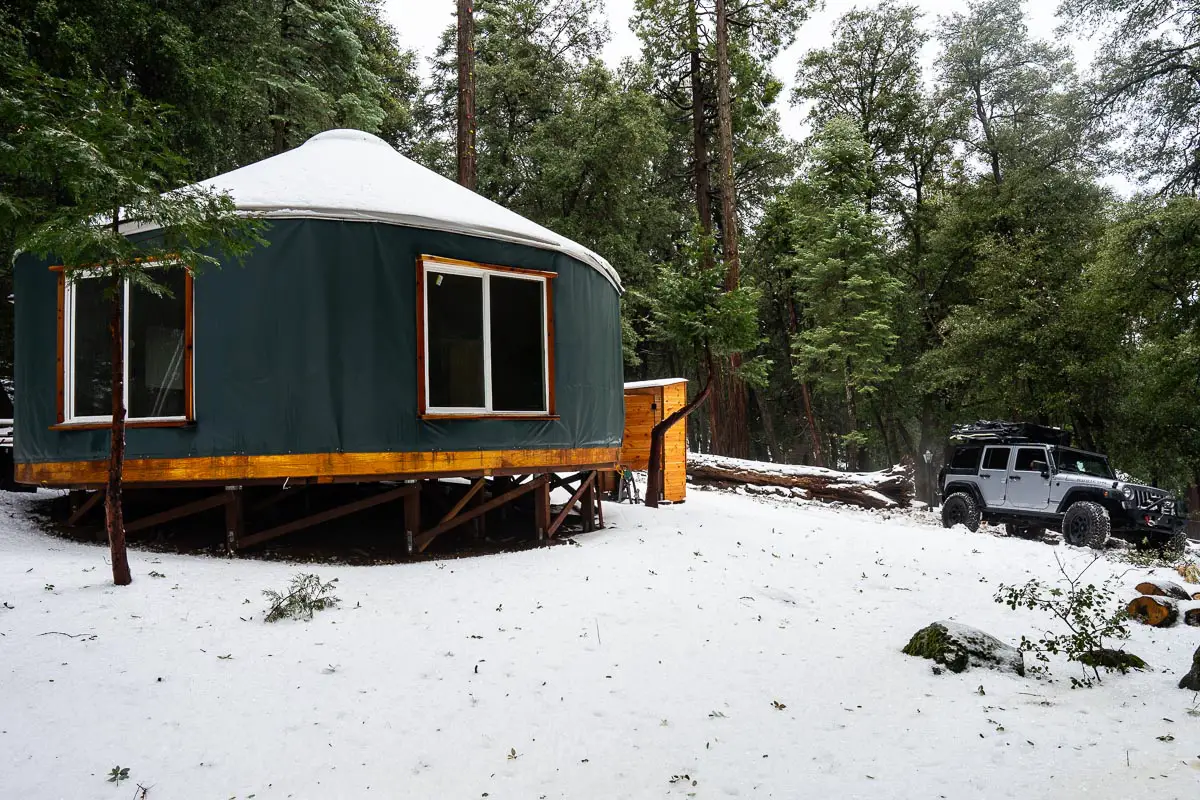 Located further north in the Peninsular Range, Palomar Mountain is another terrific place for exploring outdoors. This area offers a range of activities such as camping, hiking, off-roading, and stargazing in a rugged and scenic alpine landscape, providing a contrast to the Mediterranean climate of nearby lower altitudes. Palomar Mountain State Park and Cleveland National Forest jointly manage the area, providing visitors with several campgrounds to choose from.
San Diego Desert
When I first moved to San Diego, it was for the coastal offerings – beaches and surfing. But over time, I've fallen for the desert. San Diego's deserts are a vast and awe-inspiring natural wonder.
The Anza-Borrego Desert State Park is located just east of San Diego and is the largest state park in California, boasting over 600,000 acres of land. The area is a popular destination for those seeking a rugged outdoor adventure. Hikers can explore the many trails that wind through the desert's canyons and valleys, while off-roaders can test their rigs on some remote and burly 4×4 routes.
Visitors can also enjoy unique geological formations such as slot canyons, mud caves, and badlands. In addition to the Anza-Borrego Desert State Park, there are other nearby parks and recreation areas, such as the Ocotillo Wells State Vehicular Recreation Area and Joshua Tree National Park to the north. California State Parks Manages a number of parks in the area.
For a detailed rundown, check out our Anza-Borrego outdoors adventure guide. Our Anza-Borrego camping guide will help you figure out where to camp in the park. I've also created a video version of the camping guide:
National Parks
If you are willing to go further afield, some of America's most remarkable national parks are within day's drive of San Diego. For more on these national treasures, check out our guide to national parks near San Diego.
Other San Diego Outdoors Resources
Discover the best yurts for rent in San Diego, California, located in remote places from the deserts to the mountains.