Best San Diego Hiking Trails – Outdoor SoCal Guide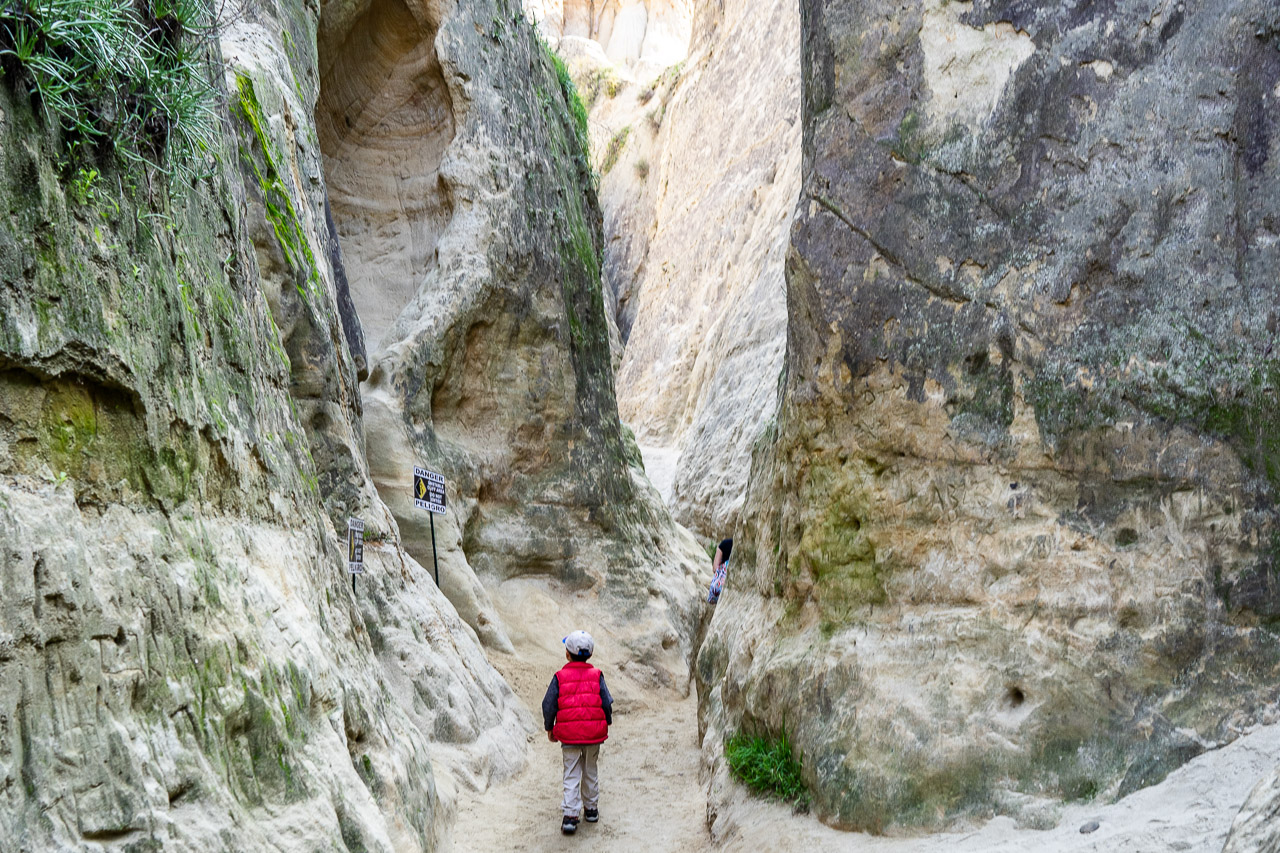 There are few places that have the variety of trails you'll find in San Diego. From steep hikes down steep coastal bluffs to desert slot canyons to alpine treks along the Pacific Crest Trail, San Diego hiking offers something for everyone.
In this hiking guide, I'll share some of our favorite hiking destinations in San Diego County and highlight some specific trails that I recommend. You won't find every destination or trail in San Diego on this list. But hopefully, you'll find a trail or two that will suit your needs.
Torrey Pines State Natural Reserve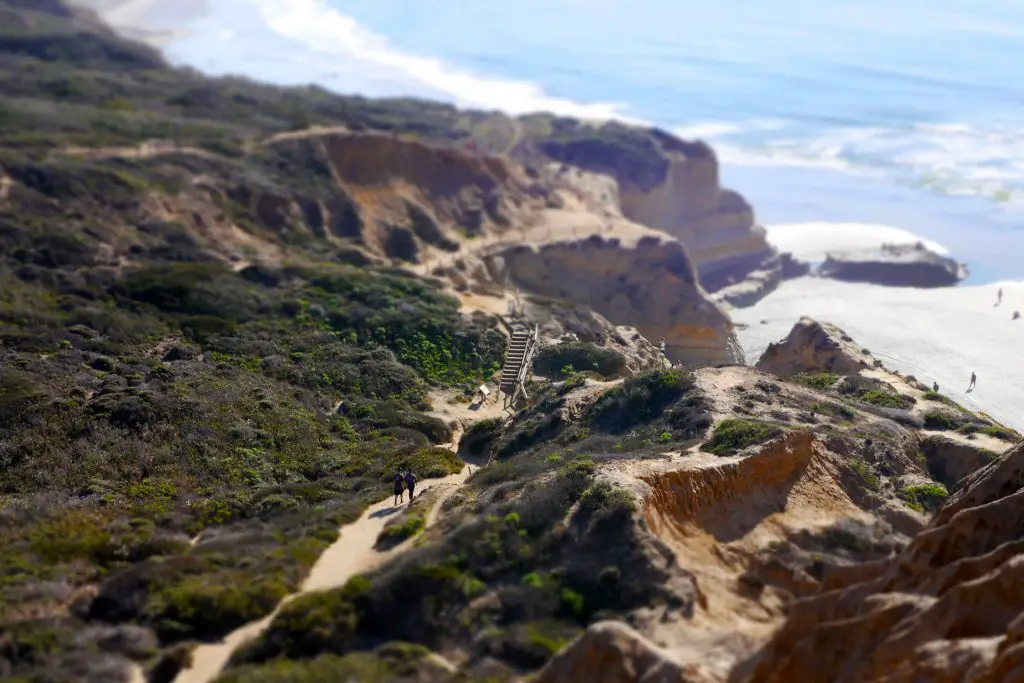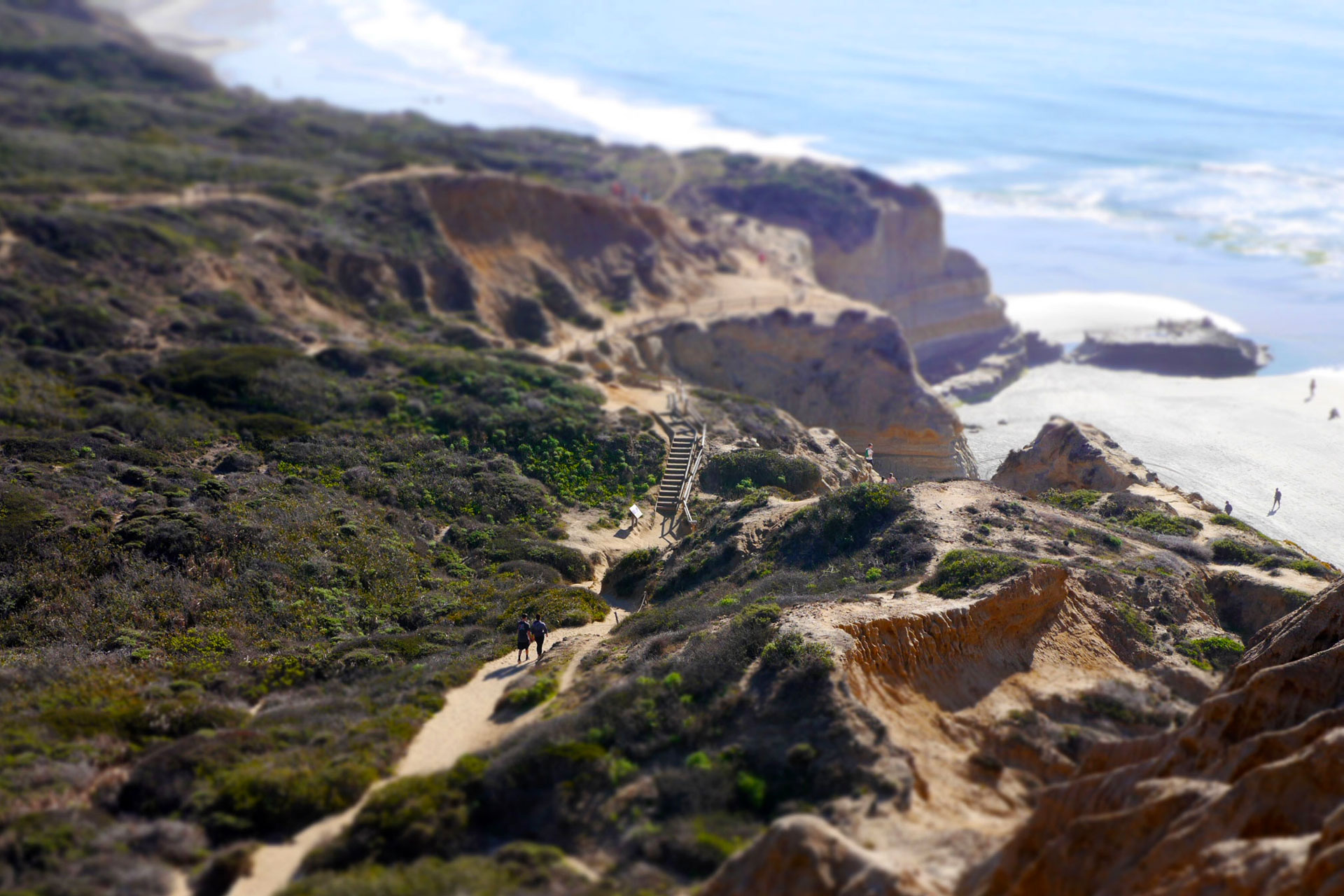 We'll start at the coast — specifically, at Torrey Pines State Natural Reserve. Located north of Pacific Beach in La Jolla, Torrey Pines is a remarkable natural area known for its dramatic coastal bluffs and unique species of tree, the Torrey Pine.
The 2,000-acre preserve offers dozens of hiking trails, some of which bring you down to the reserve's beaches. The hikes in Torrey Pines are well marked and maintained and range from easy to moderate in difficulty.
For more information on the trails, visit our in-depth guide to Torrey Pines hiking. A couple of great first hikes are the Beach Trail and Parry Grove Trail.
While not part of the reserve, there are a couple of additional trails in the area: the rugged Ho Chi Mihn Trail and Glider Port Trail. The trails bring hikers to Blacks Beach, popular among surfers and nudists – and particularly popular among surfing nudists.
Another great hike that's not in the reserve but fairly nearby, is Annie's Canyon Trail, a narrow slot canyon near the coast in Del Mar.
Sunset Cliffs Park Trail
Located on the western side of Point Loma peninsula in San Diego, Sunset Cliffs Natural Park offers an easy 1.5-mile trail along dramatic sea cliffs and beaches.
Sunset Cliffs Beach Walk hugs the coastline as it passed along sandstone cliffs, arches and sea caves that have been carved into Point Loma's coastline. At low tides, hikers can use the trail to access some of San Diego's best tide pools.
The park is located south of the quirky coastal hamlet of Ocean Beach. There are a number of parking lots along the trail. Two are located at the northern end of the trail here and here.
Mission Trails
Mission Trails Regional Park is one of the largest city parks in the country, offering numerous hiking trails among the park's peaks, canyons, and waterways.
The park is located just 8-miles northeast of downtown San Diego, and is one of the most popular hiking areas in San Diego County. While it's surrounded by suburban sprawl, parts of the park can feel secluded and provide a bit of solitude from the hustle and bustle.
To learn more about hiking, biking, and camping in the park, check out our guide to Mission Trails outdoors. Some of my favorite hikes are Oak Canyon Trail, Kwaay Paay Peak Trail, and Climber's Loop Trail.
Mt. Laguna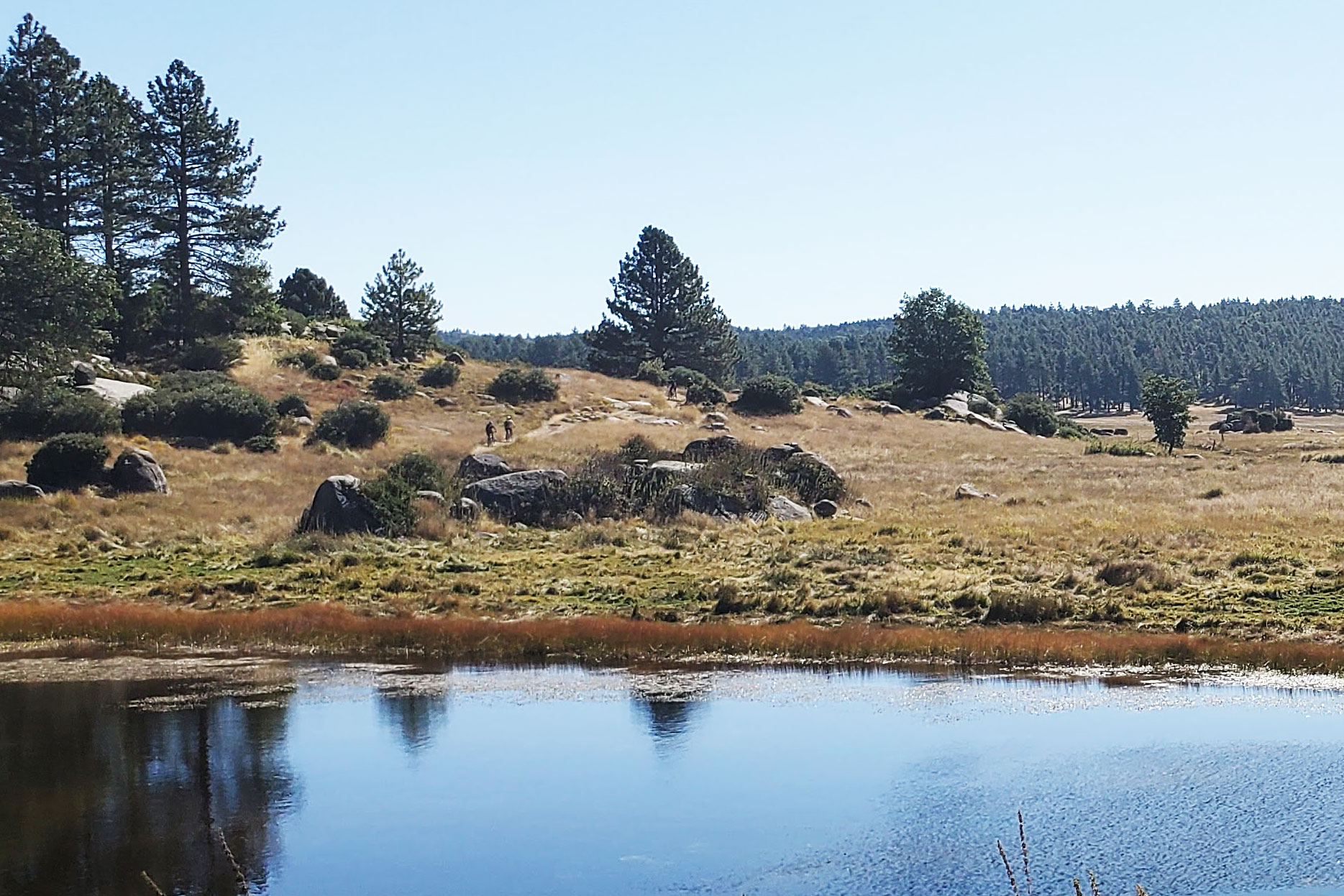 The town of Mount Laguna in the Laguna Mountains east of urban and suburban San Diego is a great base of operations for hiking. The town is located a little over an hour from downtown San Diego.
This alpine area, most of which is within Cleveland National Forest, offers lush meadows, tall forests, and terrific hiking, including a section of the Pacific Crest Trail. For more information, visit our guide to outdoor adventure in Mount Laguna and the Laguna Mountains. My favorite trails in the area are the Big Laguna Trail and Laguna Meadow Trail Loop.
Palomar Mountain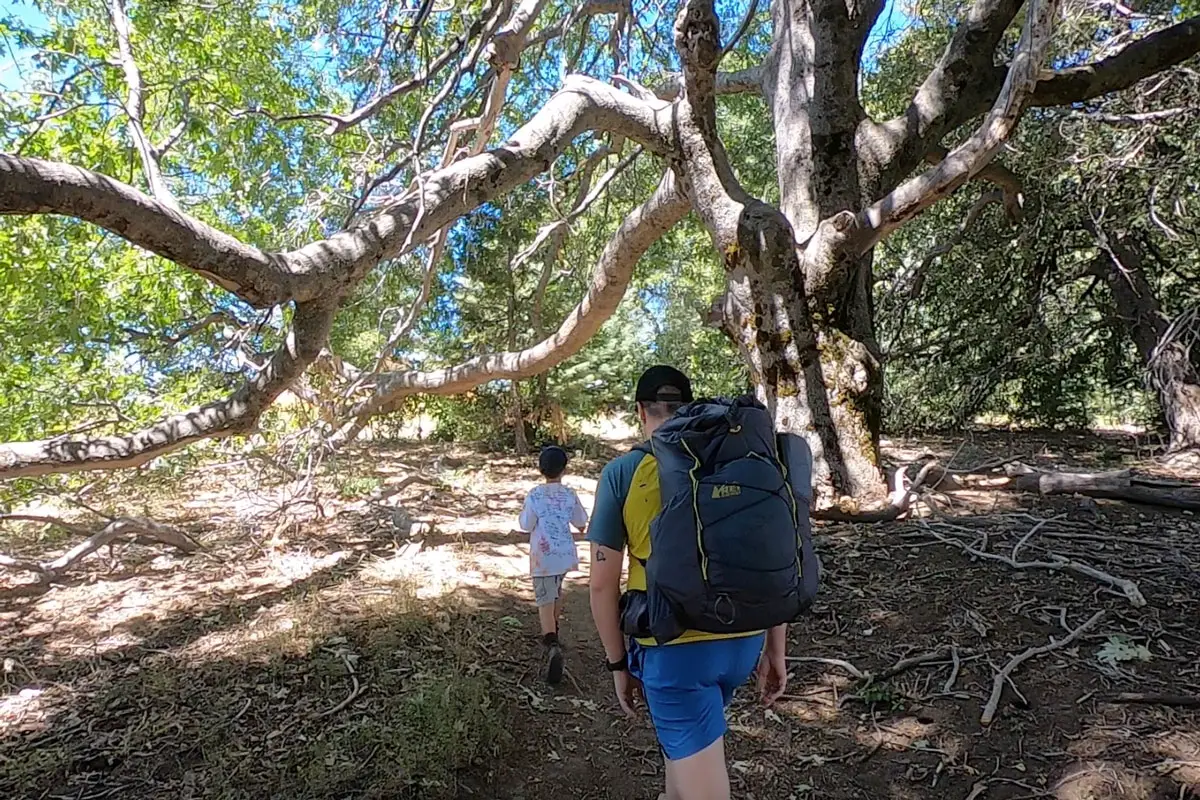 Palomar Mountain is an alpine adventure destination located within easy striking distance of both San Diego and Greater Los Angeles. Portions of this backcountry area are located within Palomar Mountain State Park and Cleveland National Forest.
The area offers a number of terrific mountain hiking trails, some within the national forest and others within the state park. A couple of good first hikes in the area are Doane Valley Nature Trail and Boucher Hill Loop Trail.
While it's most popular among the off-roading community, some hikes also use Nate Harrison Grade Trail to hike from nearby Pauma Valley up to the top of the mountain.
For places to stay overnight, check out our guide to Palomar Mountain Camping and guide to Bailey's Palomar Resort.
Anza Borrego Desert State Park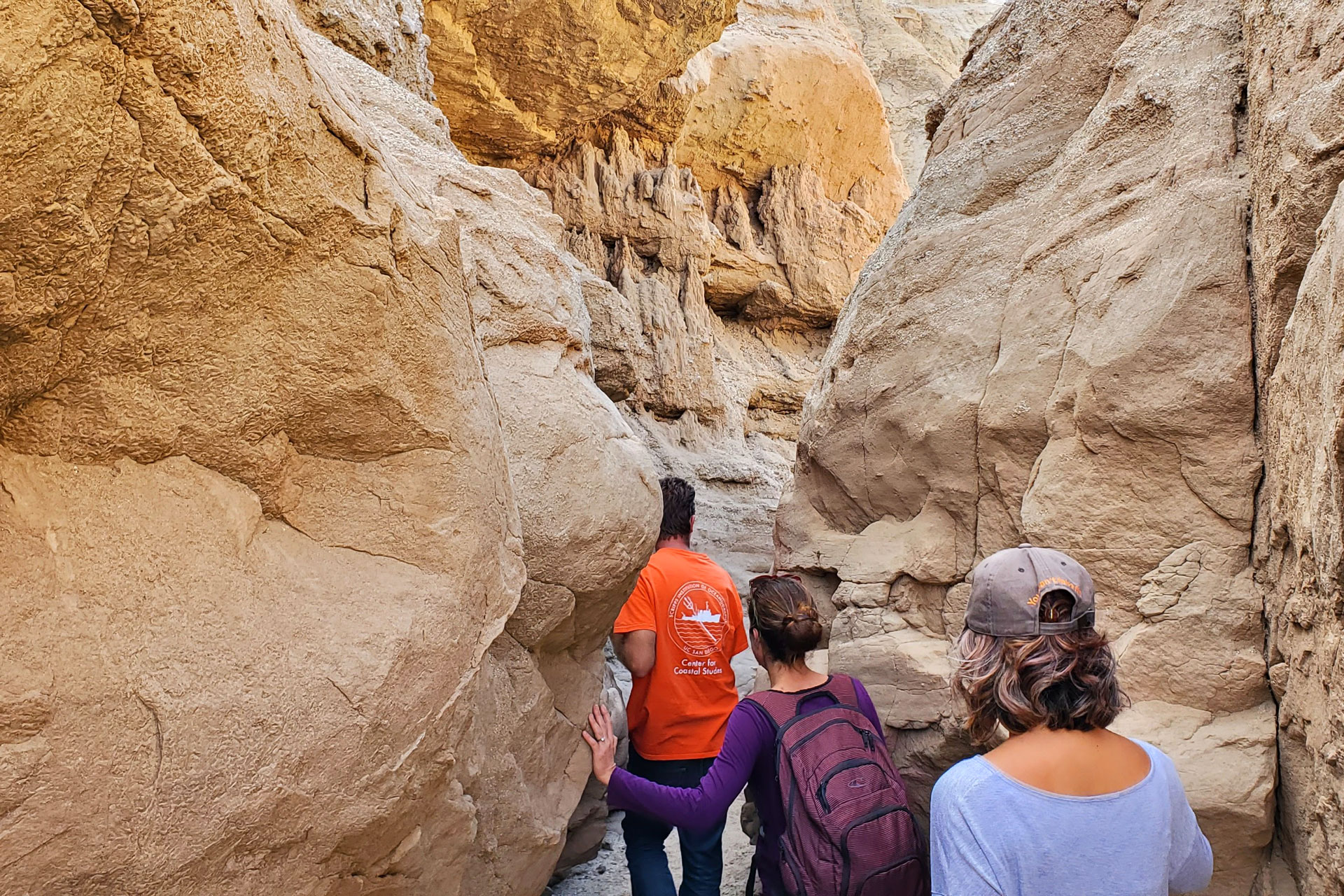 Anza-Borrego Desert State Park is the largest state park in the United States and offers a remarkable landscape to explore via hundreds of miles of hiking trails. You'll find everything from deep slot canyon hikes to mud caves and trails with Native American pictographs along the path.
For a general overview of Anza-Borrego and its trails, check out our outdoors guide to the park. A few of my favorite hikes are The Slot, the Wind Caves, and Anza-Borrego Palm Canyon Trail.
Daley Ranch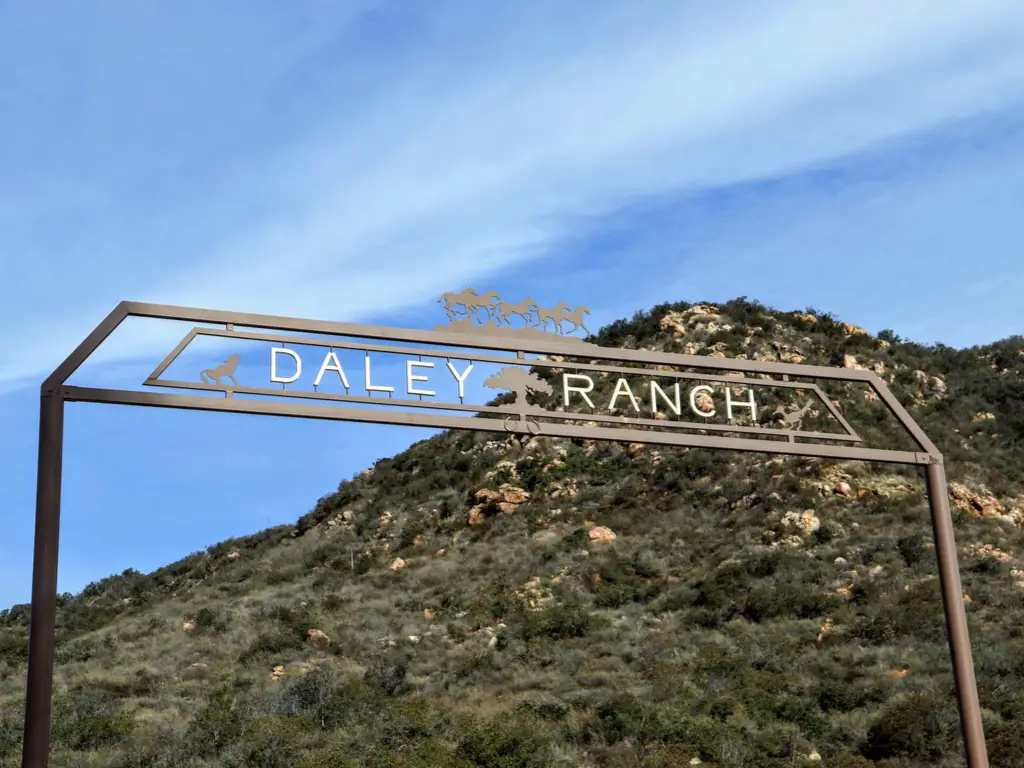 The Daley Ranch, a 3,058-acre conservation area in Escondido, California, offers over 20 miles of trails for hiking, mountain biking, and equestrian use. The trails wind through lush oak woodlands, coastal sage scrub and chaparral, grasslands, and riparian areas.
Our guide to Daley Ranch offers more details.
Valley of the Moon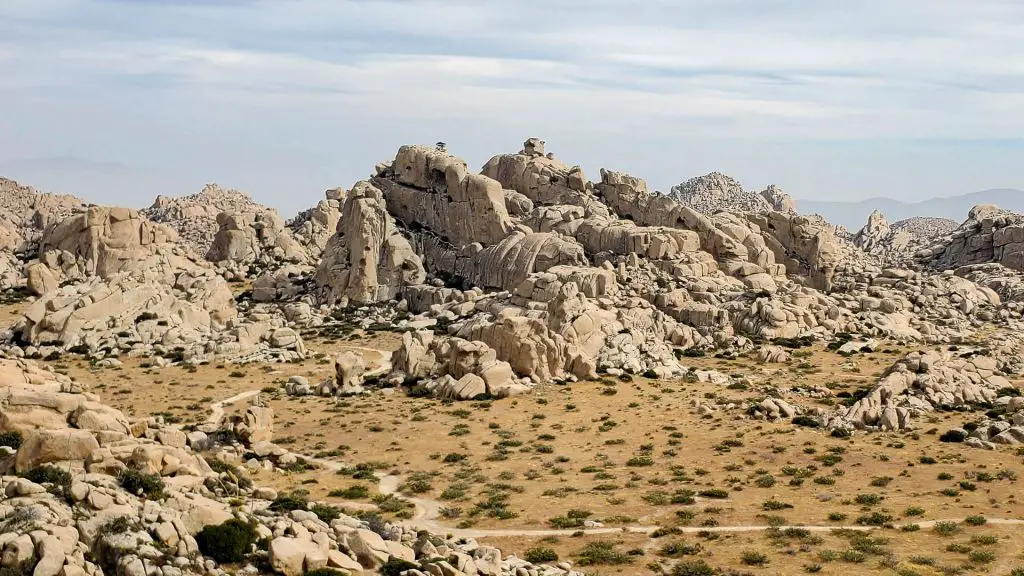 Valley of the Moon is one of the more off-the-beaten-path hiking areas near San Diego, located on the border of San Diego and Imperial County, the area is managed by the U.S. Bureau of Land Management.
Popular with off-roading enthusiasts and rock climbers, this dramatic high-desert wilderness area also offers a number of hiking trails. If you don't own a 4-wheel-drive vehicle, you'll need to hike from the trailhead along a rugged truck trail to get into Valley of the Moon.
Check out our detailed guide to Valley of the Moon for more information. A great first hike is to Smuggler's Cave.