Deep Creek Hot Springs Trail Guide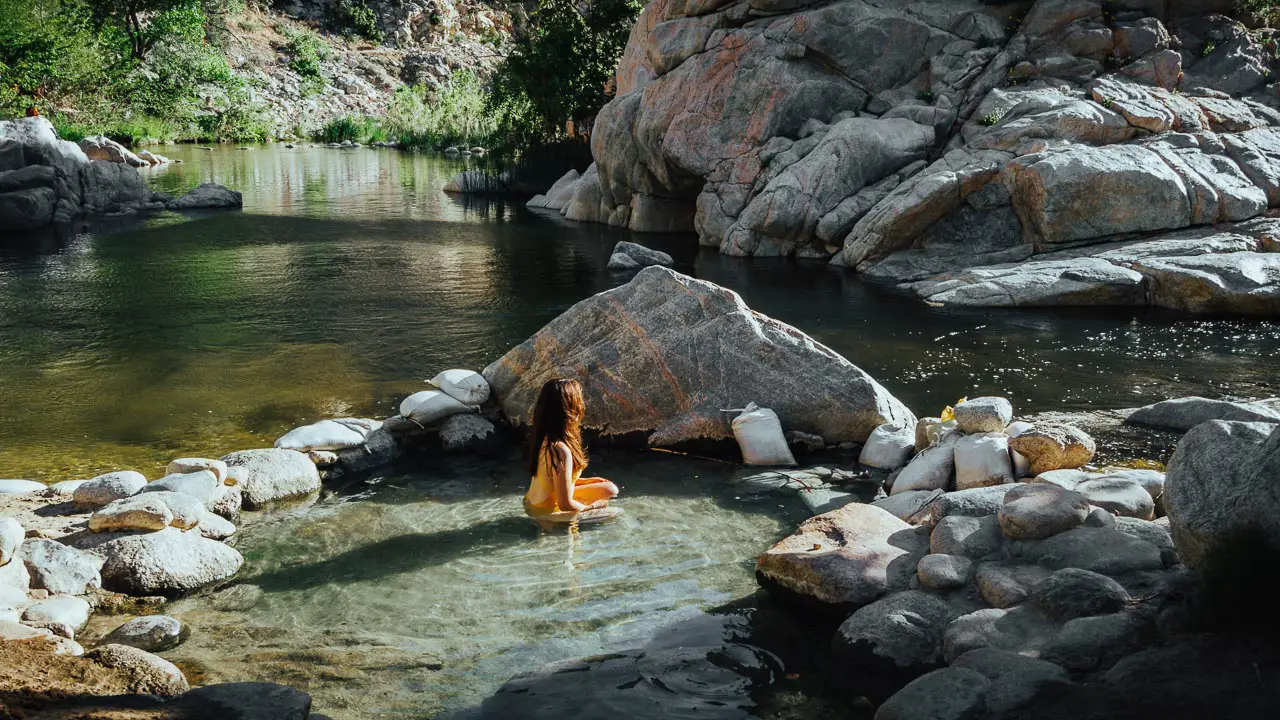 Deep Creek Hot Springs Trail, a 5.6-mile route in the northern Mojave Desert in San Bernardino National Forest, has been a favorite of hikers for a long time and with good reason.
Deep Creek itself is a hot spring oasis situated along the Pacific Crest Trail, just 2.5 hours away from Central Los Angeles. This small expedition is the choice of many thrill-seekers and has a high adventure factor without requiring excessive planning or energy, making it the perfect day out.  
Trail Details
Trail type: End-to-end or out-and-back
Difficulty: Moderate
Length: 5.6 miles
Elevation gain and loss: 218 feet, -218 feet
Trailhead Coordinates: 36.612564,-118.751289
Location: Mojave Desert, San Bernardino National Forest
Season: Year-round trail, summer recommended
Getting to Deep Creek Hot Springs Trail
Getting to Deep Creek Hot Springs is easy enough if you are familiar with the area, and much depends on keeping your route simple.
From Los Angeles, California take US-101 S for (0.5 mi) and then take I-10 E, I-210 E/Foothill Fwy, CA-210 and I-15 N to Ranchero Rd in Hesperia. You should then take Exit 140 from I-15 N for 1 h 5 min (70.0 mi), before continuing on Ranchero Rd to your destination (22.4 mi).
These directions will bring you to the Bradford Ridge Path trailhead. This trailhead is a bit easier to reach from most of LA and Orange County because you can come up through Arrowhead Lake; you don't need to go around the mountains as you do for Bowen Ranch.
As a basic guide if you have never been to the trail before, you should use this trailhead address in your GPS or navigation system to avoid getting lost; Bradford Ridge Path / Deep Creek Trailhead, CA-173, Lake Arrowhead, California. Parking is limited to the side of the road, but there's a good amount of shoulder within walking distance to the trail. 
The Trail
A year-round mineral water retreat, Deep Creek Hot Springs, consists of three pools the size of large hot tubs that range in temperature from around 96 degrees in the first pool to 102 in the third.
All three pools are right along the river so there's ample opportunity to mix it up with an icy dip in the river or you can try your luck on the slackline, whichever takes your fancy (obviously weather dependent).
Although the Deep Creek Hiking adventure is a scenic and unique hiking adventure, use cation if you plan on exploring the Deep Creek Hot Springs. The hiking trail down to the creek is very steep and requires excellent footwork and maneuvering.
Additionally, the trail is part of the desert and, naturally, hikers in the desert can face various obstacles, including rising temperatures and reptiles, including snakes. Therefore, it's recommended to adequately prepare and bring plenty of water, trail snacks, sun protection and first aid kits.
From a hiking perspective, all hikers will enjoy the scenic views during the adventure at Deep Creek. The desert landscape also seems to extend forever along the horizon, making for breathtaking views during the right time of day – sunset in particular. At nightfall it gets very dark, so bring a flashlight.
There is also a more remote trail that is less trafficked, yet still accessible from the Lake Arrowhead area for those who don't wish to stumble upon quite so many fellow hikers on this popular trail. 
Reaching the Hot Springs via the Trail
At the very bottom of the trail near the spring, you'll have to cross a stream of around knee-deep water. Think fording the river, Oregon Trail style, except this river is more of a babbling brook.
The Hot Springs layout is peculiar in that they lie directly on the other side of the river, built directly into the side of a large rock feature. 
At one point, volunteers constructed a clever four-tiered cascade of pools, which flow down the natural slope of the granite. 
The lowest tier, feeding directly into a swimming area in the river itself, is the coolest in temperature. The three pools above it get progressively hotter (100+ degrees) as they reach the source of the stream. 
You'll also find two satellite pools that vary in temperature—one small tepid pool located behind the rock and one large hot (usually crowded) pool near the camping area on the river bank.
On hot days, the greater rock area around the river even has a slack line and small rope swing which adds to the fun for adventurous hikers.  
Camping & Cliff Jumping
Camping at the Springs is technically prohibited, but areas off the trail or in the parking lot are sometimes allowed if cleared with the site attendant first.
Cliff jumping is a popular activity at Deep Creek but as always should be done with caution and only by those experienced in doing so. Although the cliffs are modestly high, this can still be dangerous if care is not exercised – proceed at your own risk.
The first ledge (roughly 35 feet) is just past the second grouping of sandy beach campsites upstream from the hot springs (past the rocky area). The second spot is a little 20-foot ledge a little further up where a trail from the PCT leads down to the beach and offers a great, lesser-trodden experience. 
Information about Deep Creek Hot Springs 
The trail itself can be completed by most in around two hours. Hikers should ensure they bring enough supplies, especially water.
Deep Creek has a fee to park on Bowen Ranch. Deep Creek Springs is best visited in the spring and fall as it gets very hot in the summer and quite cold in the winter. No camping is permitted around Deep Creek. Camping is available at Bowen Ranch, however. Pack out all trash.
The trail is pet friendly, but dogs need to be on a leash for their own safety as well as others. Dogs are not permitted to enter the actual springs themselves, however.
​​Signs say no glass should be taken in to the trail area or the springs. A word of warning: many hikers who enjoy getting naked in the springs area, so that should be taken into account if you are offended or looking to avoid such behavior, as this is a rather common occurrence.