Kumeyaay Lake Campground Guide
Kumeyaay Lake Campground is part of Mission Trails Regional Park, a 7,220-acre park in San Diego that offers rock climbing, scenic trails for hiking and mountain biking, fishing, and boating on Lake Murray.
Campground Details
Site types: Tent, RV
Amenities: Potable Water, Toilets, Trash Receptacles, Fire Rings, Picnic Tables
Information number: 619-668-2748
Reservations: Reservations accepted
Reservation number: 1-800-234-7275
Campground Coordinates: 32.840025,-117.033043
Location: Mountain Center, California
Address: 56375 CA-74, Mountain Center, CA 92561
Season: Year round
Getting to Kumeyaay Lake Campground
Take the Mast Blvd. exit. Driving from the west, turn left onto Mast Blvd., go under the freeway to the second traffic signal at West Hills Parkway, and turn right. Driving from the east, turn right onto Mast Blvd. and turn right at the first traffic signal onto West Hills Parkway.
Continue 2/3 mile to Mission Gorge Rd. and turn right. Proceed down Mission Gorge Road for two-tenths of a mile, then merge right onto Father Junipero Serra Trail. The entrance to the campground is located two-tenths of a mile down the road on the right, at the stop sign.
The Campground
The campground features 46 campsites, including spots for tents, RVs, camper vans, and trailers. Of the sites, eighteen are designated for tents only, while the other sites can also be used for RVs, vans, and trailers.
The campground is only open on Friday and Saturday nights, and reservations can be made through the Mission Trails Regional Park website.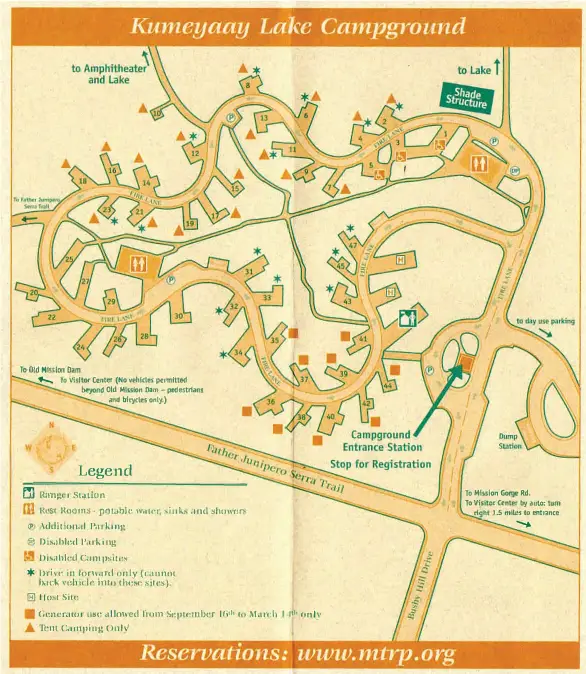 There is a lot to do in the area. Mission trails regional park comprises three distinct areas: Cowles Mountain, and the Fortuna Area, which offer hiking, horseback riding, and biking trails. The hike up Cowles Mountain is one of the most popular in San Diego, while the trails in the Fortuna area are less traveled.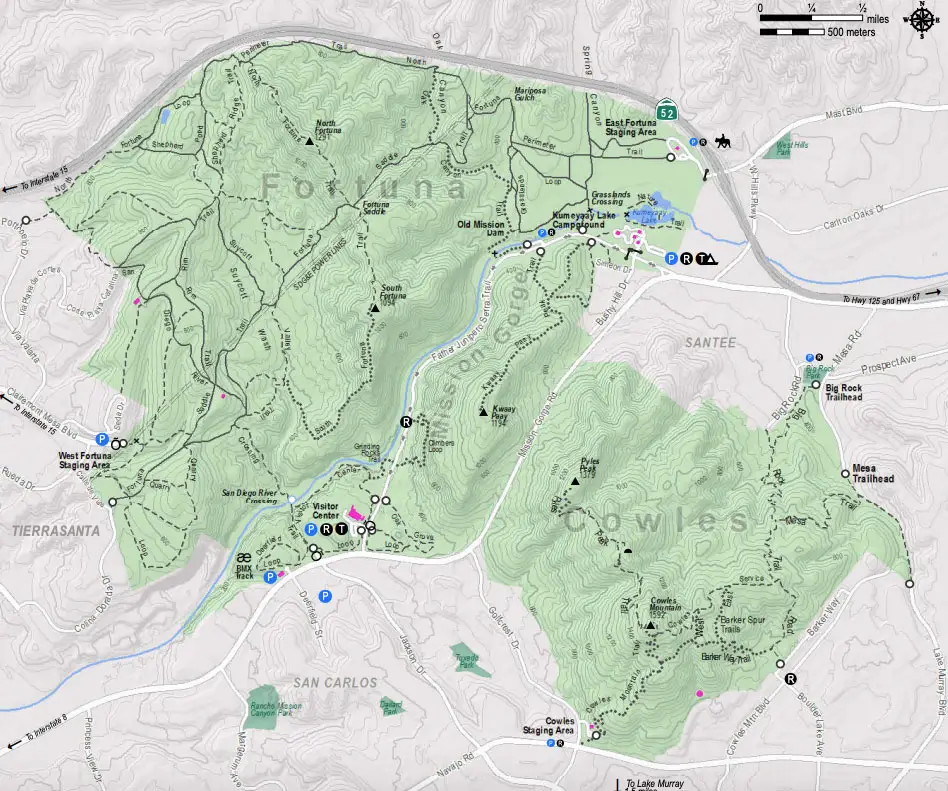 Mission Trails Regional Park publishes a PDF map of the park's trails that can be downloaded here. The San Diego Mountain Biking Association has a terrific rundown on mountain biking trails in the park.