Ricardo Campground – Red Rock Canyon State Park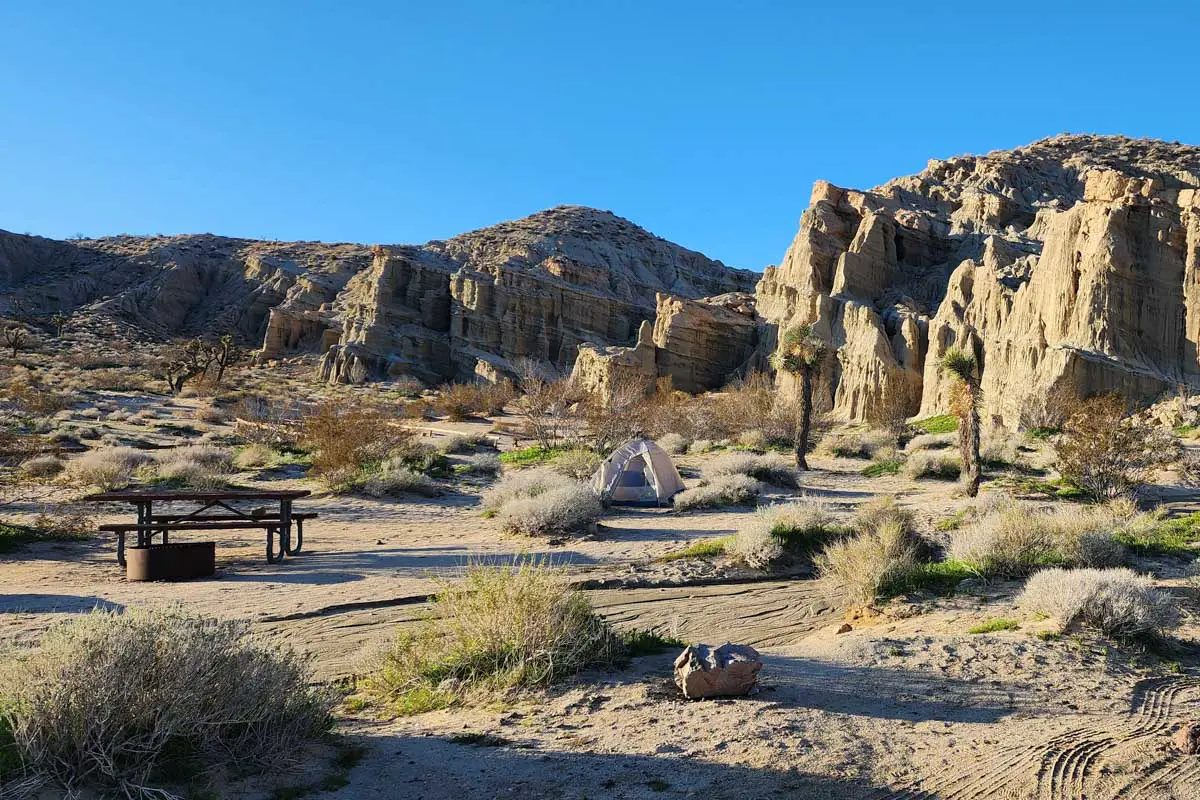 Ricardo Campground is a developed campground in Southern California's Red Rock Canyon State Park, an area of the Mojave Desert known for its striking geological formations and history.
The campsites in the campground are situated along dramatic desert cliffs, making for a unique camping experience. The park offers numerous hiking and off-road trails, as well as many natural wonders and human history to explore.
Ricardo Campground Details
Site types
Tent, RV
Amenities
Potable Water, Fire Rings, Vault Toilets, Picnic Tables, Camp Store, Visitor's Center
Information number
(442) 247-5160
Reservations
No
Campground address
37749 Abbott Drive,
Cantil, CA 93519
Campground GPS
35.373104, -117.990894
Location
Mojave Desert
Season
Year-round, but summer is very hot
Ricardo Campground Overview
Ricardo Campground, located within Red Rock Canyon State Park, offers a unique camping experience amidst dramatic desert cliffs and a valley covered in Joshua Trees and other high-desert plants.
The campground features 50 primitive campsites that are fairly primitive, with fire rings and tables. Vault toilets and potable water are available at several locations in the campground. You have to bring your own firewood or purchase it at the visitor center. Please note that no RV hook-ups or showers are available, and a maximum of 8 people is allowed per site.
Camping at Ricardo Campground operates on a first-come, first-served basis, with no reservation system in place. When we camped midweek, the campground was fairly empty and it was easy to find a spot. However, to secure a spot on weekends, it is recommended to arrive on a Thursday evening or Friday morning, as the campground can fill up quickly during weekends in the spring and fall or on holiday weekends.
As I'm writing this, the camping fee is $25 per night per site, which includes parking for one vehicle, or $23 per night for seniors (62 years or older). Check the campground website for current rates.
Additional vehicles can be accommodated for $6 each. RVs are welcome but must not exceed 30 feet in length. Campers must complete self-registration and payment before setting up camp or parking their vehicles. Vehicles, including off-highway vehicles (OHV), must be parked within the rock-lined areas at each campsite. No horses or livestock are allowed in the campground.
The campground has quiet hours from 10 pm to 6 am, and generators must be turned off between 8 pm and 10 am. Overnight parking is not permitted in the day-use lot.
Things to Do
Red Rock Canyon State Park offers a beautiful desert landscape with unique rock formations, cliffs, and buttes. The park boasts a rich history of Native American habitation, 19th-century mining operations, and movie productions. When you visit, you can enjoy the park's stunning floral displays after wet winters and encounter wildlife such as roadrunners, hawks, lizards, mice, and squirrels.
The visitor's center, which is at the campground entrance, has a nice museum that explains the natural and human history of the area. It's definitely worth a visit. They also have free maps of the park that come in handy and the rangers are happy to point you to activities in the park
There are a couple of family-friendly hiking trails just across the road from the visitors center and other, more ambitious trails throughout the park. The park features a robust set of dirt roads that can be used to explore old mines and other evidence of human history in the area. There are petroglyphs from the time when the area was home to Native American tribes.
In addition to the trails in the park, right next to the park is the Dove Springs Off-Highway Vehicle area, which offers plenty of trails for trucks, motorcycles, and ATVs.