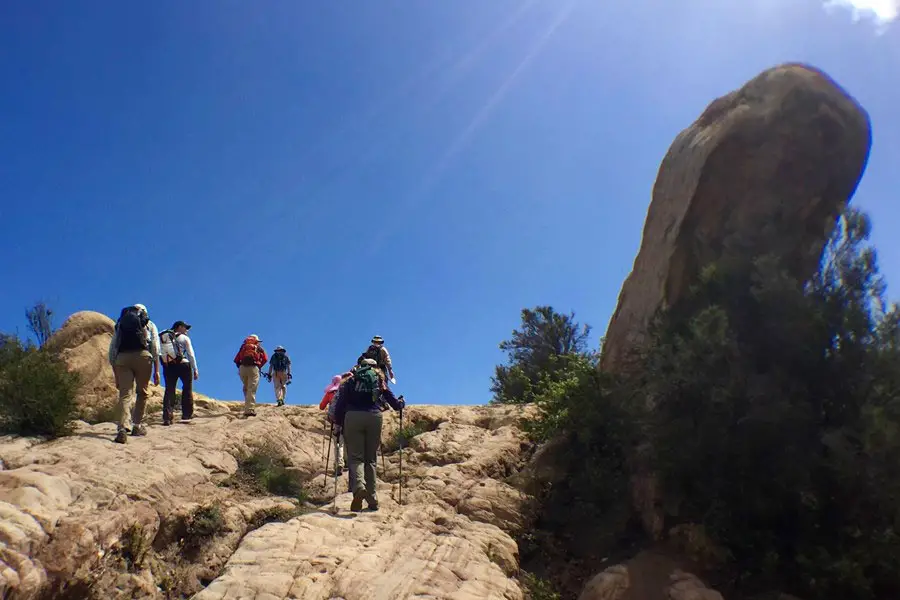 The Backbone Trail is a little known long-distance trail stretching 67 miles through the Santa Monica Mountains near Los Angeles. The Backbone, which was officially opened in the summer of 2016, crosses the best-protected stretch of coastal Mediterranean habitat in the world and offers an amazing diversity of trail experiences.
You'll experience deep wooded canyons, rocky outcrop spires, ocean vistas that include the Channel islands, and sweeping inland views to the San Gabriel Mountains and downtown LA. The trail about 25,000 feet of elevation gain and loss, and all types of terrain over its length.
Hikers and equestrians can access the entire length of the trail. Mountain bikers can use 47 miles.
There are 12 trailheads along Backbone Trail, which allow for hiking the trail in sections over time rather than all at once. The National Park Service has put together a list of GPS coordinates that you can download here.
The longest continuous section is the 16 miles from Mishe Mokwa to Ray Miller Trailhead, where there is no vehicle access.
Camping on Backbone Trail
Camping is only allowed in designated campgrounds along the trail. Here is a list:
Musch Camp Hike-In at Topanga State Park camp has room for 8 tents, has tables, drinking water, and a flush toilet. It is not reservable and is on a first-come, first-served basis. A small fee ($7/person/night). No campfires/smoking permitted.
Malibu Creek State Park campground is 1.5 miles from where the BBT crosses Malibu Canyon. Regular campground with fire ring, water, and bathrooms nearby. Reserve a campsite up to 6 months in advance at: http://www.reservecalifornia.com.
Circle X Ranch has drinking water, pit toilets, and tent spaces. Reserve online at www.recreation.gov or call 1-877-444-6777. Fee of $35 per night + possible $9 reservation fee. It is 2.1 miles away using the Canyon View Trail.
Danielson Ranch at Point Mugu State Park is a group campground only. Contact California State Parks for reservations at 818-880-0363 or Mark.James@parks.ca.gov.
La Jolla Valley Hike-In is 0.5 miles off of the BBT, located in Point Mugu State Park. There are only 3 tent spaces, no water, and no fires. It is $10 per night, and you auto-pay at the La Jolla/Ray Miller parking area.
Trail Details
Trail Type: End-to-End
Trail Length: 67 miles
Elevation Gain: 25000 feet
Trail Condition: Marginally Maintained
Dogs Allowed? Yes
Trail Activities: Hiking, Horseback Riding, Mountain Biking
Hazards
Cactus, Cold, Forest Fire, Heat, Mountain Lions, Snakes