Leo Carrillo Campground Guide
Situated on a scenic stretch of Malibu coast just east of the Los Angeles-Ventura County line, Leo Carrillo is a true gem of the California State Parks system, boasting iconic beaches, world-class surf spots, and access to the unspoiled beauty of the Santa Monica Mountains. 
Also known as "Secos" among surfers and old-timers, Leo Carrillo has been immortalized in countless films — including Gidget, Beach Blanket Bingo, and Point Break — which have all used the area's picturesque white-sand coves, distinctive rock formations, and craggy sea caves to great effect. 
Nestled in a shady sycamore grove on the north side of the Pacific Coast Highway (PCH), the campground at Leo Carrillo features 135 sites that offer easy access to both the beach and backcountry trails. Several excellent surf breaks and secluded coves are located within a short drive of the campground, although there's really no need to get in a car. 
A number of trailheads can be found near the park's entrance, while Leo Carrillo's postcard-perfect South Beach is connected to the campground via a short footpath that passes under Highway 1. See below the campground guide for some ideas of things to do in the area.
Campground Details
Site types: Tent, RV, Group Sites
Amenities: Potable Water, Toilets, Trash Receptacles, Fire Rings, Picnic Tables, Camp Store
Information number: 1-805-488-1827
Reservations: Reservations accepted
Reservation number: 1-800-444-7275
Campground Coordinates: 34.046152, -118.932116
Location: Malibu, California
Address: 35000 W. Pacific Coast Highway, Malibu, CA 90265
Season: Year-round
Getting to Leo Carrillo Campground
From Malibu, head west on Pacific Coast Highway (SR 1) for approximately 15 miles. The turnout for Leo Carrillo State Park is on the right about 2 miles past State Route 23. If you pass Neptune's Net, turn around — you've gone too far.
The Campground
Leo Carrillo is one of the most popular campgrounds in the Malibu area — and for good reason. The campground's 135 sites are situated in a shady canyon just north of PCH.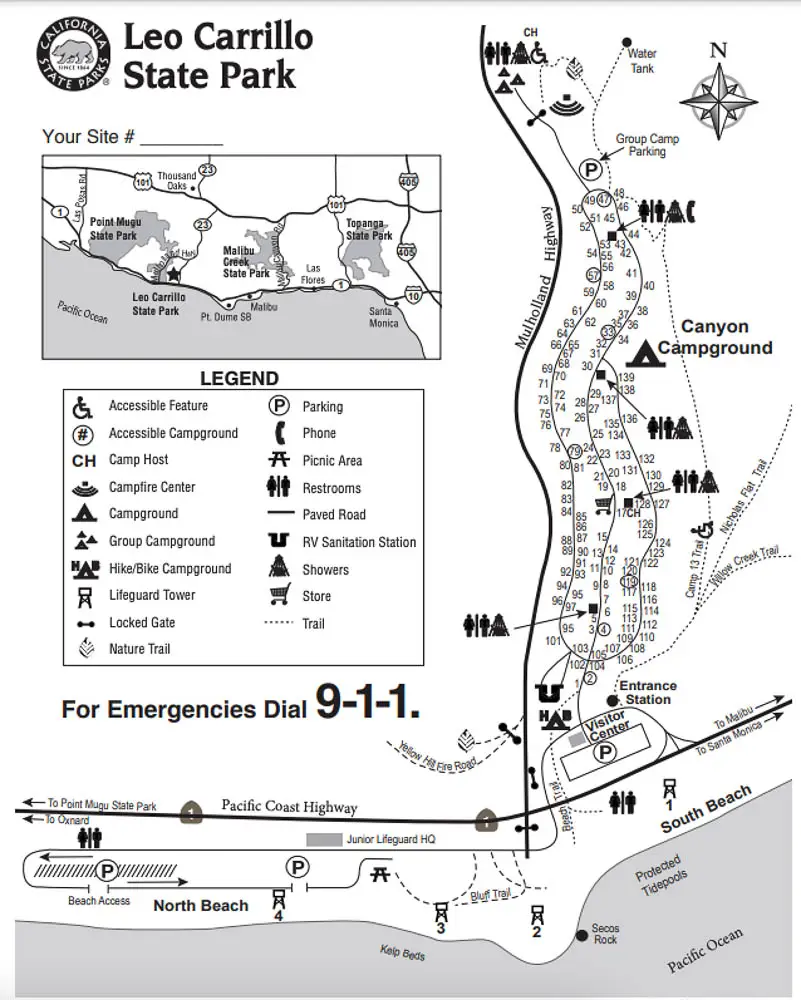 Twisty sycamores and coastal live oak provide both protection from the sun and a bit of privacy, while the trees' low-hanging branches are perfect for hanging a hammock or even some string lights.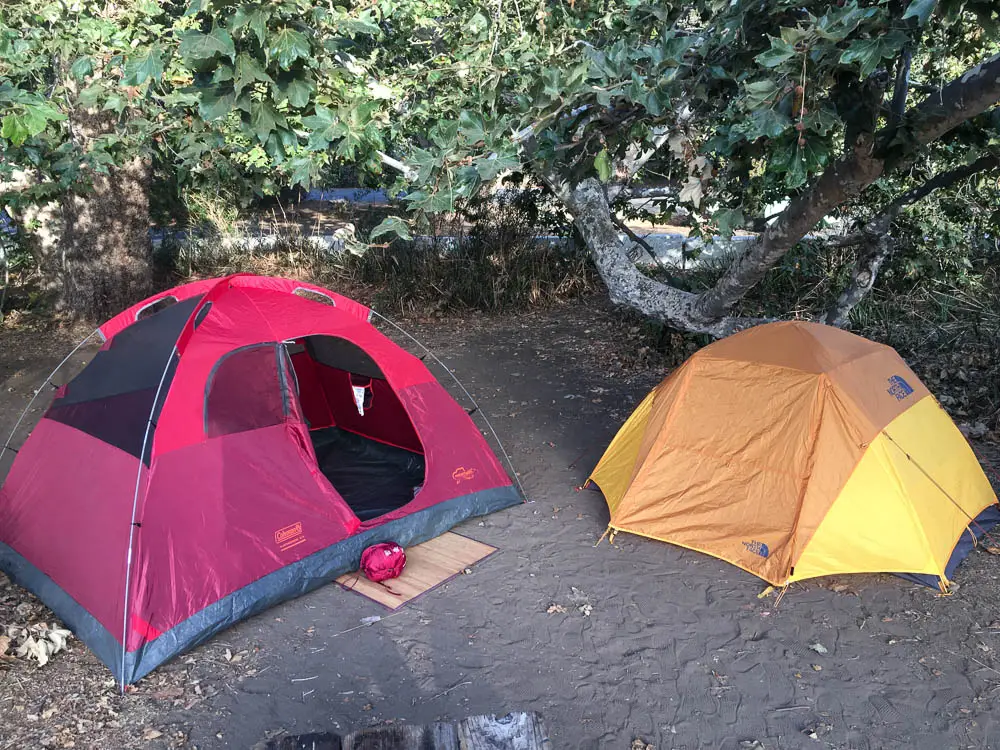 Although the creek-fed trees and bushes offer a sense of seclusion, Leo Carrillo is hardly a secret. Reservations are highly recommended, as the campground is often fully booked — even in winter.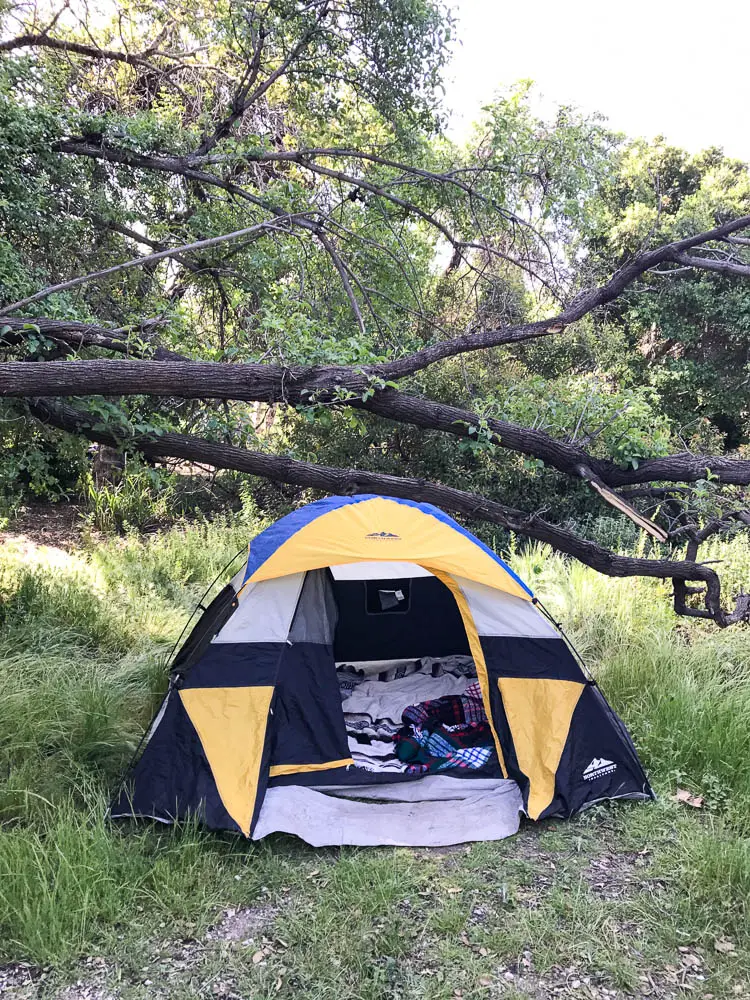 During the summer months when school is out and south swells beckon surfers from across SoCal, Leo Carrillo can be booked out for months in advance. However, with a bit of luck and persistence, weekday campers can still snag a walk-up spot even during the high season.
Still looking for a plot to pitch your tent? Sycamore Canyon Campground and Thornhill Broome Campground, both located within nearby Point Mugu State Park, often have available sites when Leo Carrillo is at capacity.
If you have the luxury of choosing your campsite — i.e. you made the wise decision to plan your trip well in advance — we recommend one of the creekside sites along the Arroyo Sequit on the western edge of the campground. That said, all sites are fairly spacious and feature a picnic table, fire ring, and room for up to eight people.
Flush toilets and showers are always a short walk away, and the camp store in the center of the campground sells firewood, marshmallows, and other camping essentials. 
Standard tent sites are $45 per night, while sites with RV hookups are $60 a night. Each additional vehicle is $12 per night, and the day-use beach parking lot also acts as an overflow lot for parties with more than two cars.
For parties of more than eight people, there is a group campsite at the back of the campground that can accommodate up to 50 people and 12 vehicles. The cost is $225 per night.
Fires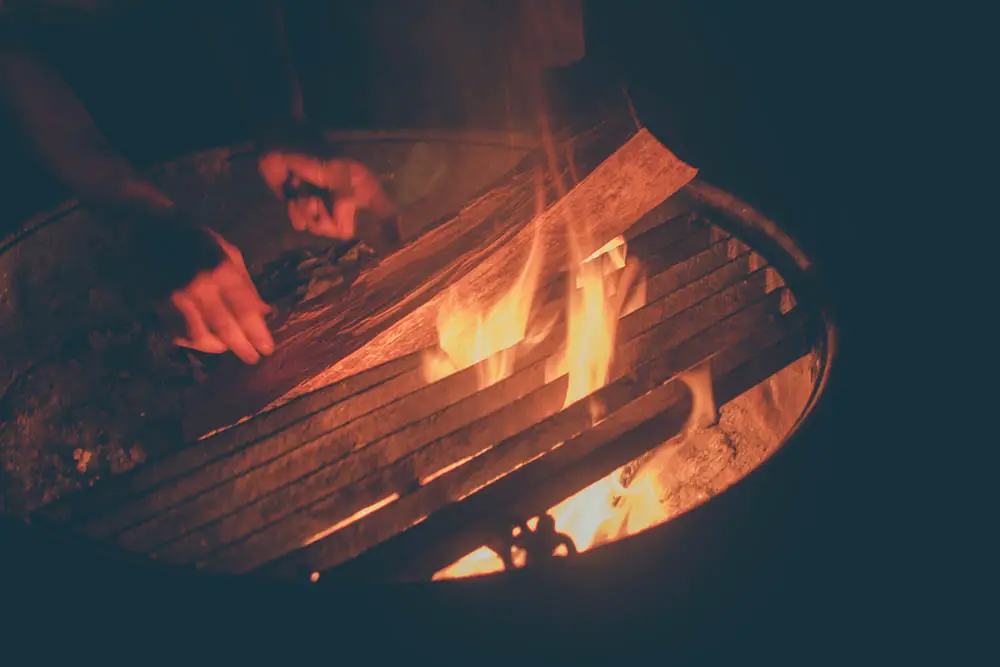 Fires are permitted in designated fire rings, but Leo Carrillo is subject to fire restrictions depending on conditions. The area has been ravished by brushfires in recent years, so be sure to extinguish all fires at night and before leaving the campsite.
RV Information
RVs up to 31 feet in length and 13 feet 6 inches in height are allowed at Leo Carrillo. 46 sites offer electrical hookups. There is a sanitary dump station on site.
Things to Do Near Leo Carrillo Campground
Whether you enjoy surfing, hiking, mountain biking or just soaking up some sun on the beach, Leo Carrillo offers plenty of options for active families.
A variety of surf breaks in the area accommodate surfers of all skill levels, from first-timers to experts. The trails similarly vary from easy, family-friendly hikes to strenuous backcountry treks.
Looking to leave camp for a bit? Just a couple miles up the road, the historic Neptune's Net is a popular spot for a post-surf beer and seafood basket.
Leo Carrillo State Beach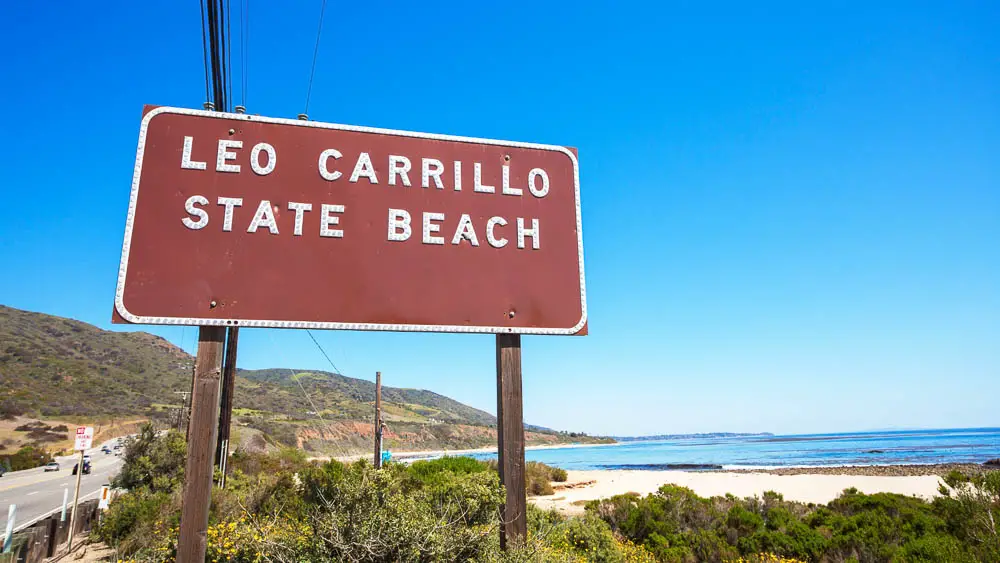 Just across PCH from the campground, the beach at Leo Carrillo has long been a favorite amongst surfers, sun worshippers and big-budget Hollywood productions.
The scenic sandstone cliffs and unblemished natural beauty of the surrounding area feel a world away from nearby Los Angeles, making it an ideal escape from the hustle and bustle of city living. 
The long right-hand point/reef break at South Beach is one of the best waves in the Malibu area; however, the crowded takeoff spot and rock hazards make it best suited for experienced surfers.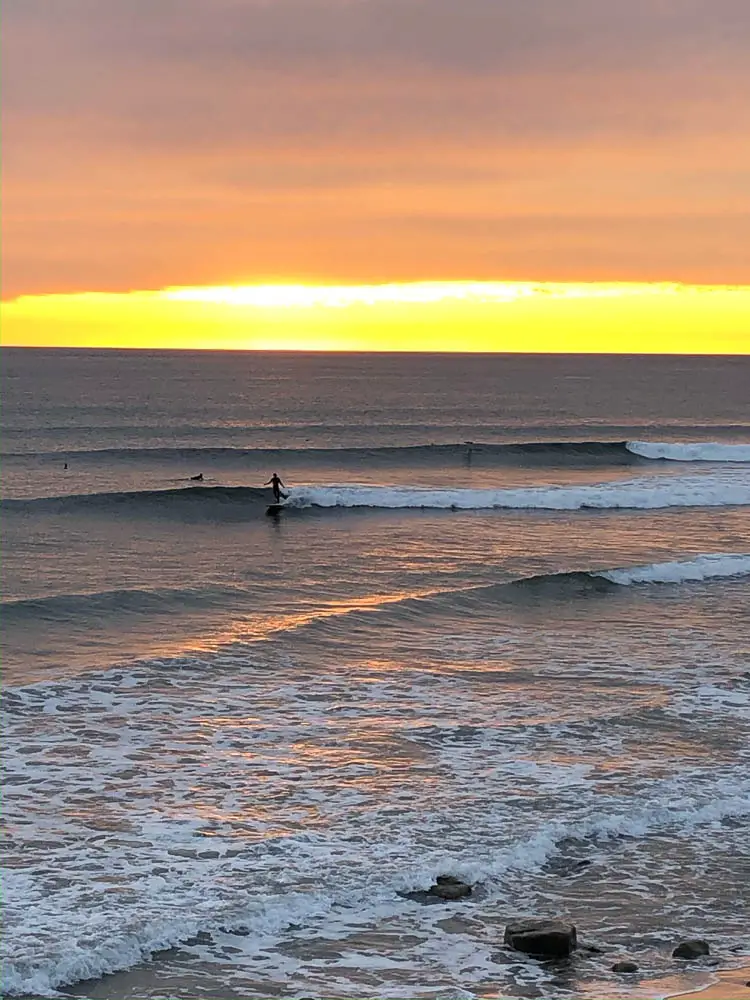 Beginner and intermediate surfers can find a bit more room to breathe among the soft, spread-out peaks of County Line beach, just over the hill. At low tide, take the opportunity to explore the tide pools, sea caves and exposed cobblestone reef with the kids.
Do your dogs love camping as much as you do? Leo Carrillo is a pet-friendly campground, although dogs are not allowed at South Beach.
Take the pups around the bend to North Beach, where dogs are welcome and you'll often find a variety of pooches playing in the surf. 
Nicholas Flat Trail
Enjoy the beauty of Leo Carrillo from above via the Nicholas Flat Trail, a moderately strenuous hike that ventures deep into the coastal hills, offering sweeping views of both the Pacific Ocean and the Santa Monica Mountains.
The trail begins just past the park entrance and immediately takes you on a fairly steep and steady ascent above the Pacific Coast Highway. A 7-mile out-and-back hike is an option for those looking to explore hidden meadows and the idyllic Nicholas Pond.
For a shorter 2-mile loop, head right at the Willow Creek Trail and take in the stunning ocean vistas on your way back down. 
The hike is best experienced on a cool spring morning when the trails are dotted with wildflowers and the misty marine layer provides some protection from the sun. Whenever you choose to go, be sure to bring a hat and plenty of water, as there is little shade on offer.
If you are looking for some guidance, there is a guided tour that starts from Zuma Canyon Trail and explores the Santa Monica Mountains.
Guided Tours
A few companies offer guided tours and excursions in the area, which can be nice if you haven't had time to plan something or just feel like letting someone else handle the logistics. Here are a few outdoorsy options.
Other Ventura Campgrounds
For information on other campgrounds in the area, check out our guide to Ventura beach camping.