San Elijo State Beach Campground Guide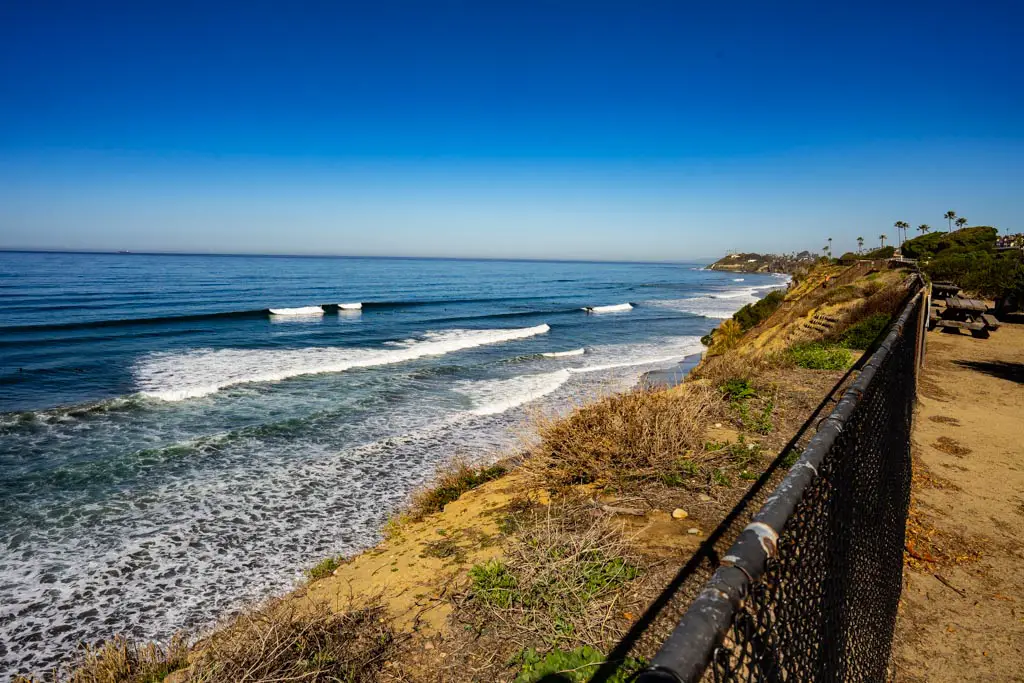 Offering a quintessential Southern California coastal camping experience, San Elijo State Beach Campground perches on the ocean bluffs above one of San Diego's most idyllic beaches and a bevy of popular surf breaks.
The campground is sandwiched between the ocean and Highway 101, within a short walk of the quaint surfers' hamlet of Cardiff, and offers 171 tightly-grouped campsites for tents, campers, and RVs.
Campground Details
Site types
Tent, RV, Group Sites
Amenities
Potable Water, Hot Showers, Flush Toilets, Trash Receptacles, Fire Rings, Picnic Tables, Camp Store, Beach Showers
Information number
1-760-753-5091
Reservations
Yes
Reservations website
ReserveCalifornia.com
Campground address
2050 S Coast Highway 101
Cardiff, CA 92007
Campground GPS
33.021607, -117.284282
Location
Cardiff by the Sea
Season
Year-round
Getting to San Elijo State Beach Campground
The campground is located just off the coastal highway, south of Encinitas, north of Solana Beach and due west of Cardiff by the Sea, which is within walking distance. 
To get to the campground from Interstate 5, take the Birmingham Drive exit and travel west for two-thirds of a mile to intersect with San Elijo Avenue. Turn left and go south for a fifth of a mile. Turn right onto Chesterfield Drive, cross the train tracks, and turn right again onto Highway 101, heading north.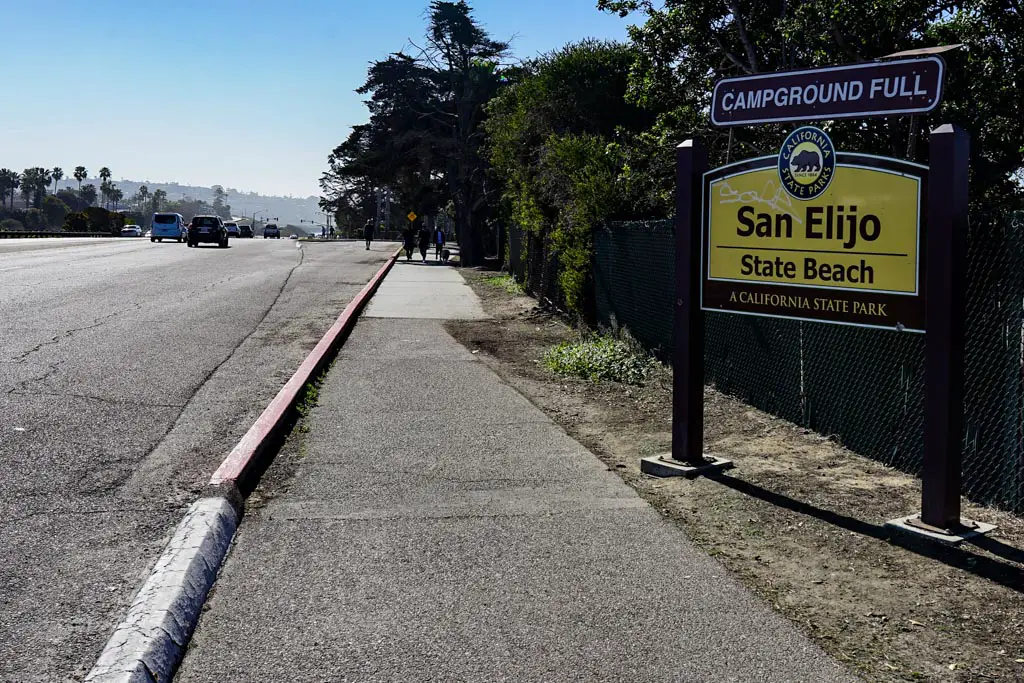 This is where it gets a bit wonky. Go 0.4 miles and get in the turn lane on the left that goes into the day use parking for the state beach. But instead of going into the parking lot, make a U-turn on Highway 101. Then return south for 325 feet and take the right exit into the campground. 
The Campground
There is a lot to like about San Elijo State Beach Campground. Let's start with the beach. The campground directly overlooks San Elijo State Beach as well as two other beaches Swami's Beach (to the north) in Encinitas and Cardiff State Beach (to the south).
These beaches are some of the nicest in San Diego and are popular among beachgoers, swimmers, surfers and snorkelers, and scuba divers. This is hallowed ground in the surfing world.
The near-shore reefs create some of San Diego's most famous surf breaks, including Swami's, Pipes, Turtles, Cardiff Reef, Georges, and Seaside. San Elijo State Beach extends of three-quarters of a mile north from San Elijo Lagoon's entrance channel, which is just south of the campground.
Amenities
The campground has nice facilities – something that I've found fairly typical of campgrounds managed by the state of California. These include a camp store, multiple bathroom facilities that offer flush toilets and coin-operated showers.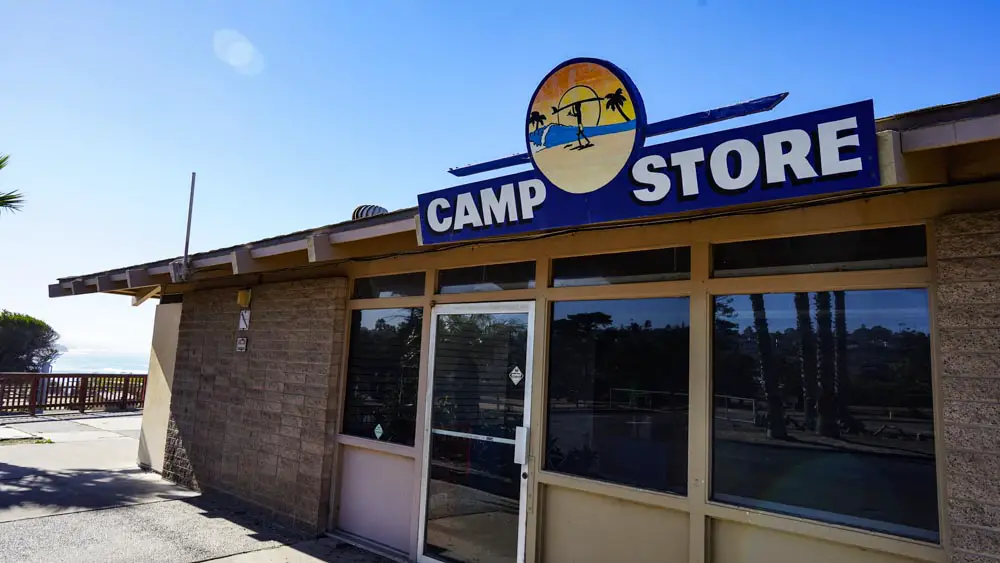 There are water spigots positioned at regular intervals throughout the campground and showers at the top of the staircases down to the beach–there are five of these staircases in the campground. The camp store sells firewood, ice and groceries and is open April through October. In the winter months, you can shop at Seaside Market in Cardiff by the Sea.
Campsites
The campground itself is organized into two large loops created by roads that stretch out along the coastal bluffs like a bowtie, with the center of the knot being the entrance kiosk and park headquarters.
These loops divide the campground into three distinct types of campsites, those along the westernmost edge that overlook the beach, those in the middle of the loops, and those on the eastern edge that back up to a fence along Highway 101.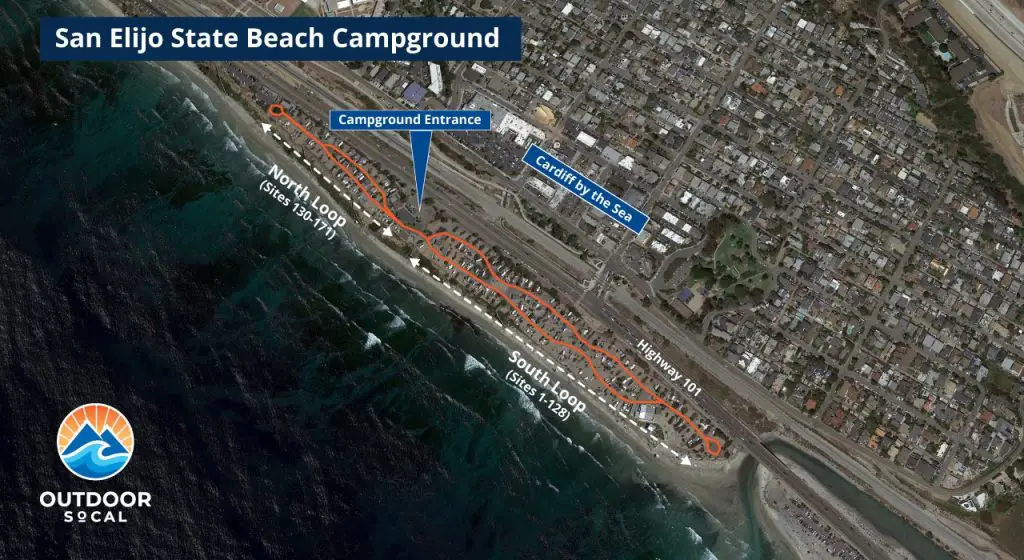 As a general rule, the westernmost sites overlooking the beach are the most desirable, as they offer better views and the noise of the coastal highway is drowned out more by the sound of waves. I dislike road noise, so in my opinion, the sites on the eastern edge closest to the road are the least desirable. Highway 101 is a busy and noisy road. 
The sites in the middle of the loops fall somewhere in the middle in terms of desirability also. That said, some of them have lots of plants and trees that give them a more natural vibe and some of them are larger than the sites on the edges.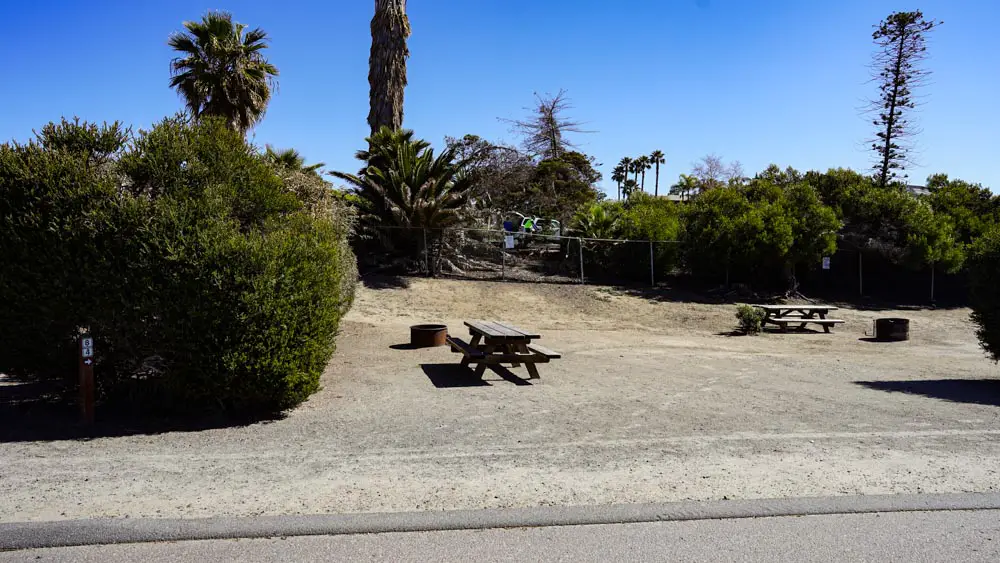 Other factors to take into account when trying to reserve a site–more on that challenging process later–are how close the campsites are to bathrooms and dumpsters and how exposed they are to foot and car traffic. I like to avoid all of those things, as I think they take away from the experience.
San Elijo State Beach Campground is a dense campground. While there are a few larger sites available, many are quite small with very little space separating them compared to other campgrounds. Some have trees that help to provide some privacy, but a number are right next to each other with no barriers between them whatsoever. What every site you get, be prepared to be cozy with your neighbors.
RV & Camper Information
The campground allows RV camping, with motorhomes and camper trailers limited in length to 35 feet for non-hookup sites and 24 feet for sites with hookups.
Check each site when making your reservation to make sure that it's large enough for your RV.
The campground offers 28 sites with electrical hookups, all located on the south loop, where there is also an RV dump station.
Reservations
Here's the bad news: it's not easy to book a campsite in San Elijo State Beach Campground. Reservations are made through the California State Parks reservation system at ReserveCalifornia.com. For some tricks and tips, check out our in-depth guide to booking sites in California campgrounds.
Dogs
Dogs are allowed at the campground, but must be on a leash. Dogs aren't allowed on San Elijo State Beach.
Other San Diego beach camping
Can't get a reservation at San Elijo or just looking for other options? Check out our guide to San Diego beach campgrounds. A great alternative beach campground is South Carlsbad State Beach Campground about 6 miles north.