Anza-Borrego Slot Canyon Trail Guide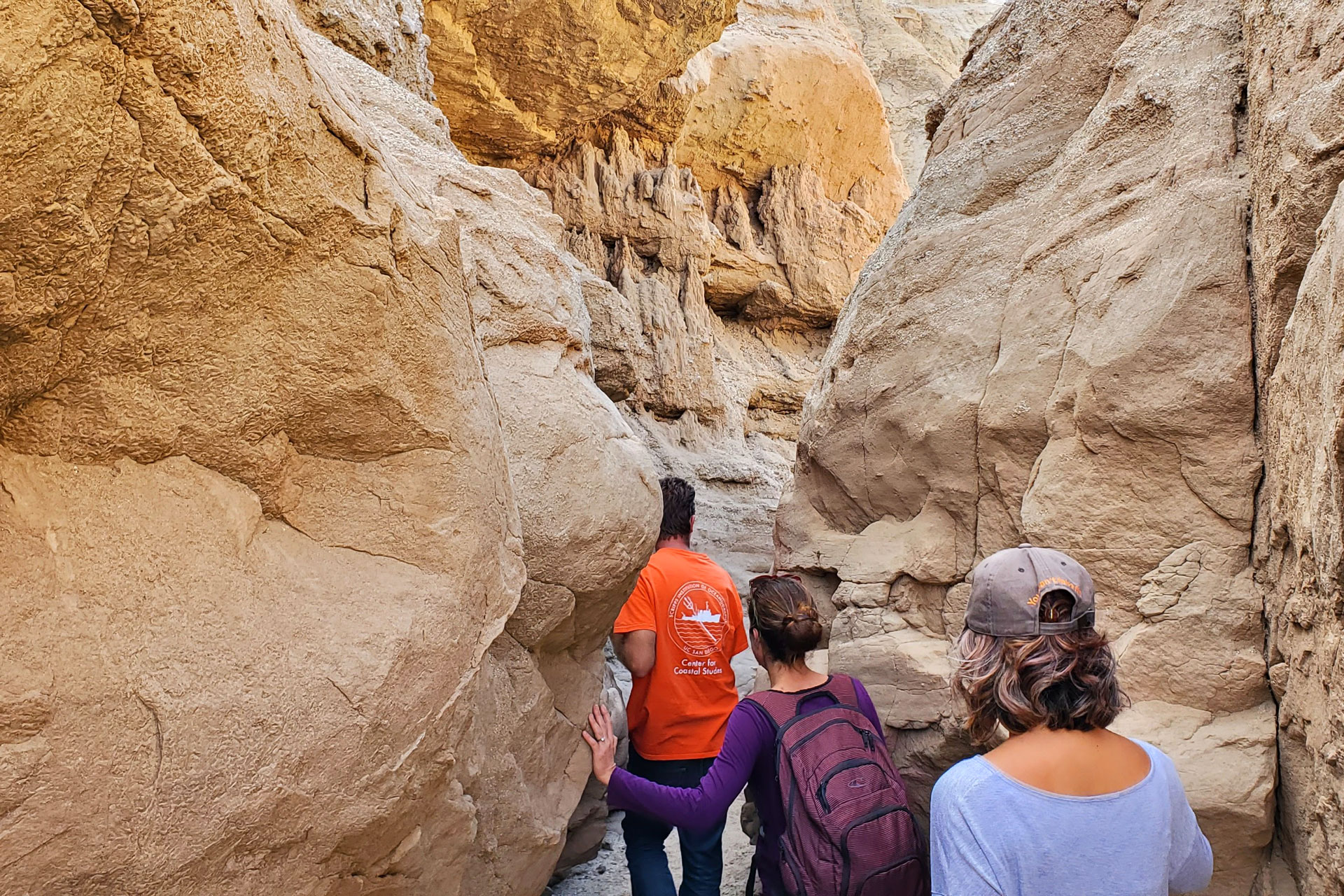 The Slot Canyon Trail in Anza-Borrego Desert State Park, known simply as "The Slot," is an easy out-and-back hike, that winds through a deep and extremely narrow siltstone canyon (just wide enough at points for a single person to pass). Squeezing through the slot is definitely an adventure and a fun way to experience the maze-like quality of Anza Borrego's desert canyons.
Trail Details
Trail type: Out-and-back or loop
Difficulty: Easy
Length: 1.8 miles round trip
Elevation gain and loss: 128 feet, -128 feet
Trailhead Coordinates: 33.182039, -116.214071
Location: Anza-Borrego Desert State Park
Season: October – May
Getting There
To get there from Christmas Tree Circle in Borrego Springs, head south on Borrego Springs Road for 12 miles to Highway 78. Turn left on 78, and go 1.4 miles and make a left on Buttes Pass Road. Drive 1.8 miles to the parking lot for the hike. Follow the signs to the slot trailhead at the northeast corner of the parking lot.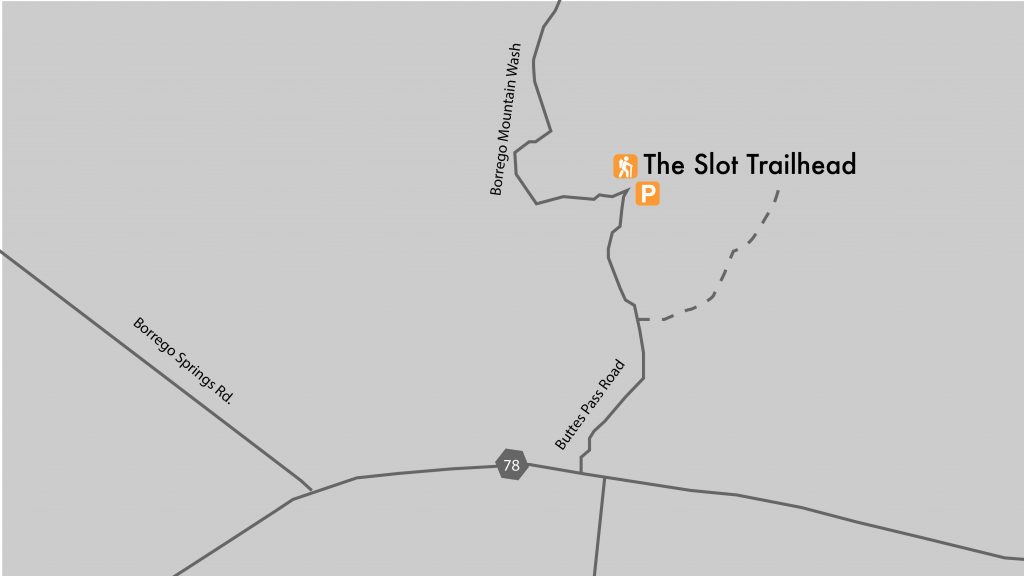 Getting to the slot canyon trailhead doesn't require a four-wheel-drive vehicle, unless it has rained recently, in which case, check-in at the visitor's center about road conditions. The slot is about a 20-minute drive southeast of Borrego Springs, and a little tricky to find. The gravel road to the trailhead is easy to miss, and the tiny road sign doesn't help matters. Even though we set the mileage tracker on our Jeep, we blew right by it the first time and had to circle back.
The Hike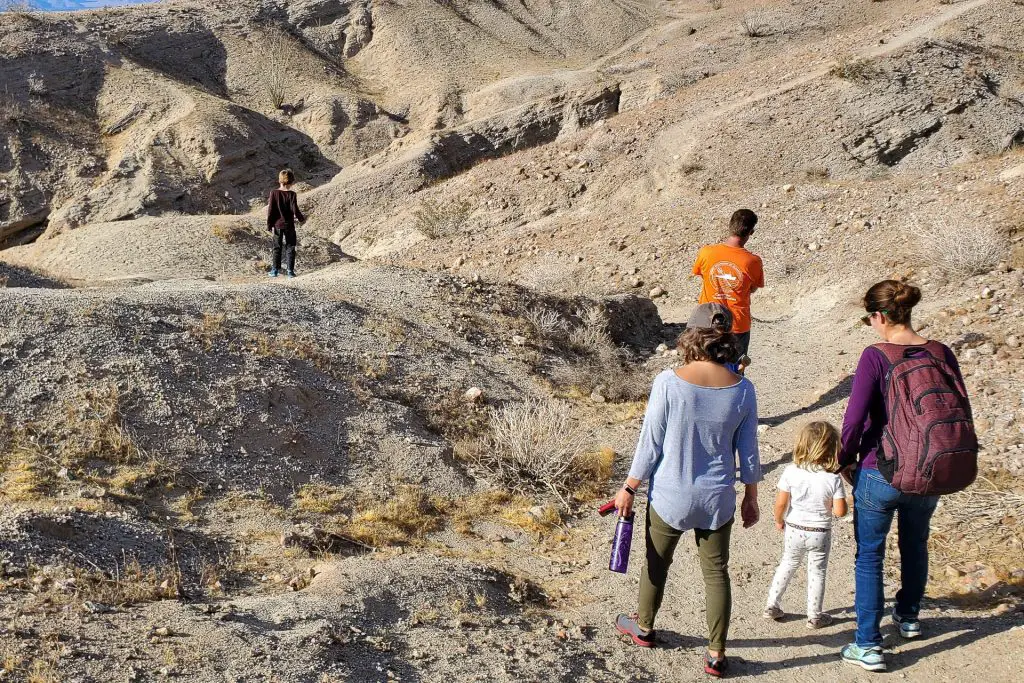 As you approach the trailhead (GPS: 33.182039,-116.214071), it's worth keeping a close eye on kids, because the canyon drops off steeply in places along the approach trail. The trail starts at the top of the parking lot, in the direction you would go if the road had continued up the hill, and begins with a steep descent into the canyon. Once you're at the bottom, head left onto the trail.
The mile-long trail drops about 100 feet in elevation as you pass through the canyon. The trail gets so narrow in places, that you may need to take off any backpacks to squeeze through. Kids (and the young at heart) will love exploring the canyon, as there is a surprising geological twist around each corner.
After less than a mile, the slot canyon will open up and you'll come to a truck trail. You can follow this trail for a bit and then take a left on a trail that will bring you back along the rim of the canyon to the trailhead (which adds about a mile to the hike). Alternatively, we recommend you return back through the slot trail, as it's more interesting. 
Also Read
Anza-Borrego Desert State Park Adventure Guide