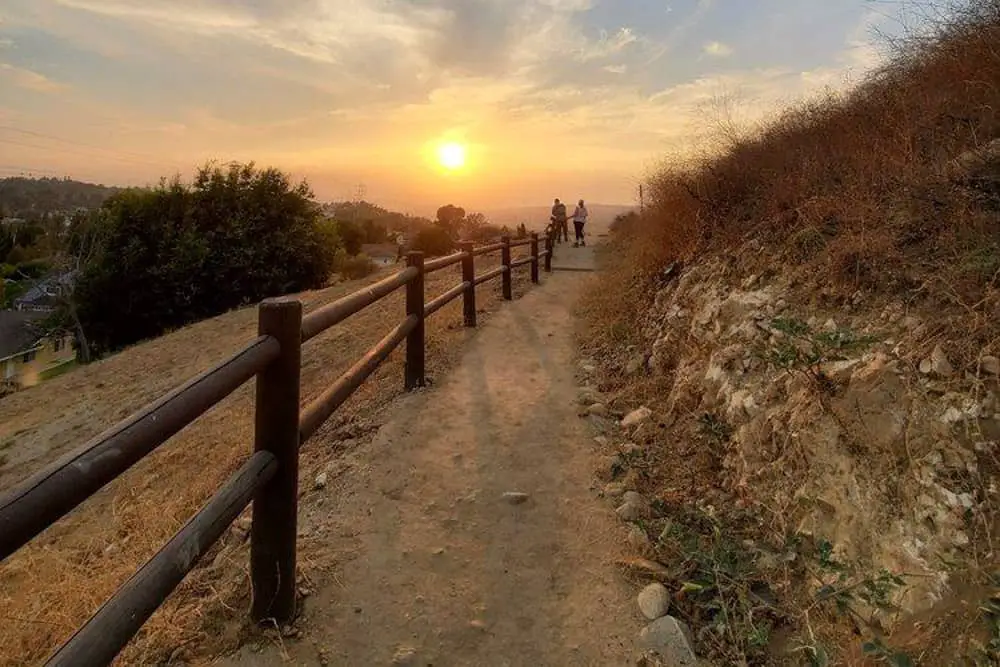 Steep Canyon Trail is a 1.8 mile easy to moderate hiking trail located in Diamond Bar, California. A year-round trail that is short loop, the route can be completed in less than an hour and boasts a large range of truly unique scenery that is heavily signposted and describes the various features of the route and surrounding areas.
This trail is a real trip through history for those who wish to take a relaxed stroll through some natural beauty – as well as acting as a popular route for bikers, trail runners, and dog walkers. 
Trail Details
| | |
| --- | --- |
| Trail Type | Loop trail |
| Difficulty | Easy to moderately challenging route  |
| Length | 1.8 miles |
| Elevation Gain/Loss | 600 feet |
| Trailhead Coordinates | 34.006314, -117.805065 |
| Location | Diamond Bar, California  |
| Best Season | Year-round trail, suitable for all seasons  |
Getting to Steep Canyon Trail
If using GPS technology to get to the trail, you should input the GPS address: Clear Creek Canyon Dr Diamond Bar, CA 91765. This is the easiest way to get the traditional 'start point' of this loop trail. If you are using more traditional directions, the location of the trail is at Diamond Bar, CA on the corner of Steep Canyon Road and Clear Creek Canyon Drive.
The information in this guide is for informational purposes only. We use Gaia GPS for mobile devices and also bring high-quality printed topographic maps while in the backcountry, and recommend you do the same.
From the 57 freeway, you should take the Diamond Bar Blvd. exit and go right. Travel for approximately 3.7 miles. Then, turn right on Steep Canyon Drive and go uphill until you reach the trailhead which is signposted and impossible to miss. Bear in mind it's a loop trail so there is no definitive start. 
Parking is readily available in two main, designated spots – both on the corner of Steep Canyon Road and Clear Creek Canyon Drive. Parking bays are pretty plentiful and marked in white and charges/instructions should be adhered to as the area is monitored.
The Trail
The trail features a staircase hill and to begin with it follows the side of the hill before it then descends slightly to a residential area and arrives at the Canyon Route.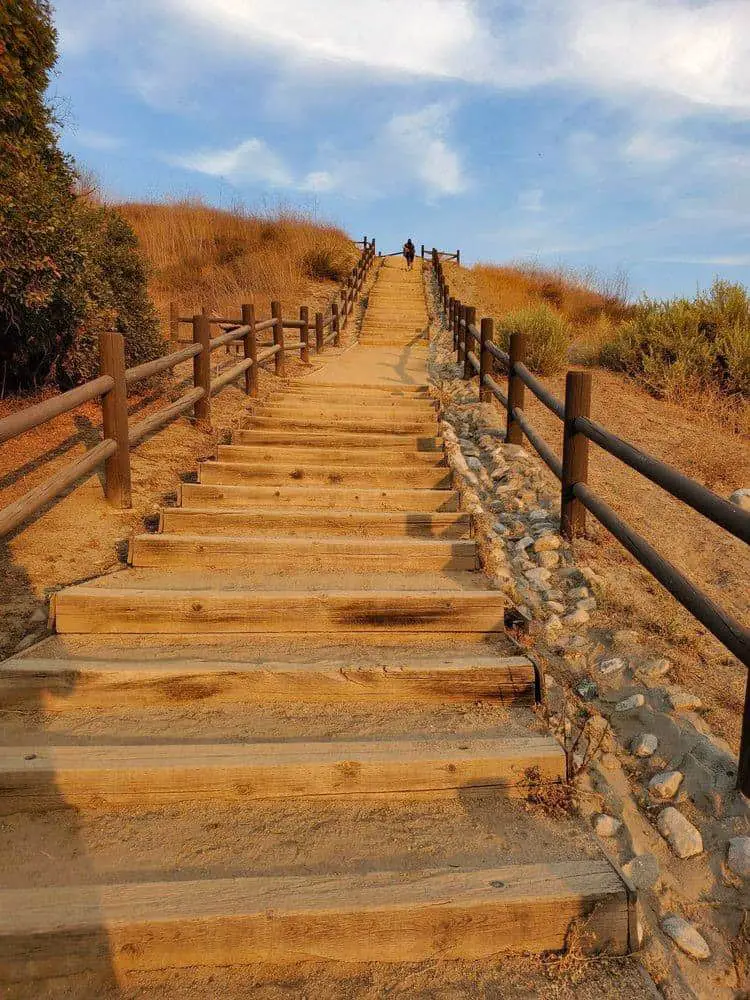 You then head past some electrical power lines and again uphill before you reach what you would consider the trail itself which is located in a much more rural feel, although of course still close to the residential area given the shortness of the route. There is little sign of houses and roads etc. here and you really feel as though you have escaped civilization. 
There are many trees adorning the route and it is well laid out along the fire road. You should take the optional spur which is signposted as the 'Diamond Bar Center' which follows on to a vista point. Here, you will again enjoy some stunning views of both San Gorgonio and San Jacinto that will make you think this hike was well worth your time.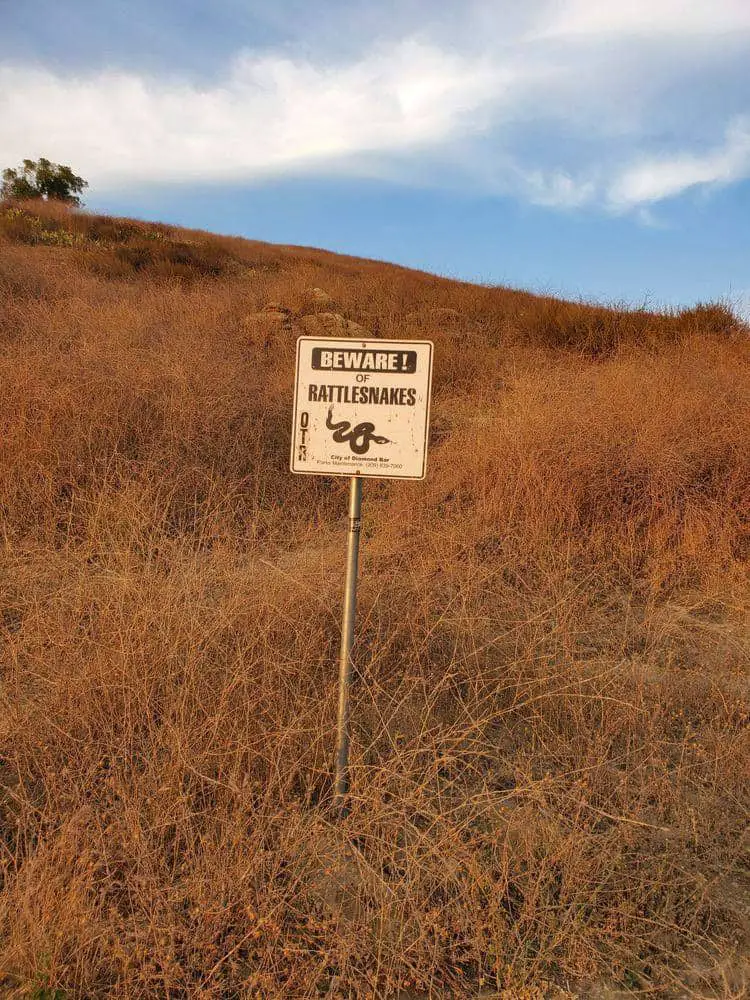 As with most hiking routes in this area of California, you should beware of potential rattlesnakes, especially in bushy areas where they like to hide. As well as this, other wildlife includes various birds in the skies and trees above as well as the odd deer sighting, although uncommon.
The trail, as suggested by its name, is steep in parts but maintains a relatively easy completion due to its well-maintained fire road, paths, and staircases. It is also frequently used as a route for those wishing to get a good workout outdoors. 
The stunning scenery on the route includes wide-ranging views of some of California's greatest sights – including the nearly San Gabriels and Santa Ana Mountains as well as Puente Hills and of course downtown Los Angeles which is particularly beautiful during sunrise or sunset if you wish to time your hike accordingly.
The aforementioned staircase from the 'start' of the hike signals the end as you've come full loop and from the top you can again enjoy stunning views of the valley, the residential area below, and greater Los Angeles as a real reward for finishing this beautiful journey.
One of the great things about this hike is how well-maintained and easy to use the route is. It is well looked after by local wardens and is really user-friendly and includes various signage and even benches throughout the short trip making it a comfortable and pleasant journey for walkers of all proficiencies. 
This is a very popular and family-friendly trail and dog walkers are also welcome, although dogs should be kept on a leash for their own safety and that of other hikers and their dogs. You are highly likely to encounter others during the trail, regardless of the time of day such is its popularity with locals as well as tourists.
There is not as much shade on this trail as there is on others, and it is relatively exposed. However, because it is short (less than two miles to complete), it is certainly a year-round trail and is open as such – although if you really wish to avoid the sun on very warm days you should avoid taking this trail during the height of summer.