San Diego Glamping Guide – Yurts, Safari Tents, and Cabins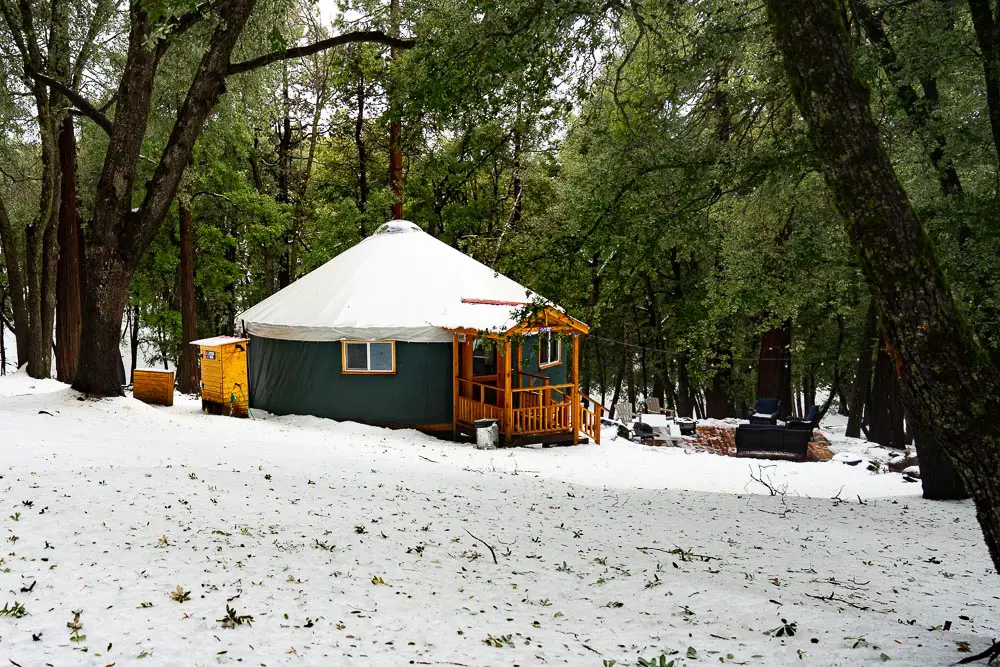 Sometimes, even if you are a rugged individualist, you appreciate a little luxury. For outdoors enthusiasts, that's where glamping comes in.
Glamping is the perfect fusion of untamed wilderness and uncompromised comfort, offering an escape into nature without forgoing the plush amenities of a high-end vacation.
In this guide to San Diego glamping options, we'll explore the best glamping spots scattered across San Diego's sun-soaked coastlines, mountains, and deserts.
San Diego Glamping Cabins
San Diego County Parks and Recreation Department oversees a number of cabins in San Diego, located in park campgrounds throughout the county. To reserve the cabins visit San Diego County's campground reservation page.
Agua Caliente Regional Park
Agua Caliente Park is a regional camping park nestled in the Anza Borrego Desert State Park. The park is best known for its geothermally heated springs and rugged desert hiking.
The park now offers seven new camping cabins outfitted with temperature controls to beat the heat, a table with seating for four, two queen-size bed frames, a sink, a bathroom, and a fire ring. No pets are allowed in or around the cabin area. This is a smoke-free facility.
Dos Picos County Park
Located in Ramona, Dos Picos is surrounded by ranch land and steep, rocky slopes and offers two cabins in San Diego county. These are some of the closest cabins in San Diego to the coast.
The park offers a playground and a pond that provides catch-and-release fishing, as well as many hiking trails. The cabins in the park campground are each 200 square feet. The cabins feature a double bed and three bunk beds, a table and chairs, and a bathroom and porch. Fire rings and picnic tables are located outside. No pets allowed.
Guajome Regional Park
Guajome Regional County Park offers playgrounds, a basketball court, hiking trails, and two ponds that are habitats for an abundance of fish that will test the skills of any angler.
The park offers one 600-square-foot cabin. The cabin has a double bed and two fold-out sleeping cots, a full kitchen, a table and chairs, a bathroom, and a porch. Fire rings and picnic tables are located outside. No pets are allowed in or around the cabin area. This is a smoke-free facility.
Lake Moreno County Park
Lake Moreno Reservoir, in San Diego's east county, lies in the middle of 3,250 acres of chaparral, oak woods and grasslands. The campground offers ten 156-square-foot cabins with views of the lake. Each cabin offers one queen bed and two twin-sized bunk beds. Separate restrooms are located near the cabins. No pets allowed.
Potrero County Park
This is a more urban park than the others, offering Much of the 132-acre Potrero County Park consists of picnic areas, and visitors can also enjoy ball fields, an enclosed pavilion, playgrounds, and hiking trails.
There are two cabins for rent in the campground. Each has three rooms with inside privacy doors, 1 full-size bed and 3 twin beds, no bedding/ padding provided, a dining table and four chairs, a flushable toilet bathroom, sink, propane heater, lighting, and several electrical outlets. Located outside the cabins are a fire ring and picnic table. The cabin has full shade and showers nearby.
William Heise County Park
Situated 4,200 feet above sea level along the northern extremity of the Laguna Mountain Range, William Heise County Park spans over 1000 acres providing an undisturbed setting for miles of scenic hiking and equestrian use.
The park offers fourteen, 224-square feet comfortable cabins. Each cabin offers wifi Internet access, insulation, interior lighting, table and chairs, a food pantry, and a large sitting room. One small tent is allowed on site. No pets are allowed in or around the cabin area. This is a smoke-free facility.
California State Parks Cabins
The state parks in and around San Diego offer vast spaces and a few cabins for rent. Reservations are made through the Reserve California website.
Anza Borrego State Park
With over 600,000 acres, Anza-Borrego Desert State Park is the largest state park in the contiguous United States, offering 500 miles of dirt roads, 12 wilderness areas and miles of hiking trails.
If you're looking for one park that has many cabins in San Diego, Tamarisk Grove Campground offers 11 cabins for rent. There are no mattresses/bedding. The cabins have no electricity, so no lights, air conditioning, or heating. There is no wood stove or fireplace inside the cabins and the campground has no potable water.
Cuyamaca Rancho State Park
The beautiful park offers camping and hiking in an oak woodland forest, with a sprinkling of pines and lovely meadows with creeks. There are over 100 miles of trails that accommodate hikers, bikers, and equestrians. Paso Picacho Campground sits at an elevation of 5,000 feet.
The most popular hikes start from this camp, including the 2-mile hike up Stonewall Peak (elevation 5,700 feet), and the 3.5-mile hike up Cuyamaca Peak (elevation 6,512 feet), both of which offer breathtaking views of the deserts to the east, the coast to the west, and Lake Cuyamaca at the bottom.
The campground offers five cabins for rent. You'll need to bring your own bedding and shared restrooms are in separate structures nearby.
Mount Laguna Cabins
Laguna Mountain Lodge rents out small hotel rooms (2 adults max) and one-,two- and three-bedroom cabins. Call 619-473-8533 or 619-473-8630 between 9 am and 5 pm to make a reservation. The lodge is privately owned but operates under a Special Use Permit with the U.S. Forest Service.
These cabins and those on Palomar mentioned below can be a great way to visit San Diego's mountains when it snows. For tips on visiting the mountains during snow, check out our San Diego snow guide.
Palomar Mountain Cabins
Bailey's Palomar Resort is a rustic resort on Palomar Mountain that offers a range of cabins, yurts and quonset huts.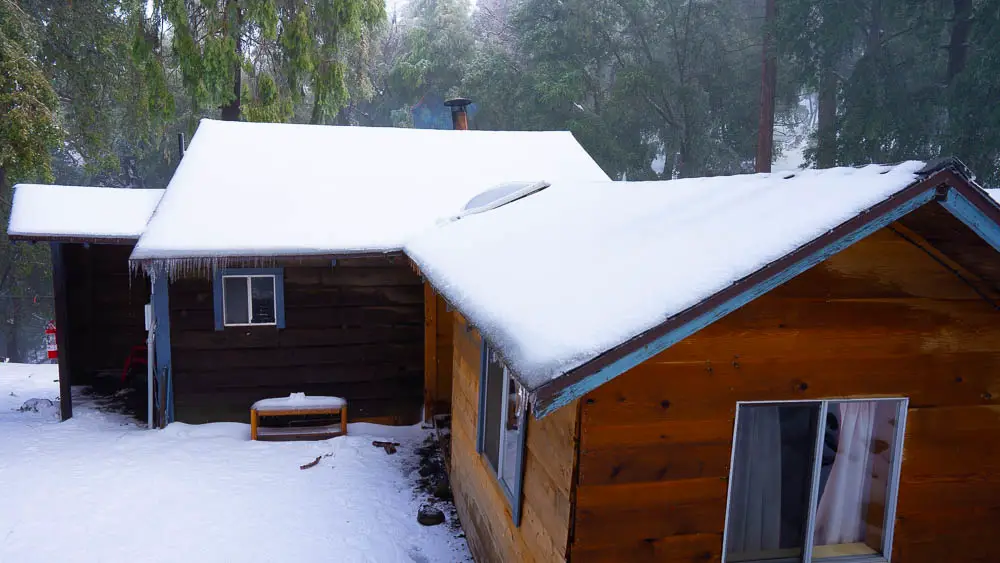 The resort is part of a property originally homesteaded in 1888 and some of the historic cabins are more than 100 years old. This is a popular destination in winter when storms bring snow to San Diego's mountains.
The historic cabins are rustic — think thin walls, crooked floors, patched together in places. They aren't for everyone, but if you're looking for that true old-cabin feeling they will hit the mark. The newer yurts, quonset huts, tent cabins, and tiny house cabins are more recently constructed.
Bailey's is convenient as the cabins and other shelters come with firewood (when there is a stove), linens, kitchens, and other amenities.
Yurts
Yurts, with their distinctive circular silhouette and sturdy yet luxurious interiors, are a cornerstone of the glamping world, offering an immersive experience that blends seamlessly with the environment.
San Diego's diverse landscape plays host to a variety of yurt accommodations, ensuring you'll find a yurt retreat that elevates your stay from basic camping to a deluxe outdoor living experience.
Baileys on Palomar Yurts (Palomar Mountain)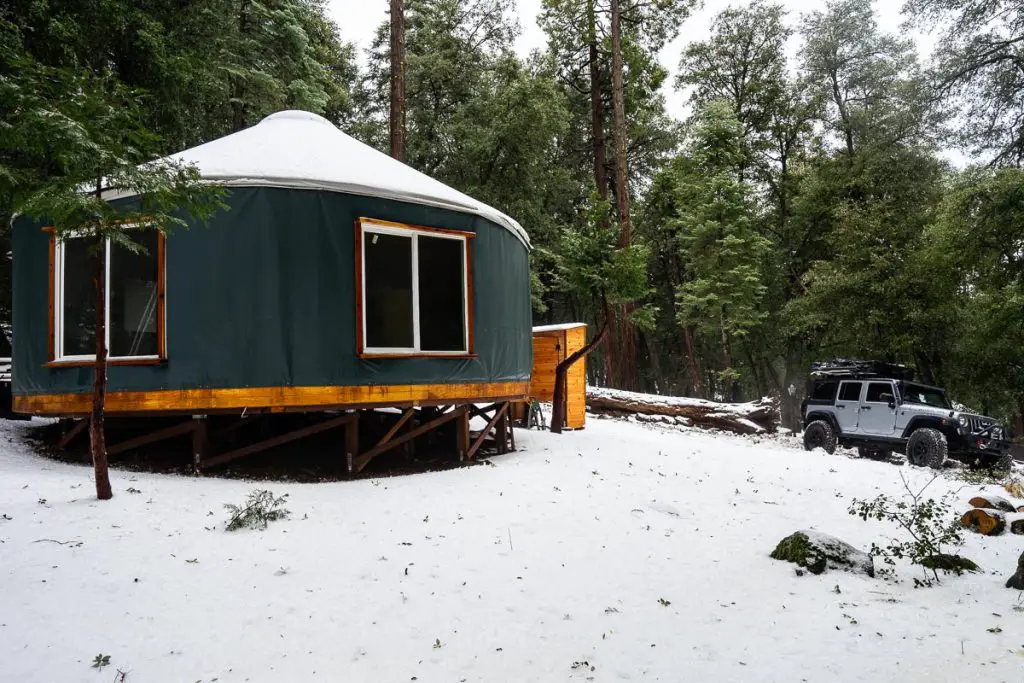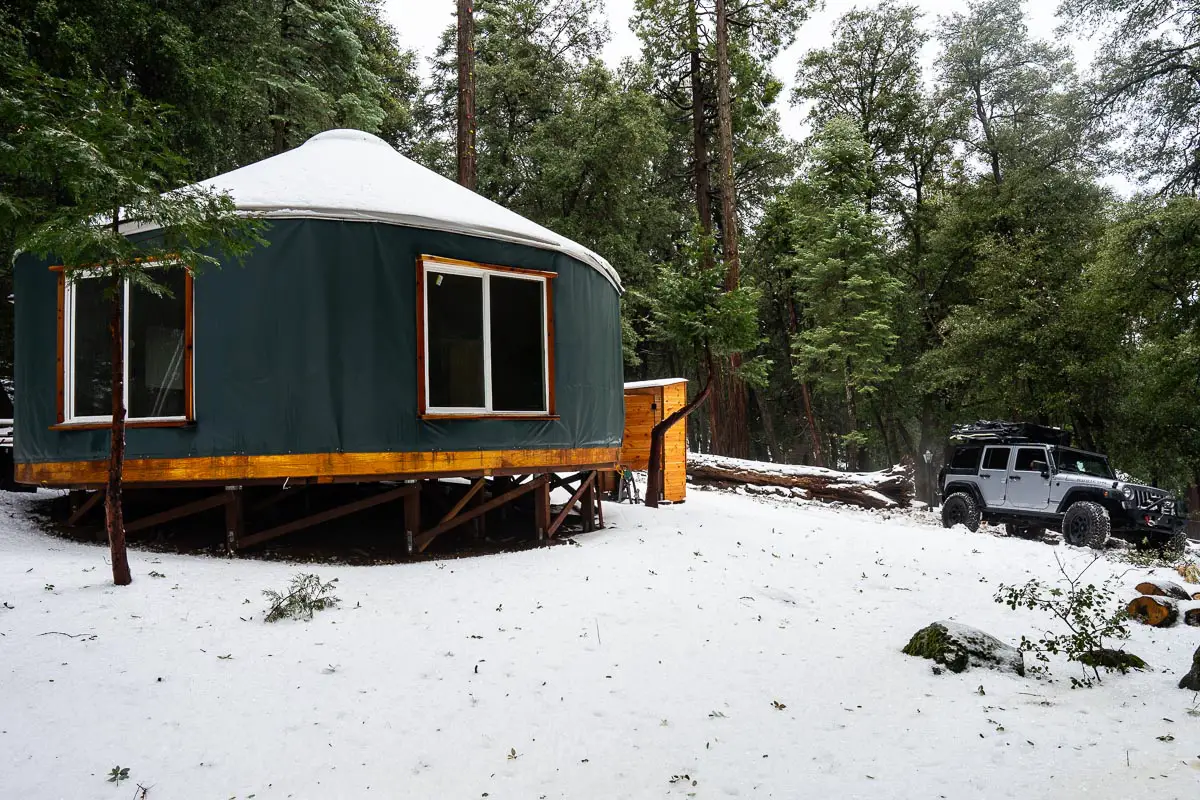 Bailey's Palomar Resort is a rustic retreat on top of Palomar Mountain that in recent years has added yurts to its mix of cabins, tent cabins, and quonset huts.
Bailey's is a popular destination in winter when storms bring snow to San Diego's mountains, as well as a great place to escape the lowland heat during the warmer months. By our last count, Bailey's offers 11 different yurts for rent in two different areas of the resort.
Stallion Oaks Ranch Yurts (Descanso)
Stallion Oaks Ranch in Descanso is a secluded campground and retreat venue located about 45 minutes from downtown San Diego. It is situated on 243 acres in a mountain-residential area and is nestled against the Cleveland National Forest and offers excellent views of the surrounding area. The property boasts a variety of walking trails, a walk-around lake, and meditation spots that are ideal for relaxation and reflection.
The ranch offers a range of accommodation options, including five 16-foot yurts and one 24-foot yurt, which are named after different types of trees. The yurts can sleep up to six people each and feature three bunk beds, but guests must bring their own linens. Additionally, the site has twenty tent sites located near the common areas.
Tijuana River Valley Regional Park Campground Yurts
The Tijuana River Valley Regional Park Campground is a 79-acre campground situated below Spooner's Mesa, in the southwestern corner of San Diego. The campground offers views of the valley and connects to over 20 miles of trails for hikers, bikers, and equestrians.
The campground contains a nature education center, 51 primitive campsites, and is the first county campground to offer yurts, which can accommodate up to six to ten people.
This is a great place to explore the Tijuana River Valley, a unique and diverse ecosystem that is home to many sensitive species, including more than 340 bird species as part of the Pacific Flyway.
Alter Experiences
Alter Experiences offers unique "glamping" stays in the Laguna Mountains, including tree tents and luxurious "bell" tents.
They operate out of Laguna Campground, El Prado Campground, and Burnt Rancheria Campground, under a license from the National Parks Service. Check out the website to see some photos of their setups. Inspiration will follow.
More San Diego Adventures
Check out the guides below for more outdoor adventures in San Diego.