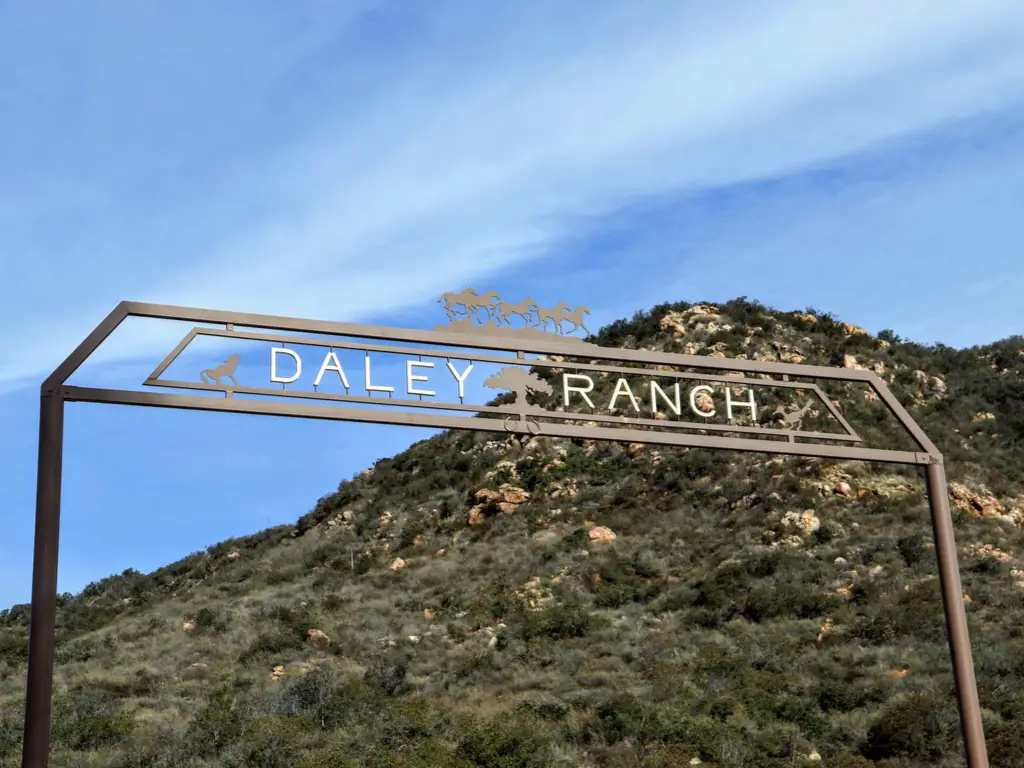 The Daley Ranch, a 3,058-acre conservation area in Escondido, California, offers over 20 miles of trails for hiking, mountain biking, and equestrian use. The trails wind through lush oak woodlands, coastal sage scrub and chaparral, grasslands, and riparian areas.
Getting there
The main entrance is at the southernmost part of the property, just north of Dixon Lake at the top of La Honda Drive. Parking is available at the La Honda Drive entrance and within the adjacent Dixon Lake Recreation Area. The entrance to the northernmost part of the property is along the unimproved Cougar Pass Road, 0.5 miles south of Alps Way. You can also access the park from Valley Center Road to the east.
Daley Ranch Trails
Daley Ranch features a network of numerous linked trails. Some of the connecting trails are single track connectors between larger trails.
Two of the most popular hikes in the park are the Boulder Loop Trail (2.4 miles) which affords terrific views, and the Ranch House Loop (2.5 miles), which passes two small ponds and the site of Daley's original log cabin. The cabin was built by the first European settler to arrive in the valley, an English immigrant named Robert Daley, who settled it in 1869. Prior to that, the area was inhabited by Kumeyaay Indians.
Daley Ranch Mountain Biking
Daley Ranch is a popular mountain biking area in San Diego and offers trails for riders of all levels, from beginner to advanced. Many of the trails require steep climbs and descents, however, so the majority of routes are appropriate for seasoned riders. Trailforks and MTB Project offer detailed guides to the area trails.
Daley Ranch Hiking
Daley Ranch offers plenty of hiking trails, some of which bring you to broad views of Escondido and the surrounding landscape, and others that follow creeks and pass through wooded glens. Volunteers also offer guided nature walks, though these were curtailed at the beginning of the COVID-19 pandemic.
There are many ways to explore the trails of Daley Ranch. That said, a few trails that are worth prioritizing are Jack Creek Meadow Trail, Boulder Loop, Cougar Ridge, Engelmann Oak Loop, and Sage Loop.
More information
The City of Escondido and Friends of Daley Ranch offer extensive information on the park.