Yaqui Pass Primitive Campground Guide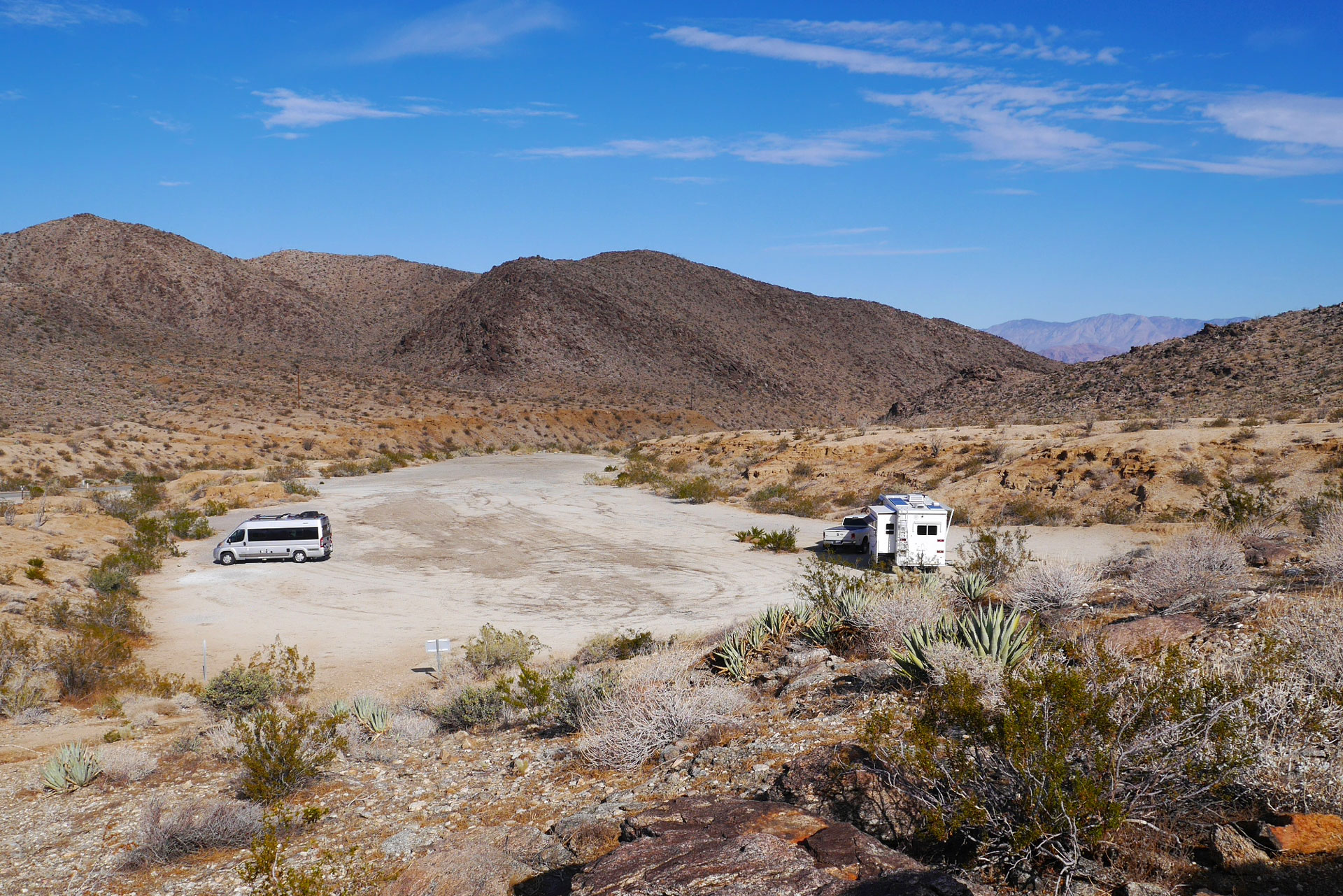 Yaqui Pass Primitive Campground in Anza-Borrego Desert State Park is a no-frills campsite located in Yaqui Pass east of Tamarisk Grove Campground, off Highway S3 as crosses the mountains into Borrego Springs.
Campground Details
Site types: Tent, RV
Amenities: None
Information number: 1-760-767-4205
Reservations: No reservations
Campground Coordinates: 33.136661, -116.379041086
Location: Anza-Borrego Desert State Park
Season: October – May
Getting to Yaqui Pass Campground
Yaqui Pass Primitive Campground is located between Tamarisk Grove Campground and Borrego Springs off Highway S3 as crosses the mountains from Tamarisk Grove and into Borrego Springs.
From Highway 78 near Tamarkis Grove Campground, take the S3 (also known as Yaqui Pass Road) 3.2 miles northeast to the top of the pass, keeping an eye peeled for the campground on the right.
From Borrego Springs, near the Casa Del Zoro resort and the intersection with Borrego Springs Road, take Yaqui Pass Road 4.7 miles south to the campground.
The Campground
Yaqui Pass Campground offers dispersed camping with no amenities, but is a good place to camp in an RV, as it is covered with gravel and fairly flat–basically a giant parking lot. There are no restrooms, so you'll need to make arrangements.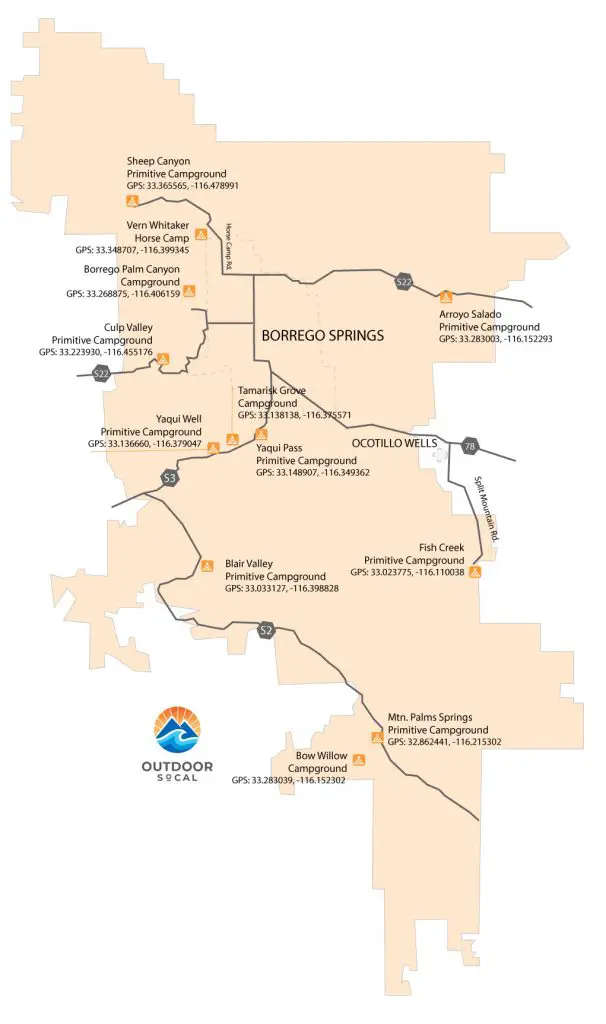 The campground is located fairly centrally in Anza-Borrego and offers a convenient spot to camp for the night near Borrego Springs.
If nearby Tamarisk Grove Campground is booked up, you can use Yaqui Pass as a backup–with the realization that you'll need to bring your own bathroom facilities.
There are plenty of places to boondock in Anza-Borrego, but if you are looking for a place where you can be sure not to get a vehicle stuck in the sand, this is a good bet. Other than being at a slight angle, it's a perfect place to roll up and camp in an RV.
During the cooler months, bighorn sheep are known to congrate in the mountains near Yaqui Pass, and lucky campers might catch a glimpse of them.
The campground is also quite dark at night as it is surrounded by hills that block the light from Borrego Springs and Ocotillo Wells. This makes it a convenient spot to take in Anza-Borrego's stunning starry skies.
There are several nearby hiking trails, including Bill Kenyon Overlook Trail, which starts at the campground.
This trail is a 1.2-mile loop named for the former superintendent of Anza Borrego Desert State Park that brings you to an overlook with terrific views of the Pinyon Mountains and Mescal Bajada (agave-covered slopes).
The Slot, a popular slot canyon hike in Anza-Borrego, is located about 20 minutes from the campground.
If you're looking for a quick hike, it's only about .25 miles from the campground to the overlook. Yaqui Well Trail and Cactus Loop Trail are also nearby, down the mountain near Tamarisk Grove Campground.
Other Anza-Borrego Campgrounds
Anza-Borrego offers many options for developed, primitive, and dispersed camping. For more information, check out our guide to Anza-Borrego camping and our guide to visiting the park. The video version of the guide is below.