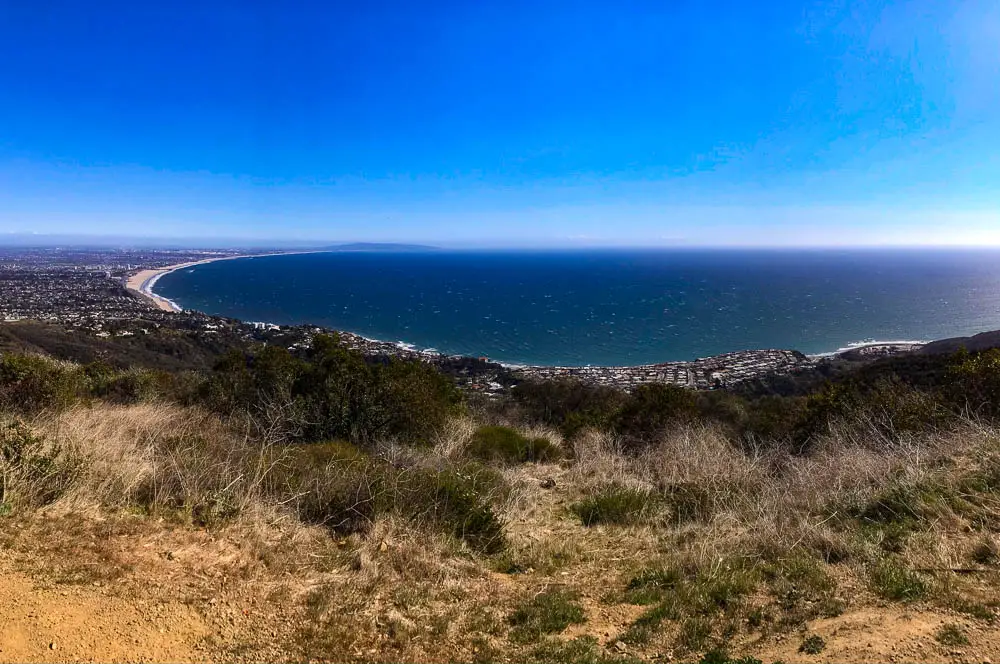 The Los Liones Trail is one of the best hikes in Los Angeles and takes you through the incredible biodiversity of Topanga State Park. The 7.3-mile out-and-back trail winds up a lush canyon before opening up to a wide fire road and climbs a total of 1,190 feet.
The going gets steep, but your hard work will be rewarded at the top by spectacular panoramic views of the Pacific Ocean to the west and the San Bernardino mountains to the east.
Getting to Los Liones Trail 
From CA-1 (PCH), turn onto Sunset Boulevard and continue for 0.2 miles. Turn left onto Los Liones Drive, and continue for 0.5 miles until you see the large stone wall and gate that marks the entrance to the trail. There is a small parking lot near the entrance as well as plenty of free street parking along Los Liones Drive.
The Trail
Topanga State Park covers 11,000 acres in the Santa Monica Mountains and is the world's largest wildland within a major city.
It has 36 miles of trails for hiking, mountain biking, and horseback riding, and is an incredibly biodiverse and geologically interesting area with volcanic formations, earthquake faults, and even marine fossils.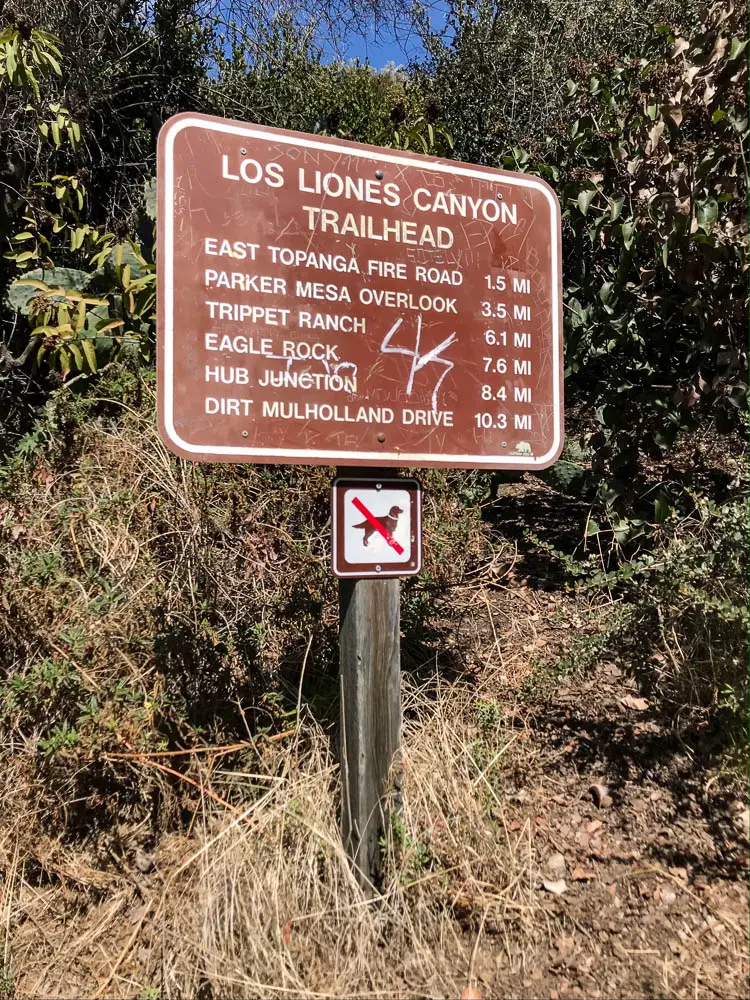 The entrance to the Los Liones Trail is clearly marked by a stone wall and a gate, and there are bathrooms conveniently located near the front.
The trail takes you immediately into a riparian canyon that's lined with trees, vines, and a vast array of native plants. Keep an eye out for willows and elderberries, as well as ceanothus, California sagebrush, and wild roses.
The trail is steep enough that you get your first ocean view after only about a third of a mile, but it is heavily shaded and there are several switchbacks through the canyon that make the incline doable. There are a few boulders embedded in the trail, but they're easy to walk over or step up onto and there's no climbing required.
After about 1.3 miles and 550 feet of elevation gain, you meet up with the East Topanga Fire Road. If you go right at the junction, you'll arrive at a clearing called the Paseo Miramar Viewpoint almost immediately.
This is a great point to stop and turn around if you came with kids or if you just want a shorter hike because you still get great views of Santa Monica, the Pacific Palisades, and the Pacific Ocean.
There are also benches and rocks to sit on, so the viewpoint is a good place to rest and have a snack and some water before you continue. To keep going upwards towards the Parker Mesa Outlook, turn left at the junction and follow the fire road. 
Once you're on the fire road, the trail gets wider and smoother but much steeper and with fewer switchbacks. The landscape and plants also change dramatically from the beginning of the hike, and there are fewer shade trees over the trail. There is dense chaparral on either side, made up of hardy plants like toyon, scrub oaks, and yucca.
Many different species call this scrubby environment home, and if you're lucky you may see California quail, desert cottontails, red-tailed hawks, or western fence lizards while you're hiking.
Bobcats, coyotes, and mountain lions also live in these mountains, but they rarely make an appearance. Still, it's good to keep an eye out if you're hiking at dusk or dawn.
The trail angles southeast toward the top of the ridge as you continue to climb, and you start to see more and more of the ocean laid out in front of you. After about 3.2 miles from the trailhead, you reach a three-way junction.
Take the marked fire road to Parker Mesa, and continue west along the ridge for about 0.5 miles. At this point, you come to the Parker Mesa Outlook where you can sit down and enjoy 360-degree views of the Pacific Ocean, the Santa Monica coast, the San Bernardino Mountains, and Topanga State Park. On especially clear days, like after a rain when there's no smog,  you can even see Catalina Island off in the distance. 
Although the Los Liones Trail is accessible year-round, early spring after a few rains is the best time to see the lush greenery in the canyon and enjoy wildflowers along the trail.
If you choose to go in late spring or summer, be sure to start early in the day before it gets too hot. Mornings on the coast can be foggy, but starting around nine or ten in the morning gets you most of the way up while it's still cool. Once you reach the outlook, the fog will be burning off and you can enjoy the views and hike downhill in the warmer temperatures. 
Temperatures on the trail vary considerably because you go from dense shade to full sun exposure to mountain ridges where you catch an ocean breeze. Consider dressing in layers so that you stay comfortable throughout your hike.
The trail takes about three hours to complete, and although it's steep in places it isn't very difficult if you're reasonably fit–when I went I saw a woman in her seventies hiking with her grandson, and she definitely beat me on some uphills.
The varied landscape and smooth paths make the Los Liones Trail equally suited for a family outing or a solo trek, but note that there are no dogs or bikes allowed on this trail.