Veterans Park Trail Guide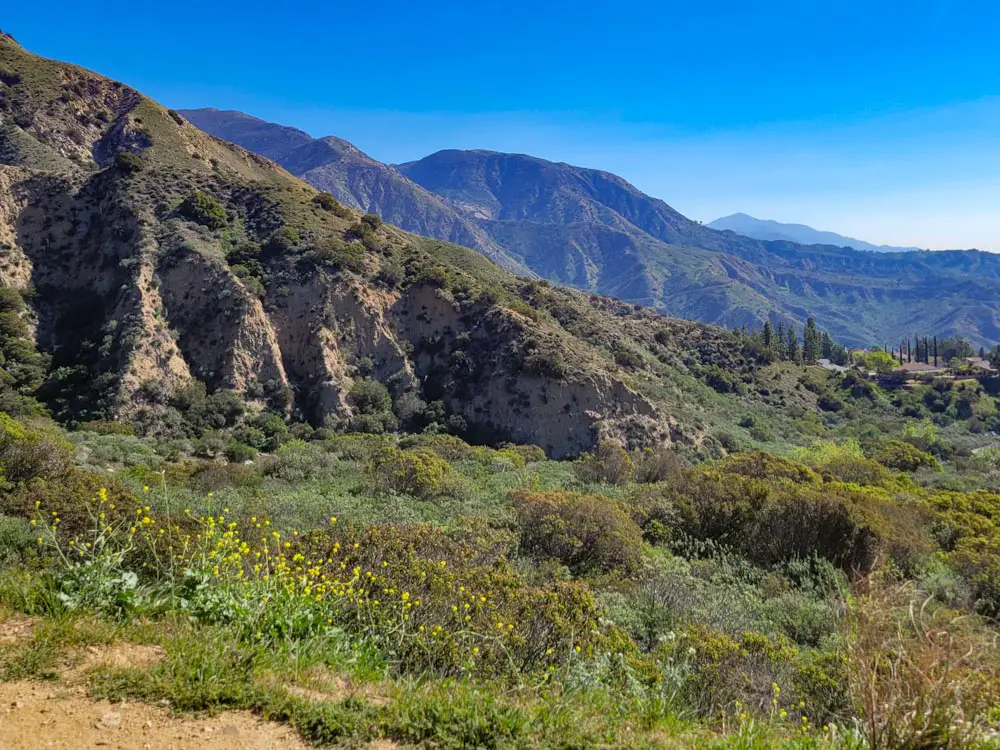 The Veterans Park Trail is a highly trafficked 2.2-mile dirt loop located just north of the Veterans Memorial Community Regional Park in Sylmar, the northernmost neighborhood in the City of Los Angeles.
Hikers have year-round access to the moderately challenging trail, which boasts rough, rocky and sometimes laborious terrain, with a total elevation gain of just over 700 feet.
As you ascend, you're treated to ever grander and more sweeping views of the San Fernando Valley below, framed between jagged canyons thick with desert brush.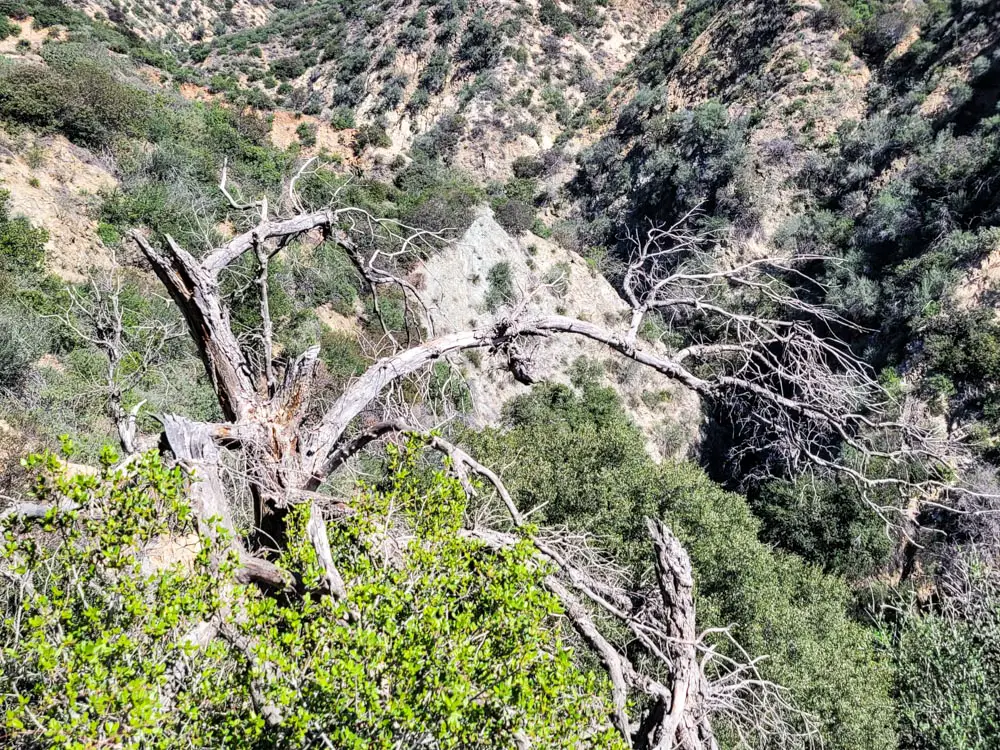 Trail Details
| | |
| --- | --- |
| Trail Type | Loop |
| Difficulty | Moderate (steady elevation gain, medium length, uneven terrain) |
| Length | 2.2 miles |
| Elevation Gain/Loss | 702 feet/-702 feet |
| Trailhead Coordinates | 34.330670, -118.4166567 |
| Location | Los Angeles |
| Best Season | Year-round, but best in cooler winter weather |
| Topographic Map | Download |
Getting to the Veterans Park Trailhead
The Veterans Memorial Community Regional Park has ample free parking and easy access to the trailhead. To get there, take the I-5 to the 118 East. Travel 2.3 miles to the 210 West. Go another 2.2 miles to the Hubbard Street exit, turn right and travel 1.2 miles to Simshaw Avenue.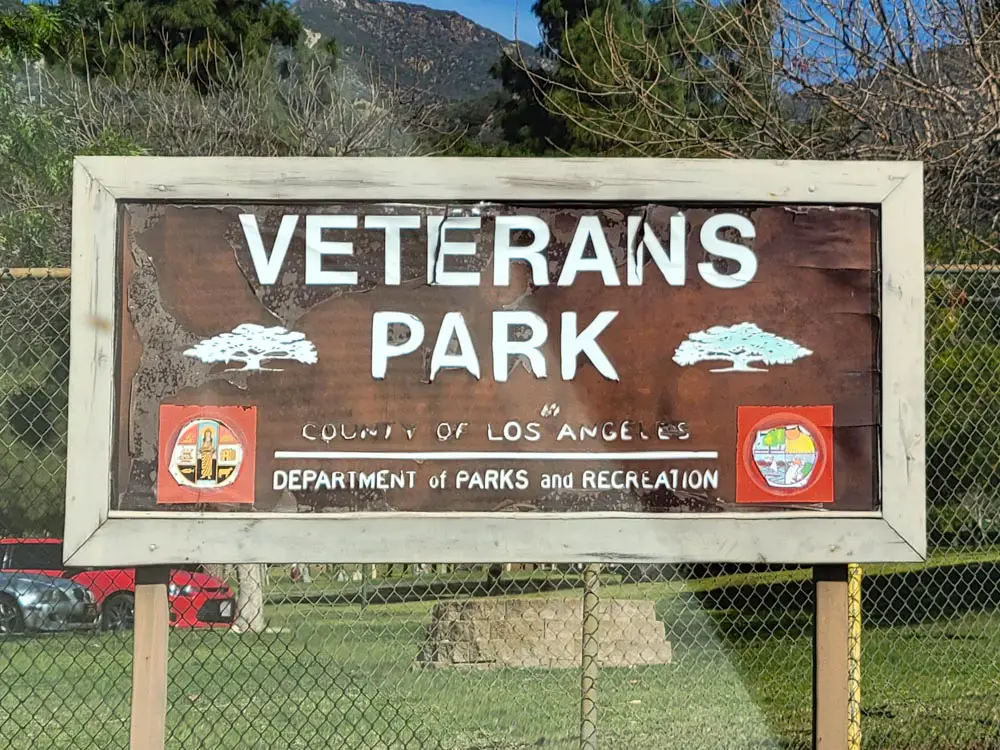 Head another third of a mile to Sayre Street, hang a right and follow it into the park. Once there, walk north across the park lawn, past the playground, to an opening in the chain-link fence that will lead you to the trail.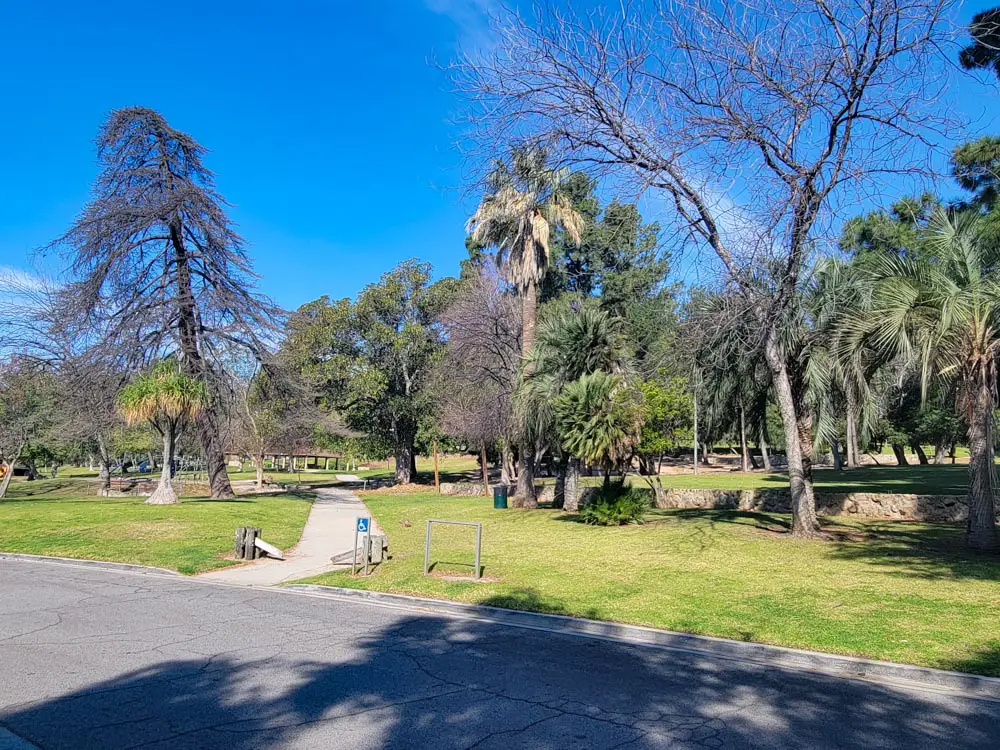 If you don't want to deal with traffic in and out of the park, head down Aults Avenue off of Sayre Street just south of the park entrance. In one-third of a mile, make a right on Astoria Street, then a quick left on Simshaw Avenue, and another quick right on Parkland Circle.
Access to Veterans Park Trail can be found at 13200 Parkland Circle. This quiet neighborhood cuts behind the park and offers plenty of free weekend street parking.
The Trail
If you start in Veterans Memorial Community Park, you'll have access to bathrooms, trash cans, gazebos, a kids' playground, and large open grass lawns spattered with shady trees that are perfect for picnic lunches.
Initially, you'll start on the May Canyon Truck Trail, which features a gentle and gradual incline as it winds up the mountain. While this part of the journey is paved, it's also well-worn, with cracks, breaks and potholes that can lead to uneven footing at times.
About a quarter mile up from the park's entryway to the truck trail is the Veterans Park Trailhead, a steep dirt path that juts off from the paved trail and is all but certain to intimidate less experienced hikers at first glance. The loose, craggy terrain dips and crests as it quickly rises several hundred feet and then follows undulating mountain ridgelines deeper into the canyon. The path is, fortunately, well maintained and several stretches level off, allowing you to take in the beautiful views while catching your breath.
Some of the most common vegetation along the trail includes chaparral yucca, coast live oak and California buckwheat, with sporadic patches of bright yellow courtesy of golden banner and wild mustard plants.
The heavy foot traffic means animals will be less likely to show themselves, although the keen eye will catch the occasional red-tailed hawk in flight or Western fence lizard scurrying across the dirt. Early morning or evening may bring a bobcat or California mule deer sighting, as these are their prime foraging times.
Also lining the trail are waves of native giant needlegrass, much of it planted in 2019 by a local community group (in collaboration with the US National Forest Service) in an effort to help restore the habitat that was damaged during the great Sayre Fire of 2008.
The grass is prized by local indigenous peoples and is also a key ecological feature of the region, serving as a host plant to several species of butterfly and lunch for the area's mule deer.
You won't find many unique landmarks or points of interest along the trail save a giant metal water tank or the random gnarled tree protruding out from a rock face. However, the views are the real show-stealers here, and every new hillcrest offers a sneak peak at the next leg of your adventure as the trail dips and ascends yet again.
Reaching the top means you can check your cardio box for the day, although you'll definitely burn a few extra calories on the descent, too. You can travel up or down either side of the loop, but watch your footing in both directions, as the dirt can often prove slippery under your feet. 
Give yourself a good 60-90 minutes (depending on your preferred hiking speed) from the trailhead to complete the loop. Summer weather in these parts is hot and even humid, so it's best to embark during the cooler January to March time frame, especially in the mornings when average temperatures may be in the high 50s to 60s.
Bring a bottle of water, a hat and some sunscreen for extra protection from the often-unforgiving desert sun as well as some hiking shoes with good tread.
May Canyon Truck Trail
Dogwalkers, bikers and casual hikers may choose to stick to the slightly less rigorous May Canyon Truck Trail, with its slow and steady incline, serpentine turns around caramel-colored rock walls, and interspersed lookout points at regular intervals.
This five-mile trail crosses the Veterans Park Trail at a couple of spots as it ascends 2,000 feet up to the Santa Clarita Divide Road, all on relatively even paved terrain, then eventually descends down into Placerita Canyon. A couple signs discussing the area's wildlife and history can be found a half mile up.
To find more great trails in the area, please visit our guide to hiking in Los Angeles.