The Anza-Borrego Wind Caves Trail, located on in the eastern portion of Anza-Borrego Desert State Park, south of the outpost of Ocotillo Wells, is a staple of backcountry adventure in Anza-Borrego. It's relatively easy to access – see the note about vehicles below – and brings you to a fascinating place.
The caves are bored into sandstone formations by the wind, hence the name, leaving them looking like giant earthen chunks of swiss cheese. The views from the Wind Caves of the surrounding mountains and Fish Creek-Vallecito Badlands are spectacular.
Trail Details
Trail type: Out-and-back
Difficulty: Moderate
Length: 1.5 miles round trip
Elevation gain and loss: 250 feet, -250 feet
Trailhead Coordinates: 33.182039 , -116.118372
Location: Anza-Borrego Desert State Park
Season: October – May
Getting to Wind Caves Trail
To get to the trailhead, get off Route 78 in Ocotillo Wells onto Split Mountain Road and travel about 8 miles south to where the road splits off on the right to Fish Creek Wash. Pass Fish Creek Campground on the left after 1.4 miles and continue another 2.8 miles through a deep and winding wash canyon to the hike trailhead on the left.
Fish Creek Wash is an interesting area to explore regardless of whether you hike to the windcaves or not. The wash is an ancient creek that now only runs during heavy rains and only for a short time.
About a mile and a half after leaving Split Mountain Road (see the directions below to the trailhead below for more detail) the wash enters into Split Mountain Gorge, a deep canyon that divides the Fish Creek Mountains (on the left side of the wash) and the Vallencito Mountains (on the right).
The route through the canyon is sandy and fairly rugged in places. If you're visiting in winter, rains can shift the sand and rocks making the route unpredictable. While we've seen two-wheel drives in the canyon, it is a risky move. A high clearance all wheel drive is suggested at a minimum, though an actual four-wheel drive is preferable.
The Trail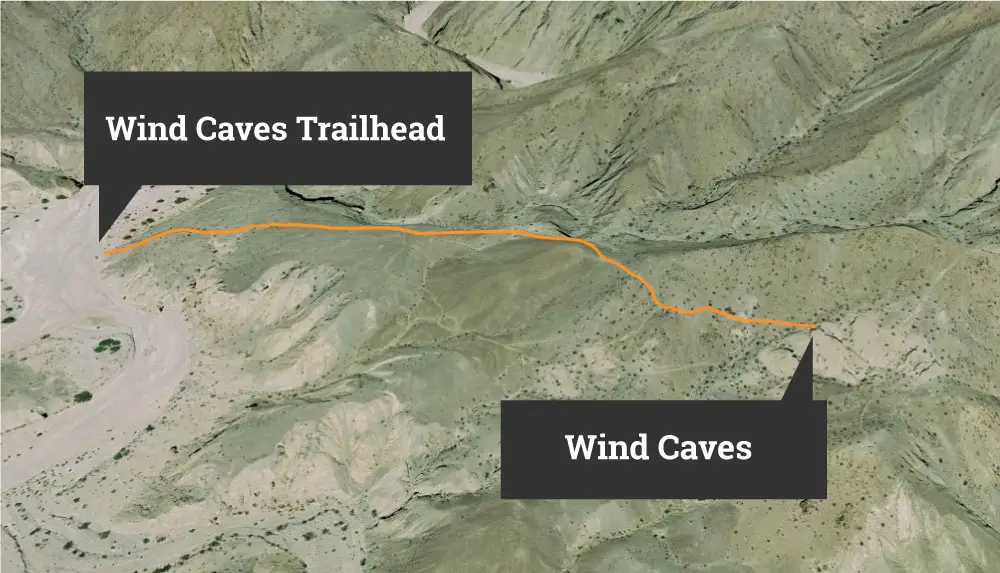 The 1.5 mile round-trip hike starts off with a steep climb out of Fish Creek Wash then climbs gradually for a total ascent of about 250 feet to the Wind Caves. About halfway to the wind caves, the trail bends southeast. The trailhead is located at 32.993138,-116.118388. The GPS coordinates for the caves are 32.990901, -116.112482.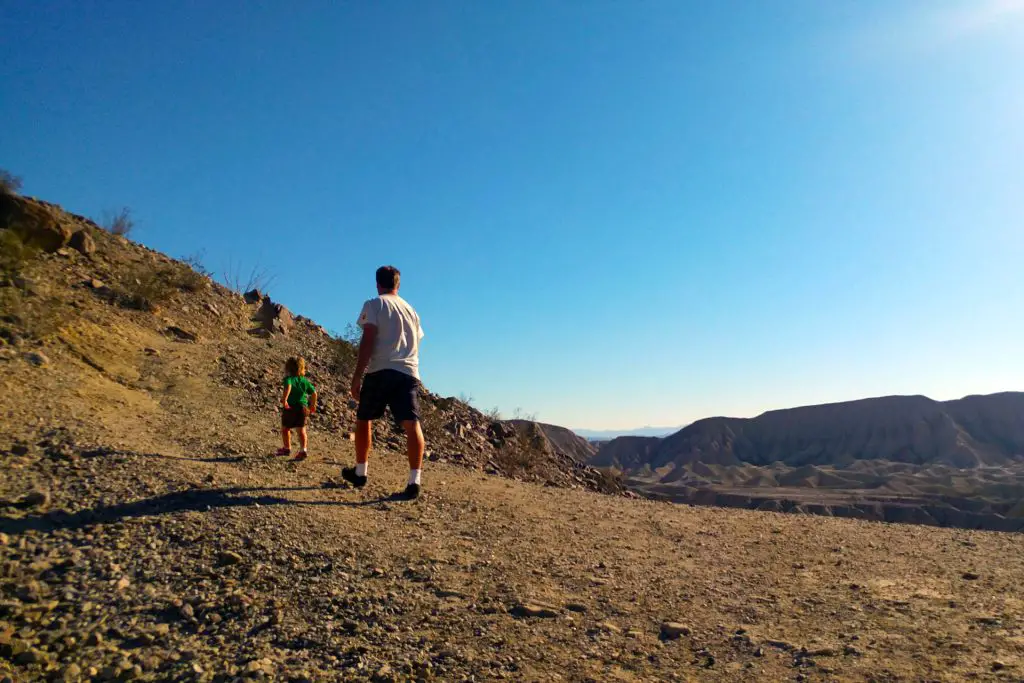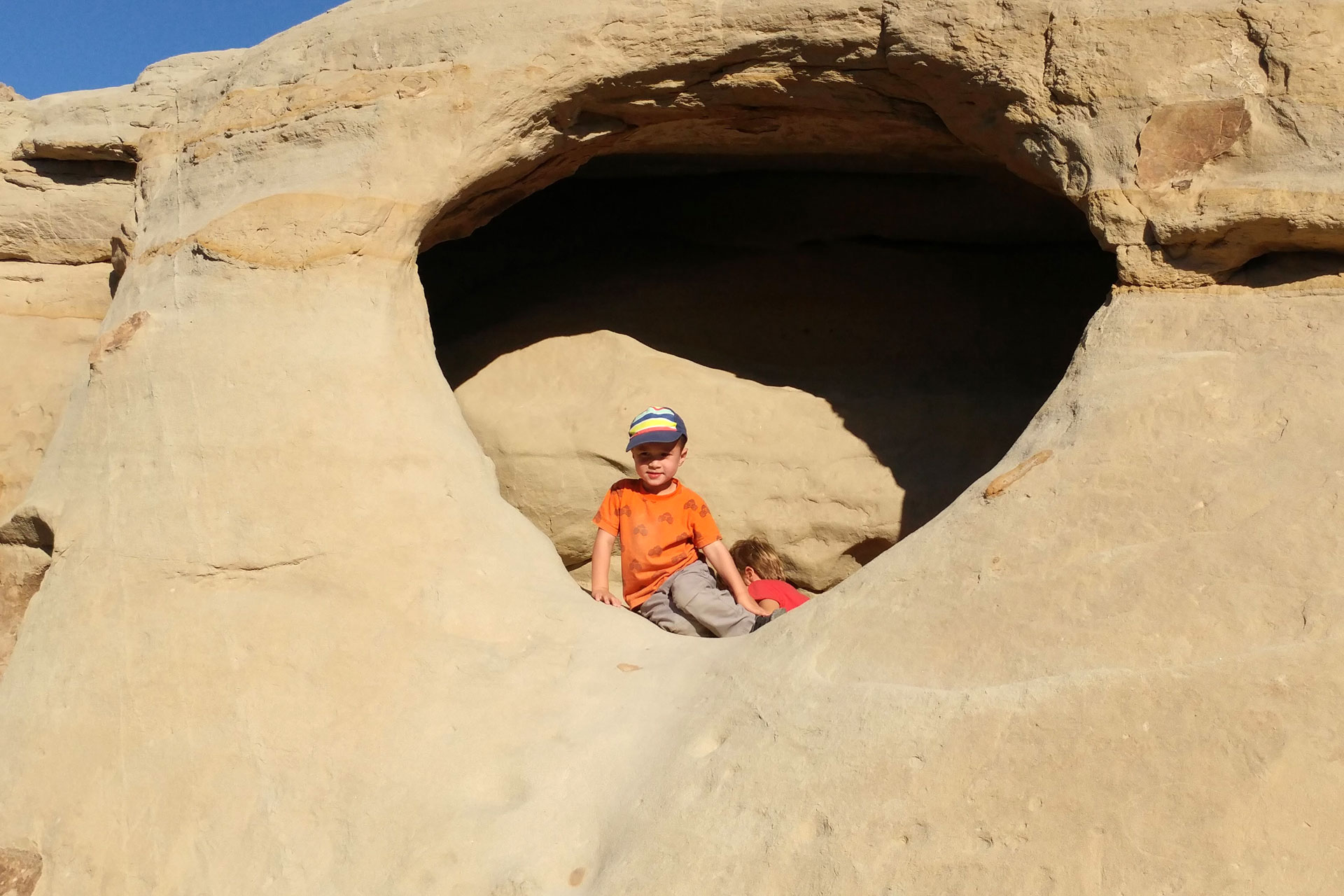 For more information on Anza-Borrego, check out our Ultimate Guide to Anza-Borrego Desert State Park We've also created a printable version of the Anza Borrego guide, which comes in handy in the many location in the park were mobile phones can't pick up a cell tower signal.
We also recommend the Wilderness Press Map of Anza-Borrego ($8 on Amazon), a waterproof map that highlights many trails and points of interest in the park.