Gliderport Trail to Blacks Beach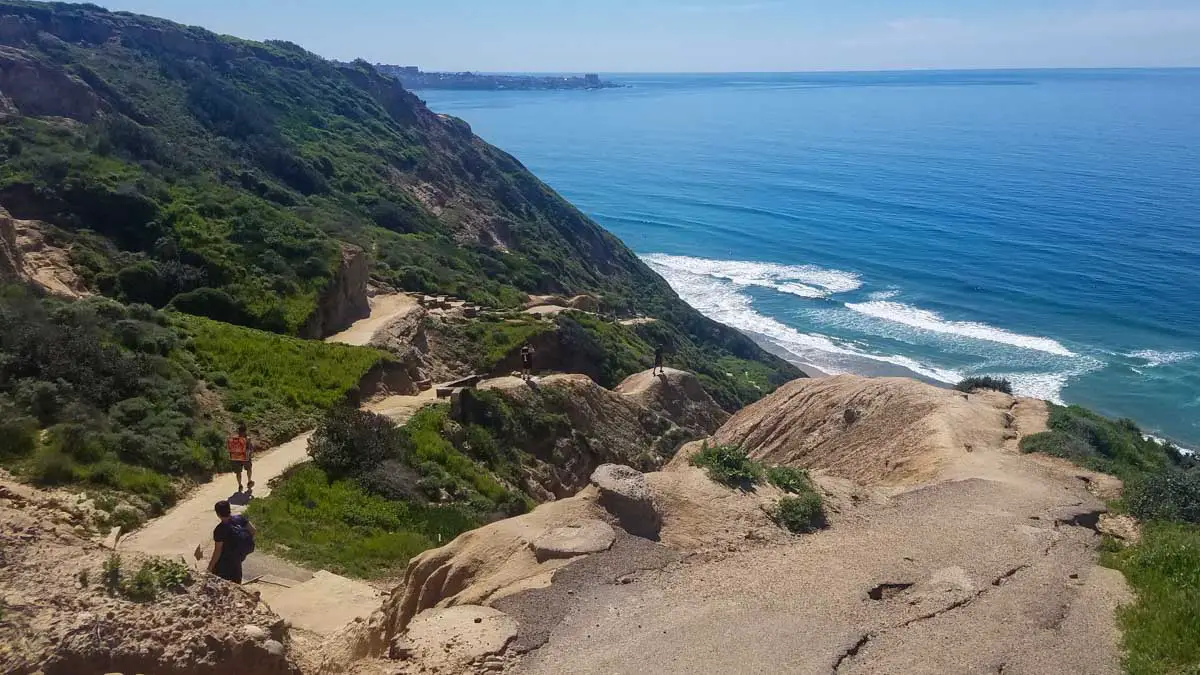 Whenever I give people a tour of San Diego, I bring them to the Torrey Pines Gliderport in La Jolla and, if they are up for it, a hike down the steep and dramatic Gliderport Trail to Blacks Beach.
The Gliderport Trail starts near Torrey Pines Gliderport, a paraglider flying area, and winds down the face of a 300-foot coastal bluff that looms over the beach. The trail brings you to one of San Diego's wilder settings – both in terms of the rugged natural setting and the au naturel denizens of the city's only nude beach.
Trail Details
| | |
| --- | --- |
| Trail Type | Out and Back |
| Difficulty | Moderate (very steep) |
| Length | ~350 feet |
| Elevation Gain/Loss | ~300 feet |
| Trailhead Coordinates | 32.888670, -117.251106 |
| Location | La Jolla, Califronia |
| Best Season | All Year |
Getting to Gliderport Trail
To reach the Gliderport Trail trailhead from Interstate 5 (I-5) in San Diego, follow these general directions: From the I-5, take exit 29 for Genesee Avenue and follow Genesee Avenue westward (right if you are coming from the north; left from the south). After about three-quarters of a mile, turn left onto Torrey Pines Scenic Drive. Travel for a quarter mile and turn right onto Torrey Pines Scenic Drive (near the Salk Institute) and follow the road to its end, where you will find the Torrey Pines Gliderport. There is a dirt and gravel parking area next to the Tliderport, and the trailhead to Black's Beach starts just to the south of the parking lot.
Gliderport Trail Overview
Black's Beach is famous for its picturesque views, surfing opportunities, and being one of the largest nude beaches in the United States. The Gliderport Trail down to Blacks is well known in San Diego and is frequented by surfers, hikers, and people looking to get (ahem) thoroughly tan.
The Gliderport Trail is relatively steep and rugged, descending from the bluffs above the beach down to the shoreline. It offers stunning views of the Pacific Ocean and the surrounding cliffs. The hike is considered moderate in difficulty, primarily due to the steep descent and ascent involved.
The trail is a series of shelves and stairs supported by tires and logs. I'm not sure who, if anyone, maintains it nowadays. In places, the wooden staircases are deteriorating as the bluffs erode underneath them.
Black's Beach is located beneath the bluffs of Torrey Pines in La Jolla, San Diego, and it's known for its seclusion, natural beauty, and world-renowned surf waves. The beach is split into two sections, with one part (the north end where the trail brings) traditionally clothing-optional and the other part (further south) frequented by surfers and families. The trail from the Gliderport is one of the main access points to reach this unique and scenic beach.