Hiking Corte Madera Mountain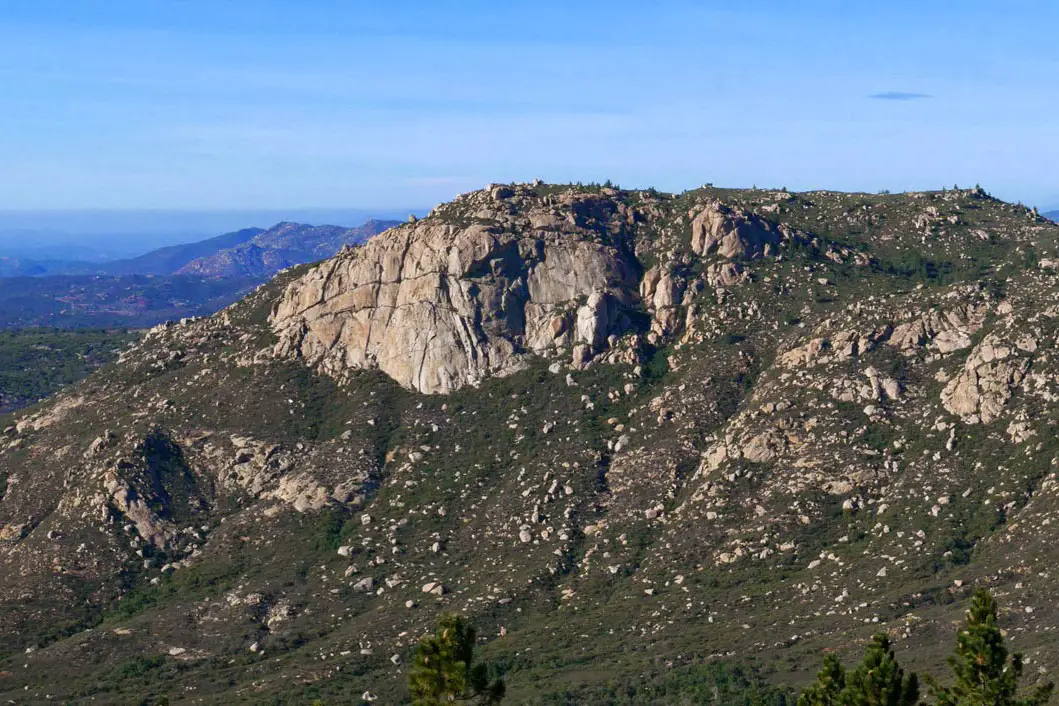 Despite being only an hour and a half drive from downtown San Diego (plus a little hiking), hiking the 6.8 miles trail to Corte Madera Mountain feels like an adventure into a remote landscape. Hidden away in a Cleveland National Forest, the mountain is popular with hikers, climbers and off-road enthusiasts seeking solitude and adventure.
The steep hike to the summit offers stunning views of the 350-foot rock face of Corte Madera and of the surrounding mountains.
Trail Details
Trail type: Out-and-back
Difficulty: Moderate
Length: 6.8 miles round trip
Elevation gain and loss: 1,450 feet, -1,450 feet
Trailhead Coordinates: 32.747521, -116.575392
Location: Pine Creek Wilderness
Season: Year round, but summer can be hot
Getting to Corte Madera Trail
From San Diego, head west on I-8. A few miles east of Sunrise Highway, take the exit for Buckman Springs. Head south off the exit, to the right on Buckman Springs Road. Go 3.3 miles and make a right at the entrance to Corral Canyon onto Moreno Stokes Valley Road, which winds around the north side of Lake Moreno. Follow this this road for 4.8 miles and continue straight onto Kernan Road. Continue on this dirt/paved road for another .4 miles. The hike begins at the Espinosa Trail trailhead, located just as Kernan Road makes a hairpin turn to the left (GPS coordinates:32.740323, -116.562046). There is a small parking areas on the left.
The Trail
The hike starts on Espinosa Trail and continues 1.1 miles to a junction with Los Pinos Road and Corte Madera Road (GPS: 32.747521, -116.575392). Head north along Los Pinos Road for 0.4 miles to the trailhead for Corte Madera Trail (GPS: 32.750590, -116.574107), which continue for 1.7 miles to the Corte Madera summit.
Raptors such as prairie falcons, peregrine falcons, and golden eagles regularly nest in the mountains cliffs in the spring, seasonal closures may be in effect. If you plan to hike to the summit, it's probably worth calling the Cleveland National Forest ranger station at 858-673-6180 to check wither they area has been closed for nesting.
If you're looking for offroad adventure after the hike, the road at the trailhead, Los Pinos Road, at the trailhead continues up the mountain to a crossroads that serves as the gateway to Corral Canyon OHV area, a network of offroading trails popular with motorcyclists, ATV and truck/Jeep enthusiasts. If you head right at the crossroads, the rough road will bring you to a firetower that is open to vistors and offers stunning 360 views to the surrounding wilderness.