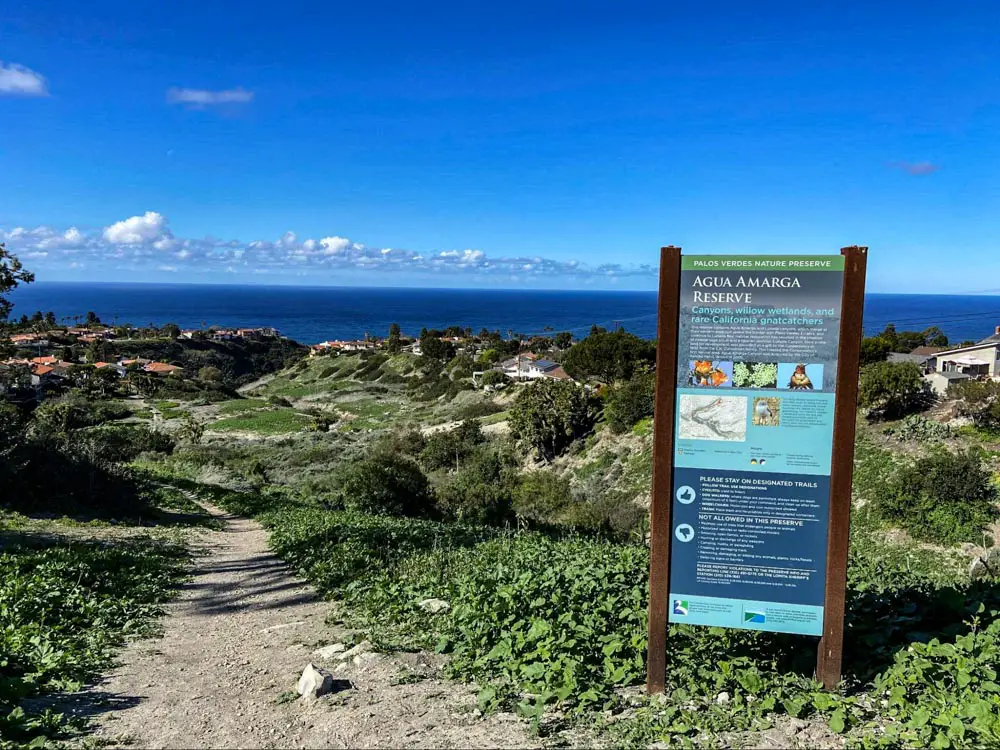 Lunada Canyon Trail is a moderate 2-mile out-and-back trail in Agua Amarga Reserve in Palos Verdes, California.
Trail Details
| | |
| --- | --- |
| Trail Type | Out-and-back |
| Difficulty | Moderate |
| Length | 2 miles |
| Elevation Gain/Loss | 577 feet/-577 feet |
| Trailhead Coordinates | 33.768030, -118.411296 |
| Location | Palos Verdes, California |
| Best Season | Year-round |
Getting to Lunada Canyon Trail
Agua Amarga Reserve is located about two-thirds of a mile inland from Lunada Bay, on the coast of Palo Verdes. From Palos Verdes Drive West, take Paseo Lunado north for 600 feet to Via Rivera. The southernmost trailhead for Lunada Canyon Trail will be just across Via Rivera. There is a small gravel parking area.
There are a couple of other trailheads further up the canyon, but this one is the simplest to get to and find parking.
The Trail
Agua Amarga Reserve winds between residential areas in Palos Verdes and contains two distinct canyons Agua Amarga Canyon and Lunada Canyon.
The land that makes up this reserve is coastal sage scrub habitat and is designated as a willow wetland. Many bird species, including the California gnatcatcher, can be spotted during hikes here.
Lunada Canyon Trail is a popular hike among locals. The hike takes you up Lunada Canyon and back on a short but steep and challenging trail.
Starting at the trailhead on Via Rivera, the trail follows the canyon for 2 miles, climbing 577 feet to the upper trailhead near the end of a dead-end street called Posey Way.
From here, you head back down the canyon to where you started. Alternatively, you can start at Posey Way and hike down the canyon and then back up.
This trail is dog friendly, so feel free to bring your furry friends along.
For other trails in the area, check out our Palos Verde hiking guide.