Palos Verdes Hiking Guide
The Palos Verdes Peninsula has more to offer than winding coastal roads and views of the Pacific Ocean. This area, located in Los Angeles' South Bay region, is home to a number of reserves and parks that are full of hiking trails. From rocky beach hikes to canyon trails nestled between neighborhoods, there's no shortage of spots to hike in Palos Verdes.
Palos Verdes Trails
Here, I've compiled some of the best places to hike in Palos Verdes, along with some specific trails you can tackle. This guide doesn't cover every reserve or trail in Palos Verdes – it's more of a highlight reel. I hope you find a trail or two here that you can't wait to hike!
Abalone Cove Shoreline Park
Abalone Cove Shoreline Park is a park that runs right along the Palos Verdes coast.
Here, trails crisscross through the park and wind their way down to both Abalone Cove and the more secluded Sacred Cove. Along these trails, you'll enjoy views of the sea and Catalina Island, as well as tide pools and sea caves once you reach the bottom.
Abalone Cove Trail is just over a mile and leads right down to the beach. To access Sacred Cove, take Abalone Cove Trail to Sea Dahlia Trail. Then, head onto Portuguese Point Loop Trail where you'll enjoy views from atop the bluffs, and take Cave Trail down to the cove.
There are more than ten distinctly named trails inside Abalone Cove Shoreline Park, many of which interconnect. So, it's easy to spend all day winding through the park and exploring its coves and beaches.
Portuguese Bend Reserve
Portuguese Bend Reserve is filled with hiking trails that run through rolling, wildflower-lined hills and rocky canyons. The terrain and elevation changes inside this 400-acre park can be challenging, so come prepared with hiking boots and water.
The main trail at Portuguese Bend is Burma Road, which is 4.7 miles out and back and takes you from the top of the park to the bottom and back. From Burma Road, you can go a different route and complete the 2.7 mile Palos Verdes Bluffs Trail.
Some of Portuguese Bend Reserve's trails are also open to cyclists and equestrians, so even if you've hiked these trails many times, you can enjoy them in a different way.
Deane Dana Friendship Park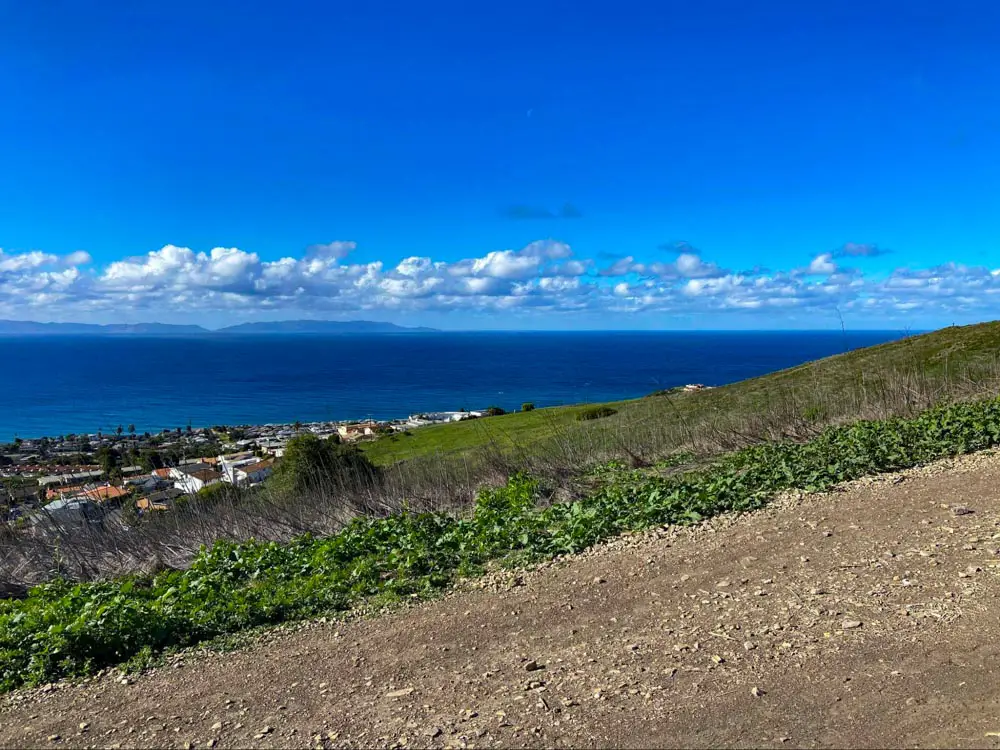 Deane Dana Friendship Park is a hilly natural area that also hosts a nature center and picnic tables.
This quiet park is characterized by its coastal sage scrub vegetation and ocean views. Friendship Park is home to a variety of native bird species as well as rattlesnakes.
There are several trails that wind through Friendship Park, connecting to form loops of various distances. The most commonly hiked loop is 1.1 miles long, beginning with a steep ascent (you'll climb 125 in elevation in the first eight of a mile).
From the top, you'll enjoy clear, sweeping views of the ocean and Catalina Island, as well as the homes below. In the other direction, you'll be able to see the city of Los Angeles, the port, and downtown Long Beach.
Lunada Canyon Trail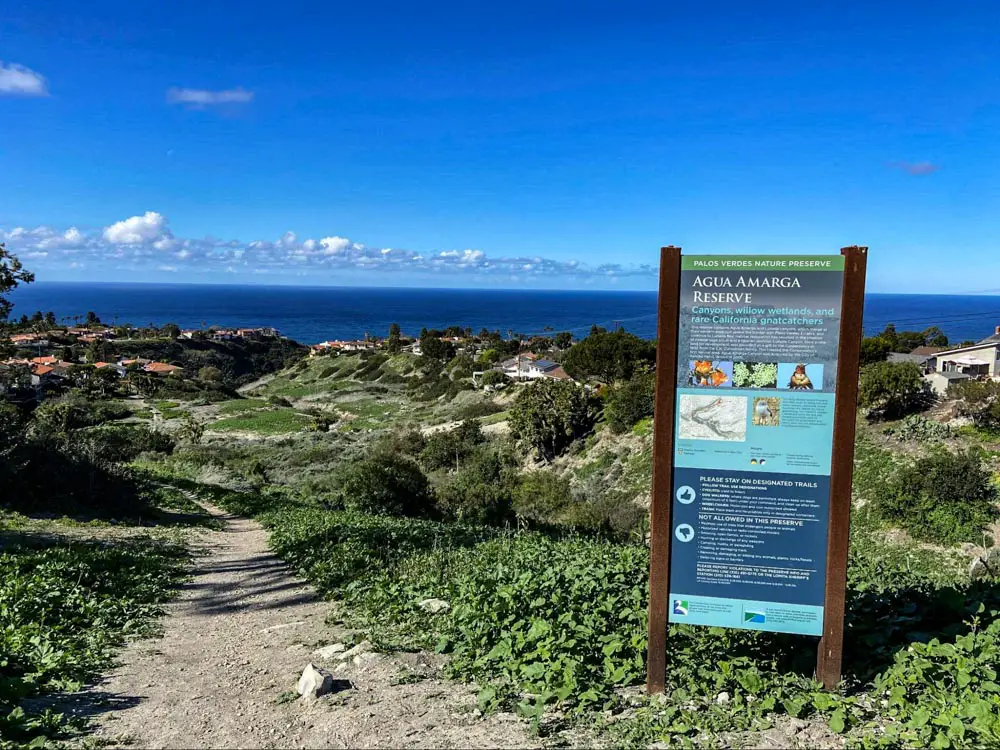 Agua Amarga Reserve winds between residential areas in Palos Verdes and contains two distinct canyons.
The land that makes up this reserve is coastal sage scrub habitat and is designated as a willow wetland. Many bird species, including the California gnatcatcher, can be spotted during hikes here.
While not typically a destination hike, as the area's coastal trails are bigger attractions, Lunada Canyon Trail is a popular hike among locals. This 1.9-mile out-and-back hike takes you down through Lunada Canyon and back on a short but steep and challenging trail. This trail is dog friendly, so feel free to bring your furry friends along.
For more information, visit our full guide to the trail.
Ocean Trails Reserve
Below Trump National Golf Course near Founders Park, you'll find the coastal hikes of Ocean Trails Reserve.
This reserve is home to more than ten trails, some of which you can combine for a longer hike. For a 2 mile loop option that takes you through the bluffs and along the beach, try the Rancho Palos Verdes Coastal Trail.
To get to the beach, take the Catalina Trail down to the Coastal Switchback Trail, where you'll enjoy ocean views on your zig-zagging descent.
Terranea Bluff Top Park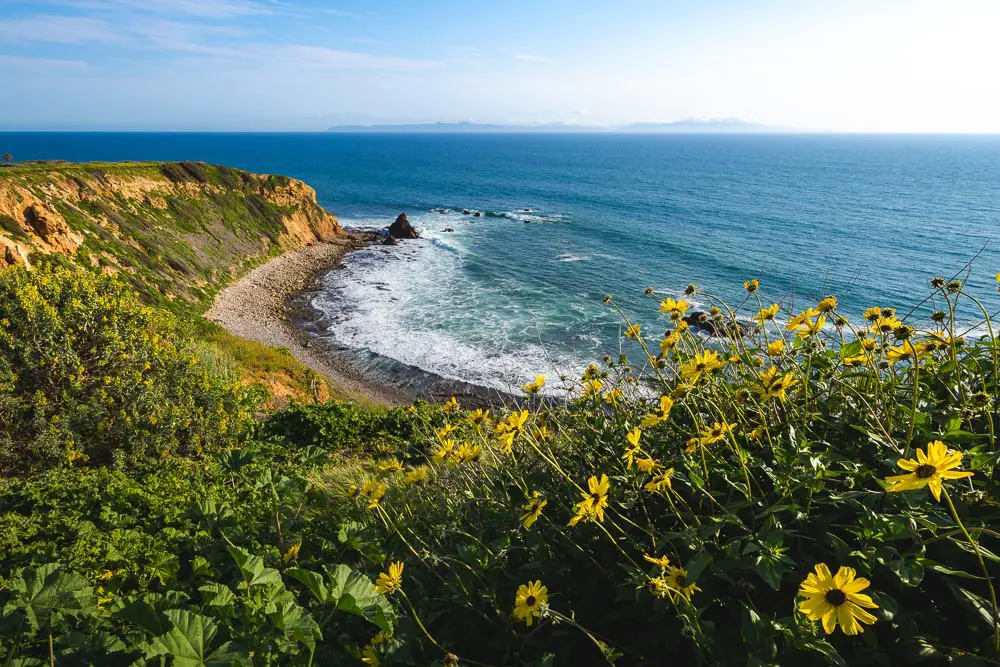 Though the trails here stray out of park land and wrap along Long Point, you won't want to miss hiking here.
The Terranea Discovery Trail is a 2 mile out and back hike that follows the coast around Terranea Resort. Along the trail, you'll have views of the Point Vicente Lighthouse, and sea lions are common to see.
The Terranea Discovery Trail and other trails in the vicinity are beginner-friendly and are great for families. If you are able to scramble over some rocky terrain near the end of the trail, you'll find a sea cave.
For more details, visit our guide to Terranea Beach Cave Trail which follows Terranea Discovery Trail and continues on to the beach and a cave.
Three Sisters Reserve
Three Sisters Reserve is named for the three ridges within the reserve, and is home to several rare species of wildlife.
This reserve's rolling hills and elevation changes make it a challenging and exciting place to hike. Ocean views abound, and so do stunning wildflowers during the spring.
To hike all three ridges, you can take several trails that loop around the reserve. Start along Barkentine Trail and continue onto Sunshine Trail. Then, take Three SIsters Trail to McCarrell Canyon Trail, where you can continue back to your starting point.
Bluff Cove Trail
Bluff Cove Trail is a 1.1-mile out-and-back trail that brings you to terrific views of the Pacific Ocean and down to a rocky beach.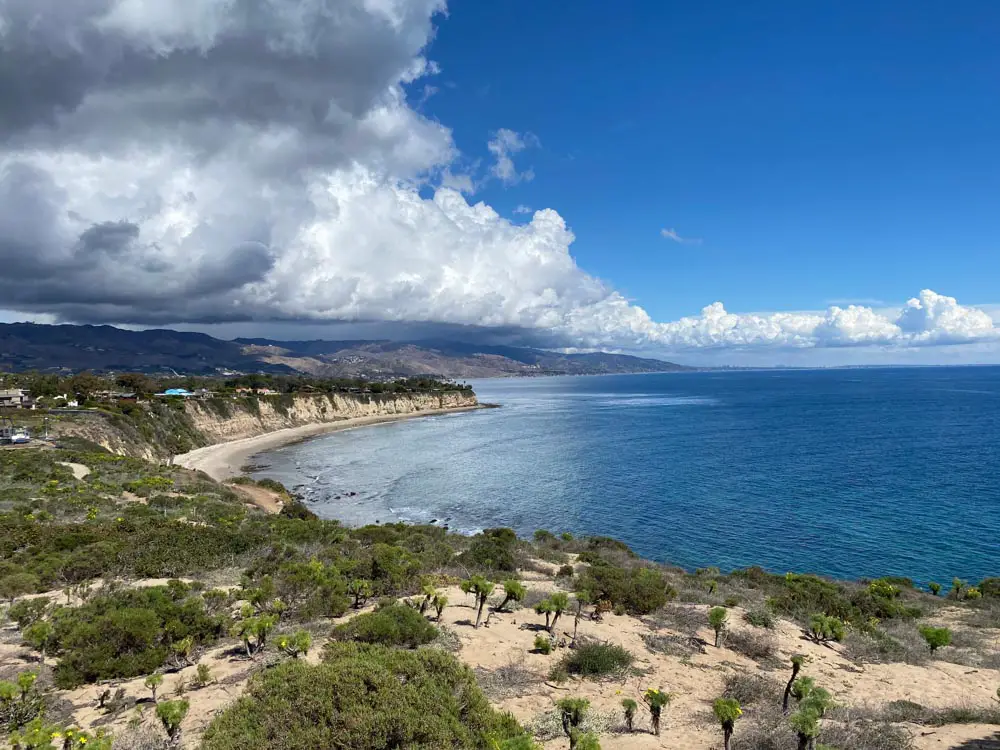 Located in Palos Verdes, California, the trail is popular for sunset hikes and a side spur offers access to Flat Rock Point a rugged point with many tide pools to explore at low tide.
If you are feeling ambitious and want to extend your hike, you can continue south along the beach and follow the coast for 1.5 miles to Lunada Bay. At the top of Lunada Bay is a point with a shipwreck – keep an eye out for the beached remains of the SS Dominator, a freighter that ran aground in 1961.
For more information, visit our Bluff Cove Trail guide.