Shaw's Cove Snorkeling and Diving Guide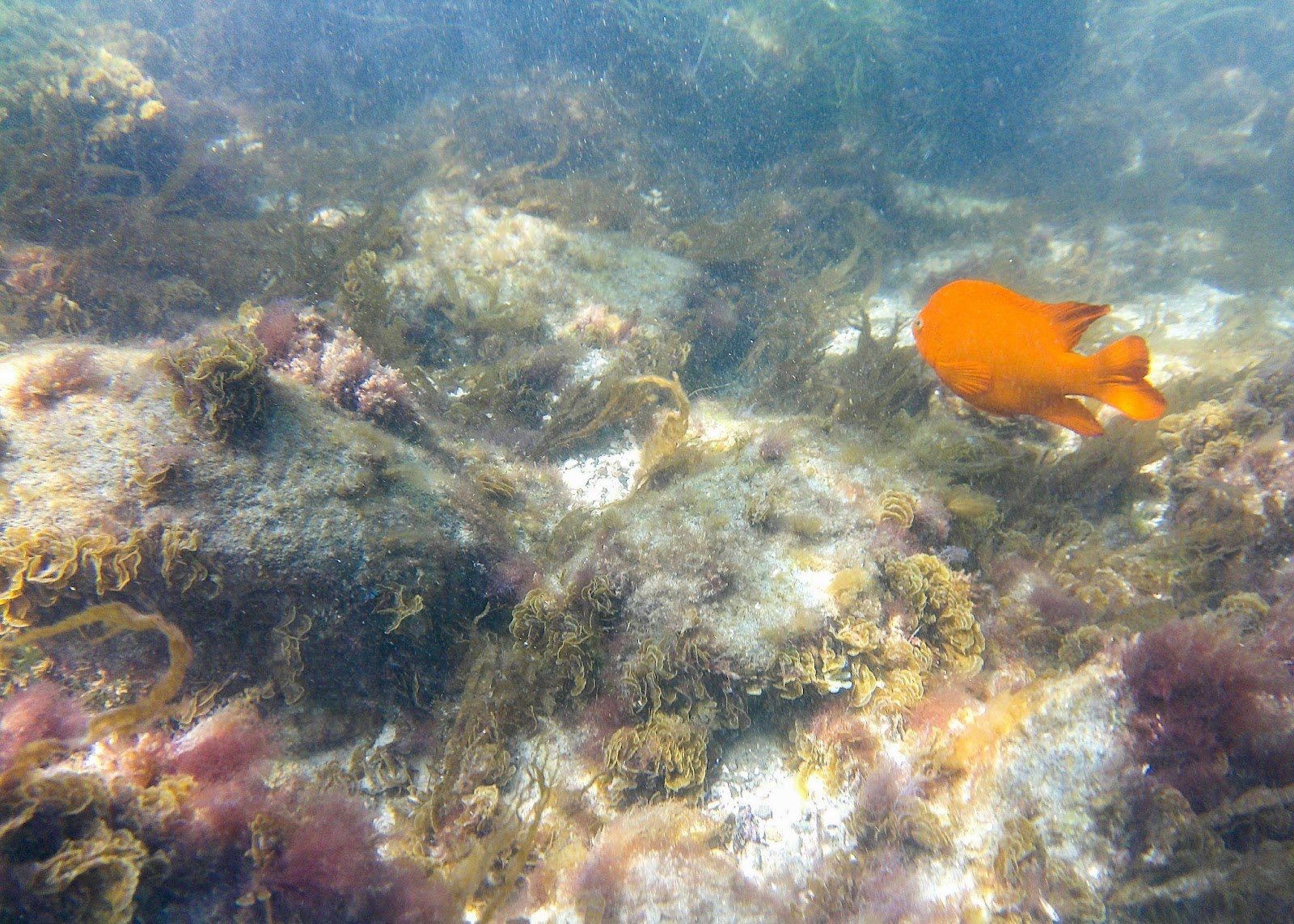 Southern California is home to a number of fantastic diving and snorkeling spots, and Shaw's Cove is one of the most popular.
Located in Laguna Beach, Shaw's Cove offers underwater enthusiasts calm waters since the cove is protected. You'll also find great visibility, usually ranging between 15 and 30 feet, and often exceeding 30 feet. At Shaw's Cove, divers enjoy varied underwater scenery and an array of Southern California marine life.
Dive Site Details
| | |
| --- | --- |
| Site Type | Cove |
| Skill Level | Beginner, Intermediate |
| Entry | Shore |
| Visibility | 15-30ft+ |
| Dive Site Coordinates | 33.545643, -117.798129 |
| Location | Laguna Beach, California |
| Best Season | Year-round |
Getting to Shaw's Cove
From Points North:
Take the 405 South to Pacific Coast Highway, or take Pacific Coast Highway down the whole way for a more scenic drive. Turn right onto Fairview Street.
From Points South:
Take the 5 north, and take exit 85A for CA-73 North. Take Exit 6 for El Toro Road, and Take CA-133 to Cliff Drive.
Parking and Access:
Since there is no dedicated parking lot for Shaw's Cove, you'll have to find parking on residential streets. Cliff Drive, Fairview Street, and La Brea Street are the closest to the cove. Since street parking is limited, it's better to arrive early to secure a spot, especially on weekends.
The staircase that leads down to the cove is located on Cliff Drive. Some divers find it helpful to drop their gear off at the top of the staircase, then go find parking, so they don't have to lug their gear over from a faraway parking spot.
The Dive Site
Shaw's Cove is a popular dive site, especially for beginners. It's common to see diving instructors and classes in the water here. Since its waters are protected from large ocean swells, conditions are generally calm and visibility is excellent.
From the shallower areas near the shore to the rocky depths off the point, marine life abounds and there's lots to explore. Even some more advanced divers revisit Shaw's Cove to enjoy an easy dive in good conditions.
Most people enter the water right from the beach. The beach is sandy and slopes gently into the ocean, making for a smooth and simple shore entry even for beginners. When conditions are particularly mild, Shaw's Cove is a good place to practice entering and exiting onto the rocks on the western end of the beach.
Western End of Shaw's Cove
The midsection of the cove is mostly composed of sandy bottom, and while you'll spot the occasional fish, underwater sightseeing is best conducted along the rocks toward the western end of the cove. There's a shallow area along the rock shelf that's great for snorkeling. Further out, water depth increases, and you'll find rock formations and more abundant marine life.
Snorkeling
Snorkelers can spend time exploring along the rock shelf at the western end of the cove, where the water is relatively shallow. There's plenty of marine life to spot along the rocks, including garibaldi, opaleye, sea urchins, eels, and starfish. Keep your eyes peeled for large marine mammals in shallow water, too – last time I was there, I came face to face with a friendly harbor seal.
Diving
Freedivers and scuba divers usually travel out past the rock shelf to deeper waters. Once you get past the point, you'll find an area known to divers as "the Crevice." This spot is characterized by a deep channel and an underwater rock arch formation. It's common to see groups of garibaldi hanging out near the Crevice. Be aware of surges in this area to avoid getting pushed into rocks.
One of the larger passages will take you to Crescent Bay. Here, you'll enter deeper water and start to see different varieties of marine life among the kelp and rocks. Nudibranches, gorgonian coral, and many species of anemone are common to spot in this area. Other marine animals you might encounter are calico bass, octopi, spiny lobsters, bat rays, bait fish, eels, and even leopard sharks. Keep an eye on cracks and crevices if you want to see an octopus – they often hide inside.
Eastern End of Shaw's Cove
The eastern end of Shaw's Cove is much less crowded, so if there are too many divers for your liking at the western end, you can head over. There's not as much to see here, but it can be worth it to escape the crowds and diving classes. Since the reef on the eastern end is shallow, it does make a great snorkeling spot.
On the eastern end, you'll find a shallow reef between 10 and 15 feet deep. Kelp and eel grass are the main vegetation in the area, and anemones and gorgonian coral grow along the reef. Some smaller fish and eels call the reef home, and of course, so do garibaldi. This is a good spot to do some low key snorkeling and exploring.
Night Diving at Shaw's Cove
Shaw's Cove is a great spot for night diving. If you have the proper equipment and are really looking to avoid the crowds, head to the cove at night for an unforgettable diving experience. Many types of marine life come out to hunt at night, so it's an opportunity to see creatures you normally wouldn't. It's common to see lobster, scorpionfish, shrimp, and octopi. If you're lucky, you'll spot bat rays, horned sharks, or shovel nosed guitarfish.
Camping
For information on camping near Shaw's Cove, check out our guide to Orange County beach campgrounds.