Wildomar OHV Area: Off-Road Trails Guide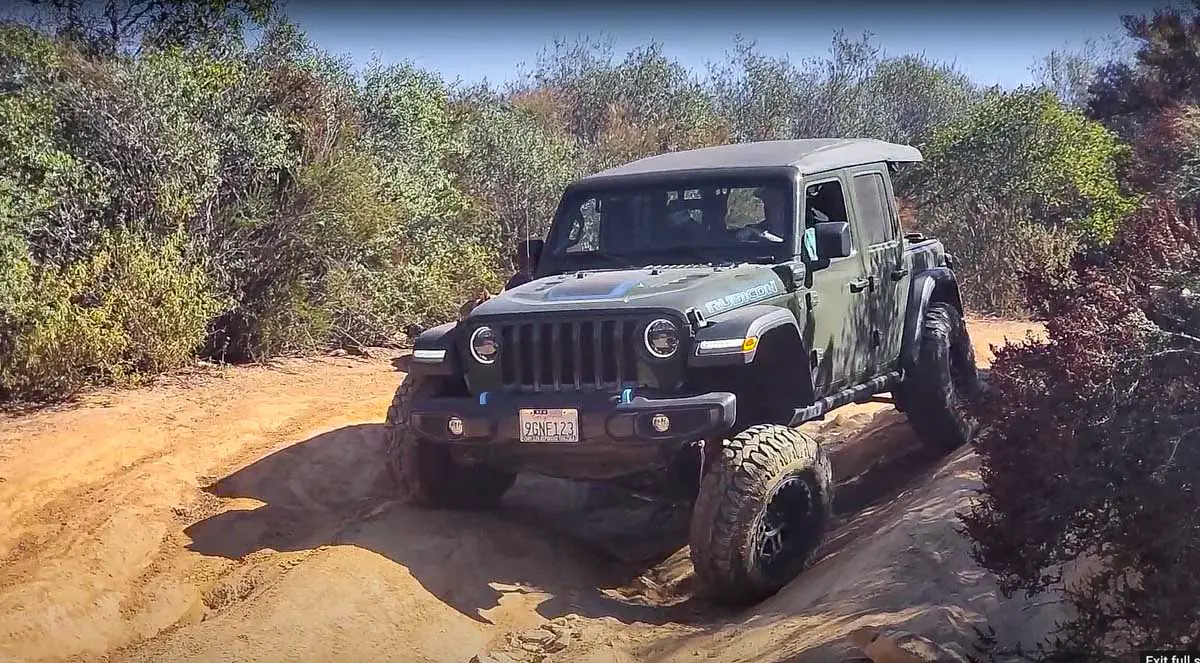 Located in the Santa Ana Mountains, near Lake Elsinore, Wildomar Off-Highway Vehicle Area is a 315-acre area that offers 8 miles of off-road trails for 4×4 trucks, motorcycles, and ATVs, with trails ranging from easy to very difficult.
Most of the trails are in the easy to moderate difficulty range, with one trail, Bloody Jersey Hill, presenting a steep, technical climb that should only be attempted by experienced off-roaders with lifted, four-wheel drive (axle lockers are highly recommended).
Getting to Wildomar OHV Area
The closest interstate road to Wildomar OHV is CA I-15. Take Exit 68 off the I-15 and head southwest on Clinton Keith Rd for about 3.8 miles. Once you've traveled this distance, make a right turn onto Avenida La Cresta and continue for approximately 0.3 miles.
As you proceed, you'll need to turn right again to stay on Avenida La Cresta, driving for an additional 4.0 miles. Following this stretch, turn right onto Calle De Companero and drive for 1.3 miles. Afterward, the road will change names, and you'll continue onto South Main Divide for roughly 1.8 miles.
Make a final left turn onto Los Alamos Truck Trail, and head downhill until you see the Wildomar OHV staging area on the left (a larger dirt and gravel parking lot with an information kiosk and vault toilets). The GPS coordinates for the stage area are 33°35'16.1″N 117°20'27.4″W (33.587799, -117.340942).
Note that an Adventure Pass or a day fee use fee is required (it was $5 last time I was there).
Wildomar OHV Area Overview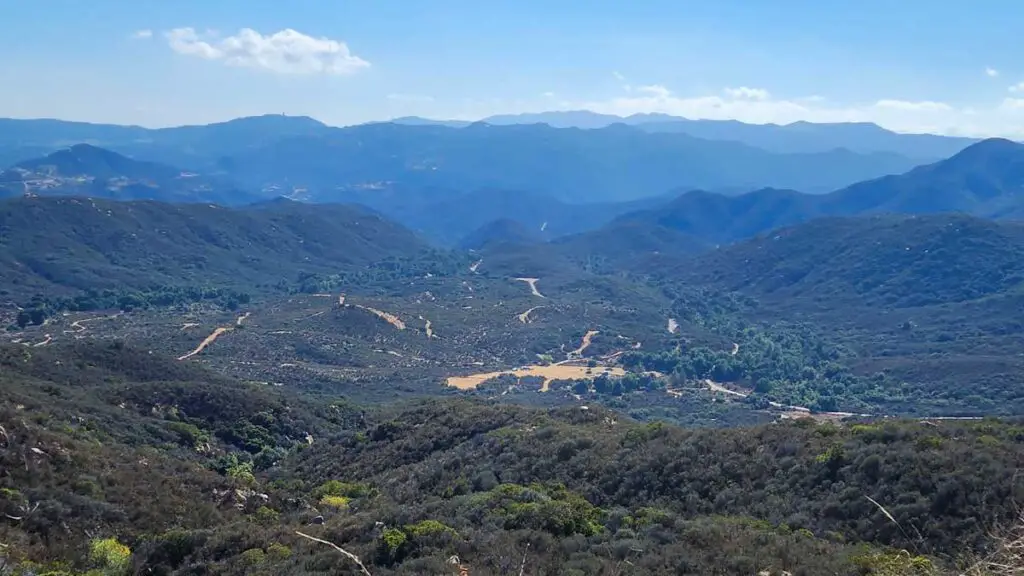 The Wildomar OHV Area is one of the closest off-roading spots for people living in the Inland Empire region that includes Orange and Riverside Counties. The trail network sits in a bowl, surrounded by nearby mountain ridges, with numerous off-road trails crisscrossing the mountainous terrain.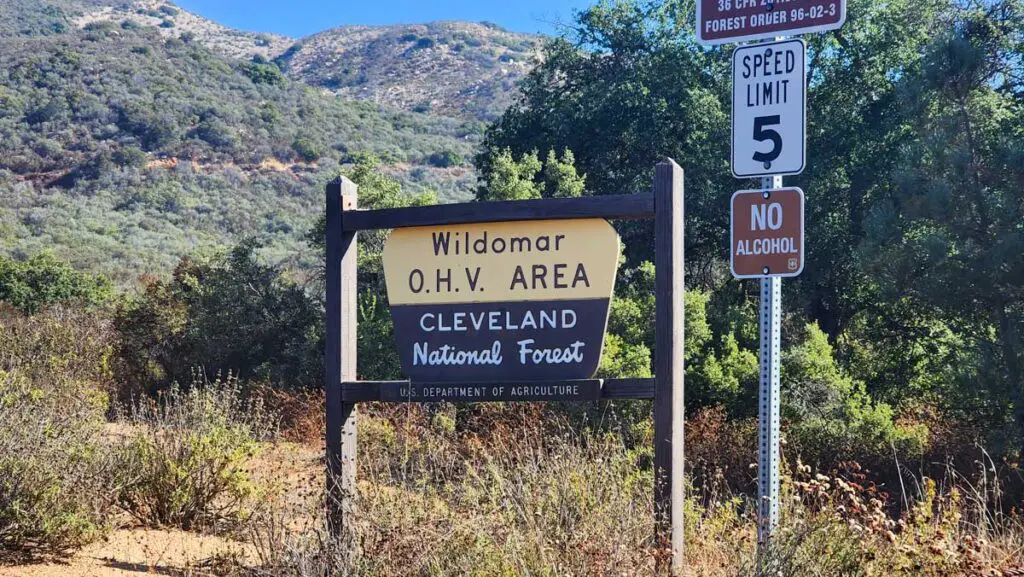 The action all begins from the staging area, where you can pay the day-use fee, use the vault toilets, and off-load motorcycles and ATVs if you trailered them in. A kiosk here offers a map of the trail network, indicating difficulty level and what types of vehicles are suitable for each trail.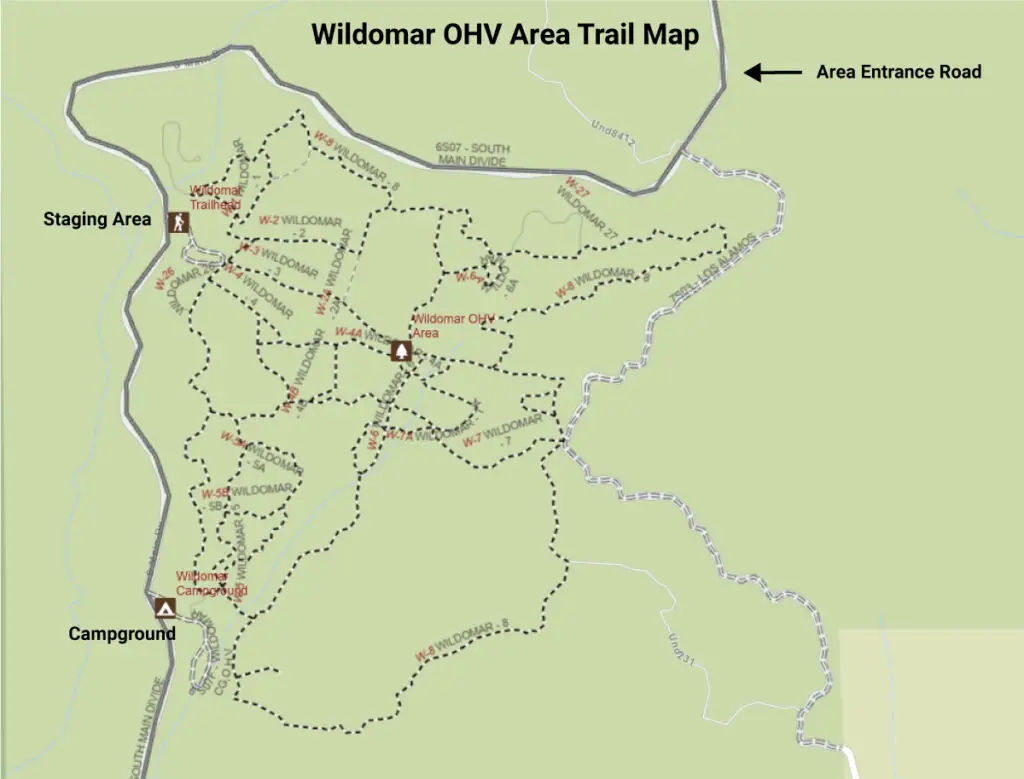 While the map indicated that some trails are for SUVs/Trucks and others are for ATVs (and motorcycles presumably), many of the trails labeled for ATVs are wide enough for SUVs and trucks, though will undoubtedly get some pinstriping on your paint on the narrower trails.
My experience is that most of the trails are fairly straight forward for, say, a stock Jeep or Tacoma. That said there are a few more challenging off-shoot trails and in particular, Bloody Jersey Hill is a serious off-road challenge – equal parts technical rock crawling, slippery silt/sand and extremely steep. Only attempt this trail if you are an experienced off-roader with a very capable vehicle. There is a real risk of a rollover and a tumble down a steep and rocky hill if you don't know what you are doing.
Trail List:
Black-Tailed Trail (W-6A)
Boa Trail ( W-26)
Camping Area (6S07F)
Camping Area Tie-in (W-5TIE)
Copperhead Trail (W-3)
Coral Trail (W-7A)
Crowned Trail (W-4)
Diamondback Trail (W-1)
Garter Trail (W-7B)
Gopher Trail (W-27)
Hognose (W-8A)
King Trail (W-4A)
Massasauga Trail (W-7)
Mojave Trail (W-2)
Night Trail (W-5A)
Pine Trail (W-5C)
Plains Trail (W-WUL-A)
Racer Trail (W-5)
Ringneck Trail (W-5D)
Scarlet Trail (W-6B)
Shovel Nosed Trail (W-5B)
Sidewinder Trail (W-6)
Speckled Trail (W-1A)
Staging Area (6S07E)
Timber Trail (W-2A)
Whipsnake Trail (W-Wul)
Wildomar Kid's Play Area (TOT-LOT)
Wildomar Loop Trail (Bloody Jersey) (W-8)
Camping at Wildomar OHV
Designed primarily for off-highway vehicle (OHV) aficionados, the primitive campground at Wildomar OHV Area is directly adjacent to the trail network, providing easy access for riders and drivers.
The campground offers 11 first-come, first-served sites, with no reservations required, making it a convenient choice for spontaneous trips.
The camping fee is reasonably priced at $15 per night for a single unit, with an additional charge of $5 per night for an extra vehicle. The maximum vehicle length is 22 feet. Amenities include well water and vault toilets.
About the Santa Ana Mountains
The Santa Ana Mountains, a rugged range located in Southern California, are a prominent feature of the region's landscape, stretching primarily across Orange and Riverside Counties. These mountains are part of the larger Peninsular Ranges, which extend down into Baja California. The highest peak in the range is Santiago Peak, often referred to as Saddleback due to its recognizable silhouette, which rises to 5,689 feet.
Renowned for its rich biodiversity, the Santa Ana Mountains are home to diverse habitats ranging from chaparral and oak woodlands to coniferous forests at higher elevations. They serve as an essential ecological corridor for wildlife, allowing species to migrate and thrive despite urban encroachment.
The range has also been significant for the human history of the area. Native American tribes, such as the Acjachemen and the Tongva, originally inhabited these lands, leaving behind a legacy of petroglyphs and sacred sites.
More recently, the mountains have been a favorite for outdoor enthusiasts, offering opportunities for hiking, bird-watching, and mountain biking.
The Cleveland National Forest, which spans a portion of the range, provides numerous trails and recreational opportunities. The Santa Ana Mountains, with their natural beauty and historical significance, remain a vital green bastion amidst the urban sprawl of Southern California.