Poodle Dog Bush: Southern California's Unfriendly Flora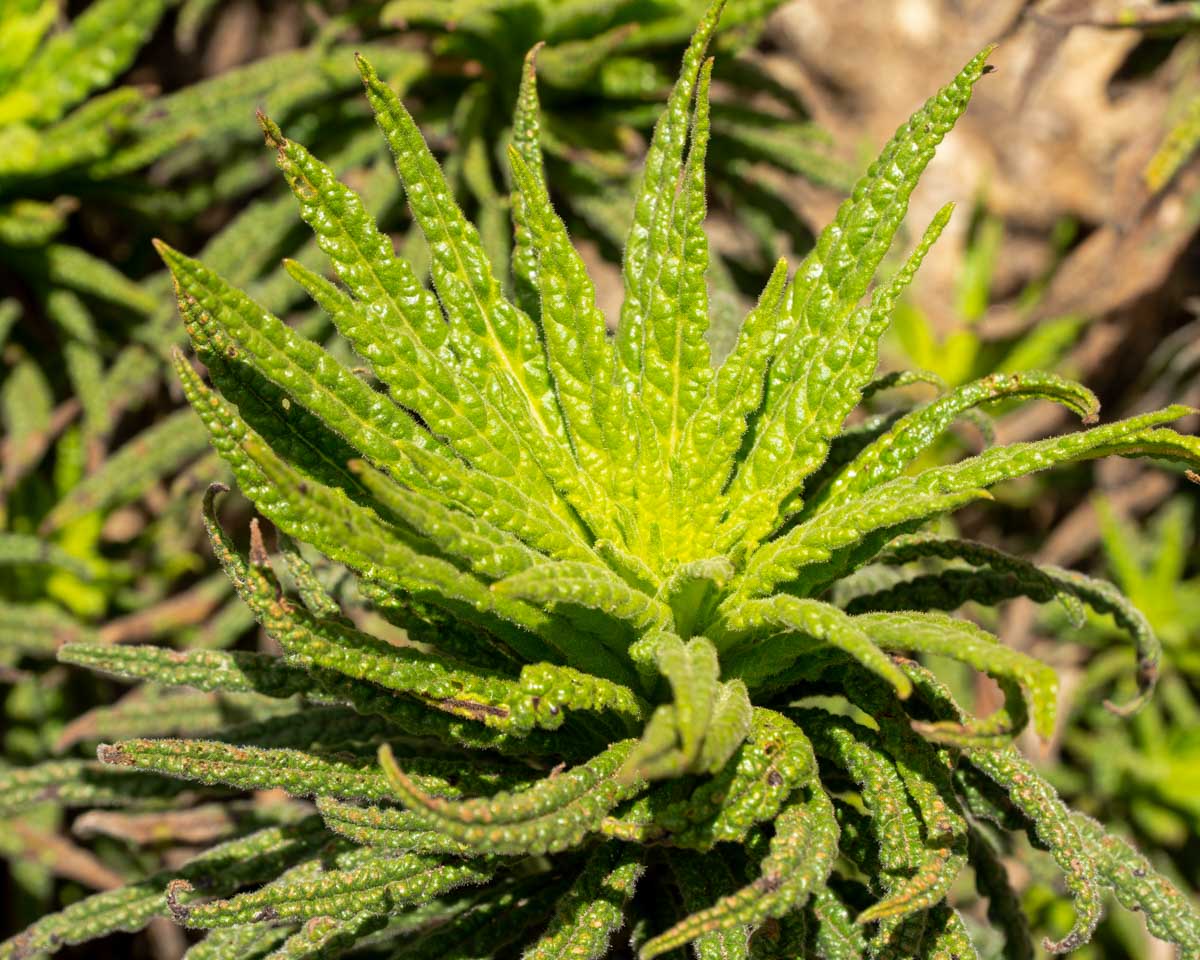 Poodle Dog Bush, with its seemingly benign name and attractive flowers, hides a sinister secret. Those who wander through Southern California's great outdoors—be it hikers, mountain bikers, equestrians, or simply nature enthusiasts—must familiarize themselves with this plant.
Behind its facade lies a potential source of painful rashes and discomfort, making it a must-avoid flora for every adventurer.
Overview of Poodle Dog Bush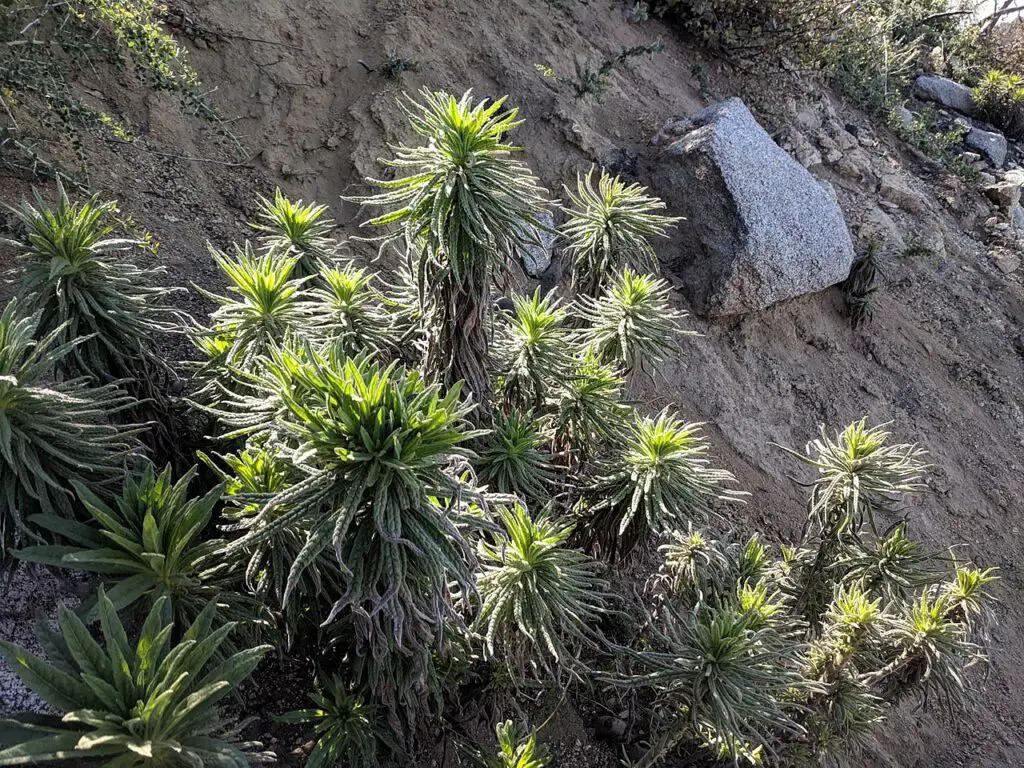 Geographical Distribution: Poodle Dog Bush, known scientifically as Eriodictyon parryi, predominantly thrives in Southern California. In particular, it is common in areas that have recently witnessed wildfires, as it quickly colonizes burnt grounds.
This rapid regrowth after fires means that it can frequently be found in the chaparral and woodlands of the region's burn areas, and is the bane of Pacific Crest Trail hikers who inadvertently come in contact with it.
Physical Appearance: At first glance, Poodle Dog Bush can be mistaken for other harmless plants. It stands tall, reaching heights between 3 to 10 feet. Its long, hairy stems give way to beautiful purplish-blue tubular flowers that cluster at the top.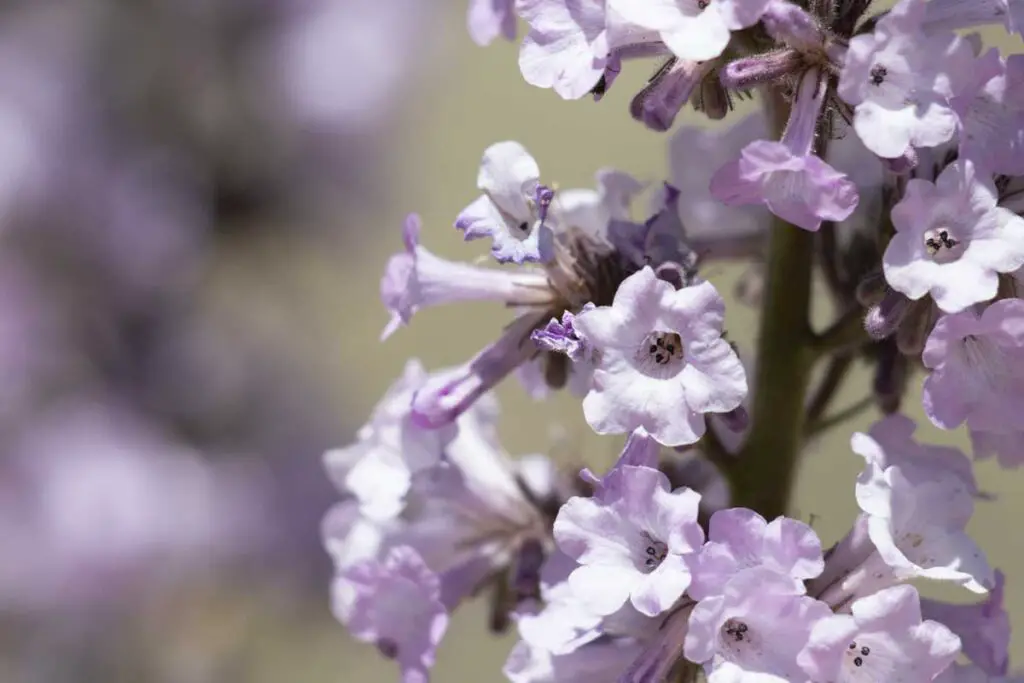 The leaves, lance-shaped with a serrated edge, are sticky and coated with fine hairs. This deceptive beauty, however, is what often lures the unsuspecting to its perils.
Why Avoid: The entire plant, especially its hairs, secretes a toxin that, when coming into contact with human skin, can cause severe allergic dermatitis, similar to the reactions some people have to poison oak or poison ivy. Symptoms include itching, redness, blisters, and sometimes even severe swelling. For some, merely being in close proximity can trigger respiratory discomfort.
How to Avoid Poodle Dog Bush
Educate Yourself: Familiarize yourself with the appearance of Poodle Dog Bush. While it has a distinct look, it's essential to recognize it in various growth stages.
Stay on Established Trails: Often, established paths are cleared of dangerous flora. Avoid straying into uncharted areas, especially those recently affected by wildfires.
Protective Clothing: Wearing long pants, long-sleeved shirts, and gloves can act as a physical barrier against contact.
Inform Fellow Outdoors Enthusiasts: If you're in a group or come across other outdoor enthusiasts, share your knowledge about Poodle Dog Bush, especially if you spot it nearby.
Avoid Touching Unknown Plants: A good rule of thumb in nature is to avoid touching plants you're not familiar with. This can prevent unwanted encounters not just with Poodle Dog Bush, but other harmful plants as well.
What to Do If You Come in Contact with It
Avoid Touching or Scratching: Touching the affected area can spread the toxin to other parts of your body. Scratching can exacerbate the rash and increase the risk of infection.
Wash Affected Area: Gently wash the skin with cold water and mild soap to remove any residual toxins. Avoid scrubbing, which can worsen the irritation.
Apply Cold Compress: A cold compress can alleviate itching and reduce inflammation.
Over-the-Counter Medications: Anti-itch creams or antihistamines can provide relief from itching and discomfort. However, always consult a physician or pharmacist before using.
Seek Medical Attention: If the rash is widespread, painful, or shows signs of infection, it's essential to see a doctor. Additionally, if you experience difficulty breathing or other severe symptoms, seek medical attention immediately.
In conclusion, while the beauty of Southern California's outdoors beckons, it's vital to remain vigilant and informed about potential hazards like the Poodle Dog Bush. By staying educated and prepared, adventurers can ensure that their experiences remain both memorable and pleasant.
For information on other plants to avoid while outdoors, check out our guide to dangerous plants in Southern California.