Palomar Mountain Camping Guide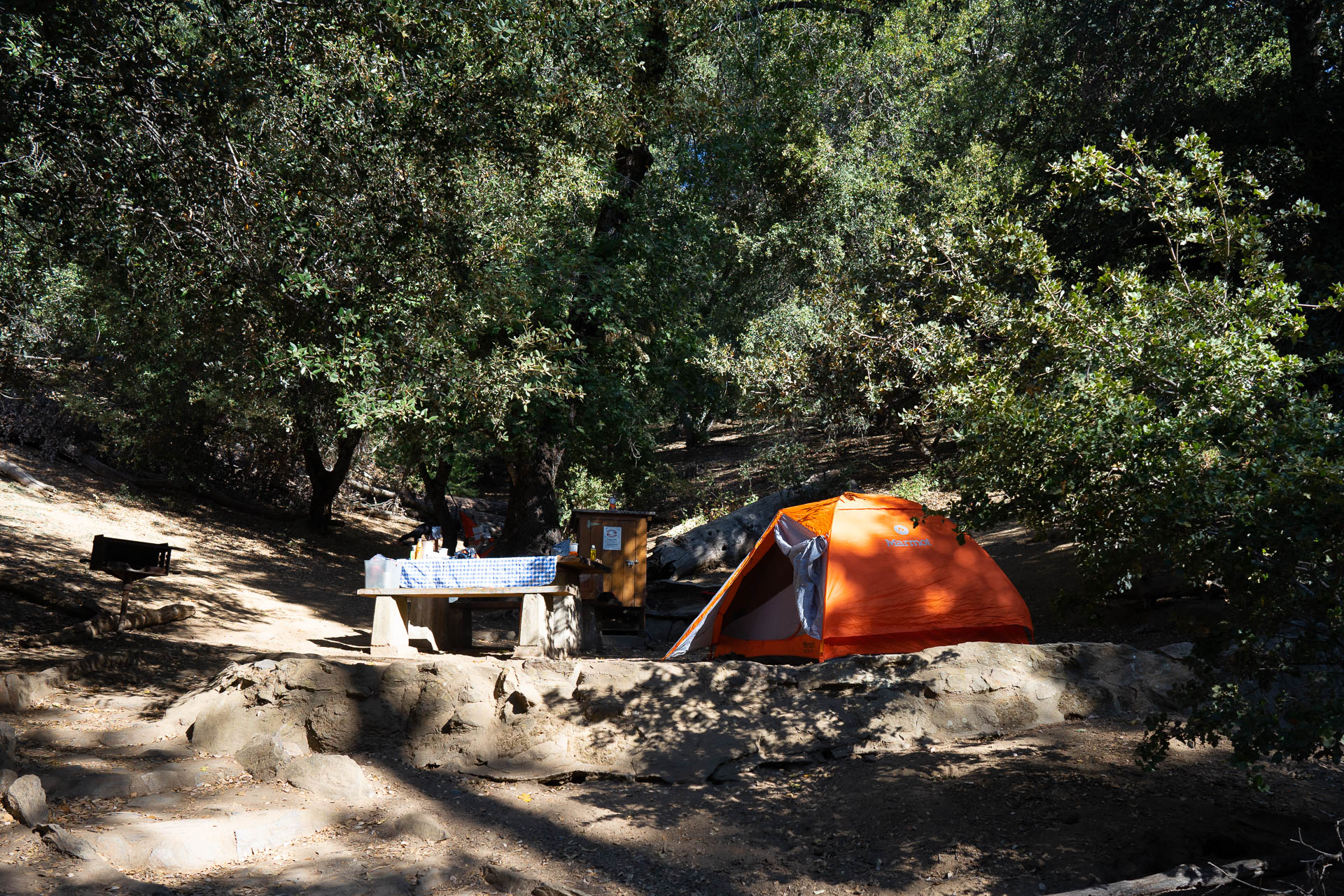 Palomar Mountain is an alpine adventure destination located within easy striking distance of the metropolitan areas of San Diego and Greater Los Angeles. This guide to Palomar Mountain camping will help you find the best state park and forest service campgrounds in the area.
Palomar Mountain campgrounds in this guide:
State Park Campgrounds
U.S. Forest Service Campgrounds
Overview of Palomar Mountain Camping
Palomar Mountain offers camping, hiking, stargazing, and other outdoor adventures in a rugged alpine landscape that contrasts starkly with the Mediterranean climate found at lower altitudes nearby.
The area comprises Palomar Mountain State Park, managed by California State Parks, as well portions of Cleveland National Forest, managed by the United States Forest Service. Two of the area's campgrounds are managed by California State Parks and three by the U.S. Forest Service.
Palomar Mountain camping conditions can change rapidly due to the elevation activity. Weather is a serious consideration on Palomar Mountain, and it's important to be prepared, especially in the winter months, when nighttime temperatures often dip below zero and serious snowstorms can drop significant amounts of snow.
It's a good idea to check whether the roads are open during and after snowstorms, as the authorities sometimes close the road or require that vehicles have chains. The San Diego Department of Public Works posts updates on conditions on Twitter and Facebook.
There are a few hotels and AirBnBs/VRBOs rentals available on the mountain, for those looking for an alternative to camping. Another option is Bailey's Palomar Resort, which offers historic rustic cabins, yurts, and glamping tents.
Getting to Palomar Mountain
Palomar Mountain is located in northern San Diego County, with portions in Riverside County. It is about an hour and a half drive from San Diego or Irvine. From the west, take Interstate 15 exit 46 at Pala Mesa and head east on Highway 76 for 21 miles. Turn left onto S Grade Road/Palomar Mountain Road, and climb the curvy mountain road for about 7 miles until it intersects with State Park Road. Crestline Group Campground is straight across the intersection. Check with San Diego Public Works on Facebook or Twitter for road conditions and restrictions.
Palomar Mountain State Park Campgrounds
Doane Valley Campground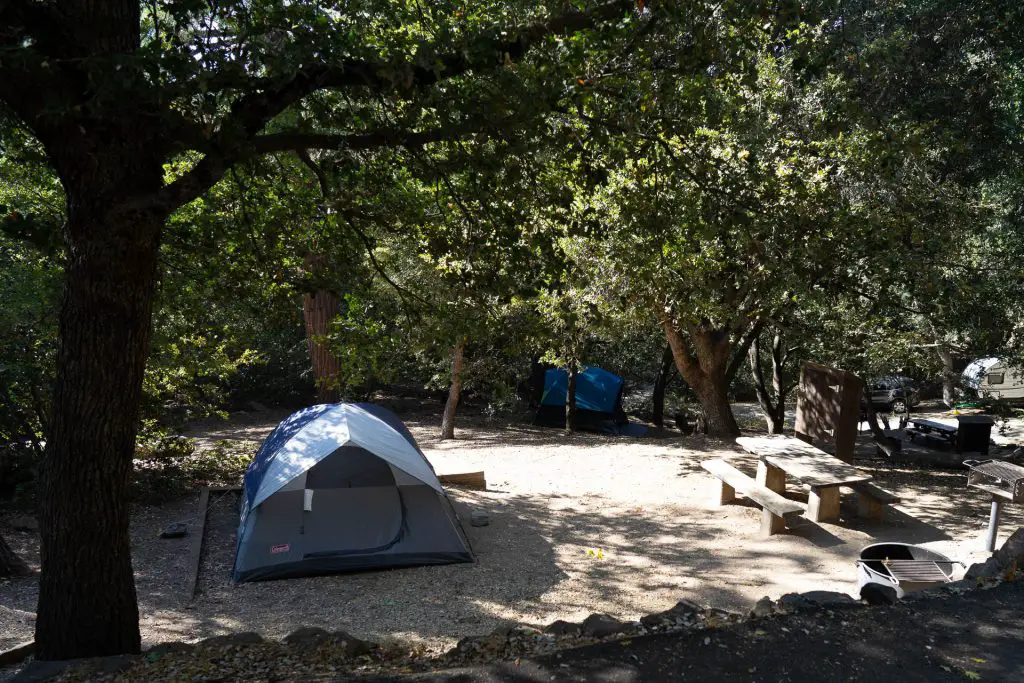 Doane Valley Campground sits along Doane Creek at an elevation of 4,730 feet in a wooded area of Palomar Mountain State Park near Doane Valley Natural Preserve.
The campground features 31 campsites that must be reserved through ReserveCalifornia.com or calling 1-800-444-7275 during the peak season. During the winter months, campsites are first-come, first-served. One hike-in primitive campsite is also available at Doane Valley.
The campground is divided into two loops, with the loop containing sites 1-8 being the most level. There are two bathroom facilities with flush toilets and a shower facility. Each campsite has a picnic table and fire ring, and most have food lockers to protect your food from animals. Most of the sites have a maximum occupancy of eight people and two cars.
RV and trailer camping is permitted, but the park service discourages anything over 27 feet long due to the narrow and curvy road to the campground. Some of the campsites can only handle smaller RVs and trailers, so check the site details on the reservation website to make sure you'll fit.
Engine-driven electric generators may be operated only between the hours of 10 a.m. and 8 p.m.
Collecting downed wood or other natural debris for fires is prohibited, as biomass is important for the local ecosystem. Firewood can be purchased from the camp host. During periods of high fire danger, campfires may be prohibited.
Official information website
Reservations website – search "Palomar Mountain SP"
Information Number: 1-760-742-3462
Location: 33.343163, -116.90145
Cedar Grove Group Campground
Cedar Grove Group Campground is a solid choice for large groups seeking a Palomar Mountain camping adventure. Located less than a mile southeast of Doane Valley Campground, Cedar Grove offers easy access to Baptist Trail, Adams Trail, and Scott's Cabin Trail, and is a great base for exploring some of Palomar Mountain's most idyllic landscapes.
The campground encompasses three separate camping areas that can accommodate large groups. Group Camp 1 will hold up to 25 people and can accommodate RVs, trailers and camper vans up to 21 feet in length. Group Camps 2 and 3 will hold up to 15 people each and are suitable for tent camping only.
Official information website
Reservations website – search "Palomar Mountain SP"
Information Number: 1-760-742-3462
Location: 33.339748, -116.911085
---
Cleveland National Forest Campgrounds
Observatory Campground
Observatory Campground is one of two campgrounds (along with Fry Campground) that are close to the Palomar Observatory, a world-class center of astronomy research operated by the California Institute of Technology.
Just two miles from the observatory, the campground sits at an elevation of 4,800 feet. It offers 42 sites with a variety of amenities for both tent and RV camping, as well as easy access to hiking and biking.
The campground is organized around one large loop with parking spurs for each campsite. Some of the sites have concrete pads intended to serve as a solid base for telescopes. The sites can accommodate vehicles up to 32 feet in length.
The campground has coin-operated hot showers, flush and vaulted toilets, fire rings, and potable water.
Reservations for the sites are released 6 months in advance at 7:30 am PST and can be made through Recreation.gov.
Additional information:
Official information website
Reservations website
Information Number: 1-760-788-0250
Location: 33.343149, -116.878245
---
Fry Creek Campground
Fry Creek Campground is located just north of Observatory Campground across the S6, and a little over 2 miles from the Palomar Observatory. The campground is located at an elevation of 4,900 feet, in a dense evergreen and oak forest, making it one of the cooler places on the mountain to camp.
The campground offers 20 sites, which include picnic tables and fire pits. Fires are only allowed in fire pits or camp stoves. The maximum vehicle size is 15 feet and trailers are allowed. The campground offers potable water and vault toilets.
Sites can be reserved through Recreation.gov from April 1 to November 30. The campground is first-come, first-served in the winter months.
A loop hike, great for exploring local flora and fauna, surrounds Fry Creek. Observatory Campground, across the road, is great for stargazing.
Additional information:
Official information website
Reservations website
Information Number: 1-760-788-0250
Location: 33.34388889, -116.8808333
---
Crestline Group Campground
Crestline Group Campground is a large National Forest Service campsite adjacent to Palomar Mountain State Park. The campground can accommodate groups of up to 50 people and up to 12 cars. RVs up to 27 feet in length are allowed.
The site, which sits at 5,390, is forested but has plenty of open space for star gazing and other activities. The campground is located near the area's only restaurant and store, includes fire rings, several picnic tables, a cooking area, vaulted toilets, and potable water. There are no showers or RV dump stations.
The campground is open from April 1 to November 30, and is available for reservations during that period on Recreation.gov.
For information on other large group campsites, visit our guide to group campsites near Los Angeles and San Diego.
Official information website
Reservations website
Information Number: 1-760-788-0250
Location: 33.312797, -116.863507
Bailey's Palomar Resort
Bailey's Palomar Resort isn't a campground. It's a glamping" destination.
This is a rustic outpost on Palomar Mountain that offers a range of cabins, yurts and quonset huts. The resort is part of a property originally homesteaded in 1888 and some of the historic cabins are more than 100 years old.
In recent years, the resort has added to hits collection of yurts, a number of which are perched on a secluded mountain ridge.
This is a popular destination in winter when storms bring snow to San Diego's mountains.
Things to Do on Palomar Mountain
Hiking
Palomar Mountain is covered by a network of trails, with the epicenter of the network within Palomar Mountain State Park. California State Parks offers a map of hiking in the state park on its website.
Doane Valley and Doane Pond are arguably the crown jewels of the area. Doane Valley Nature Trail, a short interpretive trail that runs along Doane Creek, is a great first hike if you're looking for something low-key. The trailhead is located at the western end of Doane Pond Day Use Parking area (GPS: 33.342018, -116.901389).
Several other trails have trailheads at the pond parking lot, including Thunder Spring Trail and Cedar Trail/Scott's Cabin Trail and Weir Trail, which splits off from the nature trail.
Observatory Trail, in the national forest, is another popular hike. The trail starts at Observatory Campground and climbs 700 feet over 2.2 miles to end just outside of Palomar Observatory. Walk about a third of a mile to the Observatory for a visit (see below).
Another worthwhile activity is visiting Boucher Hill Overlook and Fire Tower, which can be accessed via care or by Boucher Hill Loop Trail.
Stargazing
Palomar Mountain is home to Caltech's Palomar Observatory for a reason. This is a premier stargazing location and on any given night you'll find people in campgrounds peering through telescopes at the night sky.
Explore the Stars, an amateur astronomy project, takes place at Observatory Campground on several weekends each summer. A group of amateur astronomers from all across Southern California hold Star Parties to share the beauty and awe of the night sky with non-astronomers at the campground. Visitors can also walk a 2.25-mile trail to the observatory.
Visit Palomar Observatory
The observatory, atop Palomar Mountain, boasts five high-tech telescopes, among them, the massive 200-inch Hale Telescope, was the world's largest effective telescope for about 45 years. The observatory is owned by the California Institute of Technology and astronomical research includes near-Earth asteroids and the study of distant galaxies.
With some exceptions, such as holidays and during winter weather, the observatory is open to the public daily, from 9 am to 3:30 pm. The observatory has a museum and offers guided tours spring through fall. For more information, visit the observatory website.
Drive Nate Harrison Grade
Nate Harrison Grade is a dirt and gravel truck trail that winds from Pauma Valley up to the top of Palomar Mountain. The road is a fun alternate route to Palomar Mountain and is popular among off-road enthusiasts and mountain bikers. For more information, visit the guide to Nate Harrison Grade on Ordealist.com. The video version of the guide is below.
Snow Days
Contrary to common wisdom, it does snow in San Diego County. You just have to get into the mountains. Along with the Laguna Mountains, Palomar Mountain is one of the top snow destinations for Southern California.
Check out our guide to San Diego snow days for more details on getting into the mountains successfully to enjoy a winter snowstorm.