Cuyamaca Rancho Camping Guide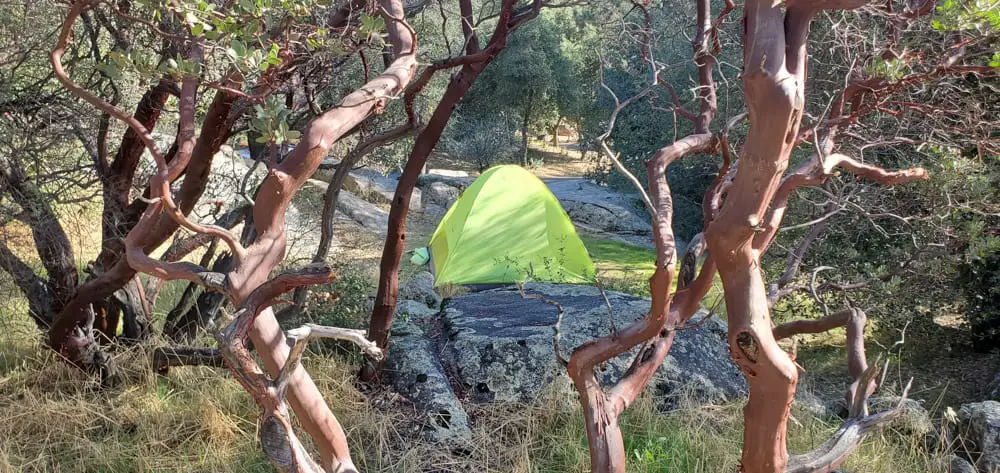 Cuyamaca Rancho State Park, located in the mountains about an hour's drive east of San Diego, offers two developed campgrounds. There are also several campgrounds located just outside the park's boundaries that can be reached by hiking or riding a horse.
The park is a popular destination for hikers, campers, backpackers, equestrians, and mountain bikers, and in the winter is a popular San Diego snow day destination for locals.
Cuyamaca Rancho camping options include two large developed campgrounds for general purpose use, Paso Picacho Campground and Green Valley Campground, as well as an equestrian campground, Los Vaqueros Group Horse Camp.
Paso Picacho Campground
Located centrally in Cuyamaca Rancho State Park, Paso Picacho is well-situated for exploring the park's many hiking, biking, and equestrian trails. The trailhead for the most popular trail in the park, Stonewall Peak Trail, begins just across Highway 79 from the campground. You can also hike to Cuyamaca Peak from two trailheads in the campground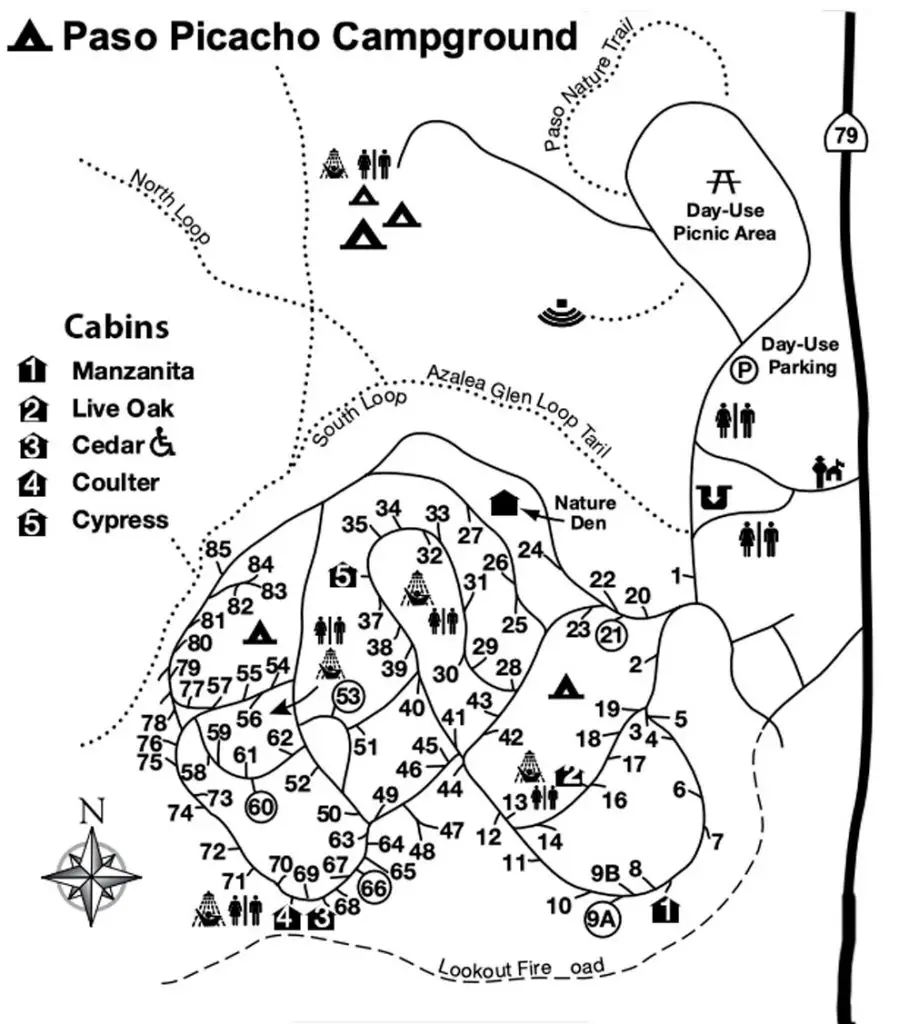 The campground is open year-round and offers 85 campsites, one large group site, and 4 cabins. Up to eight people can camp at the standard sites and in the cabins, though additional tents can be used at the cabin sites. The size and tent capacity of each site varies. RVs up to 24 feet in length may use Paso Picacho. Check the reservation website for specifics on each site.
For more information, visit our detailed guide to Paso Picacho Campground.
Green Valley Campground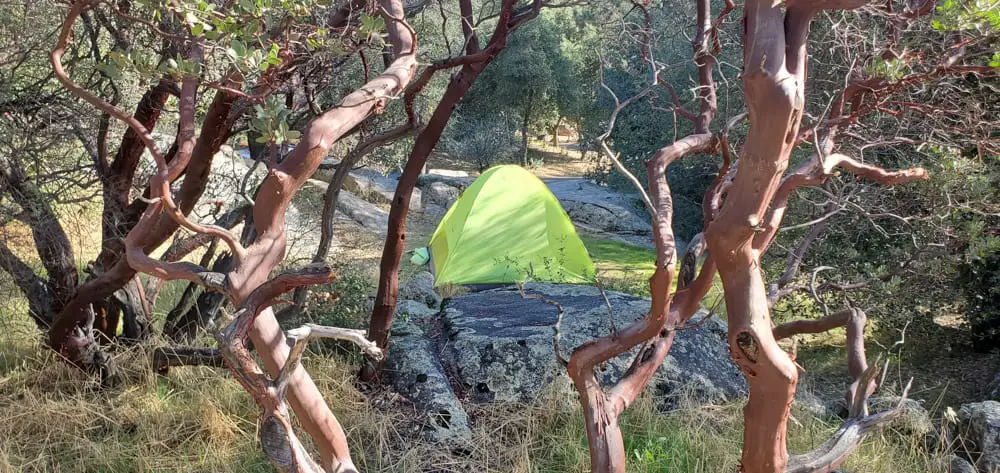 Situated in the southern end of the park off Green Valley Campground straddles the Sweetwater River. The campground offers easy access to several hiking trails including Monument Trail and Pine Ridge Trail, which bring you to Cuyamaca Peak.
The campground offers tent camping and sites that accommodate RVs up to 27-feet long. The main camping area includes 85 sites, while the equestrian camp, across Sweetwater River, includes 15 sites, each with space for two horses and a trailer.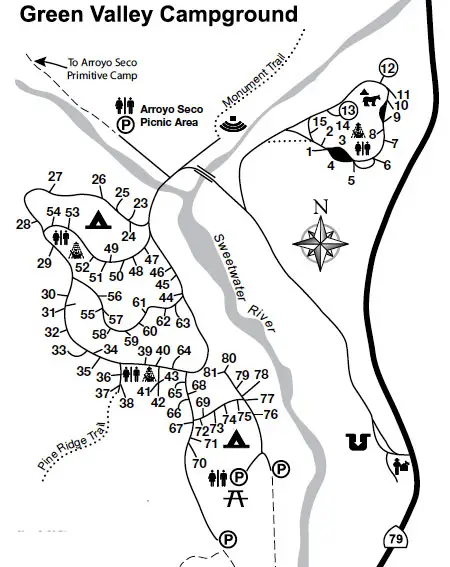 Los Vaqueros Group Horse Camp
Los Vaqueros Group Horse Camp is a large group campground for equestrians that can hold up to 80 people, 45 hours, and 50 vehicles. While large, the campground can only be reserved by a single party between mid-May to September.
The campground has horse corrals made of pipe and offers picnic tables, BBQs, water faucets, and a large fire ring. See below for information on how to make reservations.
Camping Reservations
Rancho Cuyamaca campsites and cabins can be reserved up to up to six months in advance at ReserveCalifornia.com (search for "Cuyamaca Rancho SP") or by calling 1-800-444-7275.
Granite Springs and Arroyo Seco Primitive Campgrounds
Granite Springs Campground (GPS: 32.904655, -116.532303) and Arroyo Seco Trail Camps (GPS: 32.920679, -116.599176) as the park refers to them) are located in the southern half of the park. Hikers and equestrians can use these campgrounds on a first-come, first-serve basis.
As far as we can tell, you can't drive to these camps, though they are located near forest roads. Both campgrounds have chemical toilets, non-potable water, horse corrals, and tent sites. Call the park information number for up-to-date information on these campgrounds: (760) 765-3023.
About Cuyamaca Rancho State Park
Cuyamaca Rancho is located in the Cuyamaca Mountains, an area known for oak woodland forests, pine stands, and grassy meadows. The parks 24,677 acres is located in Southern California's Peninsular Ranges, and more than half of the park is classified as wilderness; meaning all vehicles and bicycles are prohibited.
The park offers more than 100 miles of trails, including Stonewall Peak Trail and the Cuyamaca Peak Trail which climbs to the 6,512-foot summit with a spectacular view of the Pacific coastline, Colorado Desert, Mexico, and the Salton Sea. The park also has a long history of human habitation, and the park services offers exhibits about Native Americans, gold mining, and natural history.
Lake Cuyamaca is located north of Paso Pichacho campground and offers boating and seasonal fishing. Swimming is not allowed.
Getting there
Take I-8 about 35 miles east of San Diego. Take exit 40 and take CA-79 north for about 7.5 miles to Green Valley Campground or 12 miles to Paso Picacho Campground.
More Cuyamaca Rancho Adventure Guides