Green Valley Campground Guide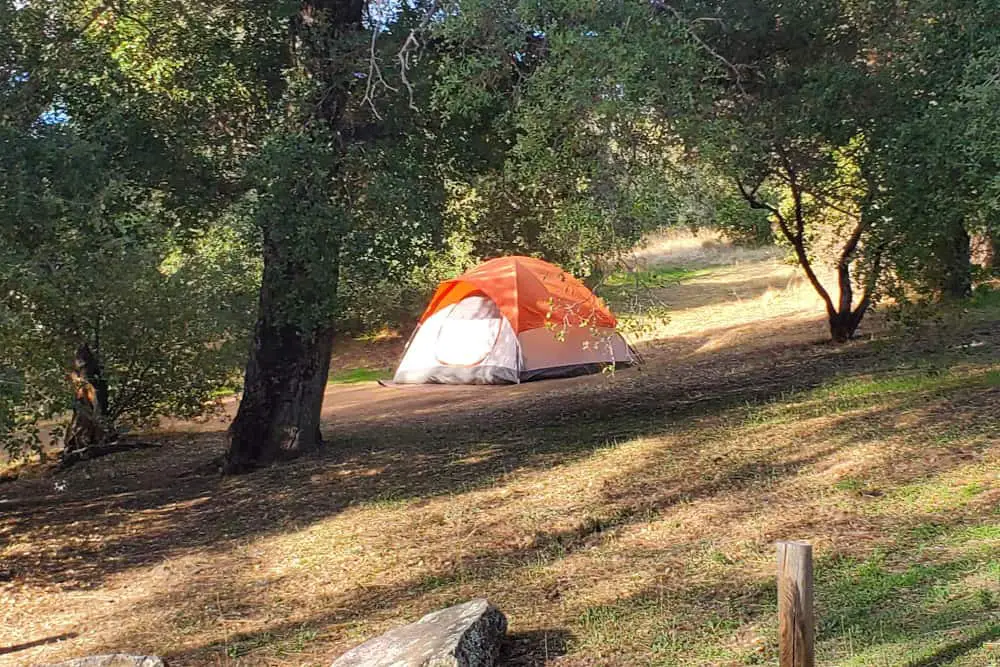 Green Valley Campground is one of two large family campgrounds in Cuyamaca Rancho State Park, a mountainous area known for its oak woodland forests, pine stands, and grassy meadows.
Located in Southern California's Peninsular Ranges, about an hour's drive east of San Diego, the campground offers tent and RV sites (no hookups), one large group camping site, and four rustic cabins.
The campground is well-situated for exploring the park's many hiking, biking, and equestrian trails.
Campground Details
Site types: Tent, RV, Group Sites
Amenities: Potable Water, Toilets, RV Dump Stations, Trash Receptacles, Fire Rings, Picnic Tables, Camp Store
Information number: 760-765-3020
Reservations: Reservations accepted
Reservation number: 760-765-0755
Campground Coordinates: 32.903201, -116.580449
Location: Cuyamaca Rancho State Park
Address: 11842 CA-79, Descanso, CA 91916
Season: Year round
Getting to Green Valley
Take I-8 about 35 miles east of San Diego. Take exit 40 and take CA-79 north for about 5 miles to Green Valley Campground.
The Campground
Green Valley Campground sits and an elevation of 4,000 feet in a sheltered valley of the Cuyamaca Mountains. The campgrounds sites are situated in hilly terrain among oaks, pines and manazanita.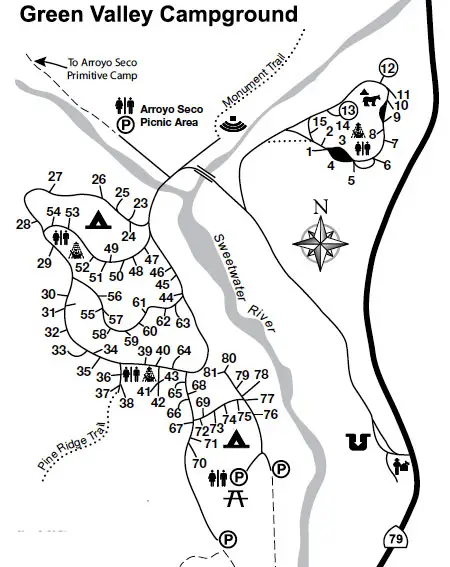 The campground is open year-round and offers 81 campsites and is connected with Green Valley Horse Camp, an equestrian campground. Reservations are highly recommended during peak camping season, from Easter to Thanksgiving. Visitors can book sites and cabins up to six months in advance at ReserveCalifornia.com (search for "Cuyamaca Rancho SP") or by calling 1-800-444-7275.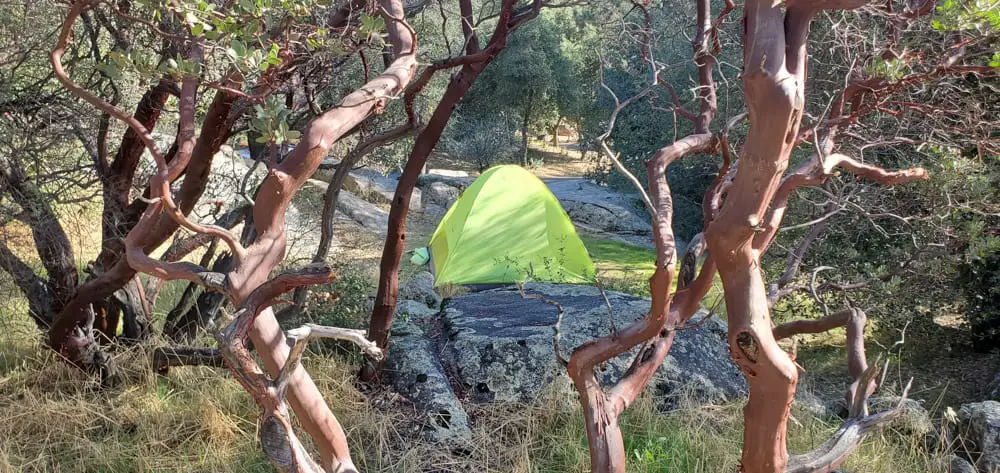 Check-in time for the sites is 2 pm and check-out time is noon. Pro tip: when reserving a site look for those on the outer side of the loops, where you aren't sandwiched between other sites.
The camping fee includes one vehicle, and additional vehicles will incur an additional $10 parking fee. Overflow parking is available if you need to park more cars than your site can handle.
Each campsite at Green Valley Campground includes a picnic table and fire ring (see below for more info on campfires).
The campground offers restrooms and showers in several different locations, and water faucets are available throughout the campground, every few campsites. The showers run on tokens (a couple of minutes of water per coin), so bring some cash for the token machines. Campers can buy firewood from the camp hosts and park rangers.
Fires
Ground fires are prohibited anywhere other than in designated fire rings or in portable camp stoves or fire pits.
You can purchase firewood at the campsite. Don't gather firewood in the park–wood and other biomass such as leaves, pinecones, and plants, provide important nutrients and habitat to the local ecosystem. So if your planning to make smores, bring your own marshmallows roasting spits instead of using branches from live or dead vegetation in and around the campground.
RV Information
The campsites can accommodate trailers and motorhomes from 24-30 feet in length (check the specifics when reserving sites at ReserveCalifornia.com). The campground doesn't have hookups but it does have a dump station. Generators can only be operated from 10 am to 8 pm.
Things to do at Green Valley Campground
Cuyamaca Rancho State Park offers tons of outdoors activities, including hiking, camping, horseback riding and mountain biking.
Hiking, mountain biking and horseback riding
Over 100 miles of terrific trails wind through Cuyamaca Rancho State Park, some of which have trailhead in or very close to Green Valley Campground. These nearby trails include:
Stonewall Peak Trail
This is one of the most popular trails in the area, bringing hikers to a stony summit and sweeping 360-degree views of the surrounding landscape. A 4-mile out-and-back, the trail climbs about 800 feet to the peak. The trailhead is located just across Highway 79 from the campground (GPS: 32.959669, -116.579142). The trail is well maintained and good for kids, though you'll need to keep an eye and a hand on little ones at the top.
Cuyamaca Peak Trail
Cuyamaca Peak, elevation 6,512 feet, is the second-highest mountain in San Diego County, and also offers stunning views of the region. The 6-mile out-and-back trail to the peak begins at the southwest corner of the campground (GPS: 32.956535, -116.583649), where it initially follows Lookout Rd. The trail climbs 1,560 feet to the summit, from which you can see all the way to the Channel Islands and Mexico on clear days.
Oakzanita Peak Trail
Nearby is Oakzanita Peak Trail, a 5.9-mile out-and-back hike that attracts fewer visitors but is no less enjoyable. The trail, which begins off Highway 79 a bit south of Green Valley Campground, is a moderate hike that's perfect for those seeking solitude and stunning views.
Snow Days
Green Valley Campground is a popular destination after snowstorms for San Diegans looking to enjoy sledding or a snowy hike on a rare wintery day in SoCal. The campground offers day-use parking, which fills quickly.
If there is enough snow, the nearby trails offer a chance to snowshoe or even cross-country ski. For tips on visiting the area after snow falls, check out our guide to San Diego snow days.
See Also