San Diego Snow Guide: Where to find snow in San Diego County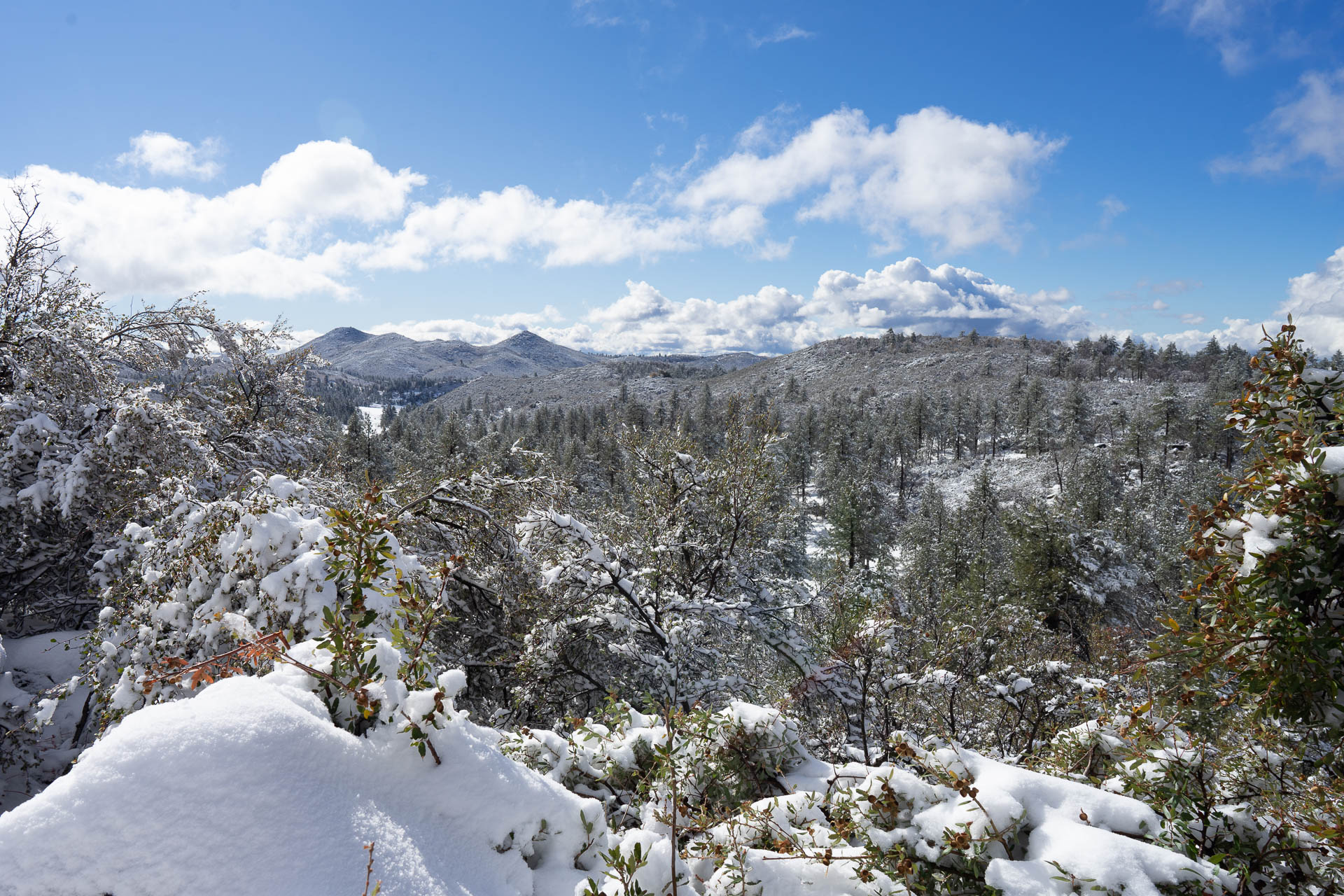 San Diego is known for beaches, the zoo, and fantastic weather. Snow, not so much. Yet San Diego's mountains receive snowfall each year and are a terrific place to explore in the winter, whether you are looking to go sledding, hiking, off-roading, or even cross country skiing or snowshoeing. 
This guide will give you all the information you need to get to the mountains to enjoy the snow, including where to go and how to find information on weather and roads.
San Diego Snow Day Tips
You hear a winter storm is headed for Southern California and you decide you're going to head to the mountains to enjoy a day of snowy fun. Guess what? You're not alone. The relative rarity of snow near San Diego makes it a hot…er, cold…commodity. The result, almost invariably, is traffic and crowds on snow days. The high demand and other factors require some strategic action to make the most of your trip.
1. Go early and leave early
To beat the traffic to San Diego's mountains after a storm, get on the road as early as you can. Traffic into the mountains can get really jammed up, due to the heavy volume of traffic, police checkpoints (looking for snow chains on tires), and slow and stuck drivers. If you get to the mountains early, you can avoid some of this traffic.
2. Check if roads are open
Make sure the road you're planning to take is open (see below). During and soon after a storm, some roads may be closed due to heavy snow until snowplows can clear the way. For instance, Sunrise Highway, the windy mountain road from the I8 to Mount Laguna, regularly shuts down during and after storms. Check the San Diego Public Works Facebook Page or Twitter Feed for updates on road closures and tire chain requirements (example below of a post closing Sunrise Highways).

3. Bring snow chains
During and soon after a storm, highway patrol will often set up checkpoints and turn back vehicles that don't have chains with them. Depending on what type of vehicle you are driving, they may ask you to put the chains on your vehicle. Four-wheel-drive trucks and SUVs with all-terrain tires may be allowed to pass without putting chains on, but it's still a good idea to bring them in case conditions warrant them or the authorities require them. A company called Security Chain Company makes quality snow chains for any car or truck that can be ordered online. You can also pick up snow chains at auto part stores.
Caltrans has a set of chain requirements that determine which vehicles require chains. There are Three Levels of Chain Requirements in California:
Requirement 1 (R-1): Chains are required on all vehicles except passenger vehicles and light-duty trucks under 6,000 pounds gross weight and equipped with snow tires on at least two drive wheels. Chains must be carried by vehicles using snow tires. All vehicles towing trailers must have chains on one drive axle. Trailers with brakes must have chains on at least one axle.
Requirement 2 (R2): Chains or traction devices are required on all vehicles except four-wheel/all-wheel drive vehicles with snow-tread tires on all four wheels.
NOTE: (Four-wheel/all-wheel drive vehicles must carry traction devices in chain control areas.)
Requirement 3 (R3): Chains or traction devices are required on all vehicles, no exceptions.
To find out what level of chain requirement is set for different roads, visit the San Diego public works Twitter feed or Facebook page. You can also check the interactive QuickMap on the Caltrans website. Under Road Conditions, you can choose to see chain controls, closures, and other info about various roads
When does it snow in San Diego?
The Peninsular Range of mountains that serve as the backbone of San Diego County receives snow when winter storms blow in from the Pacific Ocean. As the snowfall chart for Palomar Mountain shows, the mountains typically receive snowfall from November through April, with December through March seeing the most accumulation.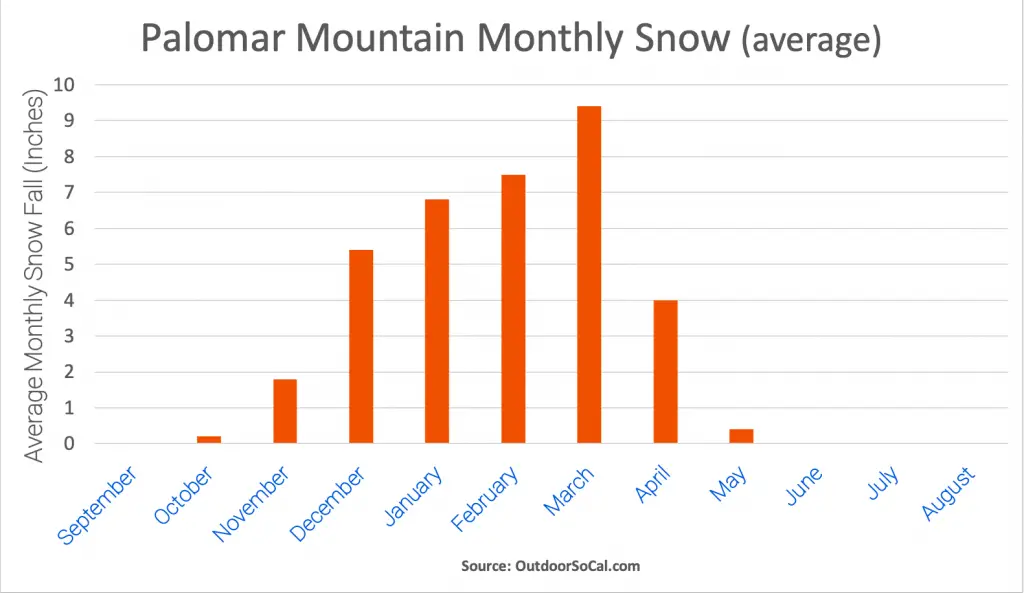 Where does it snow in San Diego County?
Snow typically falls at elevations above 3000 feet in San Diego County, with more significant amounts accumulating at higher elevations. The Laguna Mountains, Cuyamaca Mountains, and Palomar Mountain receive significant snowfall for the region and are popular destinations after snowstorms. While it's not technically in San Diego County, the town of Idyllwild and the surrounding San Jacinto Mountains of Riverside County are other popular destinations for snow seekers from San Diego.
Annual Snow Fall Totals (Inches)
| | |
| --- | --- |
| Mount Laguna | 21.6 |
| Cuyamaca Rancho State Park | 31.5 |
| Julian | 22 |
| Palomar Mountain | 35.4 |
| Idyllwild  | 38.4 |
Laguna Mountains Snow Info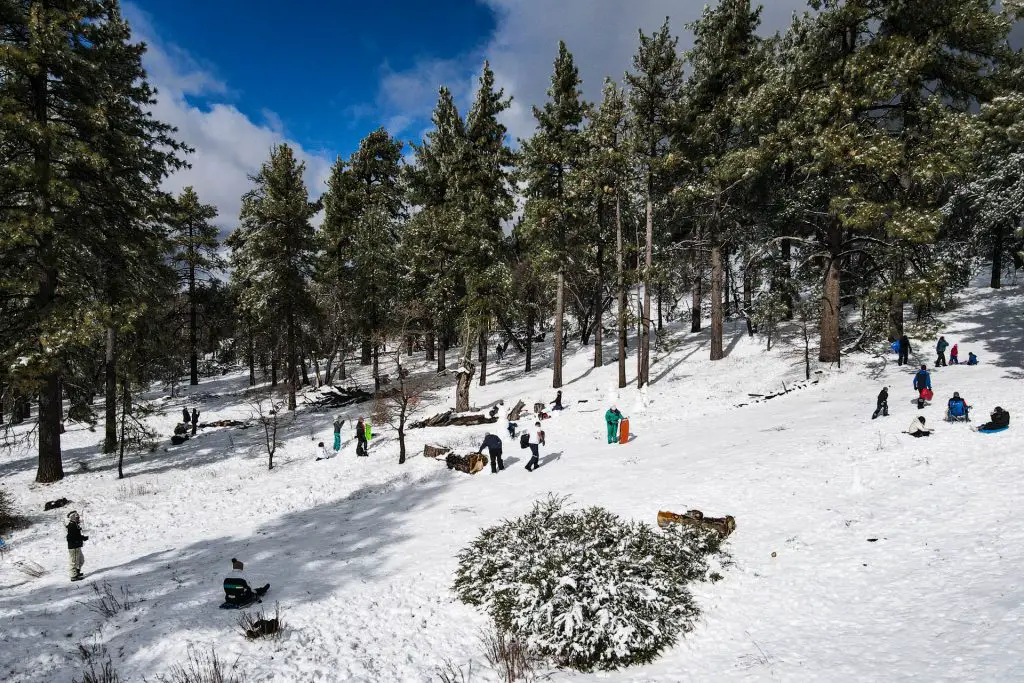 Snow day activities in the Laguna Mountains center around the village of Mount Laguna and the greater Laguna Mountain Recreation Area. Most of the area is within Cleveland National Forest with the eastern portion falling in the mountainous portion of Anza-Borrego Desert State Park. There are several restaurants in town, and some cabins to rent if you want to stay overnight.
Sledding
There are many nice places to ride sleds along Sunrise Highway on either side of Mount Laguna. One very popular spot is a scenic open area near the Meadows Information Kiosk near the trailhead of Sunset Trail (GPS: 32.859525, -116.462333). Parking can be challenging, but if you're looking for a festive atmosphere and a well-packed hill, this is your spot. There are lots of other nice sledding spots, including a number north of Mount Laguna.
Hiking, Snowshoeing and Cross-Country skiing
After it snows, the trails in the Laguna Mountains offer hiking, snowshoeing, and cross country skiing (if there is enough snow). See our guide to Mount Laguna outdoor adventure for detail on the various trails in the area. The trails in the Big Laguna Meadow area are particularly picturesque in the snow.
Getting There
The only way into the area is Sunrise Highway (S1), which allows you to approach from either the north (Julian/Cuyamaca) or from the south (exiting Interstate 8). The I-8 exit for Sunrise Highway gets really backed up on snow days, as this is the police checkpoint when chains are required. Getting there early is the best way around this–see the tips below.
If the I-8 exit/road is backed up or the road up is closed, you can approach via Sunrise Highway from the north beginning where it intersects with Route 79. This intersection can be reached on Route 79 from the direction of Julian or from the southwest through Cuyamaca Rancho State Park (get on 79 at the I-8 exit east of Alpine).
Cuyamaca Mountains Snow Info
The Cuyamaca Mountains are adjacent to the Laguna Mountains and mostly within Cuyamaca Rancho State Park. The road into this area, Route 79, can be less congested/problematic compared to getting to Mount Laguna, and can be an alternative route into the mountains if Sunrise Highway is closed.
Hiking, Snowshoeing and Cross-Country Skiing
Cuyamaca Rancho State Park offers a number of trails for exploring in the snow, particularly around Paso Picacho Campground. There are some trailheads near Green Valley Campground, and the day-use Sweetwater and Hual-Cu-Cuish Parking areas. This map shows the trails in the park.
Getting There
Cuyamaca Rancho State Park can be approached via Route 79, either from Interstate 8 to the south or from the north starting in Julian. Route 79 is sometimes closed during snowstorms, so check the road updates via the San Diego County Public Works sites mentioned in the tips above.
Palomar Mountain Snow Info
Palomar Mountain gets an average of around 35 inches of snow each year at the Palomar Observatory, which makes it one of the snowier spots in the Peninsular Ranges.
Many people stop right at the top of the mountain, near the general store, as there are places to sled. For the more adventurous, it's worth pressing further into Palomar Mountain State Park or into the areas manages by Cleveland National Forest.
There are a few cabins for rent on the mountain through AirBNB and VRBO, in case you are thinking of an overnight trip and not up for snow camping.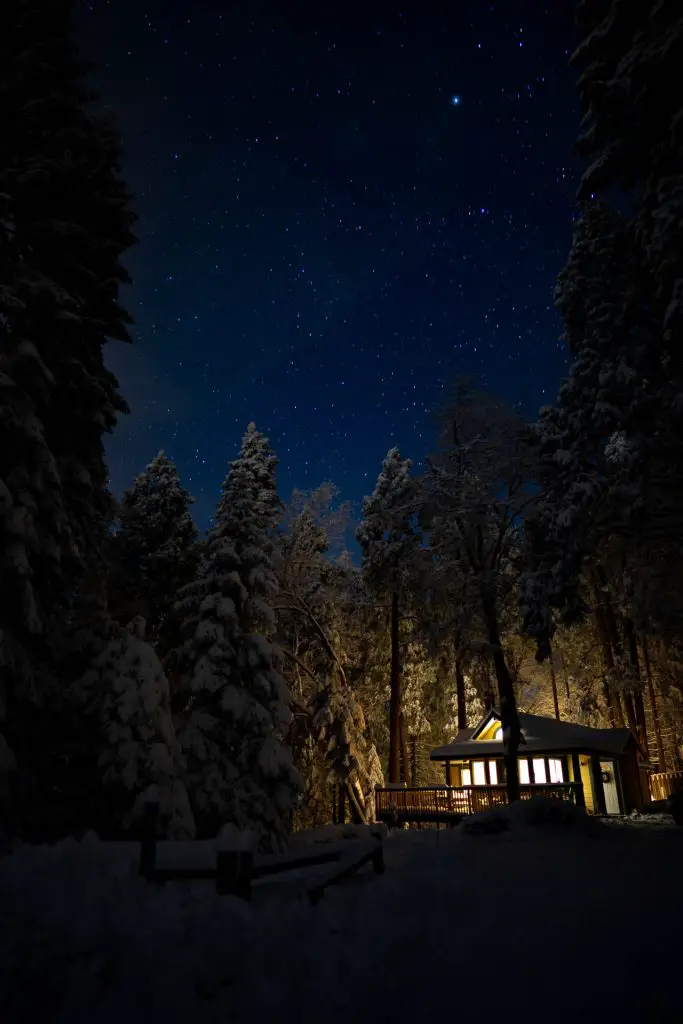 Sledding
The most popular area to sled is where State Route 6 (S6), the windy road that brings you up the mountain from Pauma Valley, meets with State Route 7 (S7), near Palomar Mountain General Store and Mother's Kitchen Restaurant. This area gets pretty hectic, however, so it's probably worth driving a little further towards Palomar Observatory or the Palomar Mountain State Park to find less tracked sledding grounds.
Hiking, Snowshoeing and Cross-Country Skiing
Palomar Mountain offers a number of terrific hiking trails to explore in winter. The Observatory Trail, which starts at Observatory Campground (GPS: 33.342791, -116.877831), climbs up to near Palomar Observatory. Palomar Mountain State Park has a robust trail network that centers around Doane Valley Campground and the day-use parking area near Doane Pond.
Getting There
The most common approach to Palomar Mountain is on State Route 6 from the west. From where S6 starts in Pauma Valley off State Route 76 to the top of the mountain is very windy and treacherous when covered in snow and ice. The route is often closed during and soon after winter storms and chains are required during snowy conditions.
The mountain can also be approached from the direction of Lake Henshaw on State Route 7, which is a bit mellower, though still a windy mountain road. Another route to the top of the mountain, the Nate Harrison Grade, approaches from northwest. This is an unpaved route and typically only used in snowy conditions by people in Jeeps and other off-road worthy vehicles who are looking for a snow-wheeling experience.