Temescal Canyon Trail Guide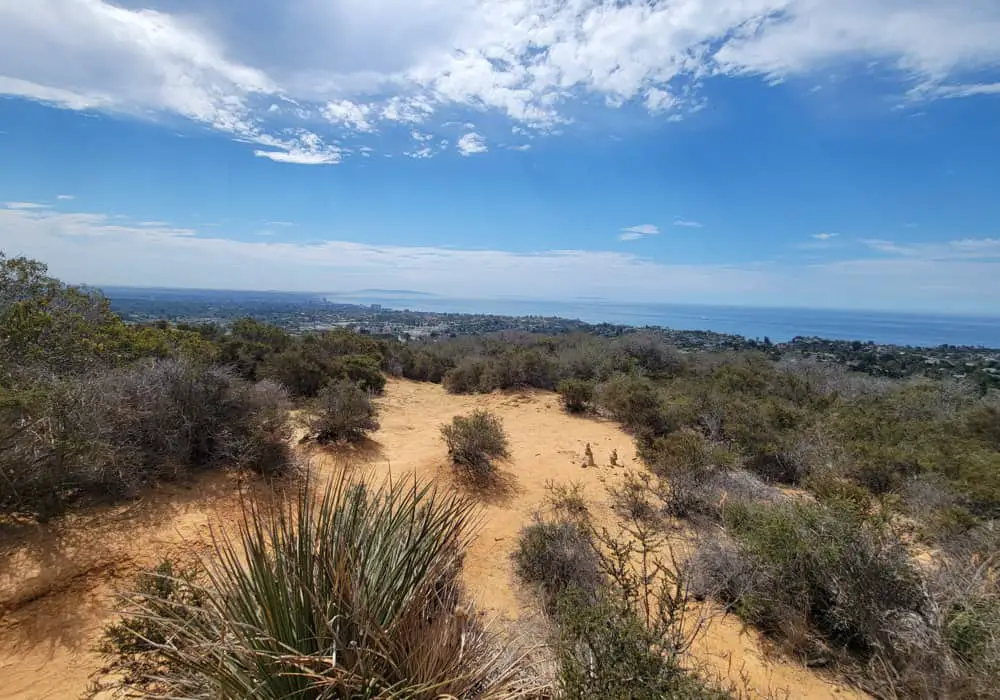 Temescal Canyon Trail is a 3.4-mile loop that traverses the rippling Santa Monica Mountains of the Pacific Palisades, offering scene-stealing views of the ocean that reach as far as Catalina Island on a clear day.
Hikers experience a variety of terrain ranging from rocky cliffs lined with chaparral to sycamore-laden canopies that almost make you forget you are in the desert. Elevation gain is fairly steady to a peak of 935 feet and footpaths, while well maintained, are sometimes jagged and uneven, promising a decent workout over the course of the two-hour trek.
Trail Details
| | |
| --- | --- |
| Trail Type | Loop |
| Difficulty | Moderate |
| Length | 3.4 miles |
| Elevation Gain/Loss | 935 feet/-935 feet |
| Trailhead Coordinates | 34.050479, -118.530235 |
| Location | Pacific Palisades |
| Best Season | May – October |
| Map | Download PDF |
Getting to the Temescal Canyon Trailhead
The trailhead is located inside Temescal Gateway Park just off Sunset Boulevard in the Pacific Palisades, about one mile north of Will Rogers State Beach. Ample parking is available in a string of lots near the trailhead for a $12 flat fee.
Coming south from Ventura County, follow the Pacific Coast Highway (Route 1) through Malibu until you reach Temescal Canyon Road. Make a left and head 1.1 miles to Sunset Boulevard. Turn left and the park entrance will immediately be on your right.
Coming from downtown Los Angeles, take the 110 Freeway to the I-10 West, which you will follow for 14.2 miles until it becomes the PCH. In another 4.2 miles, you will come to Temescal Canyon Road. Make a right and follow it north to the lot.
If you are coming from the San Fernando Valley, take the 405 South toward Exit 57 (Sunset Boulevard). Turn left off the exit onto North Church Lane and then right onto Sunset. Travel 5.9 miles to find the lot entrance on your right.
The Trails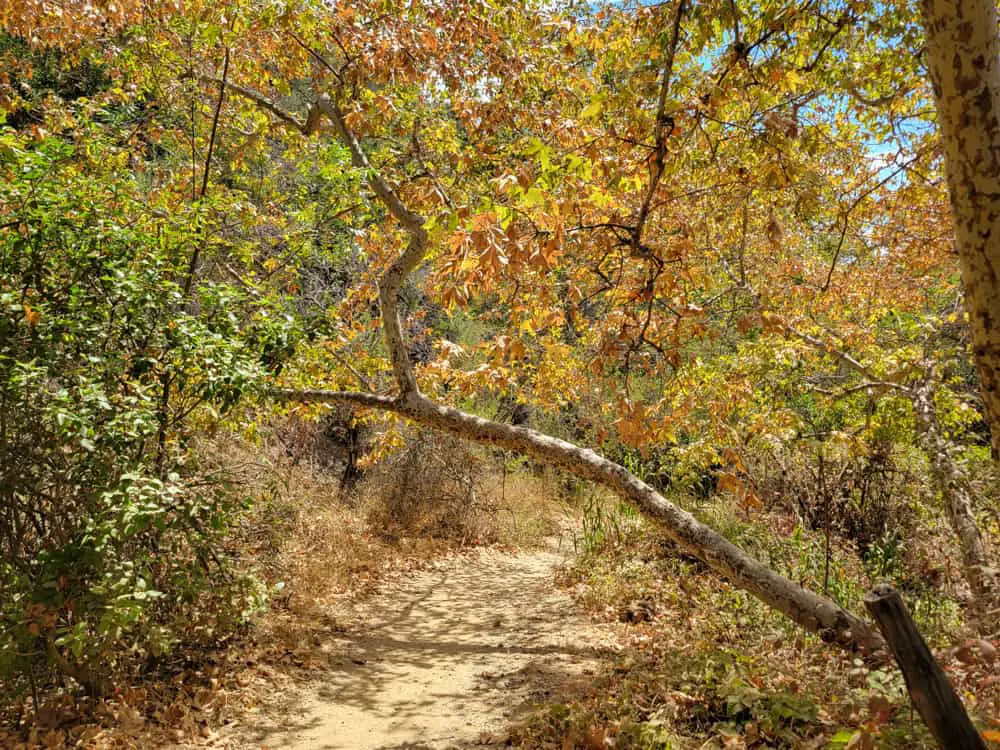 The loop trail is popular with hikers of all skill levels thanks to its combination of picturesque canyon and ocean views. The base of the trail is shaded in oaks and sycamores, and a single 0.4-mile track gradually ascends about 75 feet to a four-way junction with the Temescal Ridge Trail where the actual 2.6-mile loop begins.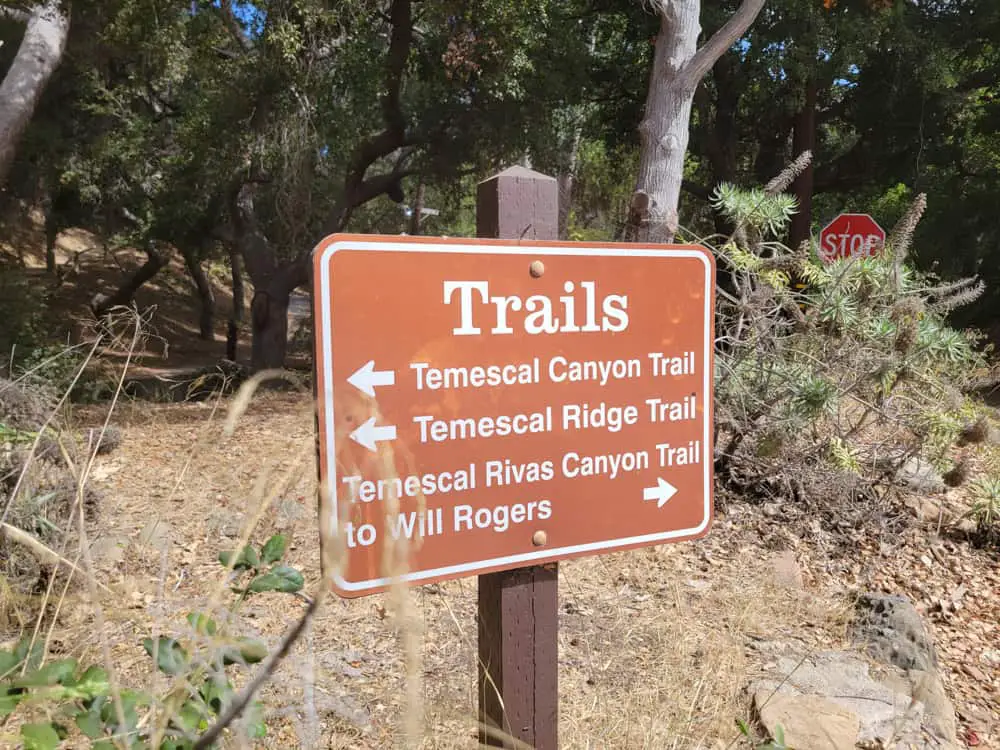 In another quarter mile, you enter Topanga State Park as you begin an 860-foot climb to the top viewpoint. The initial ascent serpentines up the hillside for 600 feet of elevation gain before straightening out for about three quarters of a mile.
The ocean side of the trail features desert vegetation and oftentimes uneven terrain. The viewpoint crests at 1,170 feet above sea level, offering panoramic views from the Malibu coastline past downtown Los Angeles to the San Gabriel Mountains.
An at-first steepish descent down the other side of the mountain quickly levels off as it cuts through a tree-covered valley that offers welcomed respite on hot, sun-drenched days. About two miles into the hike is the bridge over Temescal Canyon Falls, which, unless it just rained, is usually but a trickle. From here, it is an easy 1.4-mile downhill descent on your way back to the parking lot.
To extend the hike by another 1.85 miles (for a grand total of 5.25 miles), take the Leacock Trail that intersects with the Ridge Trail near the apex on the ocean side. Head 0.3 miles to the Bienveneda Trail and then another 0.6 miles to the Skull Rock extension. Head almost a half-mile to Skull Rock, then double back to reconnect with the main loop.
Animal life is abundant in the area, from gray foxes and mule deer to Western toads and northwestern fence lizards. Red-tailed hawks patrol the skies along with scrub jays, flycatchers, woodpeckers and Valley quail (the official state bird). Larger predators like coyotes, bobcats and mountain lions usually come out at night when less people are around, while rattlesnakes are more likely to emerge on hot summer days.
Equally diverse is the flora dotting the landscape. Coastal sage scrub and prickly pear cacti share higher hillsides with the chaparral while coast live oak, sycamore and black walnut trees are nestled in the lower-level valleys. Depending on the time of year, wild cucumber, California laurel, purple sage and elderberry flowers provide bright dashes of color that pop out against the desert earth tones. Signs warning of poison oak mean less adventurous types should stick to the main trails.
Temescal Gateway Park is open seven days a week from 6:30am until 8:00pm. While the trail boasts heavy foot traffic, especially on fair weather days, bikes and dogs are prohibited on the sections inside Topanga State Park. Amenities like restrooms, water fountains, trash cans and picnic tables are populated around the base of the trail and a display at one end of the parking lot offers trail maps you can take with you.
The park also has a retreat center that can be rented for events. Late fall and early spring offer the best hiking weather, as summer months can become particularly hot, although ocean breezes sometimes provide mild relief. Sturdy hiking shoes, a hat, sun block and plenty of water are recommended.
History of the Area
For thousands of years, the area served as a place where Chumash and Gabrielino native tribes gathered, traded and held spiritual ceremonies. In 1922, Reverend Charles Holmes Scott developed what is now the park as part of the "Chautauqua movement," where lectures, music, readings and discussions were held as a way to challenge the mind and spirit.
In 1934, the property was sold to the Presbyterian Synod for use as a private retreat center before being sold again in 1994 to the Santa Monica Mountains Conservancy, which still maintains it today.