Jacumba Hot Springs Camping Guide
Jacumba Hot Springs, a small high-desert outpost in the mountains east of San Diego, offers a number of options for developed campgrounds and dispersed backcountry camping.
Jacumba Hot Springs camping options include a number of primitive and developed campgrounds that offer varying degrees of amenities, as well as dispersed backcountry camping for the more intrepid adventurer.
McCain Valley
There are two campgrounds in McCain Valley, which is located about 6 miles north of Jacumba Hot Springs. Located in the In-Ko-Pah mountains about 70 miles east of San Diego, the valley offers stunning views, off-road recreation, camping, rock climbing, and hiking.
These are Lark Canyon Campground and Cottonwood Campground, both managed by the Bureau of Land Management. Cottonwood Campground was a little the worse for wear a few years ago, but the BLM is supposedly making upgrades to both campgrounds.
Lark Canyon Campground
Lark Canyon Campground is located on McCain Valley Road, about 5 miles north of Old Highway 80, next to the staging grounds for Lark Canyon OHV (GPS: 32.726773, -116.272450). It is primarily used by off-roading enthusiasts who use the OHV trails. The campground offers campsites with fire rings, picnic tables, and non-potable water.
Cottonwood Campground
Cottonwood Campground is located off McCain Valley Road, 12.8 miles north of Old Highway 80. The campground offers 25 developed campsites nestled among oak trees that have fire rings and picnic tables. The campground was once inhabited by Native Americans, evidenced by the grinding divots (morteros) found on some of the bedrock in the area.
For more information, visit our outdoors guide to McCain Valley.
Boulevard/Cleveland National Forest KOA
Located in the town of Boulevard, about 5 miles east of Jacumba Hots Springs, the privately-owned Boulevard/Cleveland National Forest KOA offers tent and RV sites. The 40-acre complex offers access to hiking trails and a stargazing area, among other things.
DeAnza Springs Resort
Located a couple of miles north of downtown Jacumba Hots Springs, DeAnza Springs Resort offers both tent and RV sites. The resort is privately owned and is clothing optional. There are few places better for getting a full body tan…
Dispersed Camping
Jacumba Hots Springs is surrounded by wilderness lands managed by the National Forest Service and the US Bureau of Land Management.
Valley of the Moon and Jacumba Wilderness
Valley of the Moon is a wilderness area located about 5 miles east of Jacumba Hot Springs that offers disperse backcountry camping. The area is part of the Jacumba Wilderness, a rugged patch of BLM-managed country along the US-Mexican border.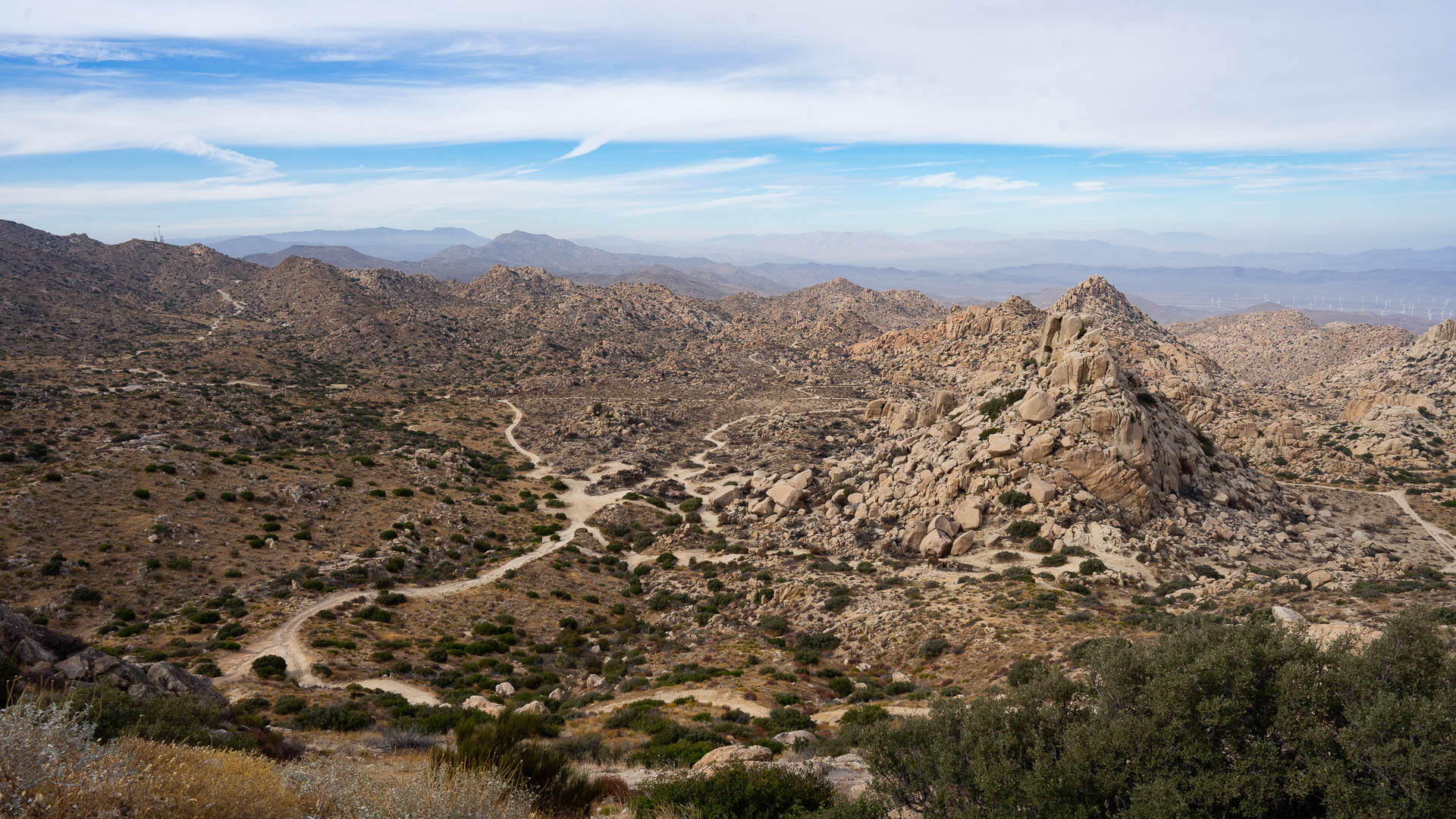 Valley of the Moon is popular among rock climbers and off-roading enthusiasts. You can hike into the area from a staging area just of the I-8. If you have a high-clearance four-wheel drive you can drive into the area and camp from your vehicle.
For more information, check out our comprehensive guide to Valley of the Moon.
Table Mountain Area
Another great area for remote dispersed camping is near Table Mountain, across the I-8 from Jacumba. Accessed by dirt roads, this area offers remote tent and RV/trailer camping for those willing to get off the beaten path. The area can be accessed by crossing under the I-8 from Carrizo Creek Road at 32.635495, -116.126929.
About Jacumba Hot Springs
Jacumba Hot Springs is a small town in southern California that is home to a collection of natural hot springs – evidenced at times by the smell of rotten eggs drifting down the street.
The springs are said to have therapeutic properties, and as such they have been frequented by people looking to relax and heal for centuries.
Today, Jacumba Hot Springs remains a popular destination for visitors looking to take a break from the hustle and bustle of city life.