Ontario Peak via Icehouse Canyon Trail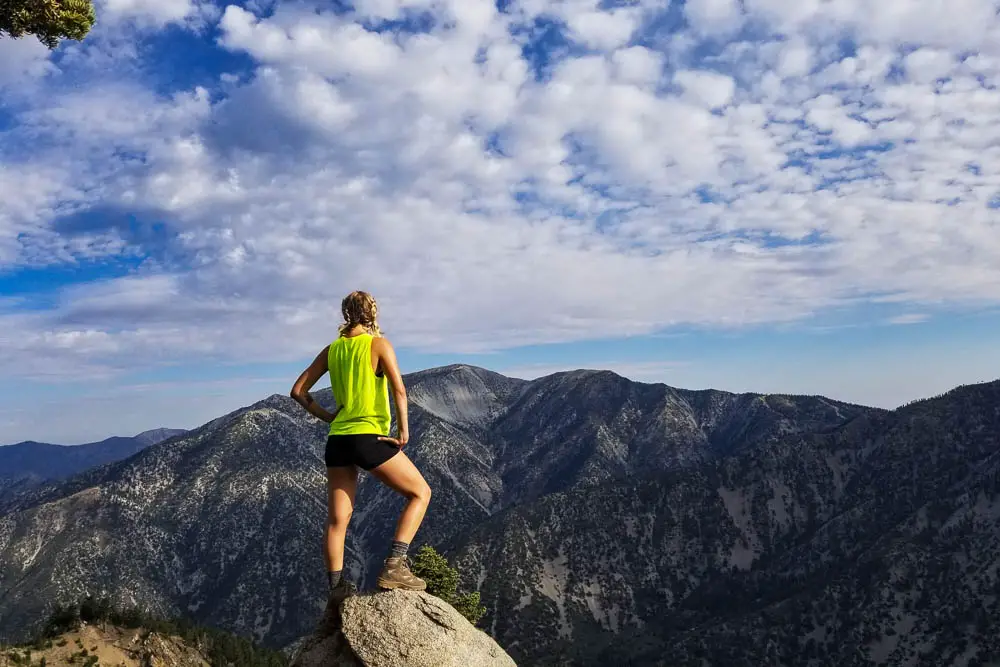 The hike to Ontario Peak is a rigorous 12-mile out-and-back trail in the San Gabriel Mountains north of Angeles National Forest.
Starting at the Ice Canyon Trailhead, near Mount Baldy, this challenging route climbs 3,884 feet to the 8,696-foot summit of Ontario Peak.
Once you reach the top, you'll be rewarded with sweeping views of the nearby mountains as well as the Inland Empire, Orange County, and even Los Angeles in clear conditions.
Trail Details
Trail type: Out-and-back
Difficulty: Difficult
Length: 12.4 miles
Elevation gain and loss: 3,884 feet, -3,884 feet
Trailhead Coordinates: 34.25024, -117.63671
Location: Cucamonga Wilderness, Angeles National Forest
Season: June – Oct
Getting to Icehouse Canyon Trailhead
There's a spacious parking lot at the trailhead. To get there from Los Angeles or Orange County, take the 605 or the 57 up and get onto the 210 heading east. Take the exit toward Baseline Road and make a right onto Padua Avenue. After 1.8 miles, turn right onto Mt. Baldy Road. You'll arrive at the trailhead parking lot in 9 miles.
If you're coming from the Inland Empire/areas north, take the 15 south and merge onto the 210 heading west via exit 115A. Take the Mountain Ave exit and make a slight right onto Mt. Baldy Road. Continue for 6.5 miles and you'll arrive at the trailhead parking lot.
The Trail
Once you've found a parking spot and have your water bottles filled, it's time to set off! Before you get going, don't forget to fill out a permit (free at the trailhead) and insert the white copy into the side of the box provided. The yellow copy is yours to hold onto.
The trail begins with a rocky path alongside a babbling creek. Watch your footing on this section of the trail – there are lots of loose rocks. There are ruins of old stone cabins and a fireplace along the way; you can explore them for a bit if you're interested.
About one mile in, you'll see a path that veers to the left. Stay to the right to continue in the correct direction. Within another mile, you'll get to cross the creek twice. In late summer, it's no problem to stay dry – the water level is low and there are plenty of rocks to help you hop across.
Once you're about 2 miles in, the trail starts to ramp up in difficulty. You'll be trekking up switchbacks for a mile and a half, all the way to Icehouse Saddle. By the time you reach the saddle, you will have climbed 2,601 feet in elevation since the start of the hike and will now be sitting at 7,575 feet.
Icehouse Saddle is the perfect place to take a breather, rehydrate, and refuel. There are some downed trees you can take a seat on while enjoying views of the tall sugar pines that surround you, and the mountains in the background.
There's a sign at the saddle that says "Ontario Peak Trail," noting that Kelly Camp is one mile away and that you'll summit the peak in 2.8 miles. The trail becomes a nice, gradual slope to Kelly Camp, allowing you to recover from the switchbacks you tackled earlier. Keep your eyes peeled for bighorn sheep on this leg of the trail – it's more remote and there are many sightings in the area.
When you reach a clearing with some stone ruins scattered throughout you'll know you've arrived at Kelly Camp, which sits at about 7,800 feet above sea level. If you're backpacking, it's a wonderful spot to set up camp.
There is a freshwater spring where you can refill your water bottle just a few yards from the camp, but don't rely on it completely – in late summer, the spring is reduced to a steady drip. It will still fill your bottle, but it will take a long time.
The water supply may dry up completely during the warm season, so make sure you bring enough water with you for the whole hike just in case.
The trail continues past Kelly Camp, winding its way up Ontario Ridge through manzanita and other low-growing brush plants. There are some downed trees on the trail that you can easily climb over to continue on.
You might think you've reached the peak once or twice, with false summits present, but keep trekking until you come across a rock pile with a gnarled looking dead tree at the top – that's the peak! Once you reach the top, you've officially climbed 3,884 feet in elevation and are standing at 8,696 feet above sea level at Ontario Peak.
Take some time to soak in the views from the summit. Looking south, you can see the Inland Empire, Orange County, and Los Angeles sprawling beneath you.
On particularly clear days, you can see the Pacific Ocean. If you look west, you're rewarded with views of Mt. Baldy as well as Bighorn Peak (which makes a great 2-mile add-on hike to this one).
To get back to the Icehouse Canyon Trailhead parking lot, just follow the same trails you took on the way up in reverse. Be cautious of loose rocks and uneven footing as you descend.