Pacific Highlands Ranch Pump Track Guide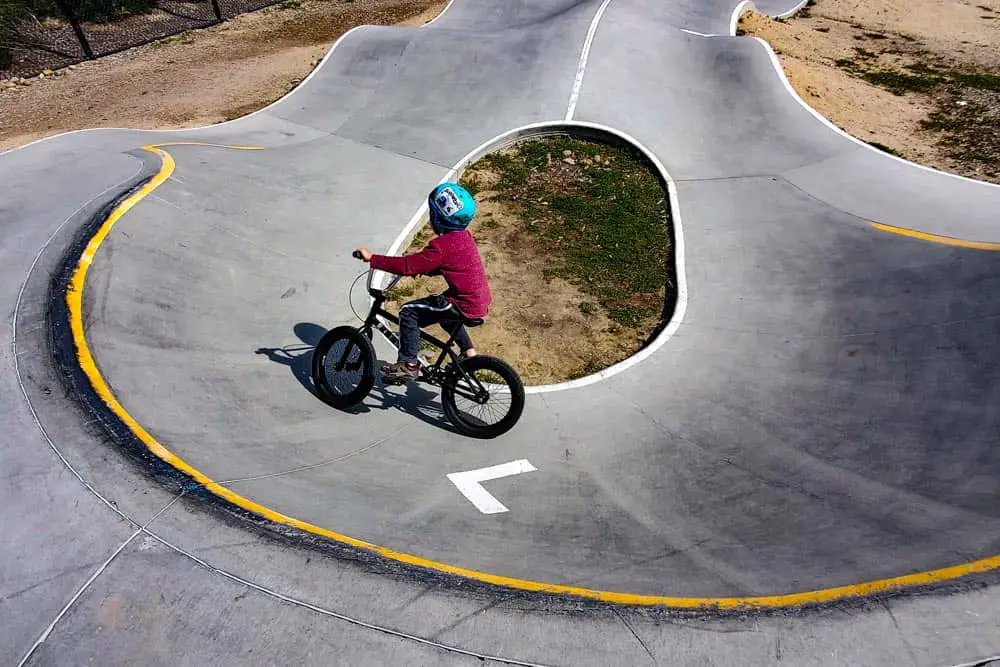 Pacific Highlands Ranch Pump Track is a popular public concrete pump track for bikes, scooters, and skateboards located in north county San Diego.
Pump Track Details
| | |
| --- | --- |
| Features | Pump track |
| Season | Year-round |
| Location | Pacific Highlands Ranch Community Park, San Diego |
| Address | 5977 Village Center Loop Rd, San Diego, CA 92130 |
| GPS Coordinates | 32.959984, -117.184367 |
| Management | San Diego Parks & Recreation |
| Hours | 8 am – 8 pm |
| Phone | (858) 538-8184 |
| Cost | Free |
Getting to Pacific Highlands Ranch Pump Track
The park is located in the community of Pacific Highlands Ranch, just north of the 56 (Ted Williams Freeway) in Pacific Highlands Ranch Community Park, near Canyon Crest Academy high school and the Pacific Highlands Ranch Community Center.
From State Route 56 (Ted Williams Freeway) take Carmel Valley Road north for approximately 0.6 miles. Turn right onto Village Center Loop Road and go 0.3 miles. There is a large parking lot on the west side of the center. From there, walk or ride around the center and proceed to the southwest corner of the park.
The Pump Track
The 20,000 square-foot pump track, which was constructed in 2018, features two fun concrete pump tracks that are smooth and fast. The tracks are set up for one-way travel so that riders travel around them in a single direction to avoid head-on collisions.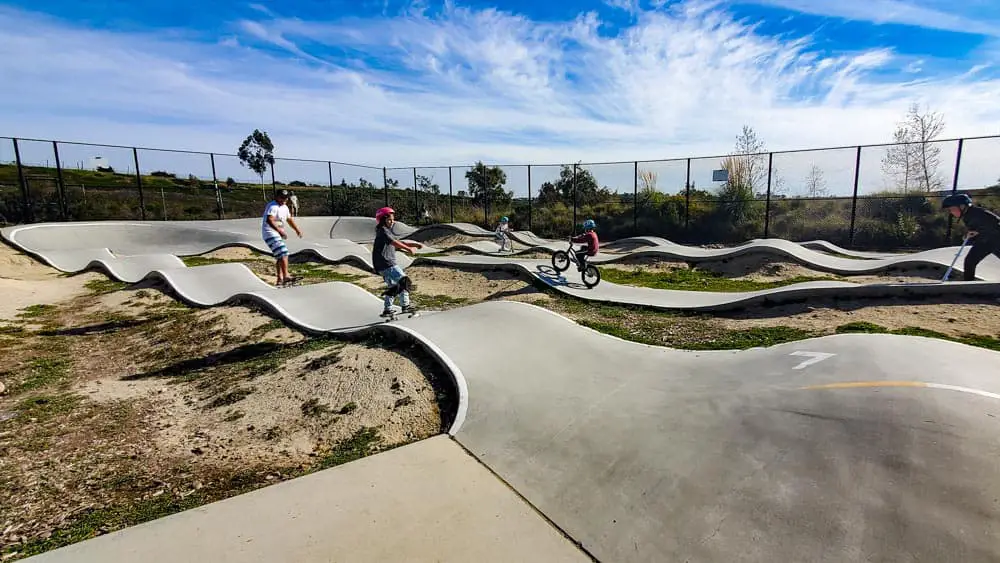 The track that's to the left as you enter the fence (the east side) is a bit easier and a good place for first timers and people who don't yet have strong skills on their ride of choice — skateboard, scooter or bike.
The track to the right as you come in the gate (the west side) is for more advanced riders, as it has some features that are more challenging, such as small table-top-style bumps.
The facility offers a small staging area between the two tracks with two concrete picnic tables. The park is free to use, but is fenced in and open from 8 am to 8 pm.
Pacific Highlands Ranch Pump Track is a highly popular park for skaters, BMX riders, and scooters (money well spent!), and gets a bit crowded on weekends and sometimes after school. Ideal times to ride are in the morning and evening, especially during weekdays.
See Also
Check out our guides to San Diego bike parks and skateparks information on other parks in the county