Del Mar Mesa Mountain Biking
Del Mar Mesa Preserve is an open space in San Diego that adjoins Los Peñasquitos Canyon Preserve, or PQ Canyon as it's called by mountain bikers. The area offers many mountain biking trails, and is one of the more popular mountain biking areas in the suburban areas of San Diego.
You can access Del Mar Mesa from the PQ Canyon via a dirt service road that forks off near Carson's Crossing (​​GPS: 32.933760, -117.167900) and winds north from the bottom of the canyon up to the mesa, which is around 400 feet in elevation.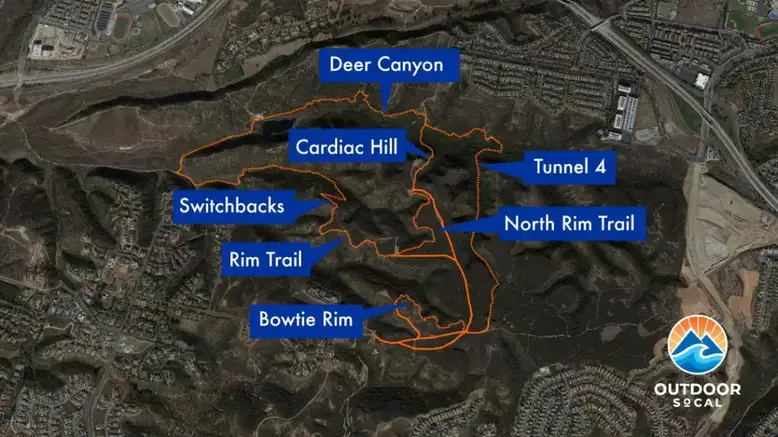 Wide dirt fire roads run along the top of the mesa, serving as the backbone for a network of mesa-top trails that includes Bow Tie Rim Trail, Rim Trail, and North Rim Trail.
Tunnel 4 is a well-known technical single-track trail that plummets off the north side of the mesa into Deer Canyon (Trailhead GPS: 32.947423, -117.163163). The trail winds through a coastal scrub oak forest that forms a tunnel-like canopy.
I use a bike bell so other riders, hikers, and equestrians can hear me coming on this narrow and twisty trail.
There used to be other tunnel trails off the mesa, but those were closed with the intent of ecological preservation. 
Tunnel 4 brings you down the mesa to Deer Canyon and Deer Creek which flows west through the valley. Deer Canyon Trail rolls up and down the hills on the creek's north side.
There are two common ways to climb from Deer Canyon back to the top of Del Mar Mesa. The first you'll come to when heading west from the bottom of Tunnel 4 is a steep fire road known as Cardiac Hill. Or further west along Deer Canyon you can take the Switchbacks Trail, which will bring you out of the valley via a series of steep switchbacks.
For information on more trails in the area, check out our guide to Los Penasquitos Canyon mountain biking.