San Diego Mountain Biking Guide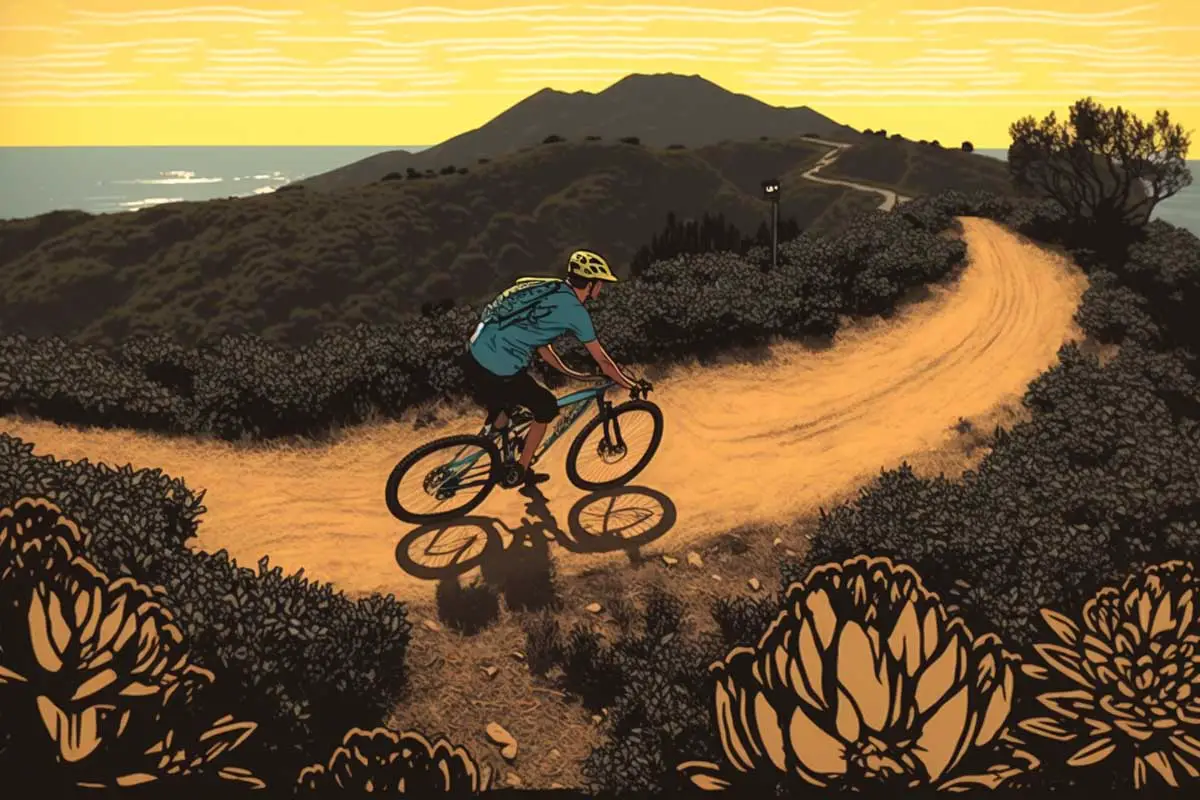 With its fantastic weather and mountainous terrain, San Diego is a terrific place to be a mountain biker. From the rugged coastal bluffs to the rolling hills and mountains inland, there is no shortage of great trails and scenic views to explore.
This guide will cover some of the best mountain biking areas in San Diego, including trails with a variety of terrain, from easy to difficult, and from areas that are urban and suburban to those that are pretty remote.
Whether you're a seasoned pro looking for a challenging ride or a beginner just starting out, San Diego has something for everyone. So grab your bike and get ready to explore the great outdoors in America's Finest City–to mountain bike, that is!
Mission Trails Regional Park
Located in the City of San Diego, Mission Trails Regional Park is a popular destination for San Diego Mountain biking due to its proximity to the city and easy access from all points.
Most of the trails in the park are doubletrack or fireroad, but there are also good quality singletrack trails to be found. Because of the steep topography, the park is a great place to build climbing endurance.
One unique feature of the park is nearby Cowles Mountain, which is one of the highest peaks in San Diego and includes the epic descent of Cowles Mountain Backside (Big Rock DH). This trail is a popular option for experienced riders seeking a challenging ride with technical features and fast descents.
It's important to note that the park's trails are very busy with hikers and other bikers, especially on weekends, so riders should be cautious and watch their speed. Carrying a bell is a good idea to alert others of your presence.
Lake Hodges
Lake Hodges is located within the San Dieguito River Park, a 92,000-acre natural park located in North County San Diego. The park features a diverse range of habitats, including chaparral, riparian, and coastal sage scrub, and is home to a variety of wildlife species.
Lake Hodges offers a variety of mountain biking trails that cater to different skill levels and preferences. Most of the trails are located along the north shore of the lake and offer stunning views of the water and surrounding hills.
Many of the trails are out-and-back and will require long portions on fire roads, but the scenic beauty of the area makes the ride worthwhile. These trails are suitable for beginners and families who want to enjoy a leisurely ride and take in the views. In fact, the area is popular with gravel riders who enjoy the smooth, wide trails and scenic surroundings.
For more advanced riders, the Bernardo Mountain Trail is a challenging option. This singletrack trail features steep climbs, technical descents, and rocky sections that require skill and experience. The trail offers stunning views of the surrounding hills and is a great option for those looking for a more technical ride.
You can see the various trails on an interactive map on the river parks website. 
Los Penasquitos Canyon Preserve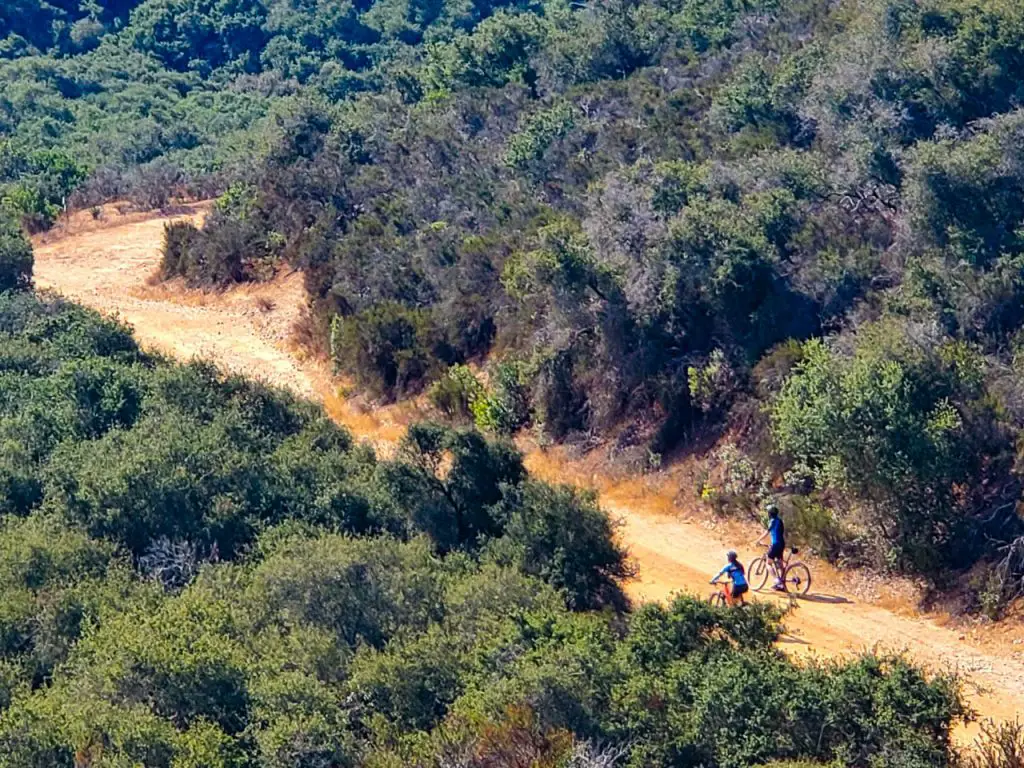 One of the largest urban parks in the United States, Los Peñasquitos Canyon Preserve, or PQ Canyon as it's called by mountain bikers, encompasses 4,000 acres of undeveloped land in Peñasquitos and Lopez Canyons. PQ, as it's called by San Diego mountain bikers, is located near my house and I've put together a comprehensive guide to the best trails in the preserve.
The park offers a network of over 86 miles of trails, including the adjacent Del Mar Mesa Preserve and Carmel Mountain Preserve. Due to the sensitive nature of the habitat, it's important to stay on designated trails and avoid areas set aside for wildlife protection. Illicit trail riding and building is a significant problem and threatens trail access for everyone.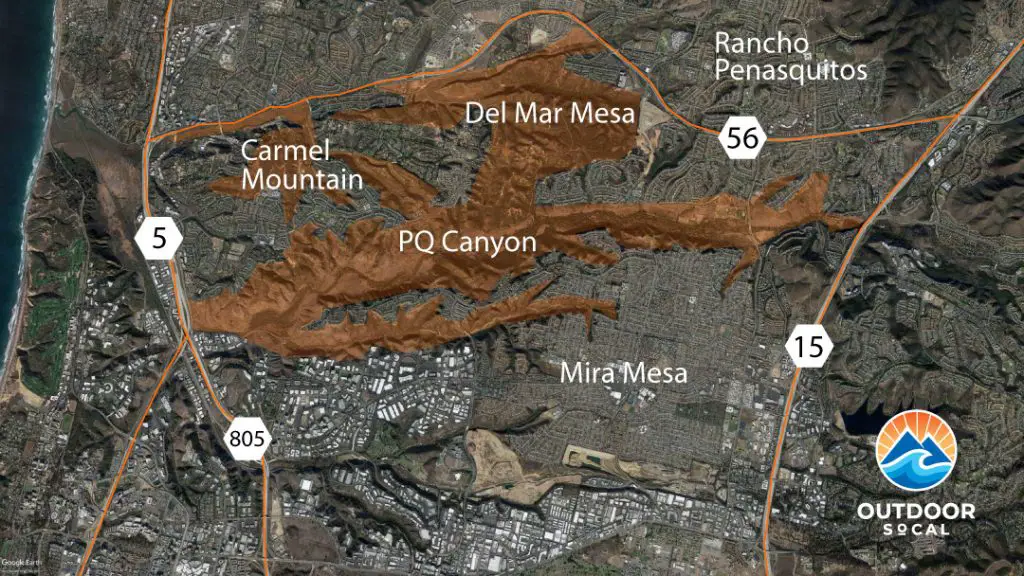 There are several trailheads for PQ Canyon, with Peñasquito Creek Park being a popular and beginner-friendly option. The many trails of Del Mar Mesa Preserve also await for those who want to explore beyond the main canyon. Wide dirt fire roads run along the top of the mesa, serving as the backbone for a network of mesa-top trails. Tunnel 4 is a well-known technical single-track trail that plummets off the north side of the mesa into Deer Canyon. The trail winds through a coastal scrub oak forest that forms a tunnel-like canopy.
Daley Ranch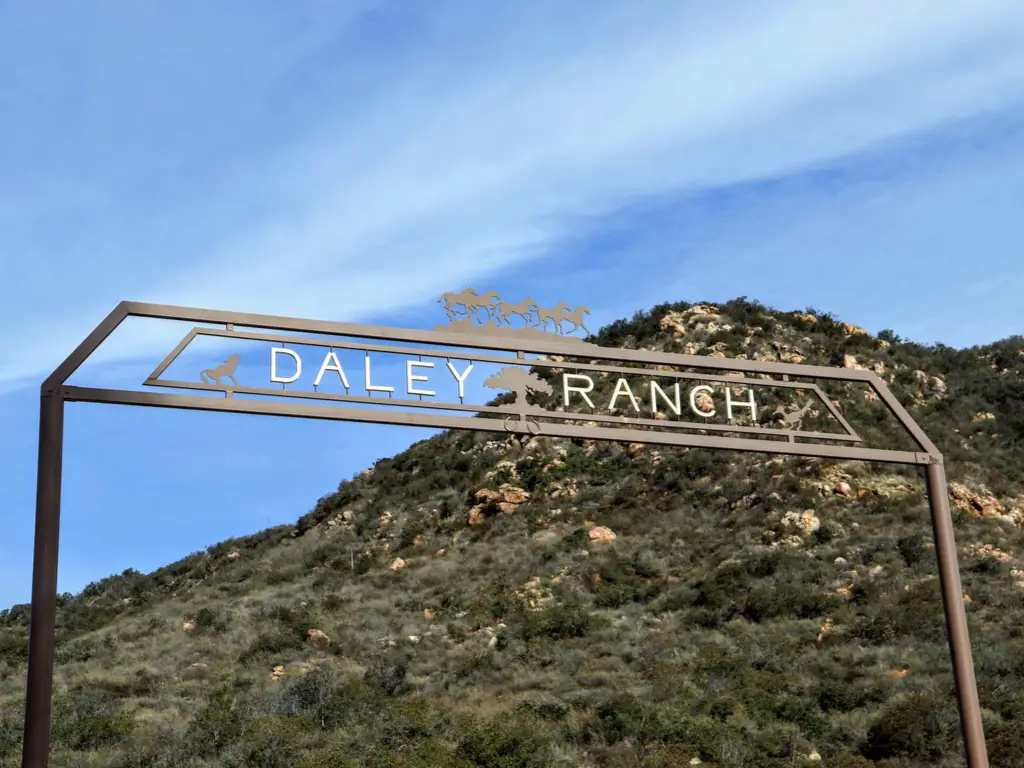 Daley Ranch in San Diego County is a must-visit destination for mountain bikers. This 3,000-acre nature preserve offers over 25 miles of trails that wind through beautiful hills and valleys, with a mix of old farm roads and singletrack. Most of the riding is rated as intermediate, but there are options for riders of all skill levels.
The Ranch is located in the hills north of Escondido, about five miles off of I-15. It was originally a working cattle ranch owned by the Daley family, but was ultimately saved from development in the 1990s thanks to the efforts of the Friends of Daley Ranch organization and the City of Escondido.
While the Ranch's trails are mostly fire road, there are some fun singletrack descents that make for an exciting ride. To get the most fun for your climbing, take the singletrack trails when possible. With one exception, there is no way to go but up from any of the parking lots, making this a great destination for building endurance and becoming a better climber.
Overall, Daley Ranch offers beautiful scenery and a range of trails that make it a must-visit destination for any mountain biker in the San Diego area.
You can download a PDF trail map from the Daley Ranch website.
Black Mountain Open Space Park
Black Mountain Open Space Park is another great mountain biking area that's close to my house. The park encompasses over 2,000 acres of rolling hills, valleys, and canyons, with a network of trails that offer killer views of the surrounding area.
The more challenging trails in Black Mountain Open Space park tend to be around the mountain itself or in the valley that follows Lusardi Creek. The Lusardi Creek Loop is a nice mellow ride for beginners. 
If you are looking for a challenge–and up for it– check out Black Widow Trail, a technical and challenging trail that careens off the top of Black Mountain.
The trail features steep and rocky sections, drops, and tight switchbacks, making it a popular option for experienced riders seeking a thrill. The San Diego Mountain Biking Association was instrumental in building the trail and put together a video about it:
La Costa Preserve
La Costa Preserve is a small open space park located in North County San Diego that offers around 6 miles of mountain bike trails. The preserve is located between San Marcos, Escondido, Carlsbad, and Encinitas.
The dense trail network center mostly around Denk Mountain, with the trails ranging from from easy to advanced, but the majority of trails fall somewhere in the middle.
For easy rides, check out Bobcat Trail and Fire Station Loop, Moderate trails include Horned Lizard, Switchbacks, and Whip Tail. Those looking for more of a challenge can tackle Mule Deer or Drop Down (also known as NASCAR), which, as the name says, drops about 300 feet over technical terrain over a fairly short distance (375 feet). 
La Costa has a long history of access challenges, so please be on your best behavior when you are out there. Stay on established trails and follow the rules. Note that E-bikes are not allowed.
Laguna Mountains Recreation Area
The Laguna Mountains Recreation Area is part of San Diego's backcountry and popular destination for mountain bikers in the county. Located in the eastern portion of the county, in the peninsular ranges of the Cleveland National Forest, this area offers a variety of trails for riders of all skill levels.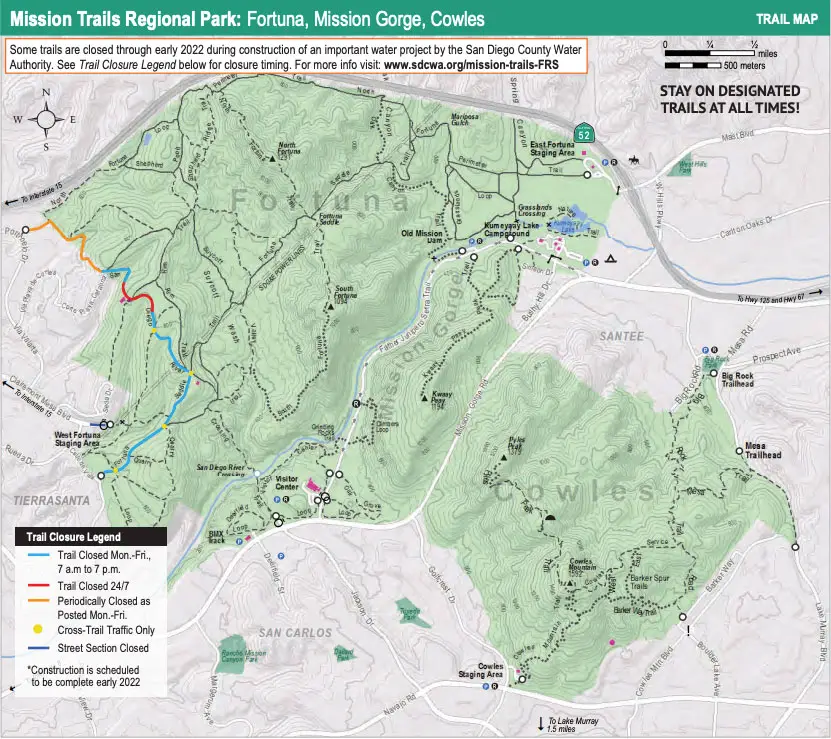 One of the most popular trails in the park is the Noble Canyon Trail, a challenging and technical 12-mile backcountry trail that offers a thrilling ride for experienced mountain bikers.
The trail features steep descents, tight switchbacks, and rocky sections, making it a popular option for those seeking a challenging and rewarding ride. (I had an unfortunate run-in with some cacti on this trail.)
For those who prefer an easier ride, the park offers a variety of other options. One of them is Big Laguna Trail, a relatively flat and easy trail that winds around Big Laguna Lake and offers scenic views of the surrounding mountains and meadows. Check out our guide to Mount Laguna for more information on the area.
Conclusion
The areas I've covered here are great places to mountain bike, but they are only the tip of the iceberg. There are many other areas to ride in San Diego, and I'll keep adding them as I have time. If you have suggestions or questions, please leave them in the comments below.