Mount Laguna Outdoor Adventure Guide
The tiny town of Mount Laguna in the Laguna Mountains is the gateway to an alpine wonderland that offers lush meadows, tall forests, and some of the best hiking, camping, and mountain biking Southern California has to offer.
Less than an hour's drive from the beaches of San Diego, Mount Laguna is situated at 6000 feet above sea level and feels like a different part of the country. It even snows in winter, when San Diegans flock to the mountains to demonstrate that their enthusiasm for sledding and snow angels far outstrips their ability to drive in the white stuff.
This quick-start guide offers an overview of the area, including ideas for lodging, campgrounds, places to eat, and mountain biking and hiking trails. See the links at the bottom of the guide for more resources on Mount Laguna and nearby adventures.
Mount Laguna Adventure Topics
Getting Oriented
The Laguna Mountains are part of the Peninsular Ranges System of eastern San Diego County, and stretch about 35 miles northwest from the Mexican border. Most of the area is within Cleveland National Forest and is managed by the U.S. Forest Service. A portion of the Pacific Crest Trail, which runs from the Mexican border to Canada, passes through the area.
If you don't have concrete plans already or just want to learn more about the natural history and outdoor possibilities of the Laguna Mountains, the Laguna Mountain Visitor Center, staffed by volunteers, is a great place to get started. It features displays on wildlife, the indigenous Kumeyaay people, rocks and mining, and information on fire ecology. To make sure they are open or get info over the phone, you can call 619-473-8547.
The visitor's center is located at mile marker 23.5 of Sunrise Highway, where it intersects with Los Huecos Road (GPS: 32.867769, -116.418904) in the heart of Mount Laguna, just northeast of Laguna Mountain Lodge and Store. It's open Friday afternoons and all day Saturday and Sunday throughout the entire year.
Directions to Mount Laguna
Mount Laguna is located about an hour east of downtown San Diego. From the intersection of I5 and I8, take I8 about 48 miles east to Sunrise Highway. Take Exit 47 and head northeast on Sunrise Highway for 14 miles to downtown Mount Laguna. If you are coming from the town of Julian, head southeast on Route 79 for 20 miles to Mount Laguna.
Restaurants and Supplies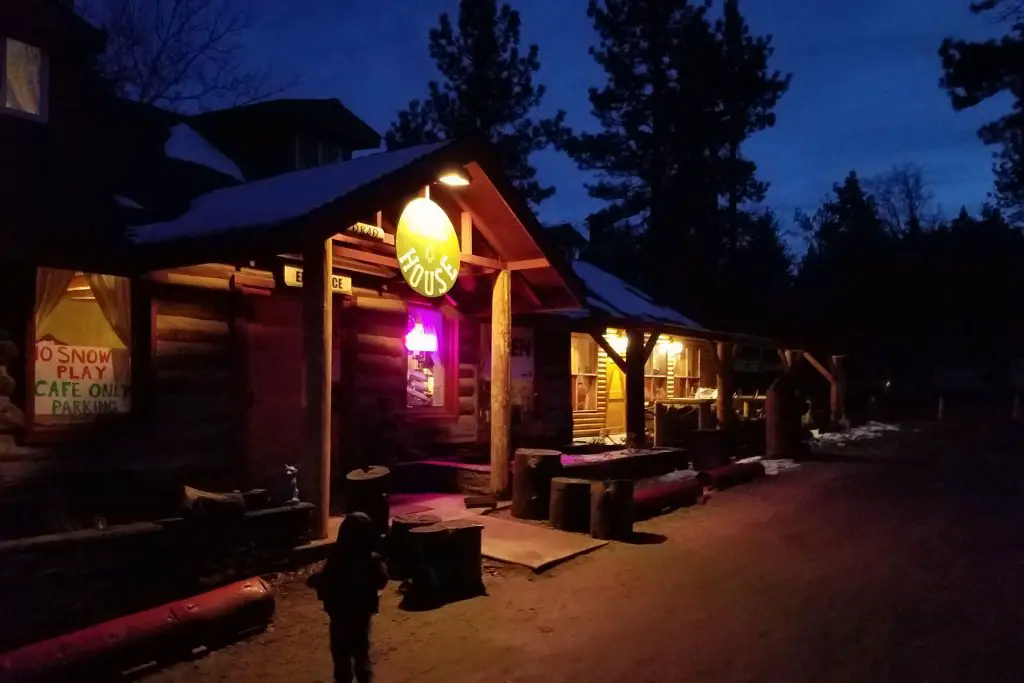 Mount Laguna is a cozy little mountain village that offers ready access to the surrounding wilderness areas. You can stay in town and hike or mountain bike right out onto the local trail networks. There are just few options for food.
A personal favorite for dining is the Pine House Cafe and Tavern, a historic lodge that serves "rustic, elegant" comfort food and frequently has live music in the evenings on weekends. It's wise to book a reservation ahead of time on weekends by calling 619-473-8857. The restaurant, open Fridays, Saturdays, and Sundays, is located at 9849 Sunrise Hwy, Mount Laguna, CA, 91948.
The other sit-down eatery in Mount Laguna is the Blue Jay Lodge, a homey restaurant and bar that offers breakfast, lunch and dinner and a fireplace and pool table. The restaurant is located a few hundred yards south of the visitor's center, at 10600 Sunrise Hwy, Mt Laguna, CA 91948. The restaurant is open on weekends and most holidays and snow days. To confirm they will be open, call 619-473-8844.
If you need to buy food or get other supplies, Laguna Mountain Lodge offers a small grocery and camping supplies store that's open seven days a week from 9 am to 5 pm.
Lodging
As for lodging in Mount Laguna, the lodges mentioned above offer a mix of hotel rooms and cabins, of the rustic variety.
Laguna Mountain Lodge rents out small hotel rooms (2 adults max) and one-,two- and three- bedroom cabins. Call 619-473-8533 or 619-473-8630 between 9 am and 5 pm to make a reservation.
Blue Jay Lodge offers one-bedroom cabins with queen-sized beds and logged interiors. Call 619-473-8844 for reservations.
In Mount Laguna and other parts of the Laguna Mountains, there are also private homes and cabins available for rent through AirBnB and VRBO.
Camping
If you're looking to camp in the Laguna Mountains, there are several campgrounds to choose from, including two for large groups of up to 100 people. The challenge is to reserve campsites in advance, as they tend to book up pretty far ahead of time. There are also first-come-first-served sites available if you time your arrival so you find a vacancy. The peak season for the campgrounds is April through October when reservations are accepted.
The forest service campgrounds are also open during the winter, when they are first-come, first-served only and certain amenities may not be available, such as firewood purchase and showers. Note that during the summer, campfires may be prohibited due to heightened danger of wildfires.
Burnt Rancheria Campground
Managed by the National Forest Service, Burnt Rancheria Campground is the closest to Mount Laguna, just south of town on Sunrise Highway. This is a large campground with several loops and 109 campsites. The campground provides easy access to a segment of the Pacific Crest Trail. Each site has a table and a campfire ring, and the campground is equipped with restrooms and coin-operated showers (showers open only during reservation season). There are no hookups or dump station for RVs. Firewood is available for purchase from the campground host.
Sites can be reserved by calling 1-877-444-6777 or reserved online at Recreation.gov The campground also has first-come, first-served sites.
Laguna Campground
Laguna Campground is a large campground managed by the forest service, with five different loops and a total of 104 campsites. Laguna Campground is about 3 miles northwest of Mount Laguna, on either Sunrise Highway or Los Huecos Road. The campground offers easy access to the Laguna Meadow Trail Network, one of the highlights of the Laguna Mountains. Amenities include campfire rings, flush toilets, and coin-operated showers. Firewood is available for purchase from the campground host.
For more information, check out our guide to Laguna Campground.
El Prado Group Campground
Adjacent to Laguna Campground, El Prado Group Campground is made up of five well-spaced individual group sites in a peaceful setting adjacent to Laguna Campground. One of the group sites, Yerba Santa, is accessible and includes four tent sites. Each site can accommodate a varying number of guests ranging between 30 to 50 people, and allows a 40-ft. maximum RV length. The facility provides drinking water, flush and vault toilets and a large parking area. Reservations can be made by calling 619-445-6235 or online at Recreation.gov.
Horse Heaven Group Campground
Horse Heaven Group Campground is also near Laguna Campground and Laguna Meadow. Contrary to its name, the campground has no equestrian sites. This tent-only facility can accommodate gatherings of up to 100 people. The campground offers three areas for group gatherings: Lupine Loop can accommodate 40 people and 10 vehicles; Buttercup Loop can hold 100 people and 16 vehicles; Hollyhock Loop can hold 70 people and 12 vehicles. The facility is equipped with vault toilets and drinking water. Reservations can be made by calling 619-445-6235 or online at Recreation.gov.
Wooded Hill Group Campground
Another campground for large groups, Wooded Hill Group Campground has a single site that can accommodate up to 110 people. This is one large campsite with parking spurs for trailers or RVs (maximum spur length varies from 20-40 ft.). There are no RV hookups. The facility is equipped with picnic tables, vault toilets, and a large fire circle. Wooded Hill Nature Trail, a 1.5-mile interpretive trail, starts just across Old County Road from the campground. The campground is open from May to Sept (check the reservations site for exact dates).
Reservations are required and can be made by calling 1-877-444-6777 or online at Recreation.gov.
Alter Experiences
Alter Experiences offers unique "glamping" stays in the Laguna Mountains, including tree tents and luxurious "bell" tents.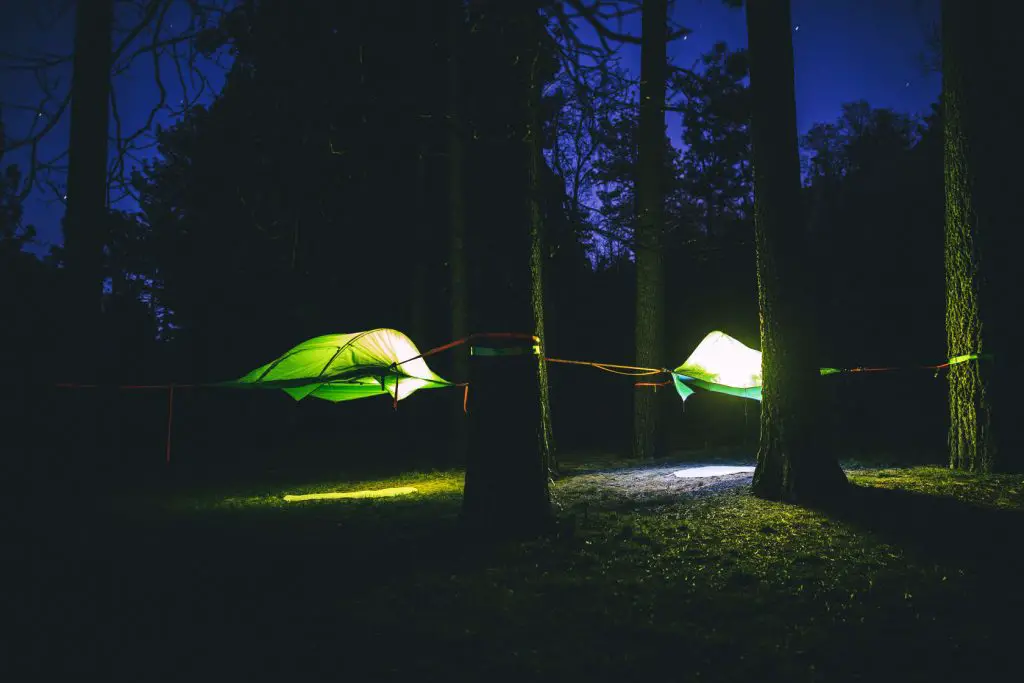 They operate out of Laguna Campground, El Prado Campground, and Burnt Rancheria Campground, under a license from the National Parks Service. Check out the website to see some photos of their setups. Inspiration will follow.
Hiking and Mountain Biking
Where to start? Mount Laguna is surrounded by numerous trails used by hikers, mountain bikers and equestrians, with plenty of mellow routes and a few that will test your fitness and technical skills. A segment of the Pacific Crest Trail runs along the east side of Sunrise Highway, right next to town (note that you cannot bike the PCT). On the other side of the highway, the Laguna Meadow and Big Laguna Lake anchor an extensive trail network that passed between wide-open grassy meadows and pine forests. The area is also home to Noble Canyon Trail, a challenging SoCal mountain biking classic, that brings riders from alpine forests to the desert.
There are many possible combinations of trails to take when hiking and riding near Mount Laguna. Here we will provide information on a few defined routes, but nothing is gospel. If you're feeling adventurous, getting a map of the areas and just freestyling it can be a lot of fun. Just make sure you don't get lost and caught unprepared for cold or hot weather.
Laguna Meadow Loop Trail
If you can only get in one hike or mountain bike ride near Mount Laguna, we recommend the trails that loop around Laguna Meadow and the Laguna lakes (aptly named Big and Little). There are several trailheads that lead to the meadow, from Sunrise Highway or from Laguna, Horse Haven, and El Prado campgrounds. The simplest to find is Sunset Trailhead GPS: 32.860937, -116.462111 on Sunrise Highway, located a little more than 4 miles west of Mount Laguna, as you travel from I8 towards town.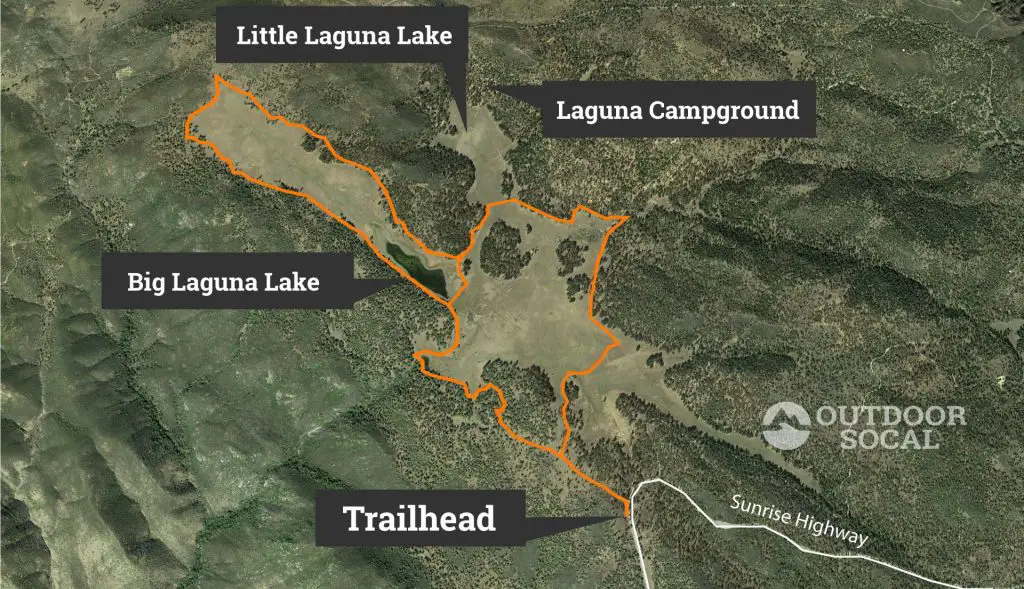 Park along the road and look for the kiosk and the cattle stopper where the trail passed through a fence. The kiosk offers a map and information on the area and the trails. This feeder trail will split a couple of times in the first half-mile. Take the right fork at the first right. The second fork is the split that goes clockwise or counterclockwise around the loop. You can go either direction to hug the edge of the huge meadow as the trail loops around its outer edge near the surrounding pine forest. There are a number of splits in the trail, but as long as you stay in sight of the meadow, it's fairly straightforward to return to the trailhead spur. The map above outlines one 8-mile loop, but there are multiple ways to explore the meadow. If you want to cut the loop short, you can always cut back through the short segment in the middle, near Big Laguna Lake. Choose your own adventure.
Big Laguna Trail
Big Laguna Trail is a 10-mile route that connects sections of the Leguna Meadow trails, Nobel Canyon Trail, and the Pacific Crest Trail. The area encompassed by the loop is just northwest of Mount Laguna and traverses oak and pine woodlands and meadows, offering spectacular views of the surrounding mountains and desert. The PCT section of the loop is open to hikers but no bikes are allowed. You'll climb about 1000 feet in elevation through ascents over the course of the trail.
There are two convenient trailheads for the hike, where the loop intersects with Sunrise Highway. The one labeled Trailhead 1 on the map above is 1.8 miles northwest of Mount Laguna as you head towards Julian. The other, Trailhead 2 on the map, is 6 miles northwest of Mount Laguna, at the Penny Pines Trailhead of the PCT and the top of Noble Canyon Trail. You can park along the road at either trailhead.
Trailhead 1 GPS: 32.905859, -116.457442
Trailhead 2 GPS: 32.885705, -116.432529
Noble Canyon Trail
Noble Canyon Trail is one of the crown jewels of mountain biking trails in Southern California. You can of course hike it, but it's really special for mountain bikers. The combination of technically challenging terrain, isolation, and spectacular views makes for a terrific ride. The trail drops about 650 feet over 10 miles from pine forests and alpine meadows along Sunrise Highway follows a creek through an oak forest canyon and ends up in a desert in Pine Valley (assuming you start at the high side). You can either pedal it as an out-and-back (in which case we recommend starting in Pine Valley and pedaling up first) or set up a car shuttle and travel downhill one way (starting at Sunrise Highway).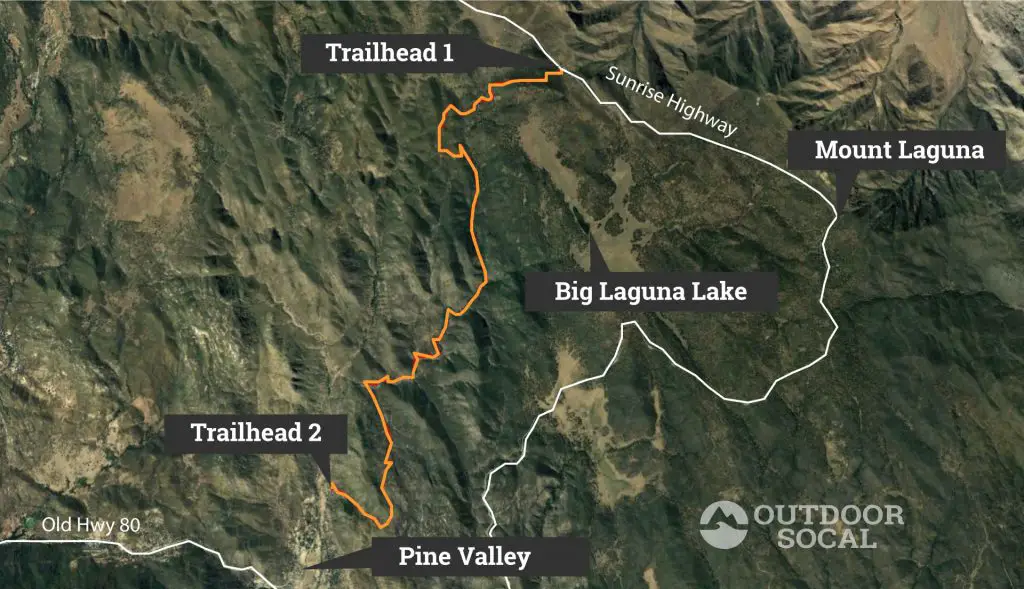 Of the trails mentioned here, this one gets you furthest afield. Bring lots of water and ideally go with another rider. Trailhead 1 (northern trailhead) on the map is 6 miles northwest of Mount Laguna at the Penny Pines Trailhead of the PCT. You can park on either side of Sunset Highway. The lower (southern) trailhead is located just north of the town of Pine Valley, off Pine Creek Road up a short forest service road to the parking.
Trailhead 1 GPS: 32.905859, -116.457442
Trailhead 2 GPS: 32.849530, -116.523014
Things to Do
Beyond camping, hiking, and mountain biking, there are other places and things to see in the Laguna Mountains.
Overlooks
Kwaaymaii Point offers a fantastic views of the Anza Borrego desert to the east of the Laguna Mountains. The overlook, which is a trailhead for the Pacific Crest Trail, is 7 miles north of Mount Laguna on the right side of Sunrise Highway, just a minute's walk off-road. This is also a great place for stargazing, which can be terrific on clear nights. GPS: 32.935973, -116.486920.
Closer to Mount Laguna, the Desert View Picnic Site is another overlook for Anza Borrego along the PCT, with the nice addition of restrooms and picnic tables. This is a great place to relax, have a BBQ, hike a bit along the PCT and enjoy the scenery. It's located just off Sunrise Highway a few hundred yards northeast of the Mount Laguna Visitor's Center on Desert View road. GPS: 32.869862, -116.414776.
California Wolf Center
The California Wolf Center, a conservation and rehab facility for wolves, is located about 16 miles north of Mount Laguna as you head towards the town of Julian. The center offers tours where you can learn about their work to recover populations of wild wolves and encounter some of the resident wolves at the facility.
Snow Days
The higher elevation areas of the Laguna Mountains are a popular place for San Diegans to get their winter snow fix. Winter storms regularly drop a few inches of short-lived powder. On snowy weekends, people flock to Mount Laguna and Palomar Mountain, so expect to deal with some traffic. For more detail, check out our guide to exploring the mountains of San Diego after snowstorms.
If you don't have a four-wheel-drive, it's a good idea to bring chains, as they are required when the roads have ice or snow on them. A company called Security Chain Company makes quality snow chains for any car or truck.
Events
Mount Laguna Trailfest is an annual mountain biking festival organized by the San Diego Mountain Biking Association that takes place in the fall each year.
Additional Resources
For more in-depth information, here are a few other great resources for exploring Mount Laguna:
Cleveland National Forest Website
Official California State Parks website for the area.
Recreation.gov
Website for reserving campgrounds near Mount Laguna.