Guide to the Best Camping Fire Pits
If you live in Southern California and spend any significant time outdoors, it's worth investing in one of the many portable camping fire pits now available.
There are several reasons you might want to look into camping fire pits. Perhaps the most compelling is that some parks and wilderness areas prohibit starting fires on the ground, so if you want to warm your toes by a campfire, you'll need to find a fire ring or, more reliably, bring your own. Anza-Borrego Desert State Park, for instance, where you can set up camp in areas with no fire rings, has a policy against starting ground fires, which can cause persistent scars. That's why you'll see Jeeps and other trucks heading off into the desert to boondock with metal fire pits strapped on the roof or tailgate.
Beyond the necessity for camping fire pits in some areas, campfire technology has evolved beyond simple metal cans to provide more efficient burning and heat with less smoke. Devices such as the BioLite FirePit (see below), use forced air to significantly reduce smoke and get more heat per stick of wood. For an even cleaner burn, you can even get away from wood altogether and consider gas-burning camping fire pits the Outland Firebowl featured below.
Fireside Outdoor Pop-up Fire Pit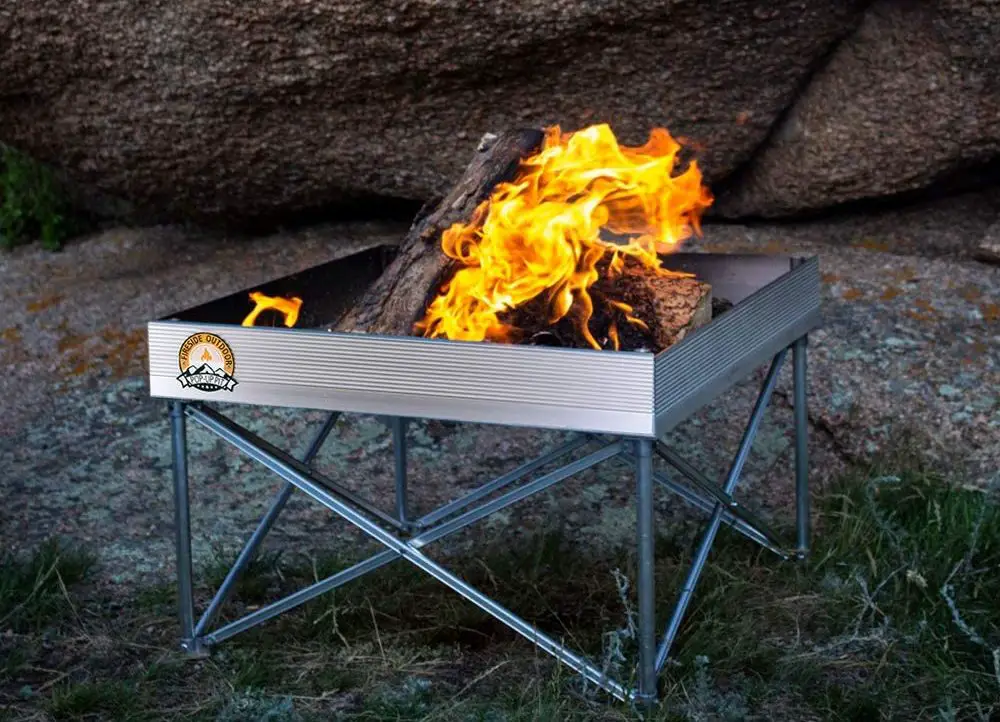 We first came across the Fireside Popup Fire Pit at Overland Expo West, an event focused on overlanding and overland gear. It made sense, as these are the perfect portable fire pit for stowing in a vehicle. They are lightweight, made of aluminum, and fold up for compact storage. One thing we really like about these is that the 3.5-inch tall sides are relatively low compared to the size of the burn platform, so you can really see the fire and feel the heat. The fire pits pan is covered with a metal mesh, which allows plenty of air to fuel the fire. The burn pan is 2 ft x 2 ft and can hold up to 125 pounds of wood.
UCO Flatpack Portable Stainless Steel Grill and Fire Pit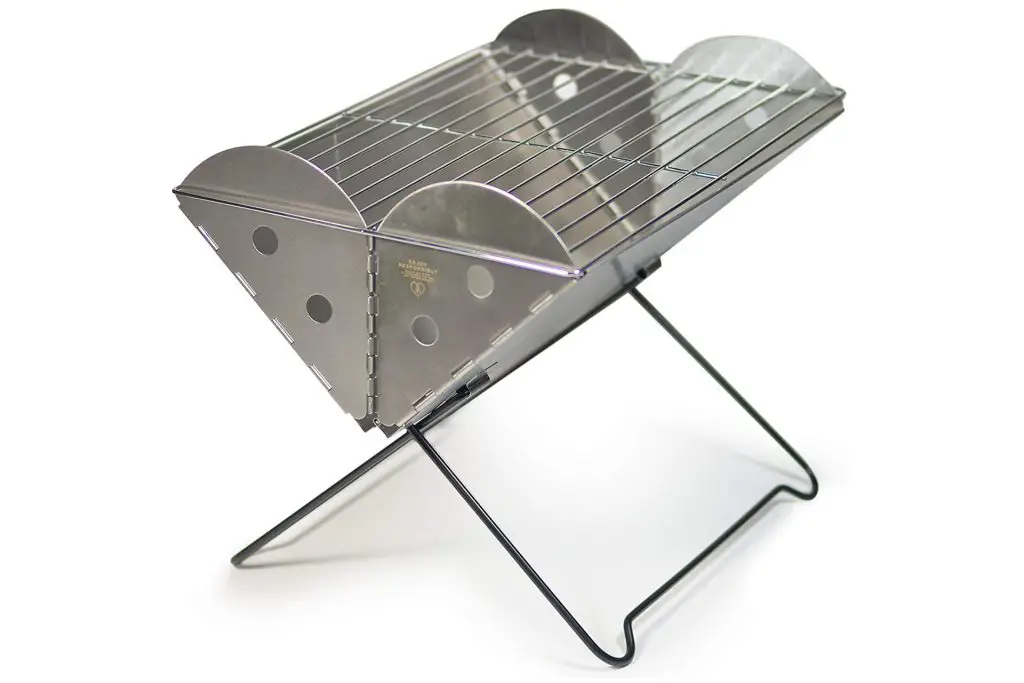 This small camping fire pit folds flat making it convenient to pack and carry. It comes in two sizes, with the larger version weighing in at just 3.3 pounds. The fire pit folds down to less than 1.5 inches thick and about the size of a standard newsstand magazine. It comes with a sturdy case. While it's light and compact, the fire pit is made of stainless steel and sturdy and can be used as either a grill or a fire pit. When assembled, which takes less than a minute, the larger version (both are very compact) is 13.5 x 10 x 11 inches. For a small group (3-4 people), its a nice sized camping fire pit. Larger groups will likely find it too small for a proper kumbaya session.
Bad Idea Pyro Cage Portable Fire Pit
Bad Idea Pyro Cages have the most attitude of any camping fir pit out there. The brain child of two Kansas natives, like the UCO Flatpack, the Bad Idea fire pits bouble as a grill. The burly steel cage can burn firewood up to 21-inches long and can be assembled with no tools. Assembled the camping fire pit is about 24 inches square by 16 inches tall. The steel in hand oiled and become seasoned over time like a cast iron pan. Put the lid on it to contain flames and embers or to cook food. You can remove on of the walls to view the fire from the side.
BioLite FirePit Outdoor Smokeless Fire Pit Grill
The BioLite FirePit Outdoor Smokeless Fire Pit Grill brings high-tech wizardry to the design of camping fire pits. The combination campfire pit and grill rely on a battery-powered blower system to feed air (oxygen) to the burning wood, resulting in a highly efficient burn that produces far less smoke than a typical campfire pit. The 10,400 mAh lithium ion battery is rechargeable, and you can control the intensity of the fire with controls on the blower or through a smartphone app for Android or iOS. A grill grate on top of the device can be used for hibachi-style cooking. The camping fire pit dimensions are 27 x 13 x 16 inches, so it's bulkier to transport than the UCO Flatpack and Bad Idea Pyro Cage mentioned above, but its refined enough to double as a patio fire pit in addition to camp duty.
Solo Stove Bonfire Fire Pit
The Solo Stove Bonfire camping fire pit relies on elegantly simple engineering to ensure highly efficient wood burning with no fans or moving parts. Strategically placed vent holes at the bottom pull cool air into the base of the fire providing plenty of oxygen. The air also travels upward through the double walls of the stove and emerges through holes at the top to create a visually enticing secondary combustion flame. The stove weighs 20 pounds and is 19.5 inches in diameter at the base and 14 inches tall. The Solo Stove's styling is upscale enough to serve as a patio fire pit as well. Costing around $375 at the time I'm writing this, it's a pretty serious investment, but using it for double duty at home and at the campsite could warrant the spend.
Outland Fire Bowl
The Outland Fire Bowl camping fire pit from Outland Living solves one problem not addressed by the other fire pits on this list: what if you don't have any firewood? The Outland Fire Bowl burns compressed gas (propane typically) instead of wood, which comes in handy if you forgot to bring wood or are camping in an area where none is available–a very common situation in campgrounds and popular boondocking areas anywhere, but even more likely in Southern California deserts and other treeless areas. Another benefit of the stove, which uses lava rocks as the heating substrate, is that it can be used during periods when campfires are banned due to fire danger. The fire pit is 19 x 19 x 11 inches and weighs 22 pounds. It comes with a metal cover and a carrying kit.