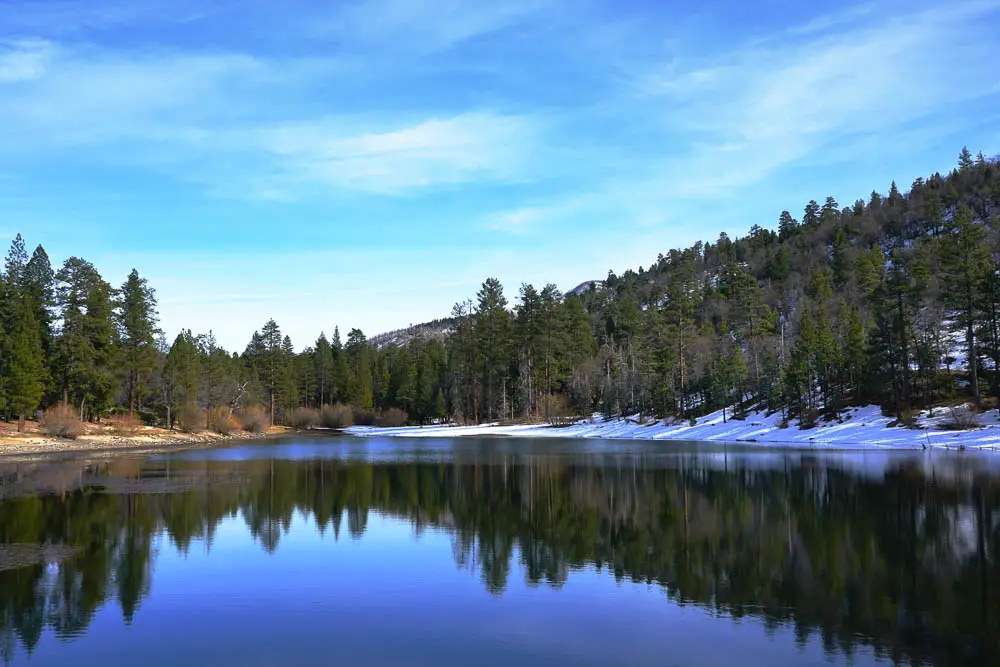 Jenks Lake Trail, in the San Bernardino National Forest, is an easy and scenic trail for hikers of all levels. The trail is around 3.1 miles in length and is accessible year-round, although some caution should be used if hiking in the sometimes difficult winter season. Breathtaking views are guaranteed at whatever time of year you decide to take this laid-back route. 
Trail Details
Trail type: Combination
Difficulty: Easy
Length: 3 miles
Elevation gain and loss: 448 feet, -448 feet
Trailhead Coordinates: 34.170463, -116.884112
Location: San Bernardino National Forest
Season: Year-round, though caution should be exercised during winter.
Getting to Jenks Trail
Getting to Jenks Trails is easy enough. Located close to Big Bear Lake, driving to the trailhead is beautiful in itself as HWY 38 gives you some great mountain views. In winter, chains may be required.
From San Bernardino, take the 38 towards Big Bear Lake. Turn at Jenks Lake Road, around 17 miles from Big Bear. After driving about a mile down Jenks Lake Road, you will approach the day-use area for the trail and lake. Signage is around to help you.
The day-use area charges $5 for parking and claims to be open daily year-round but that doesn't seem to be the case in a snowstorm. If the road to the lake is closed you can park in a turnout a few hundred feet down Jenks Lake Road and walk back to the entrance–and be happy because you will most likely be the only one there.
The Trail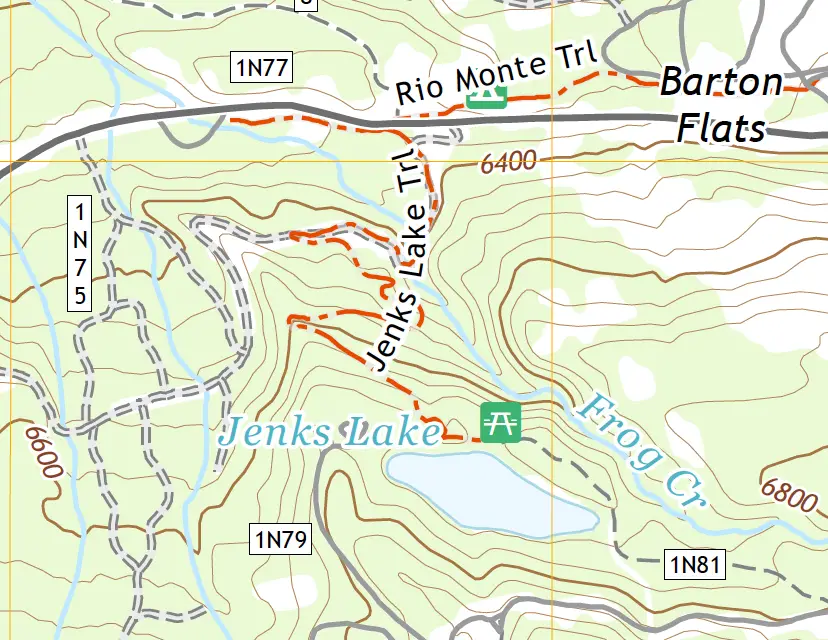 Once you get to the lake there are stairs leading down to the path, a 1-mile loop that takes you all around the lake. Jenks Lake Trail is a scenic route that can be enjoyed by hikers of all levels.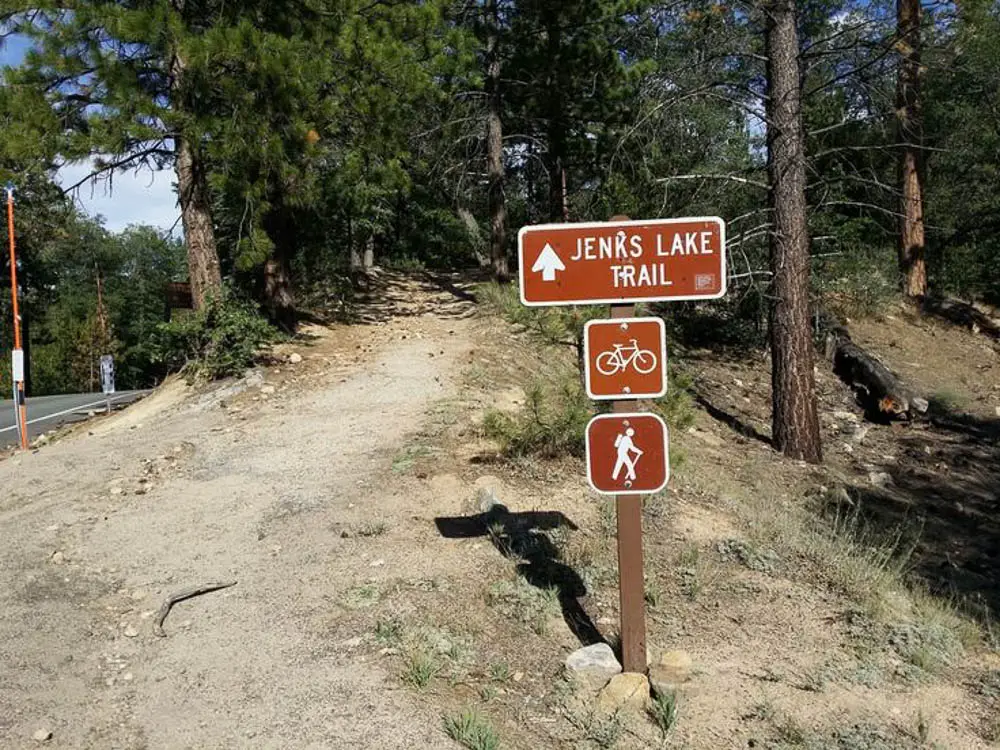 In winter with snow present, the path can be hard to see at times but it just circles the lake near the edge. Be careful near the lake though in the snow because you could easily misstep and end up very wet and cold.
The lake seems to look different from every shore.  When it is snowing, it's a peaceful place to see and experience. The water is fairly still so reflections of the trees are visible and there are plenty of ducks making their way around the glassy surface.
Along the trail, there are picnic tables and basic facilities. The lake is stocked with fish so in the summer it is a popular destination but, in the winter, you can expect far fewer people than you would see during warmer months.
Jenks Trail is relatively short in comparison to other trails nearby and in the wider San Bernardino National Forest, but well worth checking out if you are looking for a low-key hike in a scenic mountain setting. If you are hiking in winter, make sure to bring warm clothing and leave enough time to complete the trail comfortably, as the terrain can be tougher when covered by snow and ice.
Things to do at Jenks Lake
For people staying at Barton Flats, Lobo-Oso, San Gorgonio, or Heart Bar Campgrounds as higher-altitude getaways in Barton Flats Recreation Area, Jenks Lake is a terrific place to get in some hiking, fishing, or boating.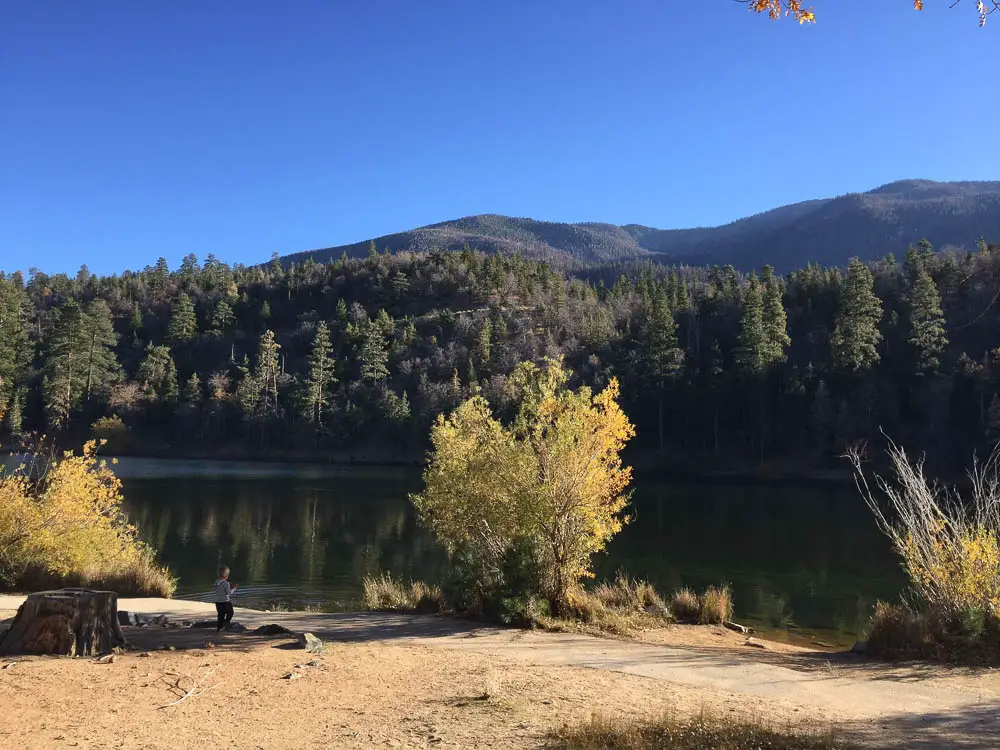 Nestled into the San Bernardino National Forest at 6,739 feet and only a mile from Barton Flats Campground, this mountain lake is very popular in the summertime—and for good reason.
Even though it's man-made, Jenks Lake is fed in part by the Santa Ana River, which it receives by way of a flume, and makes for some delightful surrounding scenery.
Boating
No motorboats are allowed, but canoes, kayaks, stand-up paddleboards, and float tubes are a go. There is a long wooden ramp from which to launch your watercraft, but be aware that you'll have to walk it down a few stairs first.
Fishing
A big draw for Jenks Lake is the excellent fishing. It's stocked in the spring and summer with rainbow trout, and the best time to catch them is between April and October. Largemouth bass, bluegill, sunfish, and catfish are also fun targets for anglers.
For those that prefer river fishing, the Santa Ana River is accessible from the campground and is an excellent place to cast flies for trout. If you plan to fish, be sure to stop in the town of Angelus Oaks to grab a license—because fishing is so popular at the lake, there are frequent checks.
There is no license requirement for kids aged 16 and younger. The limit to trout is five per day, though it seems as though most people have the best luck with largemouth bass.
There are picnic tables scattered about for use as well as well-maintained vault toilets. Be prepared to pay the general use fee of $5 in cash when you arrive. If you plan to visit during a peak weekend, be sure to arrive early—Jenks Lake is a popular day trip for Redlands locals.