Idyllwild Adventure Guide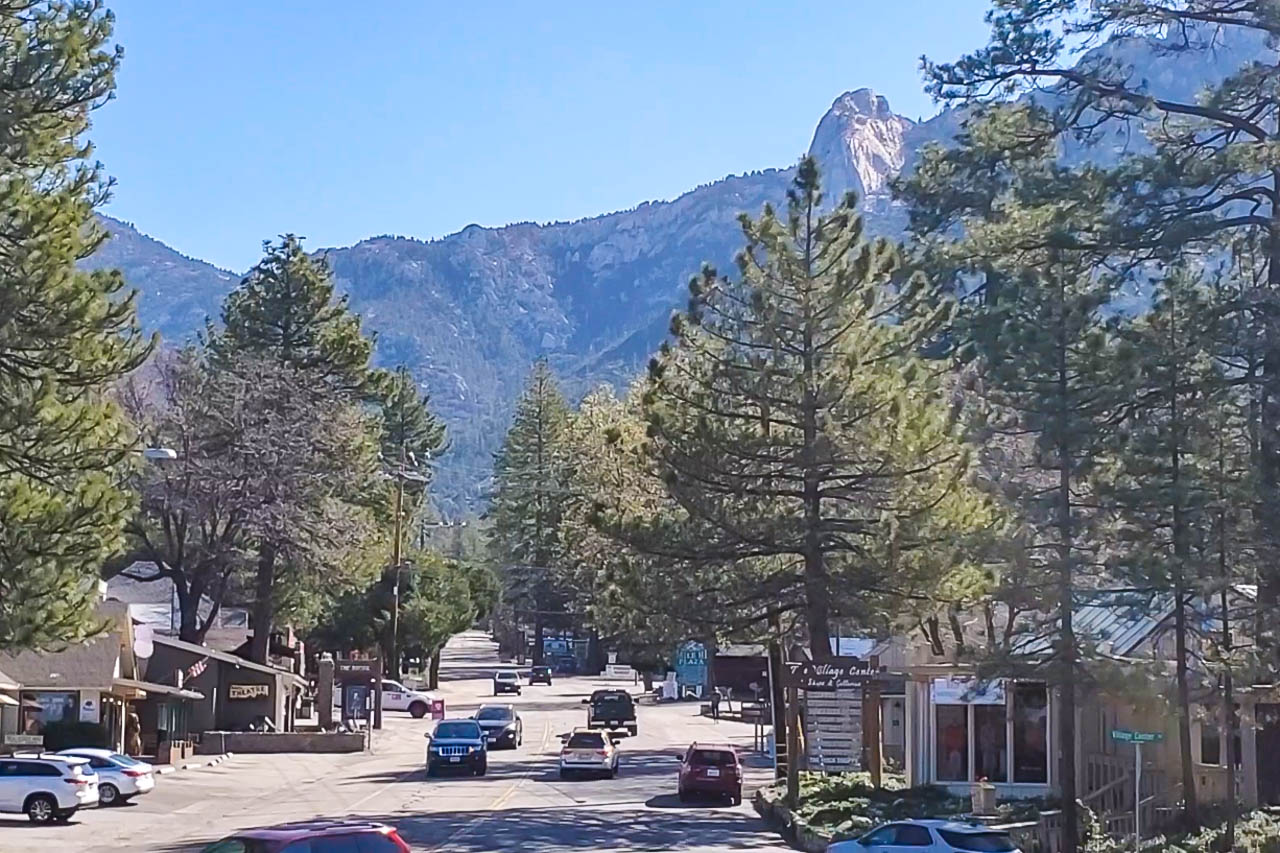 There are so many things to do in Idyllwild, California, it's hard to know where to start. This idyllic Southern California mountain town – pardon the pun – offers a rich bounty of rockclimbing crags, mountaineering peaks and trails for hiking, backpacking, mountain biking and horseback riding. Located in the rugged San Jacinto Mountains, it's hard to believe Idyllwild is just couple of hours of Los Angeles and San Diego.
This guide offers a general introduction to the Idyllwild-Pine Cove area, including tips for getting started on your adventures, including lodging, camping, trails and climbing areas.
Table of Contents:
Getting Oriented
Idyllwild sits at an elevation of 5,400 feet in the San Jacinto Mountains of Riverside County and is surrounded by San Bernardino National Forest. The town is flanked by two rocky crags, Tahquitz Peak and Suicide Rock, which are iconic Southern California rock climbing destinations.
Idyllwild, and its neighboring towns, Pine Cove and Fern Valley, are mountain destinations year-round for Southern Californians looking to escape the lower-elevation heat in the summer or take in the (often) snow-covered mountains in winter. The area is a popular playground for climbers, hikers, and mountain bikers.
In contrast to the desert and chapparel of lower elevations of SoCal, the Idyllwild area, known generally as "the Hill" by locals, is dominated by ponderosa pine forests. A great way to learn more about the natural and cultural history of the area is to visit the Idyllwild Nature Center, located one mile northwest of town on Highway 243.
The video below offers a general introduction to Idyllwild:
Idyllwild Camping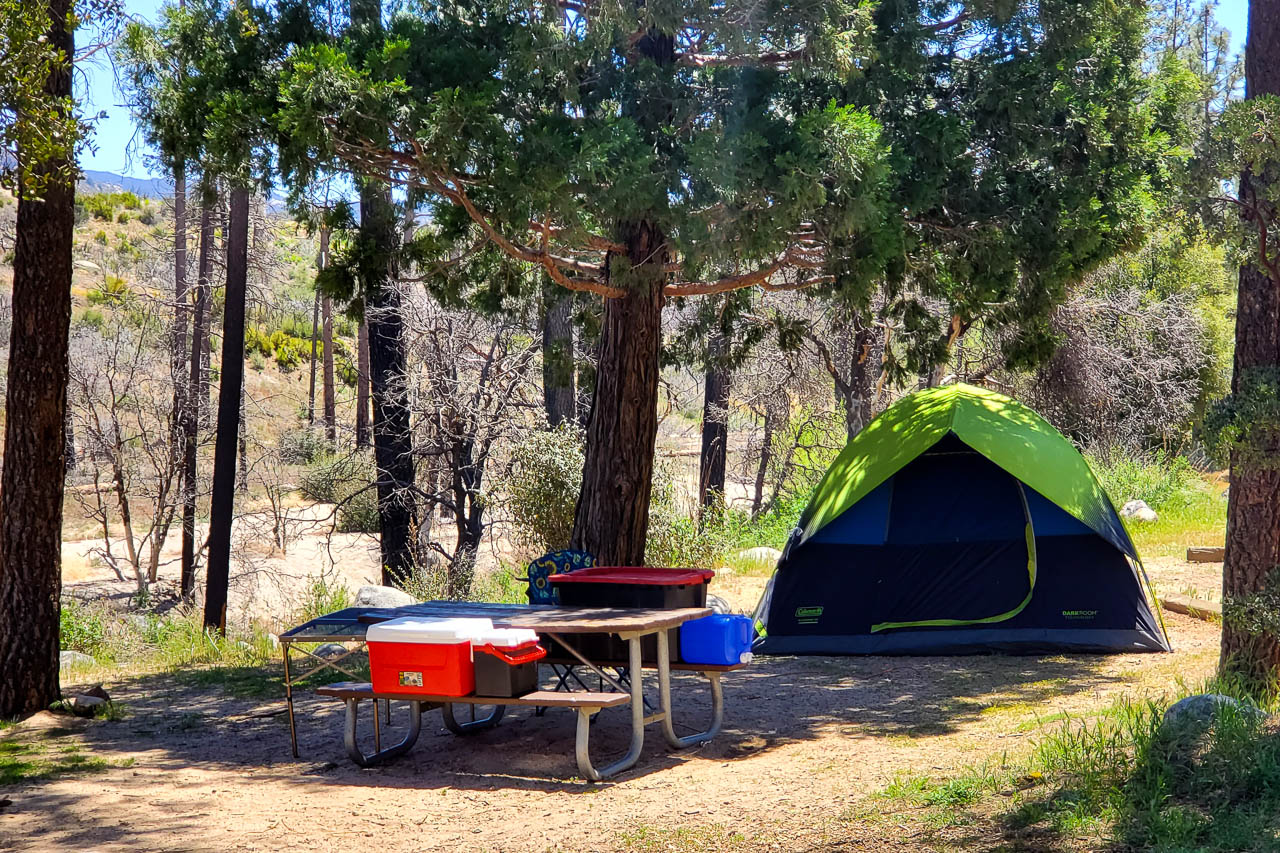 There are quite a few options for camping in Idyllwild, from developed state park campgrounds to backcountry camping in San Bernadino Forest. Below is a list of campgrounds. For more details click on the link for a campground or browse our complete guide to Idyllwild camping
Mount San Jacinto State Park Campgrounds
San Bernardino National Forest Campgrounds
Black Mountain Group Campground
Riverside County Campgrounds
Idyllwild Regional Park Campground
McCall Memorial Equestrian Campground
Idyllwild Hiking Trails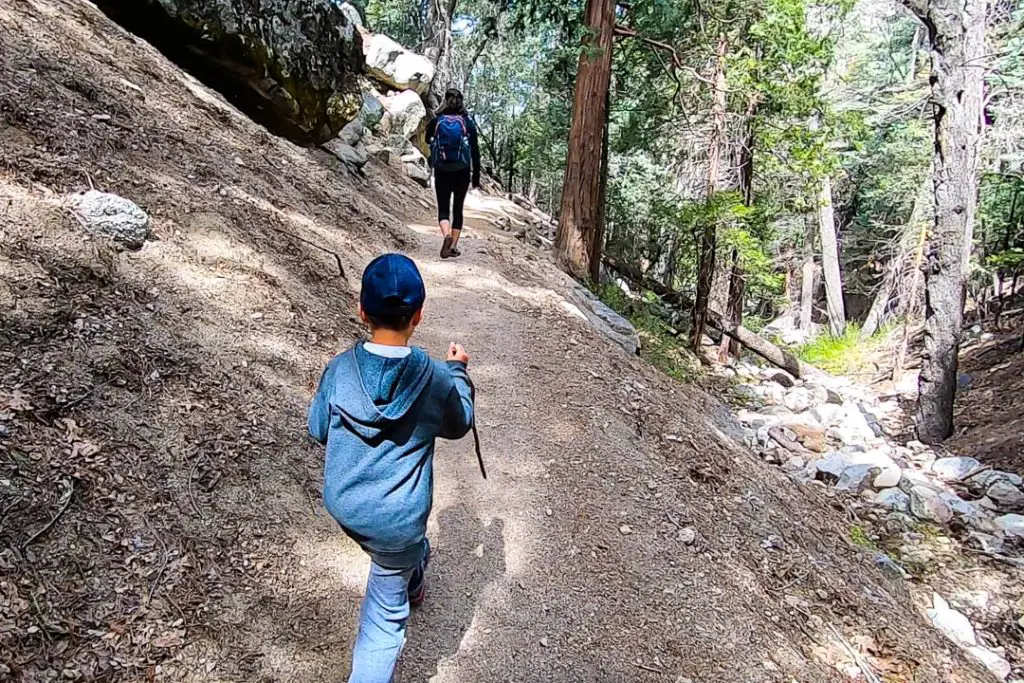 Idyllwild is a hiker's paradise. In spring the town is filled with backpackers on various lengths of treks, from day hikers to PCT through hikers. There are too many trails to cover in this overview guide to the area. The guide book Afoot and Afield: Inland Empire covers a number of the trails in depth.
For many of the hikes in Idyllwild, you'll need a wilderness use pass from the National Forest Service. Stop by the Idyllwild ranger station in town to pick them up (54270 Pine Crest, Idyllwild, CA 92549) — most can be reserved through a self-serve kiosk in from of the station. If you are parking at the trailheads, you'll also likely need to buy a Forest Service Adventure Pass hang tag, which can be purchased at a number of stores in town
Trails near Idyllwild
Climbers Trail
This half-mile trail is used primarily by rock climbers to access the base of Suicide Rock. It begins at Fern Valley Road by the Water Agency facility. The trail travels through private property; please respect private property rights and stay on the trail. For the climbers trail, register at the sign-in box a short way up the trail; this is your permit. Adventure Pass not required.
Trailhead Location: 33.766679, -116.689975
Deer Springs Trail to Suicide Rock
Dear Springs Trail is a steep 6.6-mile out-and-back trail that climbs about 2,000 feet from Idyllwild to Suicide Rock, topping out at an elevation of 7,528 feet. A fork from the trail also climbs to the top of San Jacinto Peak.
The trail begins on Highway 243 one mile north of Idyllwild. The first 2.3 mile section is to a junction, take the cutoff trail to the right 1 mile to the top of Suicide Rock with panoramic views of Strawberry Valley and Idyllwild. Back at the junction of Deer Springs Trail and Suicide Trail, the trail to the left continues to San Jacinto Peak. Wilderness Permits are required in the State Park Wilderness. Day use wilderness permits are free and are available 24 hours a day at the State Park Headquarters office in Idyllwild, Stone Creek campground, or at the Long Valley Ranger Station.
Trailhead Location: 33.752996, -116.722700
Devil's Slide Trail
This 2.5 mile moderate trail ascends from Humber Park to Saddle Junction with many switchbacks and far reaching views. Starting at 6,400 ft. the elevation gain is 1,700 ft. From Saddle Junction, a network of trails lead to San Jacinto Peak (10,834 ft.), the Palm Springs Aerial Tramway (8,516), and Tahquitz Peak Fire Lookout (8,846 ft.). The Pacific Crest Trail passes through Saddle Junction. This is part of the San Jacinto Wilderness area. Backpacking is allowed in the Chinquapin area between Saddle Junction and Tahquitz Peak, and in the North Rim Zone, north of Saddle Junction up to the State Park boundary.
Trailhead Location: 33.764600, -116.685985
Ernie Maxwell Trail
Ernie Maxwell Scenic Trail is a great option for families with kids who might not have the stamina to hike long trails or trails with significant elevation gain. The trailhead is located at Humber Park. The out-and-back trail descends 700 feet from 2.6 miles from Humber Park, The trail offers views of two of Idyllwild's iconic crags, Suicide Rock and Lily Rocks.
Trailhead Location: 33.764647, -116.687219
Fuller Ridge Trail
This moderate trail is part of the Pacific Crest Trail. Starting at 7600 feet, it follows the high timbered ridge above Snow Creek offering spectacular views of the desert. The trail joins Deer Springs Trail at an elevation of 9200 feet, where a strenuous portion proceeds 2.5 miles to San Jacinto Peak (10,804 ft.) Recommended season is June-October. Access from Black Mountain Road(4S01), a forest road, is usually closed from November to May. Wilderness permit is required in Mt. San Jacinto State Park Wilderness, for day hiking and backpacking.
Trailhead Location: 33.839061, -116.736250
Marion Mountain Trail
The heavily forested Marion Mountain Trail is the shortest route to the peak of Mountain San Jacinto. It will also kick your ass, with an elevation gain of 4500 feet. This 11.8-mile out-and-back trail offers views to the ocean and across the Palm Desert, as well as the San Bernardino and San Gabriel mountains on a clear day.
The trail begins from the road leading to, and shortly before, Marion Mountain Campground. The trail enters San Jacinto Wilderness, and San Jacinto State Park Wilderness. Wilderness Permits are required in the State Park Wilderness. Day use wilderness permits are free and are available 24 hours a day at the State Park Headquarters office in Idyllwild, Stone Creek campground, or at the Long Valley Ranger Station.
Trailhead Location: 33.791167, -116.735366
South Ridge Trail
This moderate trail to Tahquitz Peak Lookout and the Pacific Crest Trail begins at 6800 ft. with an elevation gain is 2000 ft. Hikers experience breathtaking views of the Desert Divide, Strawberry Valley and beyond. Hiking during the summer is recommended for morning hours as it can be hot and dry later in the day. Follow signs on Saunders Meadow Road leading to South Ridge Trail and Forest access road 5S11.
Trailhead Location: 33.735437, -116.695959
Spitler Peak Trail
This strenuous 5 mile trail climbs from a trailhead elevation of 4920 feet to 7000 feet. The trail intersects the Pacific Crest Trail north of Spitler Peak along the Desert Divide. Hiking may be warm during the summer as the trail travels through chaparral up to oaks and pines. Access to the trail is from Apple Canyon Road off of Hwy 74 near Lake Hemet.
Trailhead Location: 33.697852, -116.652241
Idyllwild Nature Center Trails
The Idyllwild Nature Center offers a number of short trials, most of which are family friendly. This is a great place to wander around if you have smaller children or adults might not be able to navigate the more challenging trails in other parts of the region.
Idyllwild Mountain Biking Trails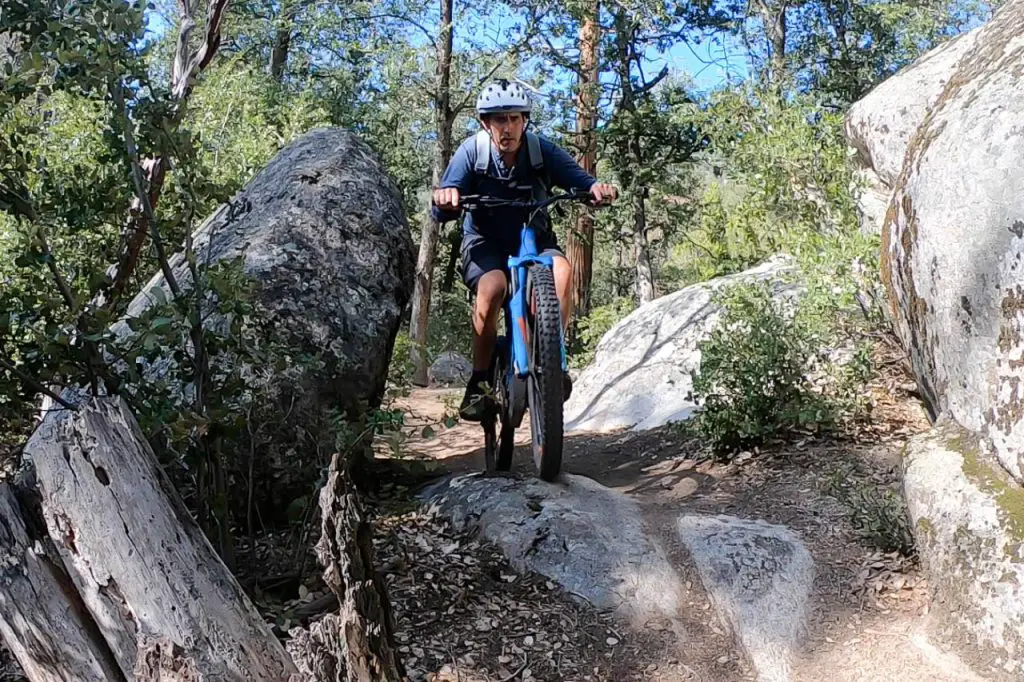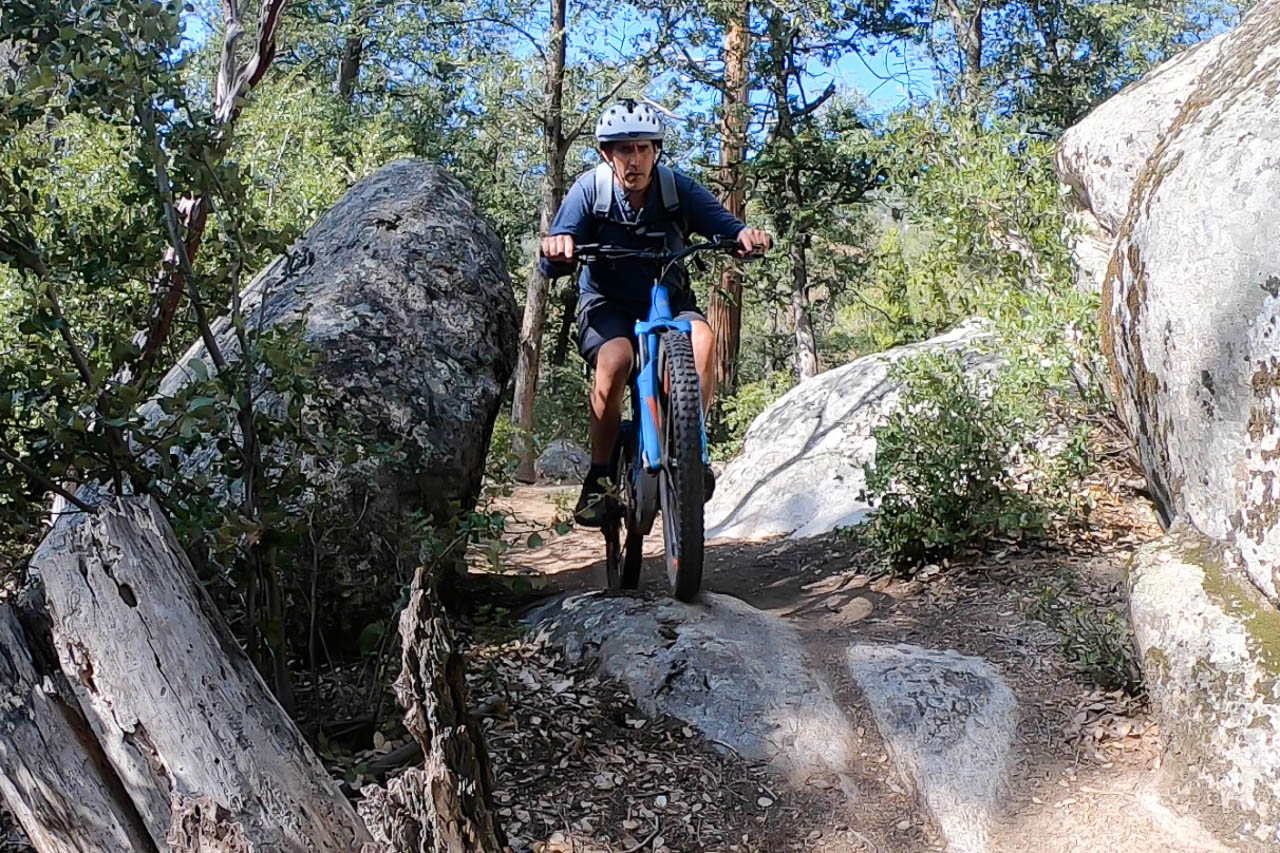 Idyllwild is home to an extensive collection of mountain biking trails, most of which explore National Forest land. For more detail on the various options in the area, visit our guide to Idyllwild mountain biking.
Idyllwild Climbing Areas
Idyllwild has a long and storied history in the rock climbing community. Many of the climbers who pioneered classic routes in Yosemite and other Sierra climbing areas honed their craft at Idyllwild. The decimal system for rating climbs was developed here.
This short and campy film made in 1938 includes footage of three climbers ascending Tahquitz Peak (their roping are classic – and terrifying):
The two premier climbing areas in Idyllwild are Suicide Rock and Tahquitz Peak, which offer a range of traditional climbing from single pitch to seven pitches. There are some sport climbing routes as well, but this is really a trad climbing destination.
Idyllwild County Park Campground offers a handful of granite boulders for climbing that's easy to access from downtown Idyllwild.
For detailed guides to some of the area's climbing, Falcon publishes the guide book Best Climbs Tahquitz and Suicide Rocks.