Tamarisk Grove Campground Guide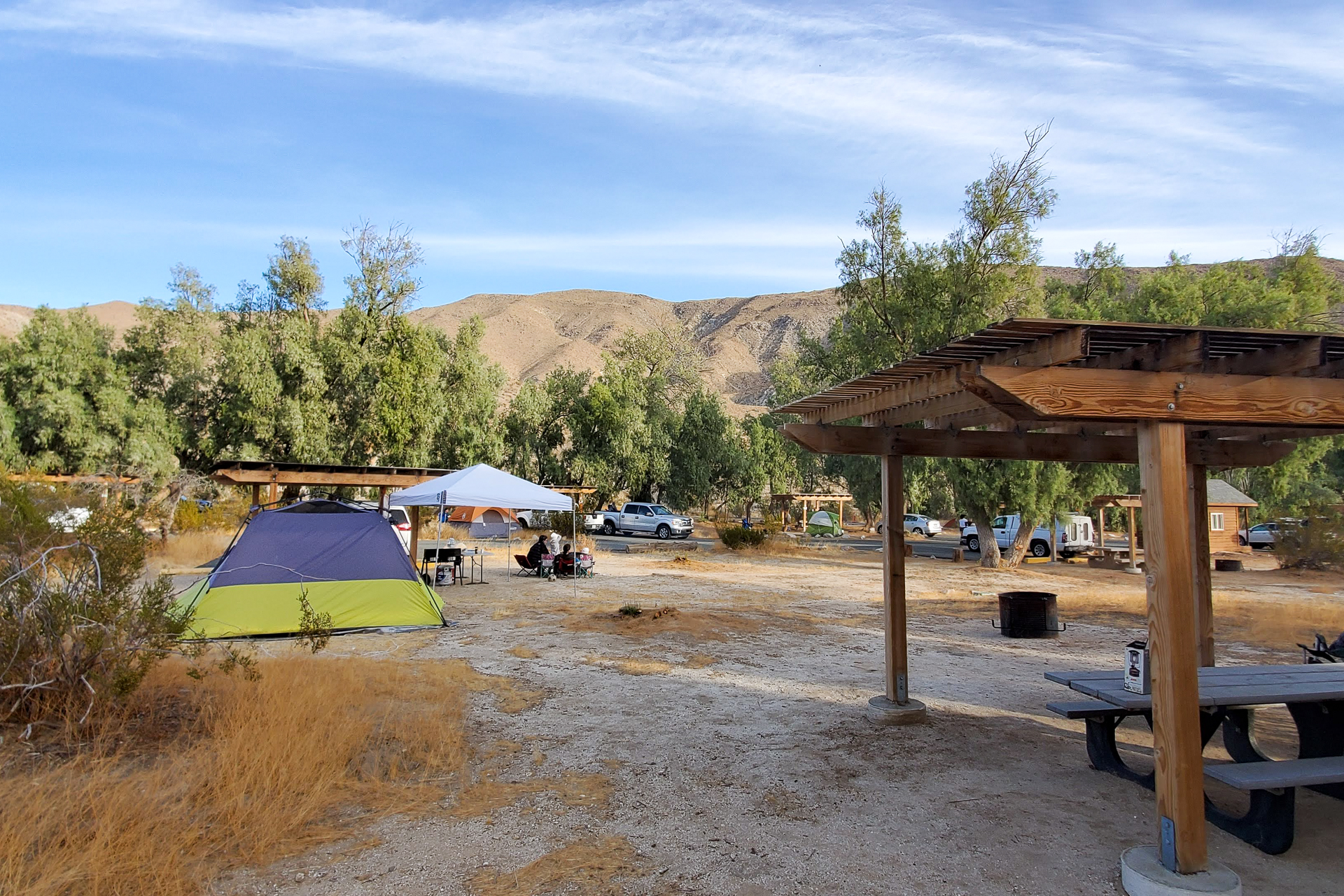 Tamarisk Grove Campground is one of four developed campsites in Anza-Borrego Desert State Park, the largest state park in California, located on the edges of San Diego and Riverside Counties. This is a terrific based for exploring the rugged desert environment of Anza-Borrego and offers easy access to several hikes and dirt roads to explore.
Campground Details
Site types: Tent, RV
Amenities: Toilets, Trash Receptacles, Fire Rings, Picnic Tables, Camp Store
Information number: 760-767-4205
Reservations: Reservations accepted
Reservation number: 1-800-234-7275
Campground Coordinates: 33.138502,-116.375072
Location: Anza Borrego Desert State Park
Address: 5960 Yaqui Pass Rd, Julian, CA 92036
Season: October – May
Getting to Tamarisk Grove Campground
This the first developed camping area you'll encounter (GPS: 33.138502, -116.375072) as you head into Anza-Borrego from the mountain town of Julian on Route 78.
The campground is located at the split of the 78 (which heads east towards the town of Ocotillo Wells) and S3 (which winds northeast over Yaqui Pass towards Borrego Springs).
The Campground
It comprises 27 campsites and is situated near the center of the park. Along with Borrego Palm Canyon Campground, this is one of the most developed campgrounds in the park. It's a compact, comfortable campground for families looking for some conveniences such as flushing toilets and showers.
It generally feels more remote than Borrego Palm Canyon Campground, which is closer to the town of Borrego Springs. That said, being sandwiched between two roads makes the campground a bit noisier than Palm Canyon Campground, due to passing vehicles.
If you're looking to step it up from a tent, Tamarisk Grove offers 11 rustic cabins for rent, as well as tent and RV camping. Camping is available from October 1 to May 20, and reservations are accepted from October 1 – April 30. During the summer, the desert is incredibly hot, and few people camp.
The campground's amenities include coin-operated showers, non-potable water (don't drink it), flush toilets. Each site has a picnic table with a shade ramada, as well as a fire pit with a metal grill. You can buy water and other limited supplies at a small store and visitor center run by the campground hosts.
If you are camping in an RV or camper trailer, note that the fresh water at Tamarks Grove shouldn't be used to fill fresh water tanks, as the minerals can clog your pipes. Fill up your freshwater tank before you arrive. There is no dump station for gray water and black water tanks. (Borrego Palm Canyon Campground offers fresh water and a dump station.)
The trailheads for Yaqui Well Trail and Cactus Loop Trail, two quick hikes, are just across Highway S3 to the north of the campground. The trailhead for Bill Kenyon Trail, a longer loop trail, is two miles northeast on Yaqui Pass Road (GPS: 33.148143, -116.348653).
The campground is named for the Tamarisk trees, Middle East imports that provide rare shade in the desert. The campground was originally a
Tamarisk Grove is part of a cluster of Anza Borrego campgrounds in this area of the park, which also includes Yaqui Pass and Yaqui Wash primitive campgrounds. If you can't get a reservation at Tamarisk Grove or Borrego Palm Canyon, or you're looking for something more rustic and isolated, these primitive campgrounds can be a good alternative (see our complete guide to Anza-Borrego camping for more information on those campgrounds).
Things to Do Nearby
Explore Blair Valley
Bill Kenyon Trail
Yaqui Well Trail
Cactus Loop Trail
Also See
Anza-Borrego Desert State Park Adventure Guide
Guide to Anza-Borrego Campgrounds