Hiking Horsethief Canyon in Pine Creek Wilderness
The trail into Horsethief Canyon is a scenic mountain hike in Cleveland National Forest in east San Diego County that brings you to a idyllic stream pool that forms during wet seasons.
Exploring this secluded trail, it's clear why the spot has long been popular among outlaws. Tucked among the chaparral-covered mountains of Pine Creek Wilderness, in Cleveland National Forest, the oak groves, streams and cool valleys offer seclusion and a reprieve from the dry, rugged terrain.
Trail Details
Trail type: Out-and-back
Difficulty: Moderate
Length: 1.6 miles round trip
Elevation gain and loss: 430 feet, -430 feet
Trailhead Coordinates: 32.747846, -116.666636
Location: Pine Creek Wilderness
Season: Year round, but cooler months/times of day are best
Getting to Horsethief Canyon
To get to the parking area for the hike, get off Route 8 at the Tavern Road exit, about 30 miles east of downtown San Diego. Head southeast on Tavern Road, which will become Japatul Road, for about 10 miles. Turn right at Lyon's Gate Road. The Forest Service Parking lot will be on your left in 1.6 miles (GPS: 32.747846, -116.666636).
The Trail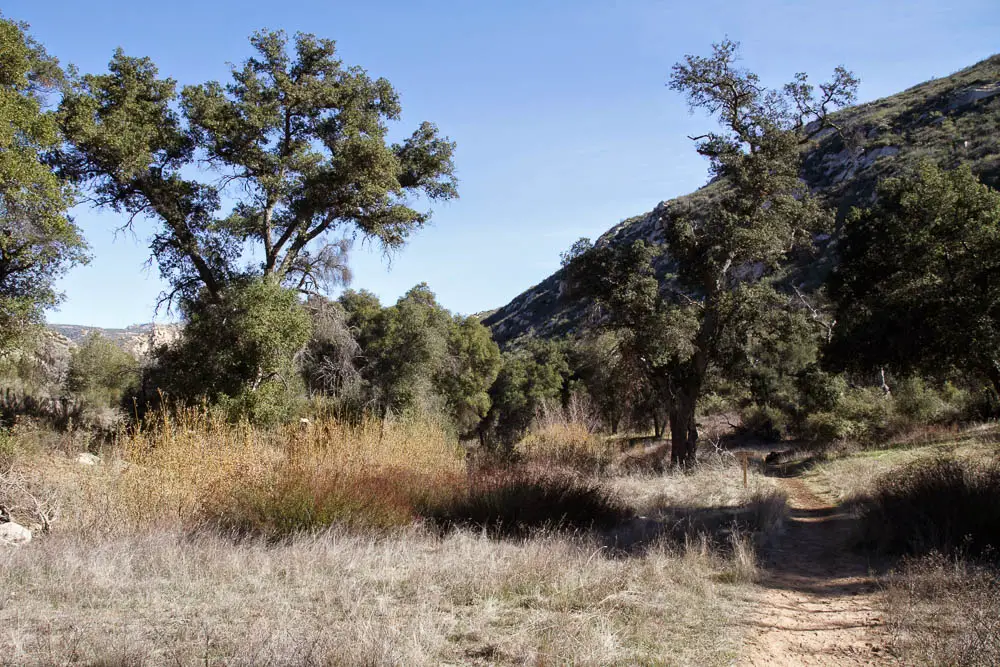 Back in the late 1800s, thieves used to keep their stolen horses here before taking them across the Mexican boarder, just to the south. More recently, the area has been used by undocumented migrants and smugglers.
Because of this, the Forest Service encourages hikers and equestrians to stay on Espinosa Trail and Pine Creek Trail, the two major paths in Pine Creek Wilderness, and to hike in a group. Horsethief Canyon trail is technically a segment of Espinosa Trail and it will typically labelled as such on maps.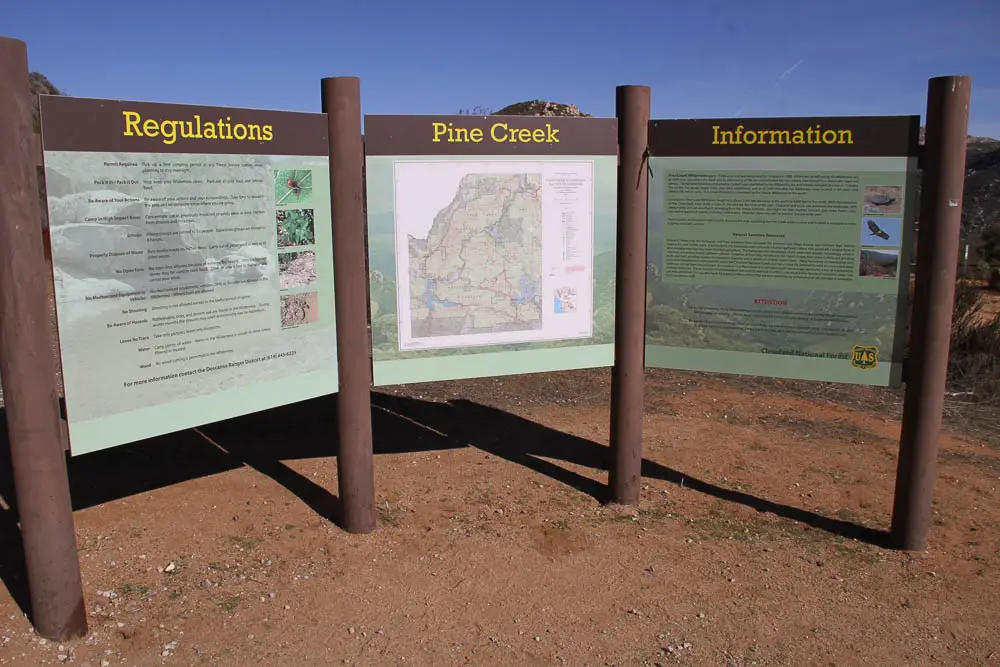 The most popular Horsethief Canyon day-hiking route is a 1.6 mile up-and-back that takes you along the Espinosa Trail down into Horsethief Canyon to a large pool and small waterfalls Pine Valley Creek. The hike starts at a well developed parking lot along a forest service Route 16SO4, and turns right onto Espinosa Trail after less than a quarter mile.
From the parking lot the hike follows a ravine that drops down into the canyon. The trail winds through chaparral and oak woodland, loosing about 430 feet in elevation from the trailhead to the Pine Valley Creek and the seasonal pool.
Even in winter, this can be a hot area and the pool is a nice cool place to sit and listen to the gurgle of the stream. Just downstream of the pool is a flat grassy grove that is perfect for overnight camping (with a permit from the Forest Service). The best times for hiking in Horsethief Canyon are in the winter and spring, when the flowers are blooming and the temperatures reasonable.
You can, of course, explore beyond the pool. From the pool, you can bushwhack upstream along the creek, where it squeezes through the increasingly narrow canyon. Heading downstream along Pine Valley Creek is easy walking and offers even more seclusion. Watch out for poison ivy and rattlesnakes.
Across Pine Valley Creek, Espinosa trail continued on further into Pine Creek Wilderness and also connects with Secret Valley Trail, a long trail that runs north-south through the wilderness and makes for a nice backpacking trip or epic day hike.