Anza-Borrego Pictograph Trail Guide
Hiking Pictograph Trail in Anza-Borrego Desert State Park is an adventure back in time. Located in Blair Valley on the western side of Anza-Borrego, this mellow 1.6 mile out-and-back trail brings hikers to a boulder covered in pictographs painted thousands of years ago by Kumeyaay artists.
Contemplating the ancient artwork in this rugged desert landscape carries is inspiring and makes one wonder what life was like for the native people in those times.
Trail Details
Trail type: Out-and-back
Difficulty: Easy
Length: 1.6 miles round trip
Elevation gain and loss: 480 feet, -480 feet
Trailhead Coordinates: 33.019697, -116.359904
Location: Anza-Borrego Desert State Park
Season: October – May
Getting to Pictograph Trail
Anza Borrego Desert State Park is located in eastern San Diego County, with portions of the park bordering Riverside County. The park is located about 2 hours drive from San Diego and 3 hours from Los Angeles. Little Blair Valley is located on the western side of the park and can be accessed from S2 (also known as the Great Overland Stage Route). Exit S2 onto Little Blair Valley road at GPS coordinates 33.045800, -116.413151. Follow the road for 3.9 miles until it tees (GPS: 33.009605, -116.378028). Turn left and follow the road/trail for 1.4 miles to the trailhead (GPS: 33.019697, -116.359904).
The trailhead for the Pictograph Trail is located at the southeast end of Little Blair Valley (GPS: 33.019697, -116.359904), where two ridges meet. The road to the trailhead is unpaved and sandy and an SUV or four-wheel drive is recommended, particularly after heavy rains, when the road can get washed out and very rough.
The Trail
There's quite a bit of parking at the trailhead, and people camp in this area as well. There are no designated campsites, but dispersed camping is allowed.
If you are looking for something more established, Blair Valley Primitive Campground, at the entrance to Blair Valley off the S2, is located just a couple of miles away. By "established" I mean it has a vault toilet.
The trailhead is marked by a small sign. The first quarter-mile of the trail winds its way east uphill through a narrow divide between Little Blair Valley and Smuggler Canyon.
One day while hiking here, my son and I found a rosy boa crossing the path just past the trailhead. Many desert plants grow in this canyon. Watch out for the cholla cactuses, particularly if you have kids. They are nice to look when the sun lights up their spines, but they can do some serious damage if you step on or bump into on. It's not recommended to brings dogs on this hike, as the spines can wreak havoc on their feet.
At the top of the hill, the valley opens up and enters Smuggler Canyon. The trail follows the southeast for about another half a mile to the pictographs (GPS: 33.017182, -116.347950).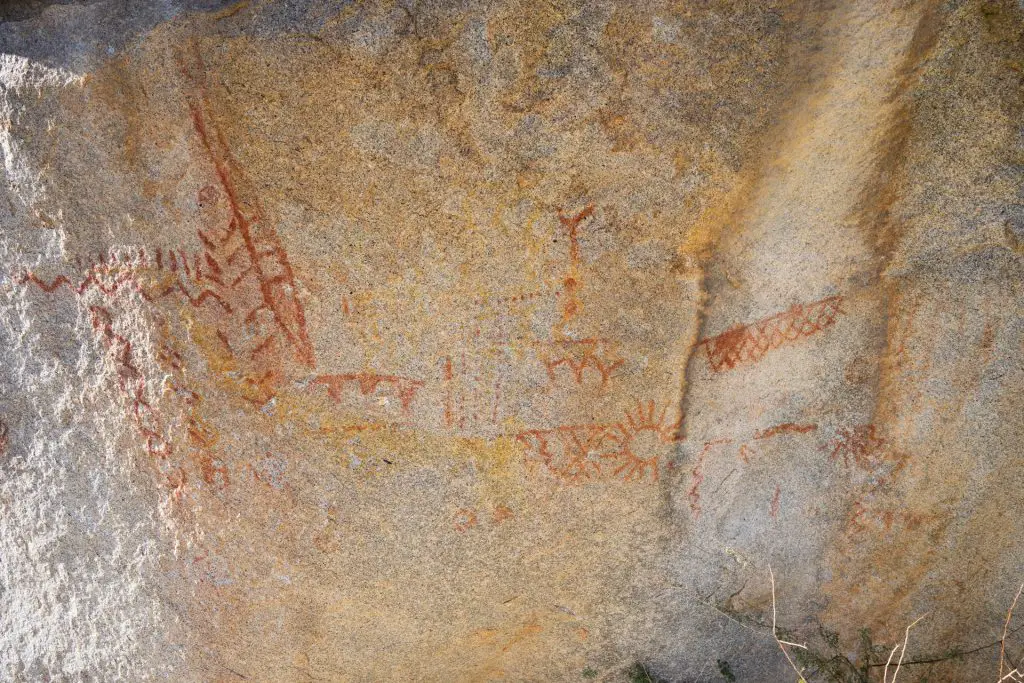 If you look closely near the painted boulder, you'll find morteros in the other boulders, smooth divots made by the Kumeyaay when they ground food, paint, or other substances.
It probably goes without saying, but avoid touching or otherwise damaging the pictographs. There are a number of pictographs in Anza-Borrego, but these are the only ones that are well known and publicized by the park service. They are historical treasures that can hopefully be preserved for centuries to come.
If you continue another half mile past the pictographs, you'll come to a site that was once a seasonal Kumeyaay camp and to the top of a dry waterfall that provides a stunning view of Carrizo Valley. Pass through the little notch in the ridge to get to the overlook.