El Moro Canyon Loop Trail
El Moro Canyon Loop Trail is a difficult 5-mile hike in Orange County, California, with steep climbs through hills and valleys and views of the Pacific Ocean.
This trail is located in Crystal Cove State Park and will challenge you with 1,053 feet of elevation gain largely concentrated in the middle 3 miles of the hike.
Hike this trail clockwise to weave through hills lined with tall grass and prickly pear cactus, and enjoy panoramic views of the ocean on your descent. For nearby campgrounds, check out our guide to beach camping in Orange County.
Trail Details
Trail type: Loop
Difficulty: Difficult
Length: 5 miles
Elevation gain and loss: 1053 feet, -1053 feet
Trailhead Coordinates: 33.566717, -117.821443
Location: Crystal Cove State Park
Season: Year-round
Getting to El Moro Canyon Loop Trail
The trailhead parking lot has plenty of space, but can fill up fast. There is a $15 charge for parking that you can pay by card or cash at the machine next to the visitor center.
To get to the trailhead from points north and west, head east on the 405 or along PCH for a more scenic drive. From the 405, exit onto the 73, take exit 11 and turn left onto Pacific Coast Highway. From PCH, turn left onto School / State Park and you'll arrive at the parking lot in less than a quarter of a mile.
If you're traveling from points south and east, you can take either the 5 to the 73 or PCH, heading west. From the 73, take exit 6, turn left onto El Toro Road, and left again onto CA-133. Turn right onto PCH and right again onto School / State Park, and you'll arrive at the parking lot shortly.
There's a detailed map at the visitor center that outlines a few different trail options in the park. El Moro Canyon Loop Trail is the middle distance trail, but is rated as difficult due to its elevation gain.
The Trail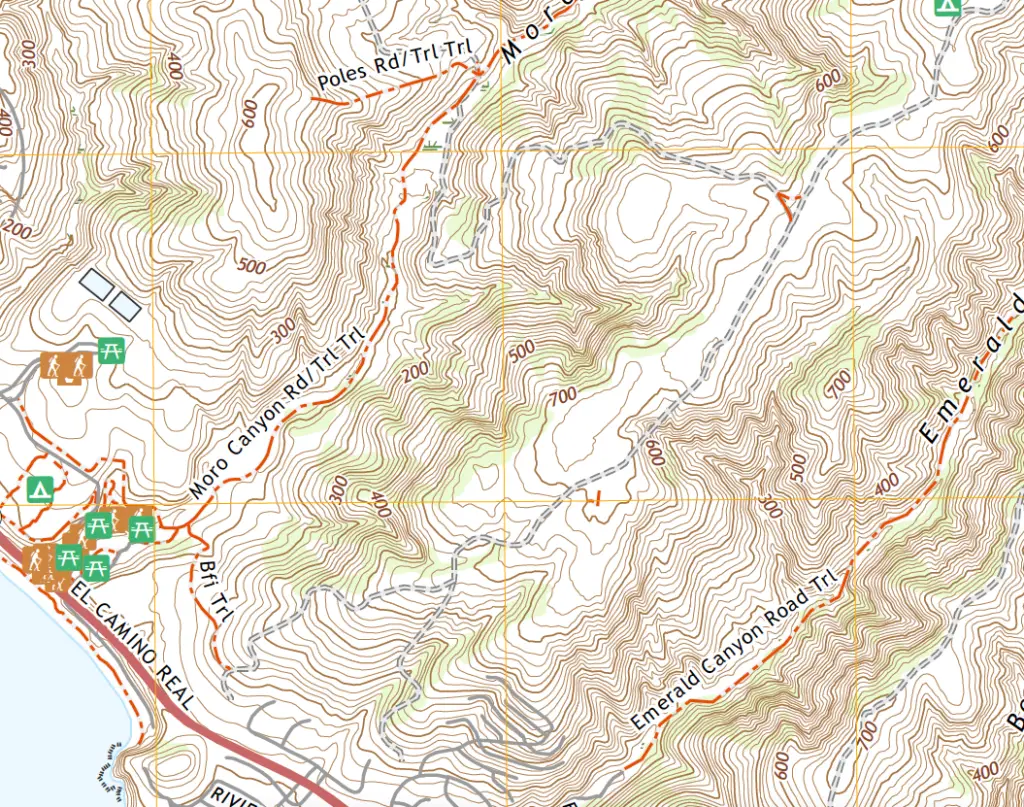 When hiking El Moro Canyon Loop Trail in the summer, bring water and sun protection, as temperatures can climb high and there's little to no shade on the trail.
As another precautionary note, rattlesnakes and mountain lions are known to live in the area, so stay aware of your surroundings.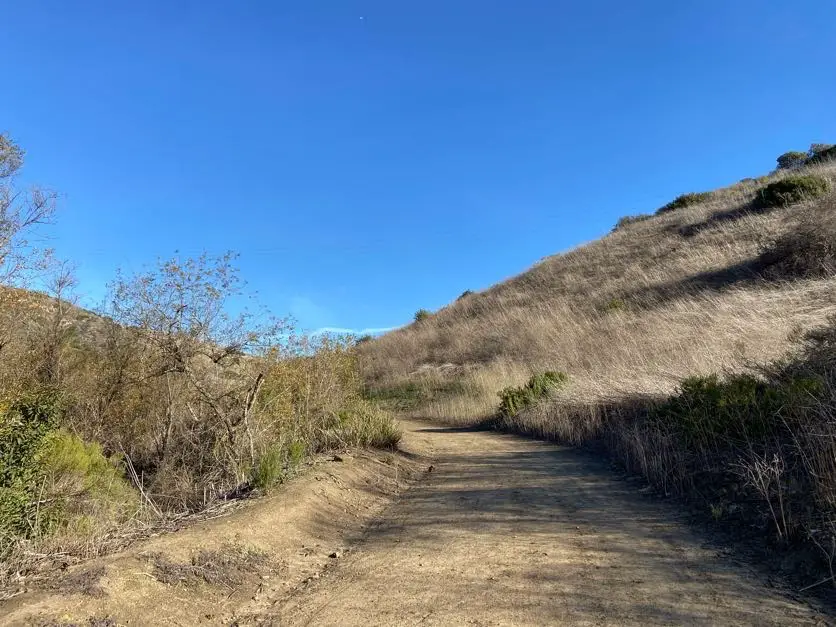 The trail begins running parallel to the beach, right along the campground. The trail is level for this portion and takes you to a small bridge where your hike will truly begin. Once you cross the bridge, you'll enter El Moro Canyon.
For the first mile or so, you'll hike through the canyon without much elevation gain. You'll be surrounded by grassy, shrub-strewn hills, and might see the occasional turkey vulture circling overhead.
In winter, some hills are covered in green shrubs and plants, while others are completely covered in waves of tan grass. During spring, the hillsides are decorated with wildflowers.
After about one mile, the trail splits. Turn right to take the East Cut Across trail and continue on the loop. You'll start climbing in elevation on this portion of the trail, and will end up looking down at the canyon you started the trail walking through.
If you're looking for wildlife, East Cut Across is where you're most likely to encounter birds. California quail scuttle across the trail in front of you, and striking blue California scrub jays flit between bushes.
After about 2.5 miles on the trail, you'll reach the end of East Cut Across. Turn right to stay on the loop trail, and you'll be met with views of the Pacific Ocean. Turning left will take you off the trail, but will take you toward Upper and Lower Moro Campgrounds further up the ridge.
At this point in the trail, you're on top of the ridge and will be hiking down toward the Pacific. Up on the ridge, you'll see prickly pear cacti blooming against a canyon and ocean landscape.
As you continue on your view will become clearer and more expansive, encompassing the ocean, coves, and homes in Laguna Beach. The trail starts to decline steeply, so watch your footing on the loose sand and rocks.
The last half mile or so of the trail becomes flat again and travels back along Moro Campground toward the parking lot. Once you finish your hike, you can hop across PCH and check out Crystal Cove State Beach.
If you want to challenge yourself with a longer hike or want to hike all the trails in the park, you can stay at one of the park's campgrounds. You can stay close to the beach at Moro Campground, or hike up the ridge to stay at Upper or Lower Moro Campground. If you're interested in camping here, check out our guide here. Another nearby attraction is Shaw's Cove in Laguna Beach, a great spot for snorkeling and diving.