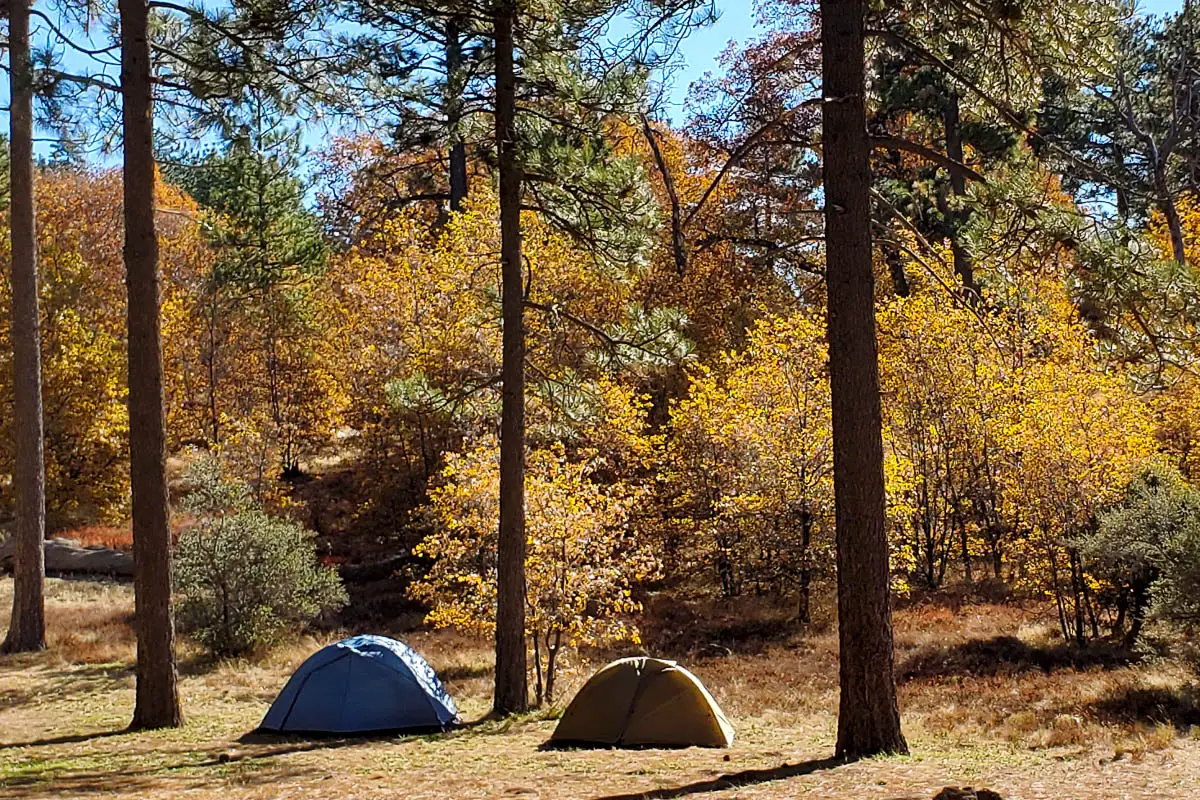 Laguna Campground is a large National Forest Service campground situated in Southern California's Laguna Mountains. The campground offers 104 campsites and access to a stunning alpine ecosystem and terrific hiking, mountain biking, and equestrian trails.
Just one hour east of San Diego, California, Laguna Campground is within the Laguna Mountain Recreation Area of Cleveland National Forest. This is a great campground, but there are some quirks to it, which we'll cover below. To learn about other camping options in the area, check out our comprehensive Mount Laguna camping guide.
Campground Details
Site types: Tent, RV
Amenities: Potable Water, Flush Toilets, Trash Receptacles, Fire Rings, Coin-Operated Showers, Picnic Tables
Information number: 1-619-473-2082
Reservations: Reservations accepted
Reservation number: 1-800-234-7275
Reservation website: Recreation.gov
Campground coordinates: 32.893111, -116.447972
Location: Laguna Mountain Recreation Area, California
Address: 468-470 Los Huecos Rd, Mt Laguna, CA 91948
Season: Year-round
Getting to Laguna Campground
From the intersection of Interstate 5 and Interstate 8 in San Diego, you'd take I8 about 48 miles east to Sunrise Highway (State Route 1). Take Exit 47 and head northeast on Sunrise Highway for 14 miles to downtown Mount Laguna.
Laguna Campground is located about 2 miles north of Mount Laguna, just off Sunrise Highway at Laguna Meadow Road (GPS: 32.893111, -116.447972).
If you are coming from the town of Julian, head southeast on Route 79 for 18 miles.
The Campground
The Laguna Mountains are part of the Peninsular Ranges System of eastern San Diego County, which stretches about 35 miles northwest from the Mexican border. Most of the area is within Cleveland National Forest and managed by the U.S. Forest Service.
Situated at an elevation of 6,000 feet, Laguna Campground is shaded by pines and oaks, and is near Little Laguna Lake which forms during the wet months. The area is home to many species of birds, as well as the endangered Laguna Skipper butterfly. 
Laguna is a sprawling campground with five different loops and a total of 104 campsites which are situated on the hills and meadows next to Little Laguna Lake (which typically dries up by late summer or early fall).
Campground amenities include campfire rings, flush and vault toilets, and coin-operated showers. Firewood is available for purchase from the campground host.
One thing to keep in mind when you are booking a site is that some of the loops are hilly and many of the parking spots are smaller and may be on an angle.
We book a site once only to find out the parking spot was way too steep for our roof-top-tent setup. Luckily, we got there early on a Friday and were able to snag a different site that hadn't been booked yet.
If you need to buy food or get other supplies, Laguna Mountain Lodge in Mount Laguna offers a small grocery and camping supplies store that's open seven days a week from 9 am to 5 pm.
Things to Do
Laguna Mountain Recreation Area offers tons of options for hiking, mountain biking and horseback riding. Laguna Campground is a great basecamp for hiking and mountain biking and offers particularly easy access to the Laguna Meadow Trail Network, one of the highlights of the Laguna Mountains.
A portion of the Pacific Crest Trail, which runs from the Mexican border to Canada, passes through the area across Sunrise Highway from the campground. This section of the trail offers some stunning views of the Anza-Borrego Desert to the east.
Even if you aren't planning on hiking the PCT sections, there are a couple of terrific vistas on the trail that can be accessed via car north of the campground along Sunrise Highway.
One is the Storm Canyon Overlook that is less than a mile north of the campground on Sunrise Highway. This spot offers a spectacular view of the Laguna Mountains as they drop into the Anza-Borrego desert.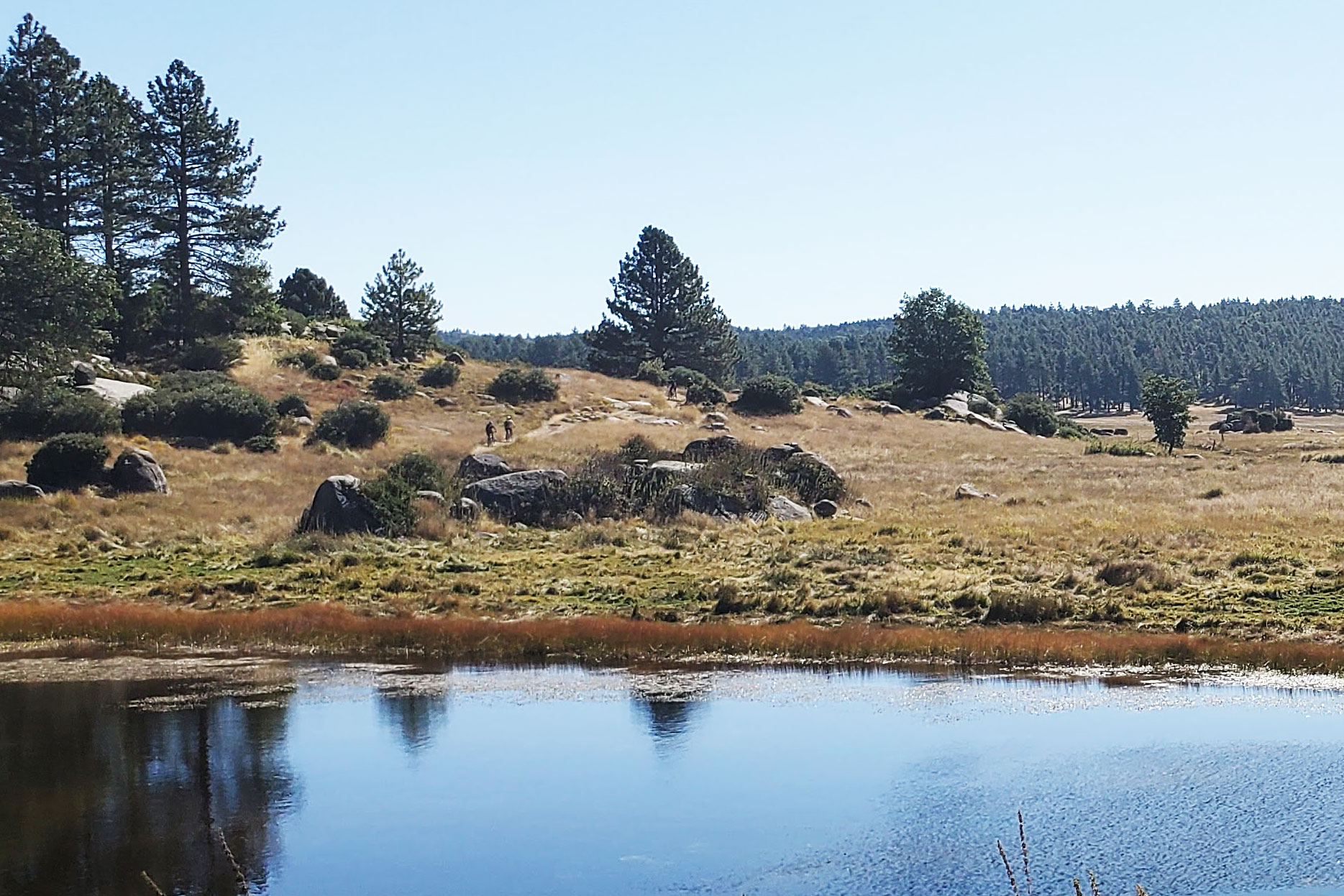 The other viewpoint, Kwaaymi Point, is a little over 4 miles north of the campground on Sunrise Highway. It also overlooks the Anza-Borrego Desert.
Check out our guide to Mount Laguna adventure for more info on hiking and mountain biking trails in the area. Equestrians will want to check out nearby Horse Heaven Campground. Mountain bikers might want to check out Mount Laguna Trail Fest, an annual mountain biking event.
Spring and fall are probably our favorite times to visit the Laguna Mountains. Wildflowers are usually abundant in April and May on the trails near the campground. In fall, the trees take on Autumn colors. The only downside to fall is that campfires and firepits of any sort may be prohibited to help prevent wildfires.
The campground is open all year round, and winter trips can be a lot of fun. The area does get snow, so if snow camping is your thing, this could be a good place to give it a shot. Check with the ranger station to confirm you will be able to access the campground during snowy weather.
Check with the park service to find out what facilities (eg, bathrooms) will be available during your visit–the showers are typically closed from mid-October to mid-May. Our guide to SoCal snow days provides more info on getting to the mountains during snowy weather.
If history is your thing, near the neighboring El Prado Campground you can take a look at El Prado Cabin, the first ranger cabin built in the Cleveland National Forest in 1911. 
If stargazing is your thing, the meadow next to the campground can be a great place to take in the night sky. The San Diego State University Observatory sponsors "Star Parties" for campers most Saturday evenings during the summer (schedule can be obtained at the nearby visitor center or by calling 619-473-8547).