Hellhole Canyon Preserve Hiking Guide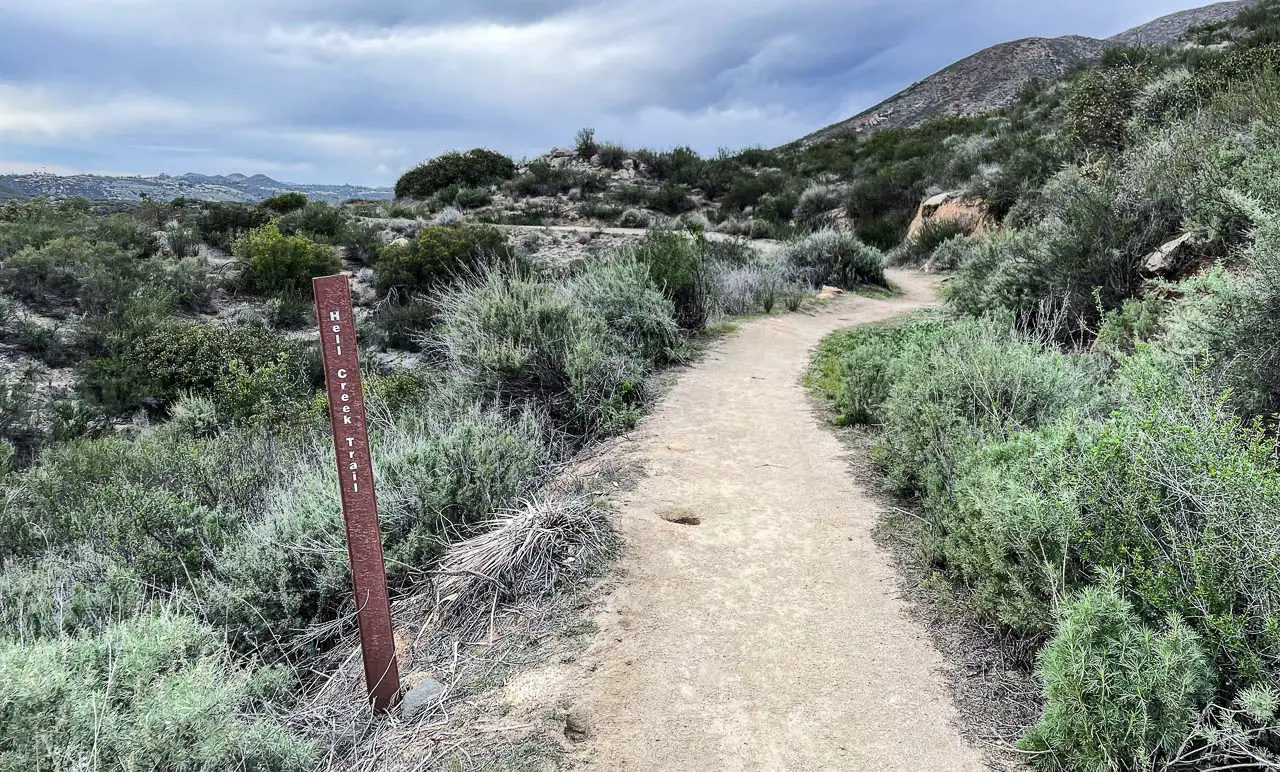 Hellhole Canyon County Preserve is an open space area in Valley Center, California that spans 2,594 acres and offers more than 13 miles of trails for hiking and equestrian use.
Although the Hellhole Canyon Preserve offers just a handful of trails, it does provide a unique opportunity to observe an environment recovering from significant wildfires in 2003 and 2007. Contrary to what you might think because of its name, the preserve features a lush riparian area and several trail options to suit whatever kind of hike you're looking for.
The preserve is open from 8:30 a.m. to sunset, Friday to Monday. It shuts down in August because of extreme summer heat, but hikers should take care during any summer month to hike early, pack plenty of water, and wear appropriate sun-shading clothing.
Directions to Hellhole Canyon Preserve
The easiest way to get to Hellhole Canyon Preserve is through Escondido. From Interstate 15 heading north, you'll want to exit at El Norte Parkway in Escondido.
Head down El Norte Parkway for about 4.5 miles. Turn left onto Valley Parkway and continue for a bit until you reach Lake Wohlford Road. At this intersection, take a right.
Alternatively, you can exit from Interstate 15 onto Bear Valley Parkway. Continue on Bear Valley Parkway for about 5.5 miles until turning right on Valley Parkway. Continue until you see Lake Wohlford Road, and then turn right onto the street.
Continue on Lake Wohlford Road until you reach Paradise Mountain Road. Turn right here. Follow Paradise Mountain Road until you come to a five-way intersection. Turn left onto Kiavo Dr. Continue until you see signs for Hellhole Canyon Preserve.
Hell Creek Trail
The Hell Creek Trail, also known as the Historic Flume Trail, leads from the preserve's staging area to Hell Creek and is the only way to access some of the other trails in the area. It's about a one-mile hike to Hell Creek.
This trail begins at the staging area and descends into Hellhole Canyon. Along the way, you'll find various interpretive signs and other placards relaying information about local fauna and flora.
Once you traverse a series of gradual switchbacks, you'll eventually reach Hell Creek. Despite the name, this riparian area features lusher and greener vegetation than the chaparral around the edges of the canyon. Depending on the time of year, there will likely be a small creek to cross.
You will eventually ascend out of the creek bed to a more chaparral-like environment. At this point, you'll come to a fork in the road with two options.
Going right lets you access the Paradise Mountain Trial and the Horse Thief Loop from a counterclockwise direction. You can also continue straight on the Hell Creek Trail for another 0.7 miles until it splits into the Canyon View Trail and the Horse Thief Loop from a clockwise direction.
Horse Thief Loop Trail
The easiest hike in the Hellhole Canyon Preserve is to add the Horse Thief Loop Trail to the Historic Flume Trail. Horse Thief Loop is 1.4 miles long, which results in total mileage of 2.7 miles.
You'll hike up a moderate elevation gain on the Horse Thief Loop. Trails are well-marked and well-maintained, so don't expect any highly technical terrain.
Horse Thief Loop can be hiked in either direction, but taking the route clockwise will let you hold off on any notable elevation gains.
The Horse Thief Loop trail is a good option for hikers who want a more easygoing adventure or those traveling with children and pets. Just note that the Horse Thief Loop — and other trails outside the riparian zone — features little to no shade.
Canyon View Trail Loop
The Canyon View Trail features a longer 2.3-mile loop and steeper elevation gains than the Horse Thief Loop. You can combine Horse Thief and Canyon View trails together or forego the former for a hike of around 5 miles.
As the name suggests, you'll see great views of the canyon, including the path that the historic Escondido Canal took when it diverted water from the San Luis Rey River to the Escondido Creek.
You'll find two forks on the Canyon View Trail. If you hike it clockwise, the first leads to the Rodriguez Peak Trail, and the latter leads to the Paradise Mountain Trail. Both are more strenuous hikes and can be combined for a challenging trek.
Technically, parts of the Canyon View Trail are actually the lower portions of the Rodriguez Peak Trail and the Paradise Mountain Trail. You can follow these trails as a loop for the Canyon View Hike — just make sure to turn right at the last fork to head back to the staging area.
Paradise Mountain & Rodriguez Peak Trail
The Rodriguez Peak Trail continues from the Canyon View Trail for another 0.8 miles from the fork.
Although typically done as a loop when combined with the Paradise Mountain Trail, it can technically be done as a straight out-and-back trail that leads to two viewpoints offering views of the San Luis Rey River Valley and Hellhole Canyon itself.
Once you reach the first fork on the Rodriguez Peak Trail, you can turn left to travel another 0.4 miles to the first viewpoint or continue another 0.3 miles to reach the second viewpoint trail (itself 0.2 miles).
Those looking for a strenuous and challenging hike should combine the Rodriguez Peak Trail with the Paradise Mountain Trial. All in all, this adds another 5 miles to your hike. In total, this loop combines with the Hell Creek Trial for an 8.2-mile trek with elevation gains of 1,860 feet.
Unlike the lush riparian area of Hell Creek or the north-facing slope of the Historic Flume Trail, you'll notice that the south-facing slope of the canyon is drier and features more chaparral-based vegetation.
Other Information
No matter which trail or loop you choose, note that this is technically still an out-and-back trail. Since you descend into the canyon from the staging area, you'll also need to hike back uphill to reach your vehicle.
Hiking the Paradise Mountain and Rodriguez Peak loop also means that you'll be trekking up two separate hills. It makes for a good workout, but the challenge of the hike is something to keep in mind.
Because the Hellhole Canyon Preserve is a county reserve area, make sure to stay on designated trails and obey all posted signage. Parts of the preserve are sensitive habits that are currently being restored after a pair of wildfires in the aughts.
Preserve Amenities
The staging area is wide and open with plenty of parking. Although the parking lot itself is gravel, vehicles of any type should have no trouble reaching the trailhead.
You'll find vault toilets, free hand sanitizer, and a potable water refill station at the staging area. There are also hitching stations for equestrian use.
The Hellhole Canyon Preserve also features 10 primitive campsites that are available only to youth groups on a reservation basis.