Otay Mountain Truck Trail Guide
Otay Mountain Truck Trail is an off-road adventure route in the Otay Mountain Wilderness, a nearly 17,000-acre expanse of rugged terrain in the San Ysidro Mountains of southernmost San Diego County.
The trail offers opportunities for hiking, mountain biking, and off-road vehicle recreation, but is particularly popular among the off-roading community. If you aren't ready to tackle this route on your own or don't have a vehicle to use, San Diego 4×4 offers guided tours of the trail.
Trail Details
Trail type: Network
Difficulty: Varies
Length: Varies
Elevation gain and loss: Varies, but 2,700-foot gain from Pio Pico to Dog House Junction
Trailhead Coordinates (Pio Pico): 32.652452, -116.8548721
Location: Otay Mountain Wilderness
Season: Year round, but best October – May
Getting to Otay Mountain Truck Trail
The area has three primary entrance points. The northernmost entrance is next to Pio Pico RV Resort and Campground, 2.7 miles northeast of Lower Otay Lake, off Otay Lakes Road (Trailhead GPS: 32.6524628832469, -116.85496447822487).
While the section from this entrance to Doghouse Junction (see map below) is often referred to as part of Otay Mountain Truck Trail for shorthand, it's actually named Minnewawa Truck Trail.
The southernmost entrance is from the southwestern side of the area, off Alta Road, in an industrial park near the Otay Mesa Compose Facility, Vulcan Materials factory and a couple of jails (Trailhead GPS: 32.581950649763186, -116.91912751881245). The third entrance is from the direction of Engineer Springs to the east and starts from Marron Valley Road (Trailhead GPS: 32.60058049532975, -116.77020912657669) near the South Bay Rod and Gun Club.
You can start from any of the trailheads and exit the other. Roughly halfway between the two access points is Doghouse Junction (GPS: 32.60046449695425, -116.84194406577576), where the three portions of the trail intersect.
The information in this guide is for informational purposes only. We use Gaia GPS for mobile devices and also bring high-quality printed topographic maps while in the backcountry, and recommend you do the same.
The Trails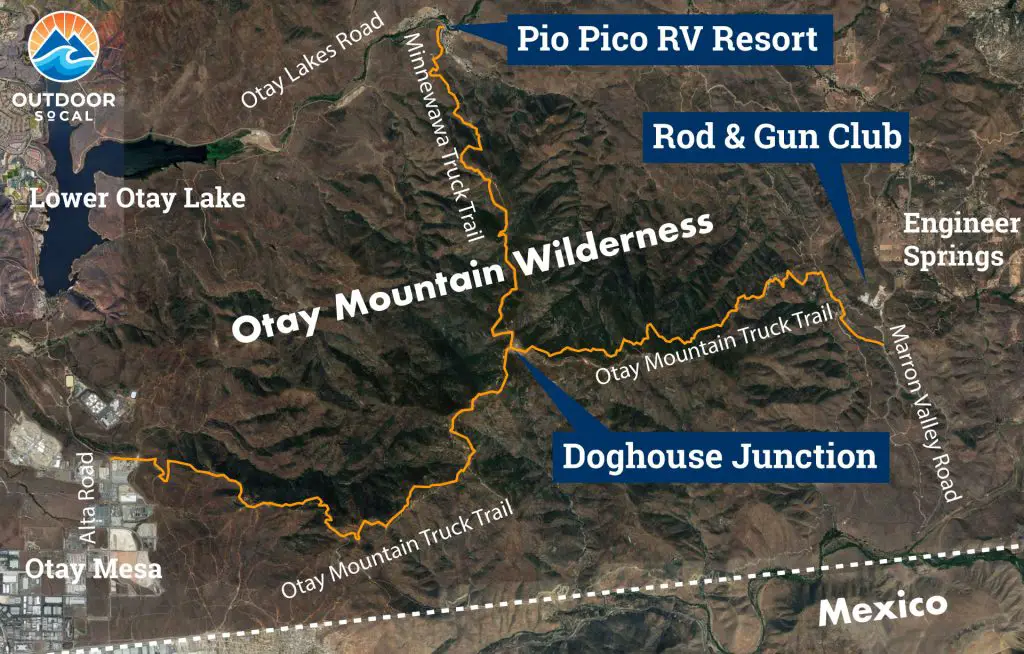 This is one of the more accessible off-road trails networks in San Diego. Any weekend in the cooler months, you're likely to find Jeeps, Toyotas, and other trucks cruising exploring the area and testing their chops on some of the more technical off-shoot trails. The truck trail is located in the Otay Mountain Wilderness which is managed by the US Bureau of Land Management. There are large portions of this area set aside as an ecological reserve, so stay on established trails to prevent damaging these important habitats.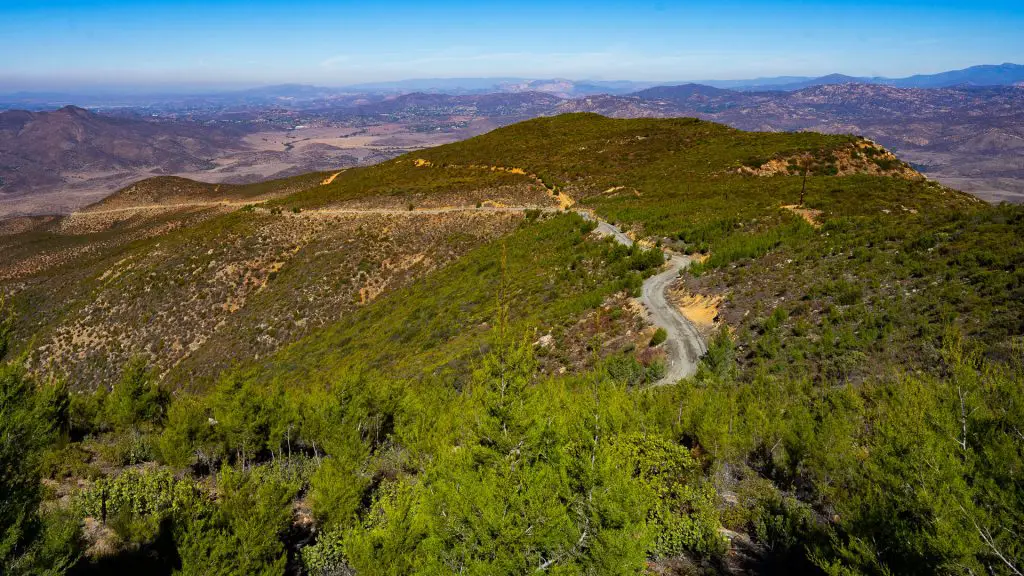 The trail is well maintained as US Border Patrol uses the route to intercept anyone attempting to cross the US-Mexico border just to the south without documentation.
Stock SUV such as Subarus or smaller Jeeps should be fine unless recent rains have damaged the trail. The trail offers a number of optional routes for the more adventurous, some of which best attempted in high-clearance, 4-wheel-drive vehicles only.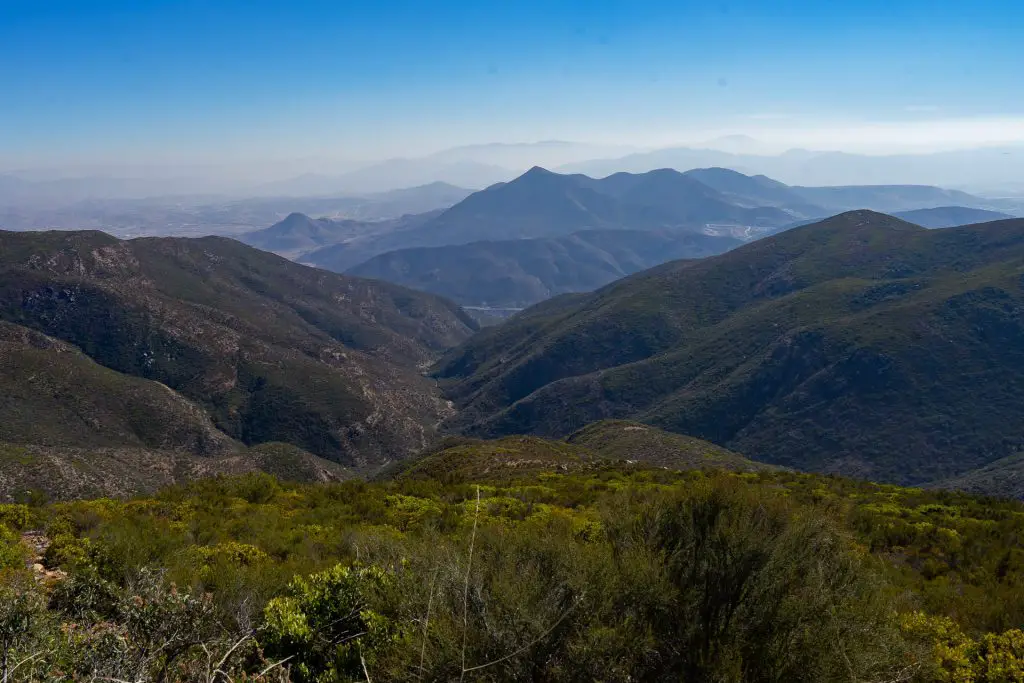 Along the main trails, you'll find more technically challenging spurs to lookout points or simply optional offshoots used by more aggressive off-road vehicles. The eastern spur that ends near the Rod and Gun Club has some highly technical trails not covered here that are only suitable for experienced drivers in equipped rigs.
The area boasts a unique ecosystem and is home to the endangered quino checkerspot butterfly, the only known stand of Tecate cypress and population of the Mexican flannel bush. Please respect the environment and stay on designated trails.
If you are looking for a mellow, easy to access trail off-road further north in San Diego, check out Black Mountain Truck Trail.
New to Off-Roading and Overlanding?
I publish a sister site, Ordealist.com, that helps people get started in overlanding and off-roading. Here's a good place to start.