Corral Canyon OHV: Off-Road Trails Guide
Located in Cleveland National Forest, in the mountains east of San Diego along near the Mexican border, Corral Canyon OHV area offers over 50 miles of off-road trails. Some trails are only wide enough for motorcycles and small ATVs, while a number can be navigated by SUVs and trucks.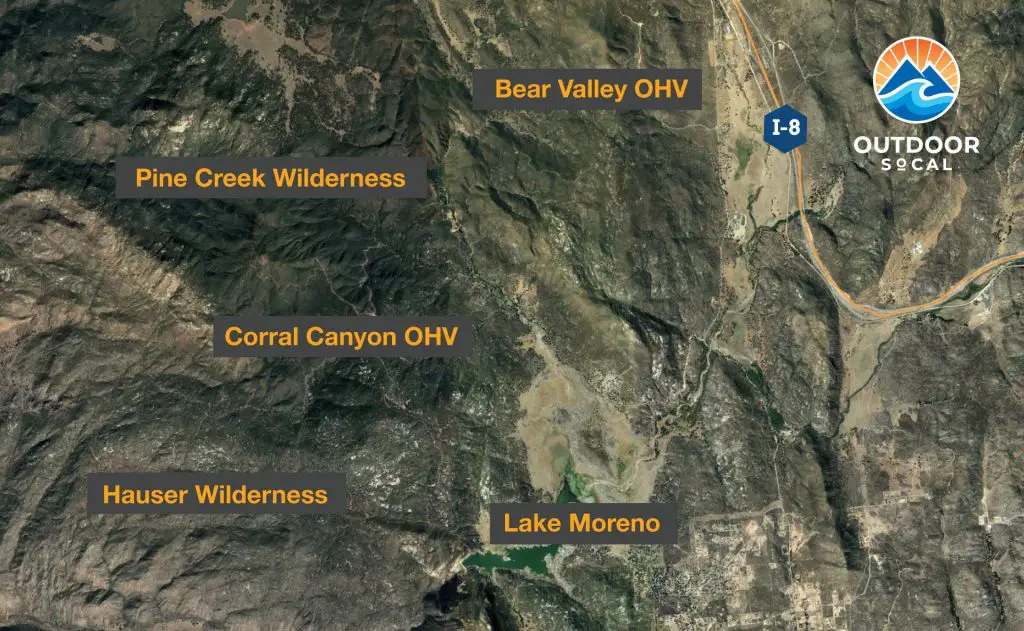 The trails here range from relatively easy to extreme off-road challenges. It's important to make sure you and your vehicle are up to the challenge your taking on. Also, the area gets very hot in the summer, so make sure you are prepared with extra water, basic emergency gear, and an emergency plan or wait until cooler months.
The Four Corners Trailhead, where Corral Canyon Road and Los Pinos Road intersect (GPS: 32.724687, -116.559247), is a popular staging area for exploring.
Just down the road is Bobcat Meadow Campground, a first-come, first-served primitive campground that offers 20 sites and two vaulted toilets.
The nearest gas is available in the town of Pine Valley, about 12 miles west on the I-8.
If you'd like a hard copy guide to the area, we highly recommend the book, California Backroads & 4-Wheel-Drive Trails, which offers detailed guides to Corral Canyon's trails, among many others.
Corral Canyon OHV Trails
Due to recent wildfires, portions of Corral Canyon have been closed to recreation to allow restoration of the areas. To check on the current trail status, visit the Cleveland National Forest web page for the area. We will continue to add trails to this guide.
Los Pinos Lookout Trail
Difficulty: Easy/Moderate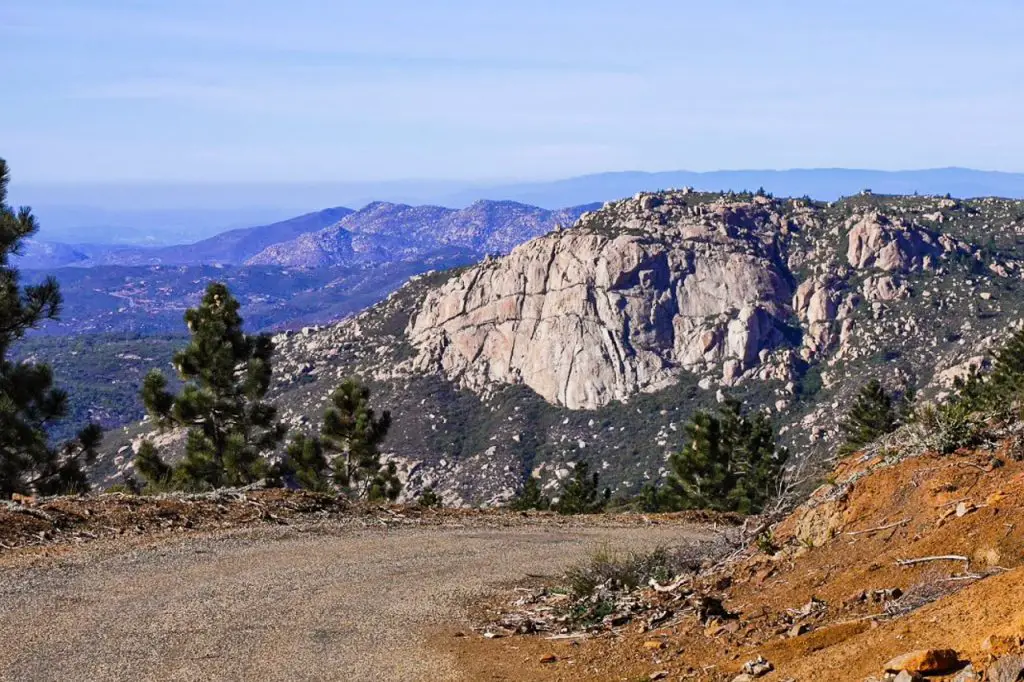 The Los Pino Trail to Espinosa Trail loop is a moderately difficulty route that brings you to the western side of the Corral Canyon area, where it butts up against the protected Pine Creek Wilderness and Hauser Wilderness areas (no vehicles allowed in these areas).
A good place to start this loop, which can be navigated in either direction, is at the Four Corners Trailhead (GPS: 32.724690, -116.559156). Going counter clockwise, the trail heads northeast, climbs a mountain to arrive at a manned fire lookout, which you can visit on weekends (non-covid times).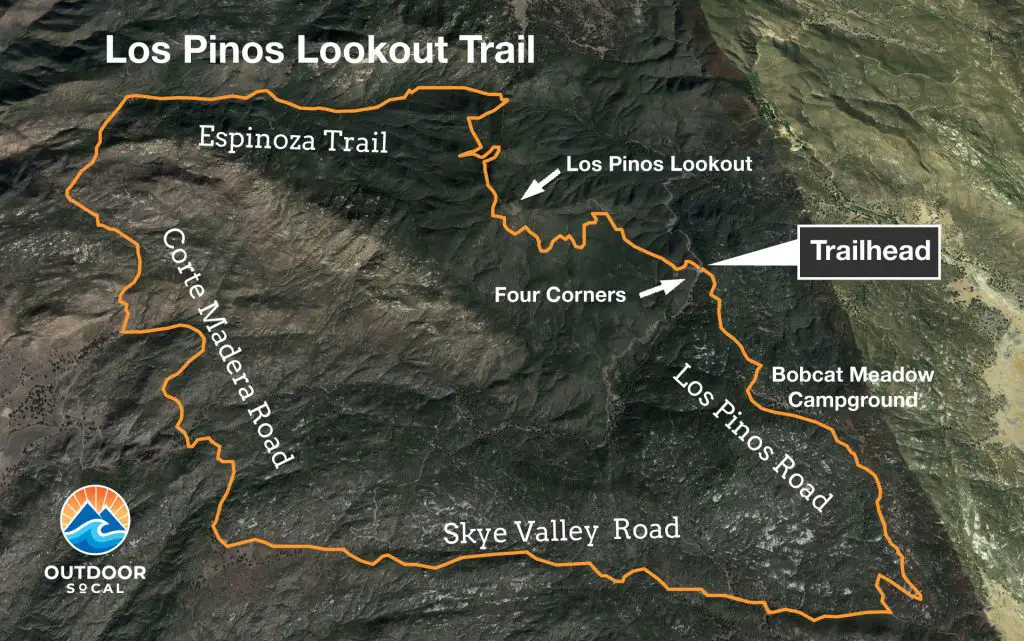 From the fire tower, the trail becomes more rugged as it winds down the mountain continuing northeast, eventually coming to a fork (GPS: 32.747515, -116.575392), where you want to head left onto Espinosa Trail (Google Maps calls it Corte Madera Road). The trail here offers terrific views of Corte Madera Mountain, a refuge for Golden Eagles, hikers, and adventurous rock climbers.
After descending to the base of Corte Madera the trail heads east before looping south until it comes to a fork (GPS: 32.754132, -116.619634). The right fork heads west onto gated private land, and the main trail goes south onto Corte Madera Road.
This eventually merges with Skye Valley Road and bends east back towards the main trail network of Corral Canyon OHV (you'll pass the trailhead for Bronco Peak, and could return that way if you are looking for some gnar).
When the road connects with Los Pinos Road again (GPS: 32.692872, -116.552835), you can take it north back to the Four Corners area. In total, the loop is about 18 miles long and will take you 2.5 hours at a steady pace.
Sidewinder Trail
Difficulty: Difficult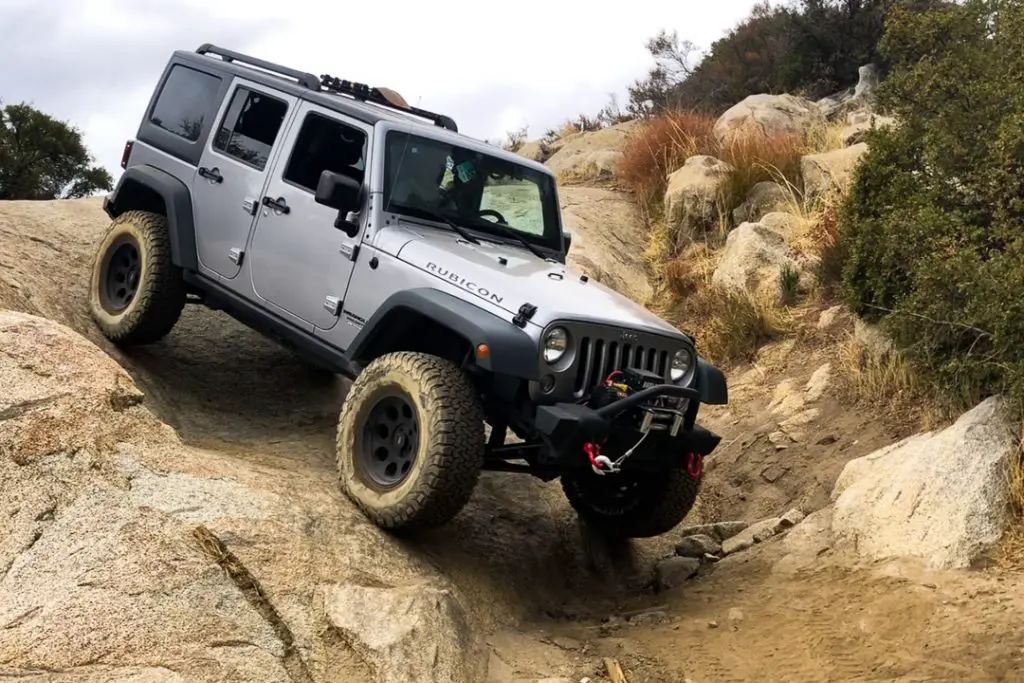 Sidewinder Trail is one of the more challenging trails in the Corral Canyon area, offering mile of nearly non-stop rock crawling. While some stock trucks may be able to navigate this trail (a Jeep Rubicon or Toyota TRD for instance), a suspension lift and larger tires will make for a less "scrappy" experience." Axle lockers will also help.
The trail starts about 0.6 miles south of Four Corners on Los Pinos Road (GPS: 32.717477, -116.558370) and emerges at Bobcat Meadows Campground, which is a bit further down Los Pinos Road (GPS: 32.712761, -116.558489).
The trail starts as a single-lane dirt road that winds west through the chaparral brush. After less than half a mile, you'll start to encounter rock slabs and boulders that make for an exciting ride. In several spots along the route, motorcycle trails cross over, so keep an eye out for traffic. There are several places along the route where you have a choice of a couple of different routes. In some cases, the easy route is obvious. Not so much in others.
Once you've exited onto pavement near the campground, head left to get back to the four corners area.
Bronco Peak Trail
Difficulty: Difficult
Bronco Peak is another challenging trail in Corral Canyon OHV. This is a 2.7 mile rock crawling adventure that brings you up and down the mountain for which it's named, Bronco Peak.
The route is extremely steep and narrow in points, and a few places threaten a roll-over for incautious drivers. To get to the trailhead from Four Corners, head on Los Pinos Road towards Bobcat Meadow Campground. The trail begins less than a mile past the campground via an unmarked dirt trailhead to the right (GPS: 32.704845, -116.550542).
The trail will cross over the top of Bronco Peak about a mile in, then head down into a challenging downhill section that has seen a number of vehicle rollovers. Be careful. Stay left when the trail connects with Bronco Flats Trail and continue on for another half-mile or so to connect with Skye Valley Road. Head left to get to Los Pinos Road which intersects in less than a mile, then head left on Los Pions to get back to the Four Corners Trailhead.
This is not a run for a stock vehicle. A suspension lift, large tires and axle lockers are recommended. Also, off-road driving and recovery experience is a must.
Gunslinger Trail
Difficulty: Difficult
Gunslinger Trail is a moderate trail that runs between Skye Valley Road and Corte Madera Road in the southwestern portion of the Corral Canyon area. This is a moderate trail with some steep rock slabs, but nothing outrageous. There are some side loops that are more aggressive, so beware of what you're taking on if you get a hankering to explore these.
Bear Valley OHV
Corral Canyon OHV is adjacent to and connects with Bear Vallely OHV just to the north. Note that the connecting trail between the two areas is accessible only to vehicles LESS than 53 inches wide (e.g., motorcycles and ATVs)
The Bear Valley Trailhead is located off of the Pine Valley Road exit of I-8 (GPS: 32.816168, -116.532832). The out-and-back trail is an old road bed and provides a small loop at the end with a nice view of the surrounding mountains.
Fire Safety and Restrictions
Cleveland National Forest is prone to dry summers, which when combined with steep slopes and dense vegetation make wildfires a constant threat during the summer. Because wood and charcoal fires are prohibited, it's recommended to bring a liquid or solid fuel stove for cooking and heat. You might also consider a gas-fueled fire pit.
For information on permits for camping outside of designated campgrounds, contact the Descanso Ranger Station.
For off-highway vehicles, such as motorcycles and ATVs, spark arresters are required year round.
Corral Canyon Topo Maps
The USDA and National Forest Service offer free downloadable topographic maps that cover the Corral Canyon OHV:
Lake Moreno Map: Covers most of the Corral Canyon Trails around Four Corners and Lake Moreno – Download PDF Map
Descanso Map: Covers the far northern edge of the area, where where Los Pinos Trail to Espinosa Trail Loop edges up against Pine Creek Wilderness. Just a bit of the trail shows on this map. Download PDF Map
Barrett Lake Map: Covers the far western edge of the area, where Los Pinos Trail to Espinosa Trail Loop edges up against Pine Creek Wilderness and Hauser Wilderness. Just a bit of the trail shows on this map. – Download PDF Map
---
To find other nearby off-road and overlanding trails, check out our guide to San Diego Off-Road Trails.