Rattlesnake Canyon Trail Guide
Rattlesnake Canyon is a 4.4 mile long out-an-back trail located within Skofield Park in Santa Barbara, California. This trail is extremely popular with hikers and is considered to be a generally challenging hike whenever it is taken.
The trail is around 4.4 miles (7.1km) long out-and-back and is busy year-round with runners, hikers, horse riders and general thrill-seekers often lining the trail, although it is rare to see children as the hike is quite challenging for minors and has some hazards along the way.
The hike can be completed any time of year but fall is recommended as this will deliver the clearest and most stunning views of the Canyon. 
Trail Details
| | |
| --- | --- |
| Trail Type | Combination |
| Difficulty | Moderate to challenging |
| Length | 4.4 miles |
| Elevation Gain/Loss | 489 feet/-489 feet |
| Trailhead Coordinates | 34.457662, -119.692286 |
| Location | Skofield Park, Santa Barbara, California |
| Best Season | Year-round, fall recommended |
Getting to Rattlesnake Canyon Trail
GPS: 1783 Las Canoas Rd, Santa Barbara, CA 93105
Getting to Rattlesnake Canyon Trail is perhaps the most straightforward part of the hike. For those who prefer to use GPS technology, the address '1783 Las Canoas Rd, Santa Barbara, CA 93105' should be entered in order to take you to the trailhead. Keeping your route simple is key. The trail starts at the creek near Skofield Park.
From Santa Barbara, take Foothill Road (Hwy 192) and turn north on Mission Canyon Road toward the Santa Barbara Botanical Gardens. Turn right on Las Canoas for 1-1/2 miles and park near a narrow bridge just before Skofield Park. Look for the trailhead sign.
If you are coming from a different location, following the GPS instructions is the quickest and most convenient way to ensure you don't get lost if coming from out of state or somewhere other than Santa Barbara within CA. The trail itself is pretty recognizable once near Skofield Park and heavily signposted. 
Parking at Rattlesnake Canyon 
Parking really depends on the time and the day you wish to visit as this is a very popular trail. There is an abundance of street parking available at the trailhead that is very popular with fellow hikers and will usually be quite busy, so be sure to plan for that. 
Access to parking is via Las Canoas Road with parking bays either along the road or in Skofield Park itself. Avoid parking in the residential areas nearby without a parking permit as you will likely be ticketed as inspectors are known to frequent. Make use of the parking allotted that is specific for the Canyon and Skofield Park, as always, plan early to avoid issue.
The Trail
First off, this trail is not what you would place in the 'easy' category so it is definitely recommended that you have at least some relative hiking experience before taking on Rattlesnake Canyon.
Given its length and difficulty, hikers looking for a good workout on a well-maintained trail will enjoy Rattlesnake Canyon. It's a good hike for a half-day adventure and the trail is looked after and rather defined so, despite it being moderately difficult, you won't find yourself going off the beaten path every five minutes, which is often where some unexperienced hikers come unstuck when tackling a new trail. 
The trail is an out and back that ends at Gibraltar Rd after around 1,300 feet of climbing. You can either take the trail back or you can take the road if you've had enough by that point.
Given its location, the fact that it is shaded and the stunning views on offer, the trail is often extremely popular all year-round but especially in the fall season. Throughout many vantage points along the route of the trail, you will enjoy beautiful views of the Channel Islands, Montecito and the Santa Barbara skyline.
The trail is a well-maintained but steep climb with quite a lot of vegetation along the route. Being amongst the joys of nature is one of the key motivations for any hike and you won't be disappointed with Rattlesnake Canyon in this regard.
There are many gently flowing streams along the way as well as natural and intricate wildflowers that light the path. There's certainly plenty to see and you will definitely need to catch your breath along the way, providing the perfect opportunity to take it all in.
The trail itself is largely shaded and the cover provides a home for many birds for avian lovers looking to take the route with many flora and fauna spotted. Hummingbird, Red-shouldered Hawk, Red-tailed Hawk and the Acorn Woodpecker are also regular visitor to the Canyon and can often be sighted by alert hikers. 
When it comes to the trail itself, the name 'Rattlesnake Canyon' probably gives you the impression that you'll be stepping over rattlesnakes throughout the hike. That's not the case – although don't be surprised if you do see one. Equally, you probably won't. It really depends, although it has gained its name for obvious reasons and from some urban myth too. 
As noted above, the trailhead is adjacent to Skofield park and is marked by a very large sign just behind the rock wall on the road. Right away you are creekside, and after crossing the creek you climb up to a fire road.
Following the fire road you return to the creek and cross again. The trail stays near to the creek, but not in it, and gently climbs to a meadow. 
Just above the meadow is a junction and please note that there is always plenty of water in the creek, with the meadow also providing the opportunity to the 'connector' which connects Rattlesnake Trail with Tunnel Trail and provides and even more arduous trek if that is what you are seeking.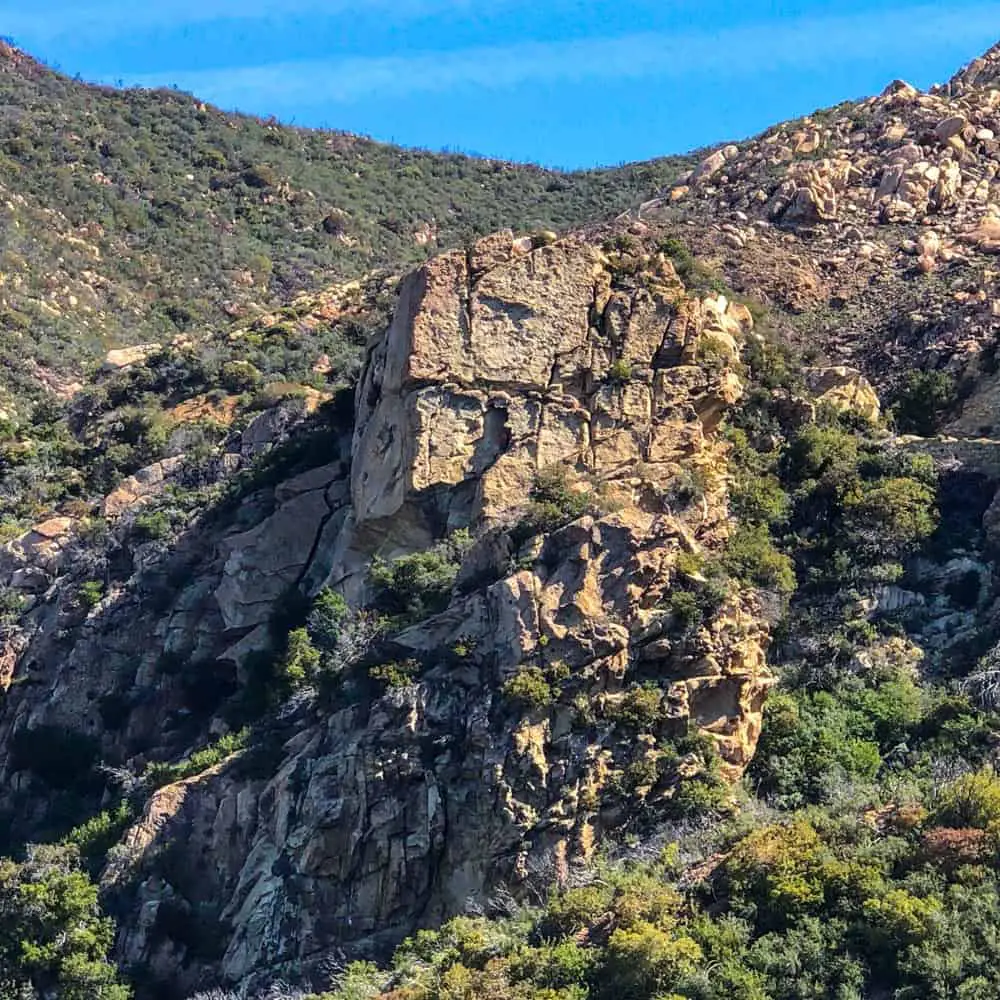 We didn't do that – Rattlesnake was enough for us and the views of the Canyon and vantage points along the way provided truly stunning views of the Channel Islands, Montecito and the Santa Barbara skyline that encourage you along the way. 
Note that given the nature of the trail and its difficulty, biking is not recommended and is actively discouraged by wardens so please be aware of this if you were planning to bike as you will likely be told you cannot take your bike on the trail if you are spotted with one.