Switzer Falls Trail Guide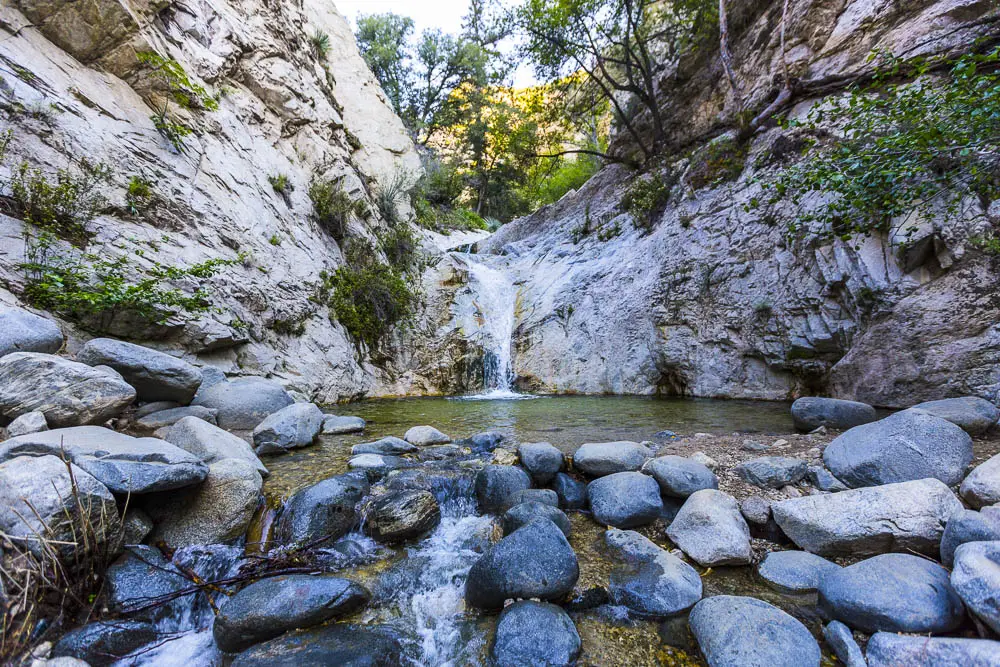 Switzer Falls Trail, in the San Gabriel Mountains of Angeles National Forest, boasts not one but two different cascades, one of which is a two-tiered drop.
As you travel the 5-mile trail, also known as the Gabrieleno Trail, you will be treated to stunning vistas of the interior San Gabriel Mountains and experience a unique bit of Southern California history.
Best of all, the trek is mostly completed under a dense canopy of oak and alders on the banks of the Arroyo Seco, providing plenty of shade from the California sunshine.


Trail Details
Trail type: Combination
Difficulty: Easy to moderate
Length: 5 miles (including upper falls)
Elevation gain and loss: 750 feet, -750 feet
Trailhead Coordinates: 34.266187, -118.145644
Location: San Gabriel Mountains
Season: Year round
Getting to the Switzer Falls Trailhead

Getting to Switzer Falls is relatively straightforward. Hikers should take the Angeles Crest Highway east for exactly 10 miles from the 210 in La Cañada Flintridge. Just past the Clear Creek Information Center, turn right into the Switzer Campground and Picnic Area. Follow the road all the way down to the parking area.
This site does require a National Forest Service Adventure Pass to park. Passes may be purchased at the Clear Creek Information Center on weekends and at the Shell station back in La Cañada Flintridge on weekdays. If you park without a pass, you are likely to be towed as it is enforced quite strictly here. Better not to risk it.

The Trail
The trail winds through the stunning San Gabriel Mountains, a popular spot that boasts great mountain views all year long. The mountains stand within the wider Angeles National Forest and San Bernardino National Forest, roughly 25 miles from Los Angeles, and have been listed as a national monument since 2014.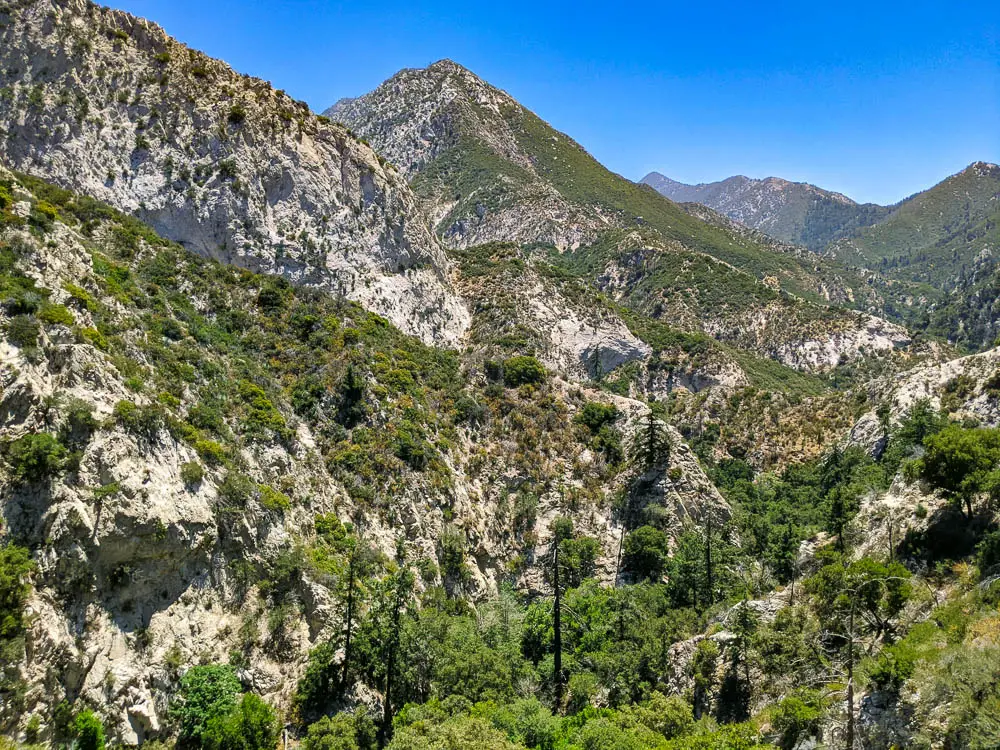 The trail is very popular with both casual and seasoned hikers from the area and you are likely to bump into fellow hikers along your way. Wildflowers and various wildlife can be seen along the trail which is shaded largely by Alder, bay, sycamore, maple, oak and big cone spruce. Deer are abundant and, although rare, meetings with bears have been noted.
Once you have parked, you will see the trailhead near the restroom area. There is a sign that says it is only a mile to the waterfall, but I have no idea what that is referring to as it is much longer than a mile.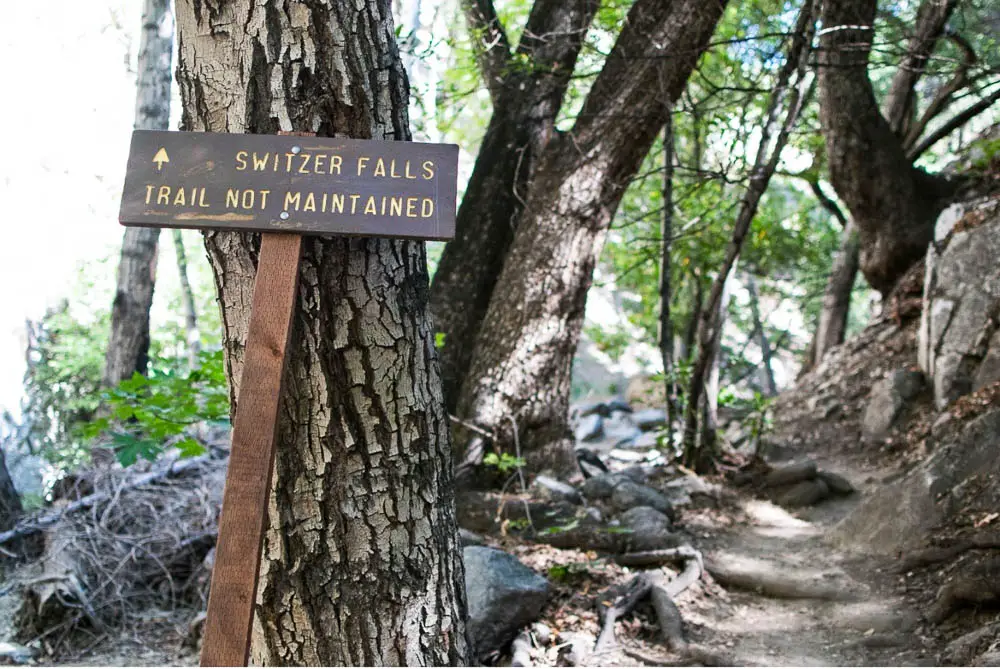 The trail begins by heading over a small bridge and into a delightful, shaded area with picnic benches and more bathrooms. The trail then heads downhill and follows the stream for most of the first mile.
There were only two water crossings that we had to rock hop over when we went. Eventually, the trail will reach a few old stoves left from the human history in this area, and then it will start heading uphill. The uphill is not too long, but it does go out of the shade on an exposed trail that looks down into the canyon.
The trail hugs the mountain before it eventually reaches a split from which you will head downhill into the canyon. As you get down into the canyon, the shade comes back, and you will reconnect with the stream and head up alongside it.
From there, it is less than a quarter-mile or so before you reach lower Switzer Falls. This waterfall is stunning with about a 25-foot drop and a sweet swimming hole that was 3-4 feet deep when we went.
You can hang out here, or you can head on to Upper Switzer falls. If you do choose the latter, of course, be careful as you go.
The trail to Upper Switzer falls goes up along the granite wall on a small single track and then across the granite on some slippery cuts in the stone. I would not recommend doing this if it is wet as you are likely to slip.
Once you reach the top of the falls, you will basically just be following the creek back to Upper Switzer falls. There is not much of a trail here, so you will way find by following the stream. Keep a lookout for poison oak, which grows along the creek.
After about a third of a mile, you will make it to Upper Switzer Falls. This waterfall is about 40 feet, and it is a beautiful destination in the canyon. It does not have a swimming hole though, so we only stayed for a few minutes and then headed back down to swim in the lower waterfall.
The trail is beautiful and open year-round but having experienced it both in the height of summer and during milder climbs, I would advise you to be careful around summer and shield yourself appropriately to avoid sunburn or sunstroke.
To find other trails near Switzer Falls Trail, check out our Pasadena Hiking Guide.