Corbin Canyon Trail Guide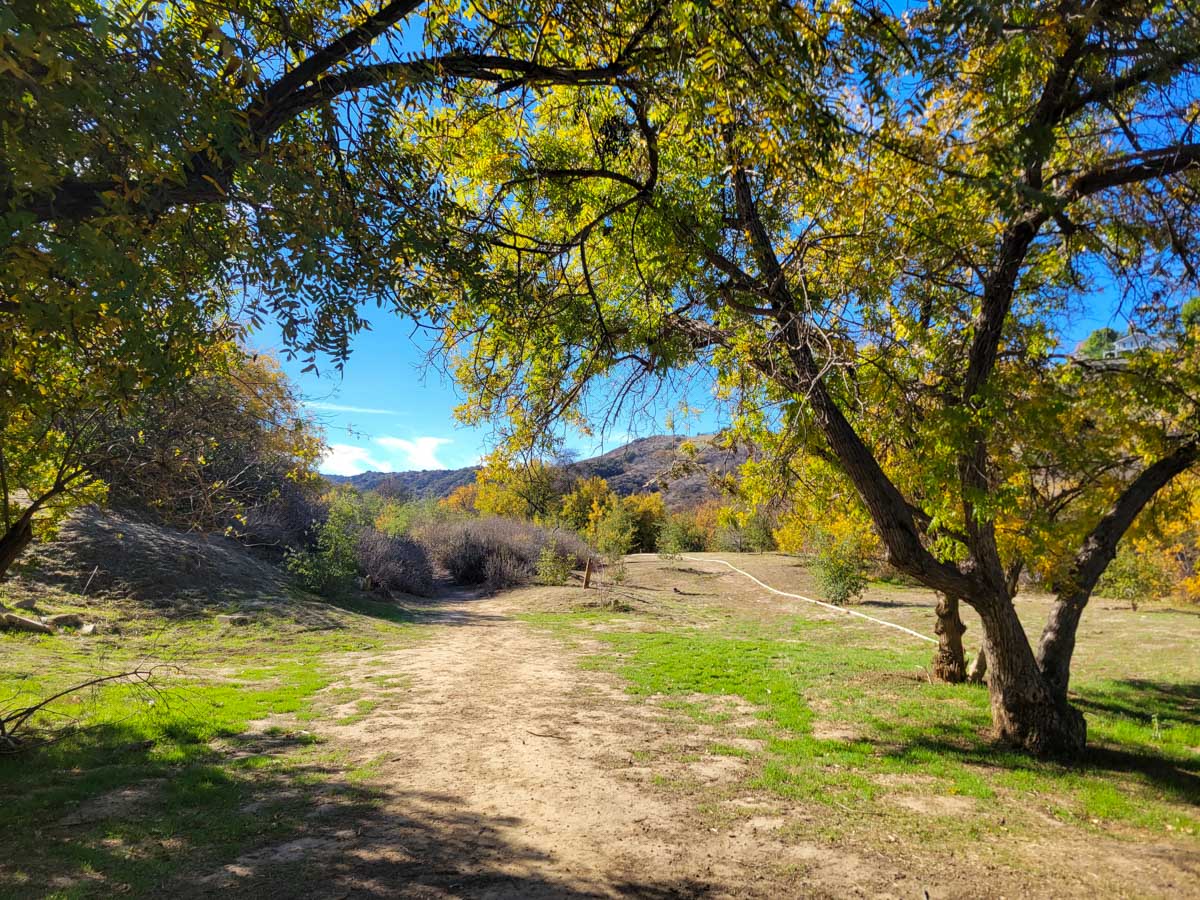 Corbin Canyon Trail is a charming two-mile loop hike in Woodland Hills neighborhood of Los Angeles, California, with a 167-foot overall elevation gain that takes less than an hour to complete on average. Hikers, bikers, runners and dog-walkers will enjoy diverse vegetation, scenic mountain views and the solitude of a largely undiscovered state park nestled amongst serene Woodland Hills neighborhoods. The first leg of the trail is relatively flat, wide open and easy going, but it becomes more challenging further in when the ascent steepens and vegetation becomes largely overgrown.
Trail Details
| | |
| --- | --- |
| Trail Type | Loop |
| Difficulty | Easy |
| Length | 2 miles |
| Elevation Gain/Loss | 167 feet/-167 feet |
| Trailhead Coordinates | 34.156660, -118.564922 |
| Location | Woodland Hills, California |
| Best Season | Year round |
Getting to the Trailhead
The main trailhead is located in the southern part of Woodland Hills where Corbin Avenue dead-ends. Ample parking can be found on both sides of the street, which have little to no restrictions.
However, because the trail sits against the northern edge of the Santa Monica Mountains, the only viable route there is US-101. Heading north on the freeway, take exit 24 for Tampa Avenue and turn left. Travel three-quarters of a mile to Wells Drive and turn left, then turn right on Casa Drive, and then right again on Vanalden Avenue.
In a third of a mile, bear right onto Rosita Street and follow that three-quarters of a mile to Corbin Avenue. Turn sharp left on Corbin and drive until the road ends.
If you're heading south on the 101, take exit 25 for Winnetka Avenue and turn right off the ramp. Follow the road three-quarters of a mile to Wells Drive and turn left. In a half mile, bear right onto Corbin Avenue and follow it until it ends. Regardless of which direction you come from, do not follow Google Maps, which will take you to an indeterminate address on Ellenita Avenue surrounded by houses with no viable entrance to the park.
Corbin Canyon Trail Overview

The trail feels almost hidden, tucked away in a 328-acre valley, with an unassuming trailhead that might easily be missed for lack of signage. A typical afternoon features very few people, making this an ideal spot for those seeking a peaceful respite from crowded city life.
Scattered houses dot the hilltops, but not enough to ruin the natural ambiance. Even over the trail's relatively short distance, the topography quickly changes – from flat prairie-like grasslands with scattered trees early on to lush patches of oak halfway in to chaparral-covered desert terrain at the higher elevations.
The trail is very wide and easy to navigate for the first quarter-mile before narrowing slightly as it crisscrosses a few of the park's footpaths.
A Y-shaped split about four-tenths of a mile in forms the base of the loop. Stick to the more well-maintained eastern trail as it meanders through tall grasses and groves of sturdy oaks. Soon the trail becomes shaded by leafy green canopies and traverses a creek bed that's all but sure to be dry except during the rainy season.
Once inside the trees, the trail becomes less easy to follow in places. A little over three-quarters of a mile in, the west side of the loop reconnects with the east side, merging into a single trail that continues further up the hillside. For an easier hike, head back down the western trail toward the trailhead.
For more of a challenge, continue onward another quarter-mile past rope swings hung from tree branches and an old rusted, overturned car covered in graffiti. Once you emerge from the trees, the trail becomes largely wild, overgrown and difficult to navigate, rapidly ascending to a small, undulating ridgeline. The lack of maintenance here is much more evident, and the dry dirt can sometimes be loose, making for dangerous footing. More experienced hikers can make their way up for a beautiful view of the Valley below and a quick photo op before turning back.  
Wildlife in the area is rich and abundant, from beetles and butterflies to quails and scrub-jays to mule deer and desert cottontail. Hotter weather will even bring out the occasional fence lizard or Western whiptail.
Flora ranges from coyote brush, coastal sagebrush and occasional patches of poison oak at higher elevations to canyon live oak, wild mustard and a plethora of colorful wildflowers in the lower areas. The large number of deciduous trees make hiking in the park especially breathtaking in autumn when leaves turn various shades of orange and gold.
The loop is largely isolated from other longer routes that traverse the Santa Monica Mountains. However, an offshoot near the loop's apex will take hikers up to the Winnetka Avenue trail, bookended by Winnetka Avenue to the north and Mulholland Drive to the south, which boasts stunning panoramas of the San Fernando Valley.
In addition, a second, lesser-used trailhead off Queen Victoria Road provides alternate access to the park, meeting up with the western part of the loop just past the first Y intersection.
Corbin Canyon Park is open all year round from 6:00am until 10:30pm, although it's not locked up or monitored after hours. The San Fernando Valley gets especially hot during summer months, making spring and fall the best times to hike.
Dogs are welcome and have lots of room to run. Be aware though that there are no bathrooms, water fountains, picnic benches, trash cans, trail maps or other amenities. Lightweight long sleeves, pants and socks are recommended to avoid tick bites, poison oak and scratches from overgrowth in some areas.
History of the Park
Largely underdeveloped land once controlled by the Tarzana Homeowners Association, the parcel where the park now sits was acquired by the Santa Monica Mountains Conservancy (SMMC) in 2001 under Executive Director Joseph T. Edmiston and then transferred the following year to California State Parks.
According to the SMMC's website, their mission is to "strategically buy back, preserve, protect, restore, and enhance treasured pieces of Southern California to form an interlinking system of urban, rural and river parks, open space, trails, and wildlife habitats that are easily accessible to the general public."
To find more great hikes in the region, check out our guide to the best Los Angeles trails.