Vanalden Cave Trail Guide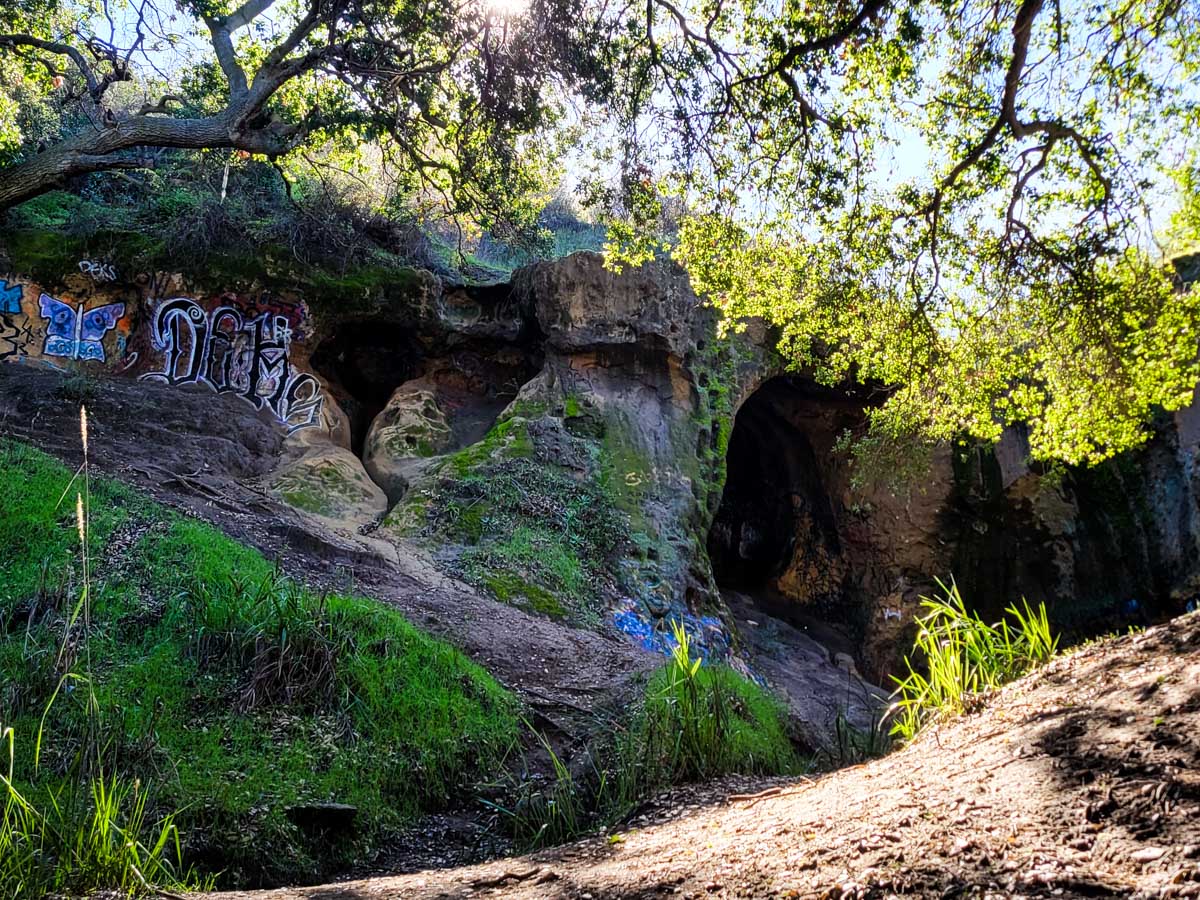 Vanalden Cave Trail is a mile-and-a-half hike in the Tarzana area of Los Angeles, California, that winds through dense patches of desert vegetation as it ascends a gently sloping hillside to ultimately reveal spectacular views of the valley below.
A typical outing will take anywhere from 30 to 90 minutes depending on whether you hike the whole trail or just hit the iconic cave and back. The trail can get muddy and slippery during the rainy season, but drier weather brings more favorable hiking conditions along with increased foot traffic.
Trail Details
Trail type: Out-and-back
Difficulty: Easy
Length: 1.55 miles
Elevation gain and loss: 350 feet/-350 feet
Trailhead Coordinates: 34.134922, -118.562987
Location: Tarzana
Season: Year-round
Getting to the Trailhead
The main trailhead is located on the outskirts of a residential neighborhood in Tarzana, buttressed up against the hillside where Vanalden Avenue dead ends.
Plenty of parking can be found on the street, but options to get here are limited because of the isolated location. If you're coming from the Westside (Santa Monica, Malibu, etc.), take Topanga Canyon Boulevard (Route 27) north for 11.4 miles until you reach Dumetz Road, then hang a right.
Head one mile to Serrania Avenue, which becomes Wells Drive, veer a slight right onto Corbin Avenue, then a slight left onto Rosita Avenue followed by a quick right onto Ellenita Avenue.
In 0.8 miles, turn right onto Greenbriar Drive, go a half mile to Corbin Avenue and turn left, head another 0.4 miles to Vanalden Avenue, and turn right. Drive until you see the dead end.
For everyone else, the US-101 is your best bet. Get off at Tampa Avenue (Exit 24) and head south (left off the ramp if you were heading northbound and right if you were heading south). Head 0.7 miles to Wells Drive and make a left, then bear right to get on Casa Drive. In 0.1 miles, turn right onto Vanalden Avenue and follow it 2.2 miles to the dead end.
The Trail
From the trailhead, the path starts off well-groomed and level before a slow grade begins taking you up the mountain face. On either side are thick desert plants like chaparral yucca and coastal sagebrush.
As the ascent steepens, the plants start encroaching on the trail until it's barely wide enough for one person. A small gully runs down the center of the trail after years of erosion from rainwater, and occasional obstructions like dead branches can be found across the trail.
About 0.2 miles up, the Vanalden Cave Trail splits off to the left from the main Vanalden Trail. This offshoot dips down into an oak-laden valley before gradually ascending upward again for 0.1 miles over a 108-foot total elevation gain from the trailhead to eventually end at the famed Vanalden Cave.
Despite a bit of random graffiti here and there, this exquisite sandstone formation still represents the perfect photo opportunity, complete with mossy green walls, soft round crevices smoothed by time and holes in the roof that act like natural skylights.
Once you've had your fill of the cave, double back to the main trail and head right back to the trailhead for a short 0.6-mile excursion, or turn left and continue your climb upward through semi-open swaths of grassland to an unpaved section of Mulholland Drive that serves as a local fire road.
Cross over it and continue 250 feet to where the trail merges with a paved LADWP service road, then follow that road another 300 feet to a dirt track. From here, it's just under a quarter mile to the famed Vanalden Vista where you're treated to a spectacular panorama of the Santa Monica Mountains, which may be covered in a blanket of dark hunter and cadmium greens after a rainfall.
For a longer excursion, head back to the Mulholland fire road and turn right, making your way up the wide-open accessway frequented by families, runners, dog walkers and mountain bikers.
Just after cresting at a total height of 1,772 feet above sea level, a small offshoot along the ridgeline called the Rita Walters Trail will lead you down about 200 feet to the terminus – a cul-de-sac at the end of Reseda Boulevard.
Total elevation gain from the Vanalden Trailhead is about 585 feet. Double back the way you came for a total of 2.7 miles of nature-filled fitness.
While exploring these trails, make note of the area's rich biodiversity, a hallmark of the Santa Monica Mountains. Indigenous plants like coyote brush and chaparral clematis dot the open hillsides while groves of coast live oak and cottonwoods provide canopies over the more fertile valley areas.
Animal life is just as plentiful, with desert cottontails, badgers and bobcats sharing the ground with the occasional mule deer or mountain lion, while scrub jays, California quail, acorn woodpeckers and western screech owls patrol the skies.
Vanalden Trail is part of Topanga State Park and is accessible year-round, with no set hours, although rainier weather in winter makes for more dangerous footing. The best times to enjoy the trail are spring and fall when the chance of precipitation is low and the heat index is mild.
There are no trash cans, water fountains, benches, bathrooms, or other amenities, so bring water and take the trash out with you. Moreover, there are no trail maps, and the offshoot to the cave trail is not marked, so download your own trail map beforehand or use Google to find it.
Wear lightweight long-sleeve shirts and pants to avoid scratches from overgrowth. Dogs are allowed on the fire road but prohibited from the trail.
How Sandstone Caves Are Formed
Sandstone caves like Vanalden are typically shallow and form along the base of cliff walls. They are created in one of two ways.
Either wind and water carve them out over many thousands (or even millions) of years by breaking up the organic cement that binds the sand particles and then carrying the particles away, or tectonic movements weaken the rock, eventually creating cracks, fissures, and crevices. Native Americans have historically used these caves as natural shelters.
Other Los Angeles Outdoors Guides